Note: If you are just becoming aware of our analysis and information, not available from any other known sources, this link will give a quick, simplified orientation for this article, and additional references for later exploration.
A look at issue-by-issue near-term coming price prospects
We assess each day's hedging actions on major equity securities, to learn how the open competition in markets for risk protection reveals the coming price expectations for some ~2500 stocks and ETFs. Those expectations are ranges of likely prices, providing price change prospects to both upside and downside from their current market quotes.
Where the current price is positioned in that range is measured by the Range Index [RI], whose numeric tells what percentage of the range lies below the market price at the date of the forecast. The following picture provides a frequency distribution of Friday's end of day RIs for some 2500 stocks and ETFs.
Figure 1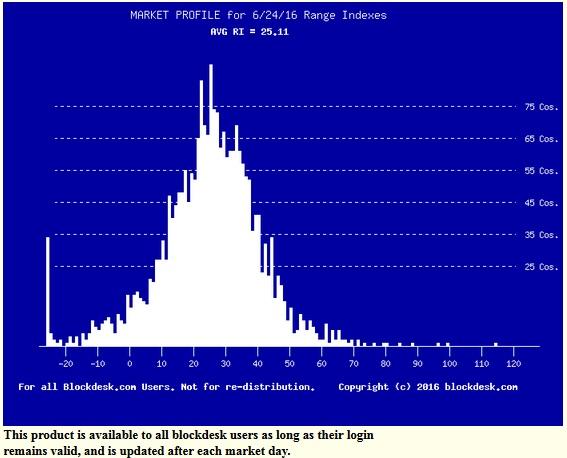 (used with permission)
Friday's RI average of 25 is not the lowest ever seen, but is quite low. It says that the "norm" at present in this population of the most widely-held stocks and ETFs is for 3 times as much upside price change as downside, over the next few months.
A RI of 50 would suggest equal prospects of upside vs. downside price change now being seen (by well-informed, every-day involved, essential market professionals). The number of RIs of 50 or more here is less than 5% of the total.
At the other extreme, some 3 dozen or so issues are currently priced so far below the bottom of their forecast ranges (a RI of zero) that they fall off the picture's scale and are stacked up at left.
So the Brexit vote result produced some expected (if the Outs won) market price reaction. But not so much as to deny any likely further price declines.
Whether future RI averages would simply be absorbed by the flexibility of this forecast if/when they occur, or produce lower or higher Market Profile averages depends on how the coming expectations may change relative to the price changes. Monitoring the profile is a useful part of maintaining equity market perspective. It tells where we are now, not necessarily where we are going next.
Focus on the market averages is another perspective essential
World equity investment activity and attention tends to focus on the S&P 500 index of the stocks of leading corporations, many of which compete globally. Because human reactions have an important influence on evolving stock price swings it is important for one's investment perspective to have a sense of the current stage of those emotions.
One important indicator of that emotional input is an index of the implied uncertainty of coming prices for the S&P 500 Index (SPX) known as the CBOE Volatility Index (VIX). Because markets dislike the uncertainty this index measures, rises in uncertainty are often the result of negative surprises to the marketplace, like the Brexit vote. Hence the notion of investor "fear" is often attached to descriptions of the VIX.
Fear tends to be a relatively short-lived condition in mentally-well-adjusted humans, while others may wind up in protective, confined environments; or if investors, in bankruptcy or poverty.
Greed is the condition most often portrayed as the investment opposite to fear, so when the VIX is at a low level, investment markets are considered to be "normal" (greedy).
An examination of the SPX over decades reveals that the presence of fear (as indicated by high VIX levels) is only a small proportion of the time. Often considerable periods pass without significant rises in the VIX, and then the period of the rise is brief. Much of the VIX's time is spent in receding from the sudden rises that do occur. That makes it hard to manage "long" positions in the VIX.
Most traders in the VIX monitor its prospects by the shape of its futures prices in contracts of progressively longer-to-expiration contracts. Here is what those extremes in shape have been typically:
Figure 2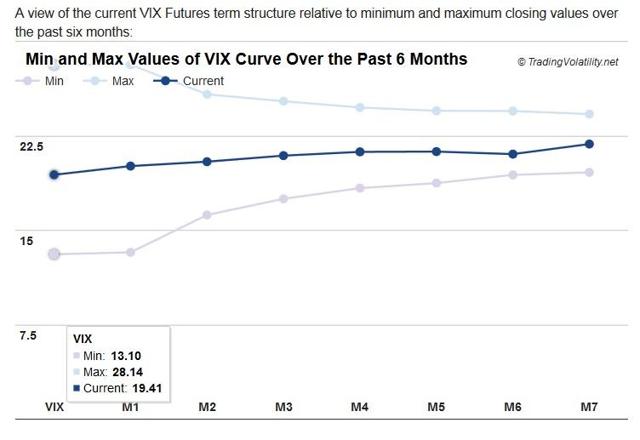 source: TradingVolatility.net
In futures parlance, a "strip" of futures contract prices that are rising in price are "in contango", while those in a decline are "in backwardation". For the VIX, a contango condition suggests less likelihood of near-term market price hazard than of more distant problem, or a comfortable conventional longer-term holding period for "long" investments. The backwardation condition is usually taken as a warning of potential or imminent coming market price decline.
Here is what happened between the close of markets on June 23 to June 24:
Figure 3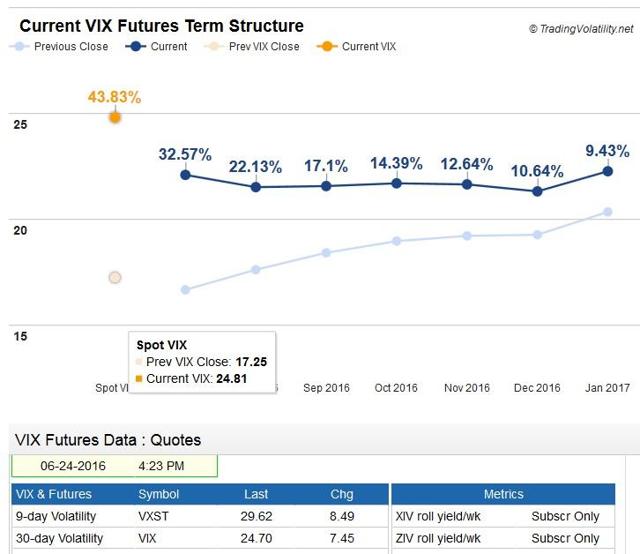 source: TradingVolatility.net
Yes, the "spot" VIX Index calculation rose from its end-of-day 17.25 value on 6/23/2016 to a 24 hours later calculation of 24.81, a rise of nearly +44%. The "near" July future rose by +32.5%, and each next-further-out-in expiration-time contract gained in price as indicated, out to the January 2017 price gain of +9.4%. The starting points of those moves are shown in a shadowy strip below their current plots.
This discussion is not to encourage VIX (or any) futures trading, only to bring awareness to another source of forward-looking information about the coming price potentials of the S&P500 Index. Futures trading tends to involve large financial leverages which makes it very hazardous for the average investor who is not used to the attention and alacrity it requires.
The same analysis we use to identify market professionals' expectations for stocks and ETFs can be (and is) applied to the VIX and SPX indexes, although direct investments can not be made in indexes. Usually there are other means, in ETFs or futures. Here is what the Friday appraisal of the VIX revealed:
This is NOT a conventional "stock chart" of past price history. Its vertical lines are day-by-day FORECASTS of coming price ranges, implied by the self-protective actions of the market-making community as they provide capital liquidity for volume transactions by big-money fund-manager clients.
Figure 4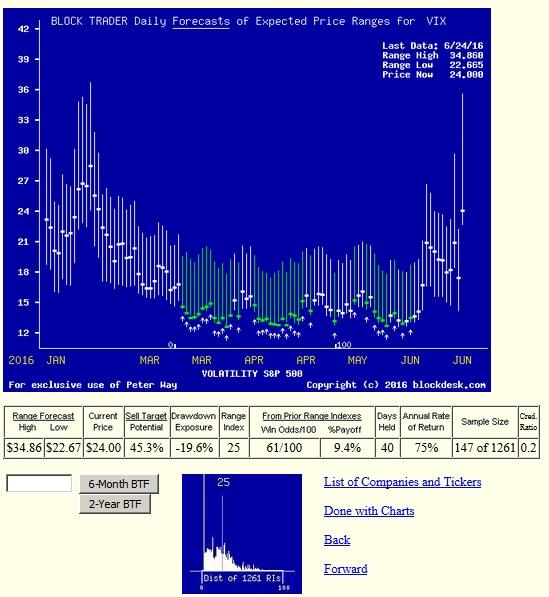 (used with permission)
Each vertical price range line is separated into upside and downside change prospects by the subject's market quote at the time of the forecast. A Range Index [RI] metric tells what percentage of the whole forecast range lies below the current quote. Here that is 25, implying 3 times as much upside potential as downside.
The small blue "thumbnail" picture shows the distribution of all RIs for the VIX during the past 5 years' 1261 market days. Its heavy skew to low RIs makes it evident that even a RI of 25 is an above-average experience for the VIX.
The row of data between the two pictures of Figure 4 tells that 147 days of the last 5 years have offered today's balance of upside to downside prospects, or about only one out of every 8. Following our standard portfolio management discipline, if the VIX were an equity that could be invested in, a profit would have been earned in only 61% of those 147 experiences. The other 39% of the time a "position" taken the market day after the forecast would have failed to reach the upside sell target and would have, after 3 months, failed to recover from its worst-case price drawdown (averaging -19.6%) sufficiently to be at a gain over its entry cost.
Including these losses, the net gains from all 147 priors would have been +9.4%, earned in typical holding periods of 40 market days - 8 weeks - which compound to a CAGR of +75%. This volatility of the volatility index should make it clear why the VIX is of such interest to many.
But for most individual investors the time and attention demands of so active an investment may be more invigorating than is desirable. Still, it is part of the scene contributing to an overall market perspective. Our take-away here is that still further rises in the VIX are likely, related to further general market decline possibilities.
If that is the case, are there better and worse places in the array of equity investments for your capital to be involved?
Did Friday's market reactions hit major averages equally?
Exchange Traded Funds [ETFs] have become intensively-used tools for money-managers as well as for individual investors. ETFs of market averages are actively traded, often in volume blocks, so hedging-derived forecasts or their price-change prospects are usually readily available.
Here is how several major market index-tracking ETFs compare now in terms of their upside price change and downside price change prospects. The SPDR S&P500 ETF (NYSEARCA:SPY), at [5], the Dow-Jones 30 Index ETF (NYSEARCA:DIA) at [1], and Nasdaq 100 Index ETF (NASDAQ:QQQ) at [8] may be familiar symbols.
Their locations on this Reward~Risk Tradeoff map are the coordinates of hedging-derived forecasts, using the upside horizontal scale (green) and the downside vertical scale (red).
Figure 5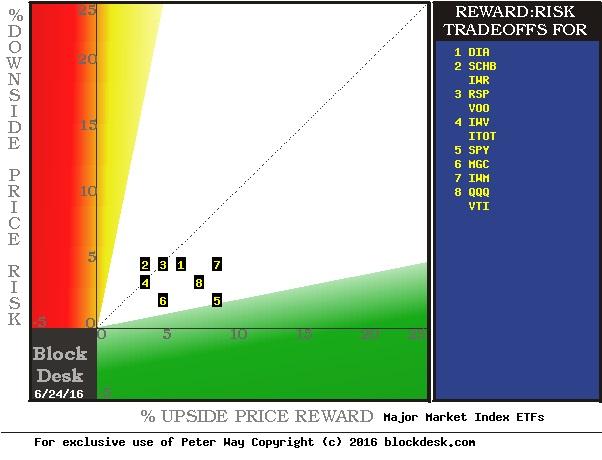 (used with permission)
SPY appears to be in the most advantageous position, with the largest upside potential and smallest downside exposure. Let's look at its current forecast in greater detail and see how Friday's forecast relates to recent market-maker forecasts.
This is NOT a conventional "stock chart" of past price history. Its vertical lines are day-by-day FORECASTS of coming price ranges, implied by the self-protective actions of the market-making community as they provide capital liquidity for volume transactions by big-money fund-manager clients.
Figure 6
(used with permission)
The small blue "thumbnail" picture shows the distribution of Range Indexes for SPY over the past 5 years' days. A RI of 34 has occurred 189 times in that period, according to the "sample size" box of the data row between the two pictures. That is a healthy sample, statistically speaking, but it appears to be at the cliff-edge of far less frequent experiences.
The actual current forecast sees a possible price recovery to $221 from $203, or a potential gain of +8.8%. The average worst-case price drawdown in each of the 189 prior SPY RI-34 forecasts has been -2.6%. These are the two co-ordinates for SPY in Figure 2.
Of those 189 priors, 178 (94%) recovered from such drawdowns to be closed out at a profit between the forecast day and 3 months later, or sooner if the upside sell target was reached. That 94% is a very high Win Rate, and augurs well for a current commitment in SPY.
The one negative, is that in prior experiences, actual gains of only 4.6% were achieved, compared to the current +8.8% prospect. That is a credibility ratio of only 0.5 on the forecast. Still, given that those prior +4.6% net gains were achieved in 49 market days, or about 10 weeks, when compounded a possible 5 times over a year, they provide a CAGR of +26%.
Conclusion
The present major US equity markets do not appear to be in any serious danger of decline. Stock-by-stock appraisals are collectively rather strong. Major market-index-tracking ETFs have good prospective reward-to-risk comparisons.
The VIX may see some further rise, accompanied by relatively minor major market decline, but compared to past less-serious experiences the reaction to date has been rather subdued.
Compared to SPY's YTD price gain of less than 6% CAGR prior to the Brexit vote, its current prospect is a handsome return all by itself. Combined with that are the 94% Win Odds, and the small -2.6% interim price drawdown exposure history. SPY may be one of the better conservative places to put otherwise liberated capital to work in a market environment of moderate continuing uncertainty.
The question of more aggressive use of the present market sell-off deserves a separate article attention, which will be forthcoming over the weekend.
Additional disclosure: Peter Way and generations of the Way Family are long-term providers of investment perspective information (20th century, earlier) helping professional and (now, 21st century) individual investors discriminate between wealth-building opportunities in individual stocks and ETFs. We do not manage money for others outside of the family but do provide pro bono consulting for a limited number of not-for-profit organizations. We firmly believe investors need to maintain skin in their game by actively initiating commitment choices of capital and time investments in their personal portfolios. So our information presents for their guidance what the arguably best-informed professional investors, through their own self-protective hedging actions, believe is most likely to happen to the prices of specific issues in coming weeks and months. Evidences of how such prior forecasts have worked out are routinely provided. Our website, blockdesk.com has further information.
Disclosure: I/we have no positions in any stocks mentioned, and no plans to initiate any positions within the next 72 hours.
I wrote this article myself, and it expresses my own opinions. I am not receiving compensation for it (other than from Seeking Alpha). I have no business relationship with any company whose stock is mentioned in this article.