Over the past five months, Occidental Petroleum (NYSE:OXY) has made a strong recovery on the stock market by gaining almost 20%, as oil prices have recovered from multi-year lows seen in January this year. At present, the company's shares trade very close to their 52-week high. But, should investors continue to remain invested in Occidental shares at this level or should they start booking profits? Let's find out.
Improving the balance sheet
Occidental's low-cost assets have allowed the company to maintain a strong balance sheet. The company had ended last quarter with a total cash position of almost $3.2 billion, driven by strong operating cash flow generation of $3.48 billion in the past twelve months. The important thing to note here is that Occidental has been deploying this cash to good use by reducing its debt.
Last quarter, Occidental retired approximately $700 million of its debt, and it currently has a debt load of $7.6 billion on the balance sheet. Though this debt load might seem high at first, investors should not forget the fact that Occidental is the least levered companies among peers and its debt-reduction move has allowed it to reduce the debt-equity ratio of late. This is shown in the chart below: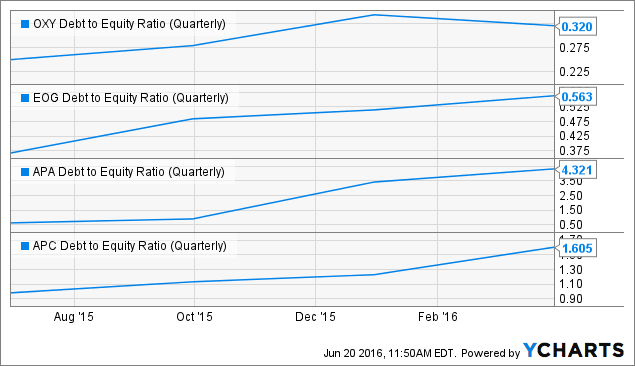 Looking ahead, as oil prices get better and Occidental reduces its costs further, its cash flow profile will continue to improve. As a result, Occidental will be able to retire more of its debt going forward, which will help the company further lower the leverage and associated interest expenses.
Well-placed to benefit from the oil recovery
Another reason why it will be a good idea to remain invested in Occidental shares despite its strong run over the past few months is because the company has lowered its costs enough to benefit from the rally in oil prices. This is because Occidental has kept its focus on growing production at low-cost assets such as the Permian Basin where capital requirements are low but returns are high, so that it can keep its margins in decent shape despite the drop in oil prices. This is shown in the chart given below: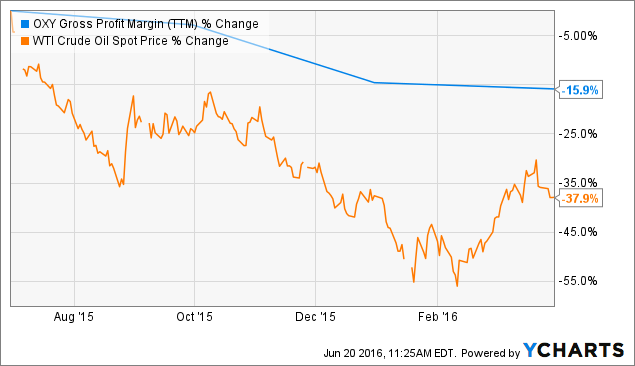 As evident from the chart above, the decline in Occidental's gross margin has been far lower than the drop in oil prices in the past year, mainly due to its low-cost production. For instance, its production in the Permian last quarter grew 31% year-over-year as the company is taking steps to reduce the base decline rate at this asset to reduce costs and enhance production.
In fact, due to Occidental's focus on reducing the base decline rate at Permian, its operating expense per barrel of oil equivalent declined to just $8.72, a drop of 33% from the prior-year period. The company has achieved consistent reductions in its operating expenses per barrel of oil equivalent over the past few quarters, as shown below: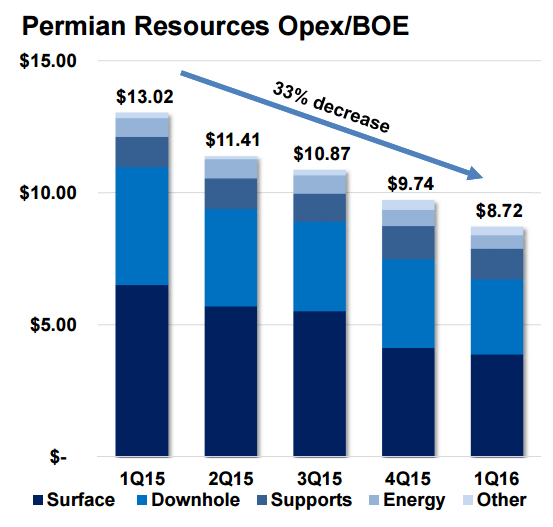 Source: Occidental Petroleum
Additionally, Occidental has lowered its cash operating costs by 23% and realized G&A savings of 15% at Permian. The reason why Occidental has been able to record such impressive cost reductions is because of the deployment of several advanced production techniques, such as integrating 3D seismic imaging to locate potential wells, using data to characterize reservoirs and improve the design of artificial lifts.
The good news is that these advanced technologies are allowing Occidental to reduce its well costs by substantial margins. For instance, it reduced its well costs by 42% and 34% at the Delaware Wolfcamp and East Midland Wolfcamp plays, respectively, on the back of lower drilling days that declined 63% and 65%, respectively, at both assets. This is shown in the chart below: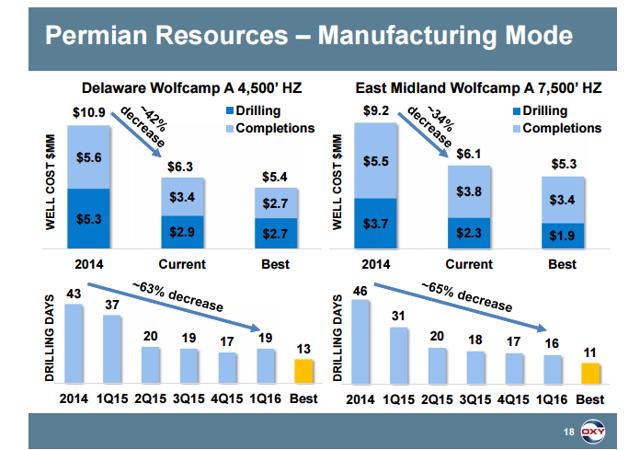 Source: Occidental Petroleum
Looking ahead, Occidental believes that it is capable of reducing its costs further considering the best drilling times achieved by the company. More specifically, the company expects to reduce its well costs by 14% this year to $5.4 million per well from the current level of $6.3 million at Delaware, and by 13% at East Midland Wolfcamp.
This reduction in well costs in both areas will be driven by lower drilling days. Occidental is capable of reducing the drilling time to 13 days and 11 days at Delaware and East Midland, respectively, from last quarter's time of 19 days and 16 days. Thus, it won't be surprising if Occidental is able to reduce its operating expenses further going forward on the back of lower completion times.
Moreover, Occidental is investing in only those assets where it can generate returns of more than 15-20% above the cost of capital, both domestically and internationally. Since oil prices have been on the rise of late, OXY could augment its returns going forward as well.
Conclusion
Occidental Petroleum has two factors working in its favor - a strong balance sheet and low-cost assets. Both these will work in the company's favor going forward and lead to stronger returns as oil prices continue recovering. Thus, despite the shares trading close to their 52-week high, it makes sense to remain invested in the stock for more upside.
Disclosure: I/we have no positions in any stocks mentioned, and no plans to initiate any positions within the next 72 hours.
I wrote this article myself, and it expresses my own opinions. I am not receiving compensation for it (other than from Seeking Alpha). I have no business relationship with any company whose stock is mentioned in this article.