Hess Corporation (NYSE:HES) exited the first quarter of this year with $3.56 billion in cash and $1.39 billion in other current assets versus $2.19 billion in current liabilities and $6.6 billion in long-term debt (that includes $709 million from Hess Midstream). A strong balance sheet gives Hess Corporation a wide berth when it comes to navigating the downturn in energy prices, specifically crude oil and its impact on global natural gas prices. Considering Hess' weak cash flow generation in a sub-$30/barrel environment and a low price environment overall, its relatively strong balance sheet has been its bulwark.
The upstream player also has an undrawn $4 billion revolving credit line that matures in January 2020 and $700 million in unused committed lines to provide additional access to liquidity. With over $8 billion in liquidity and access to liquidity, Hess will be able to easily service ~$100 million in debt maturities this year and ~$400 million in 2017 while also covering its outspend.
During the first quarter of 2016, Hess Corporation's cash flow streams got whacked by terribly lackluster realized prices. The upstream player fetched $26.94 per barrel of oil produced in the US and $28.50/barrel worldwide (international prices were materially stronger but still low). On the natural gas front, Hess realized $1.27/Mcf in the US (in large part due to the differential out of the Utica play) and $3.42/Mcf worldwide (weighed down by low global crude prices).
Weak realized prices, equal to around 50-70% of what Hess was fetching during the first and fourth quarter of last year, contributed to Hess' operating cash flow streams crashing (excluding working capital changes) to $148 million from $470 million year over year. Including working capital changes, Hess generated negative operating cash flow. Q1 2016 was a bad quarter for Hess, but it appears that things will get better. When Hess reports its Q2 2016 earnings report, significantly higher realized energy prices for its upstream production will see its cash flow streams shoot upwards.
If prices tread water around $45-50 WTI for an entire quarter while Henry Hub continues to trade above $2.50/Mcf, Hess will have something real to show investors. However, higher realized prices will be weighed down by smaller sales volumes. The company's upstream output is declining marginally as management cut Hess' 2016 capex budget by ~40% relative to 2015, bringing it down to $2.4 billion. Hess produced an average of 368,000 BOE/d in 2015, which will fall down to 330,000 BOE/d-350,000 BOE/d this year (excludes asset sales and Libya). Strong unconventional performance could help Hess reach the upper end of that guidance.
North Dakota update
Hess Corporation owns 578,000 net acres in the Bakken/Three-Forks plays in North Dakota, which pumped out 111,000 BOE/d net in Q1 2016. That included 73,000 barrels of oil per day, 27,000 bpd of NGLs, and 67 MMcf/d of natural gas, up marginally from the 109,000 BOE/d net Hess produced in Q4 2015.
After running four rigs in Q1 2016 and three rigs during the second quarter this year, Hess plans to wind its operations down to two rigs starting next quarter to save money. Mild pricing differentials and hefty transportation costs weigh negatively on Hess' drilling economics, making only its best potential wells economical on an incremental basis.
During 2015, Hess tested out a few pilot projects in the Bakken/TF that proved to be very successful. On the downspacing front, Hess was able to reduce the distance between its well laterals from 700 feet to 500 feet, allowing for four additional wells to be completed per 1,280 acre drilling spacing unit. Hess also tried out a completion design that included 50 completion stages, up from 35 previously, which brought wells online with ~20% higher 30, 60, and 90 day IP rates. Both of those projects enabled Hess to raise its estimated recoverable resource base in the Bakken/Three-Forks play to 1.6 billion BOE at the end of 2015. That was up by 200 million BOE from the end of 2014.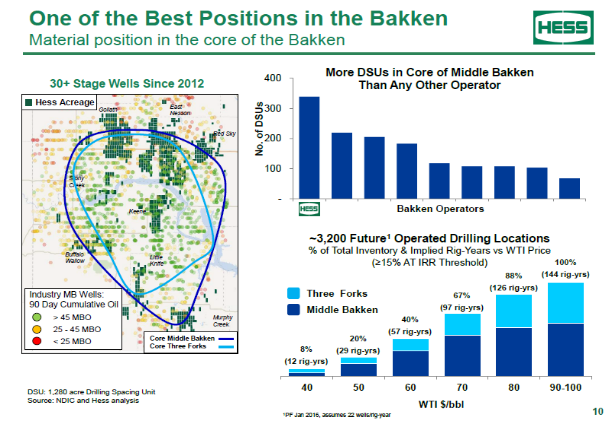 Source: Hess Corporation May 2016 Presentation
Exploration update
In the Gulf of Mexico, ConocoPhillips' (NYSE:COP) Melmar-1 exploration well came up empty at the Melmar prospect which Hess was also invested in. That is disappointing but just part of doing business, conventional exploration programs won't strike gold every time. Investors are still waiting for an update on the Sicily-2 exploration well Chevron Corporation (NYSE:CVX) is drilling in the Gulf of Mexico, after the Sicily-1 well uncovered what could be a 300 million-400 million BOE find. Hess owns 25% of that prospect, and results from the Sicily-2 well should become known sometime in the not-too-distant future as drilling commenced at the end of 2015.
Production out of Equatorial New Guinea in West Africa was held flat in 2015 versus 2014 as two new production wells offset natural field declines. Hess owns an 85% interest in Block G that produced a net 43,000 BOE/d last year and is the operator of the project. While no drilling is planned for this year, Hess' 4D seismic mapping endeavor has gone well, as the company identified additional infill opportunities that can help keep output flat.
The crown jewel that the market is anxiously waiting for is results from Exxon Mobil Corporation's (NYSE:XOM) Liza-2 well. Hess owns 30% of the Stabroek Block (where the Liza-1 well was completed) in offshore Guyana that covers 6.6 million acres, and Exxon Mobil is the operator of the venture. Last year, the partnership found "295-feet of high-quality oil-bearing sandstone reservoirs" that could house around 500 million BOE of oil-weighted reserves through the Liza-1 exploration well. Drilling on the Liza-2 well started in February 2016, which should be closely monitored as that is the first of four exploration wells planned for 2016 in the area.
With the venture's 3D seismic project that covers 17,000 square kilometers now complete, production results from those two wells combined with its 3D seismic map should provide a lot of color on what to expect and where to drill. Any positive updates on this front could have a material impact on Hess' stock price as it could prove that the partnership did strike a huge amount of liquid gold on its first attempt. That doesn't always happen, but when it does, upstream players gain a new long-life asset that produces a sizeable amount of cash flow once the upfront costs are paid off.
Up in Canada, Hess owns 40% of a BP plc (NYSE:BP) operated exploration block off the coast of Nova Scotia. That block covers 3.5 million acres, and initial pre-drill estimates point towards 800 million BOE in net risked resources. Drilling isn't expected until the second quarter of 2018.
Since Hess' Q4 2014 conference call in early 2015, the company hasn't said much about its exploration program in offshore Ghana. The deepwater Tano/Cape Three Points project is located about 70 miles off of Ghana's coast, and Hess has successfully drilled seven exploration wells in the region. A decision on whether to move forward with the development or not is expected this year, as obligated by Ghana's legal system relating to oil & gas activities. I would speculate Hess and its partners dragged their feet in light of global crude and natural gas prices collapsing.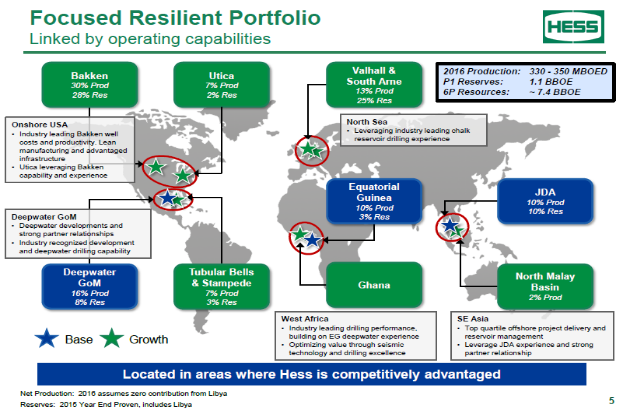 Source: Hess Corporation May 2016 Presentation
Final thoughts
I personally own shares of Hess Corporation and have been a shareholder for about a year. My position is down by a bit but I remain bullish as it appears a real pricing recovery is underway. WTI and Brent won't see $60/barrel soon, but it wouldn't be unreasonable to speculate that oil prices could/should exit 2016 above $50/barrel. When Hess Corporation reports its Q2 and Q3 earnings, investors will get to see how the company performs in a far better pricing environment compared to Q1 2016.
Hess Corporation's management team has been able to successfully steer the upstream operator through the pricing downturn and have put the company in a prime position to ride a pricing recovery back up. With a balanced debt maturity schedule, tons of liquidity, a diversified upstream asset base, intriguing exploration programs, and several major growth drivers in Malaysia, the Gulf of Mexico, and the Bakken/Three-Forks plays, investors should consider Hess Corporation as a rock solid oil & gas investment.
Disclosure: I am/we are long HES.
I wrote this article myself, and it expresses my own opinions. I am not receiving compensation for it (other than from Seeking Alpha). I have no business relationship with any company whose stock is mentioned in this article.