Britain is leaving the European Union. That's all anyone can talk about these days, and it's all that is driving the markets. It's understandable, after all, $2 trillion was wiped out on global stock markets in less than 24 hours after the vote, leading to a very uncomfortable weekend for a lot of people.
Beyond broad panic selling, even of companies with little to no exposure to Europe, let alone Britain, we're also seeing a heavy flight to safety. This has sent gold and silver surging upward and has also boosted the US dollar, as European investors ditch the pound and the euro for greener pastures.
It's that dollar boost that got me interested in a pair of financial services companies, Synchrony Financial (NYSE:SYF) and Discover Financial Services (NYSE:DFS), two US-centric companies that have deep war chests of cash on hand, and which have strong operating cash flow. Brexit nervousness is likely here to stay for awhile, and instead of just parking our money in the US dollar, why not park it in companies that generate US dollars?
A brief overview
Most people are already familiar with Discover, makers of the venerable Discover Card, the third largest credit card in the United States. The company is the fourth largest card issuer in the United States (the three larger issuers all deal with Visa (NYSE:V) or MasterCard (NYSE:MA)) and also has some straightforward online banking products, including savings accounts, personal loans and home mortgages.
Synchrony is a bit less familiar of a name for most, having been spun off from General Electric (NYSE:GE) back in 2014. Synchrony is what used to be called GE Capital Retail, and controls about 42% of America's private label credit card market, issuing cards for the likes of Wal-Mart (NYSE:WMT), Amazon.com (NASDAQ:AMZN) and Lowes (NYSE:LOW).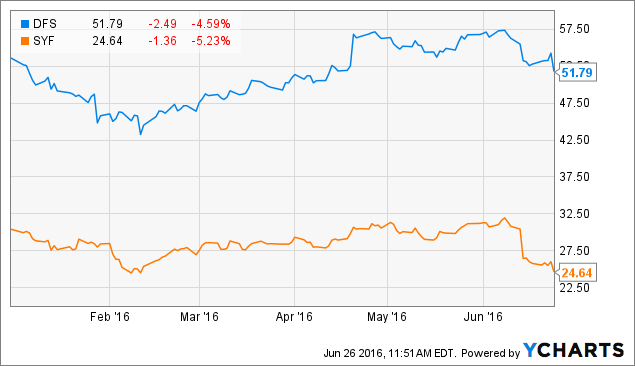 In both cases these companies dropped on Friday, along with the broader markets. Neither is a particularly volatile company and both continue to plug away, generating tons of cash and strong earnings while waiting for the market to fully appreciate them.
The underlying numbers
| | | |
| --- | --- | --- |
| | SYF | DFS |
| Total Loans | $62.2 billion | $70.3 billion |
| Total Deposits | $45.0 billion | $48.4 billion |
| Liabilities | $68.4 billion | $76.7 billion |
| Assets | $81.6 billion | $88.1 billion |
| Shareholder Equity | $13.2 billion | $11.3 billion |
| Assets/Equity | 6.18 | 7.79 |
| Loans/Deposits | 138% | 145% |
As you can see from these numbers, we're looking at two very similar companies. The high loan/deposit percentage is typical for credit card companies, being after all the nature of the business to loan consumers money. Synchrony is a somewhat less leveraged company, which might imply a slightly less aggressive overall mindset, though again the difference is slight. Even better are these figures.
| | | |
| --- | --- | --- |
| | SYF | DFS |
| Cash on Hand | $12.5 billion | $12.1 billion |
| Operating Cash Flow | $1.5 billion | $1.15 billion |
| Investing Cash Flow | $1.2 billion | $982 million |
| P/E Ratio | 9.16 | 9.97 |
| Yield | no dividend | 2.06% |
That's a lot of cash on the books and in both cases the companies' liabilities are largely customer deposits, meaning they're not drowning in debt. Discover pays a dividend, but in its most recent 10-K, Synchrony also affirmed its intention to establish a dividend as well as a stock repurchase program. There isn't much clarity on when that will be or how big of a dividend we're talking about, hence the discount compared to Discover on earnings. The P/E ratios are also headed downward with solid projected earnings growth.
| | | | |
| --- | --- | --- | --- |
| | EPS | Next Year | Following Year |
| SYF | $2.69 | $2.65 | $2.99 |
| DFS | $5.20 | $5.69 | $6.09 |
Discover's earnings growth is a bit faster, which is unsurprising since the company is somewhat more heavily leveraged. In both cases, however, sub-10 P/Es put these companies square in value stock territory already, and continued earnings growth should mean steady appreciation for the stocks.
Conclusion
As you can probably tell from my difficulty in differentiating between the two in large measure, I really like both of these companies at current prices. Discover is a somewhat safer bet because of its known dividend and larger projected earnings growth, but Synchrony might be more undervalued at current levels, since it is generating even more cash and has more shareholder equity, despite market caps being virtually even.
The Brexit exit is likely to take years to work out and the fallout from it even longer. That portends a continued interest in the US dollar at the expense of the pound and the euro, and makes the ability of both companies to generate frankly juicy amounts of free cash flow all the more alluring.
In the end I may slightly favor Synchrony, both as a slightly more discounted company and because I feel that once it does establish a dividend, which probably will be at similar levels to Discover, it should see some appreciation on the market.
Disclosure: I/we have no positions in any stocks mentioned, but may initiate a long position in SYF over the next 72 hours.
I wrote this article myself, and it expresses my own opinions. I am not receiving compensation for it (other than from Seeking Alpha). I have no business relationship with any company whose stock is mentioned in this article.