Archer Daniels Midland (NYSE:ADM) has been getting some love from Wall Street in recent weeks. On May 24th, BMO Capital Markets upgraded it to an "Outperform" and raised its price target to $48. Three days later, Citigroup upgraded ADM to a "Buy." Both houses cited lower soy and corn crops in South America (which should benefit yields), and steady demand from protein and biofuel end markets as reasons for the upgrade. We think ADM is fairly valued, even after falling more than 5% after Brexit. Shares of ADM are up 33% since their lows in mid-January, but the firm continues to report weak results. The price rise is largely due to share repurchases, as ADM bought back 9 million in the latest quarter. Meanwhile, insiders and institutions have been selling. After the upgrades by BMO and Citigroup, directors sold shares at prices in the high $30 to low $40 range. We interpret this as a sign that the stock won't go much higher in the near future.
Figure 1: YTD Price Performance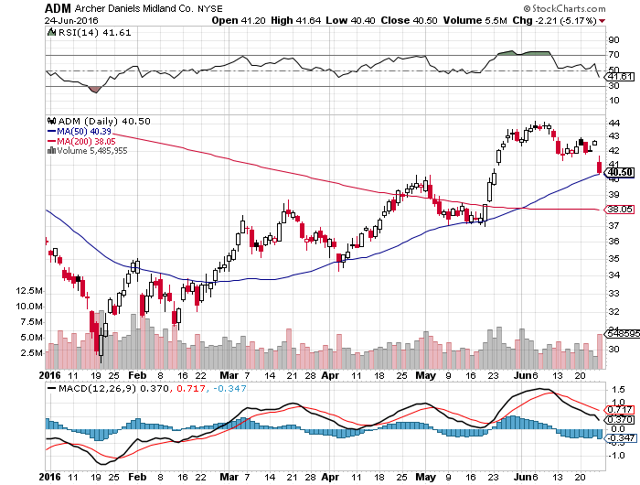 Source: stockcharts.com
ADM is struggling. Sales in the latest quarter fell 18% year-over-year. Q1 marked the tenth consecutive sales miss and the fourth consecutive earnings miss. A weaker dollar has supported a general rise in commodity prices, but the dollar is still strong versus other currencies. This has weighed on US export volumes and the revenues ADM earns from transporting commodities to ports in its Agricultural Services segment (which accounts for almost half of the company's sales). Due to high fixed costs, capacity utilization has a big impact on margins: when volumes fall, so does profitability. In the latest quarter, operating margin fell from 3.45% to 2.23%. We expect persistent dollar strength after Brexit to weigh on this segment for the remainder of the year. But not all news is bad. Oil seeds and Corn segments showed signs of strength thanks to steady demand for proteins, sweeteners and starches, and bioproducts. These segments have secular growth potential, as rising incomes around the world boost meat consumption and governments continue to mandate the use of renewable fuels.
ADM has some important competitive advantages, but the industry dynamics do not allow for a very profitable environment. The lack of an economic moat for the company prevents us from being more optimistic about its outlook. ADM's massive network of processing plants, storage facilities and transportation assets keep entry barriers high. And, while high capital requirements further raise entry barriers, they also keep returns on capital low for the incumbents. High operating leverage makes industry operators more exposed to commodity price swings, and the lack of pricing power that results from selling commodities prevents firms from being very profitable. Despite being one of the four major players in the global agribusiness, ADM has a five-year median operating margin of just 2.7%. The firm's dividend yield is currently 2.86%, but given the underlying volatility we would require higher levels of profitability in order to consider the dividend safe enough for investment.
ADM trades at a P/E of 14 but the stock is fairly valued and there is little to be gained by investing at these levels. We don't see much room for capital appreciation and the dividend is not safe enough given the combination of cyclicality, high operating leverage and low profitability. Investors seeking exposure to long-term trends in food consumption should search for stocks in more stable and profitable sectors.
Disclosure: I/we have no positions in any stocks mentioned, and no plans to initiate any positions within the next 72 hours.
I wrote this article myself, and it expresses my own opinions. I am not receiving compensation for it (other than from Seeking Alpha). I have no business relationship with any company whose stock is mentioned in this article.