In Barron's Tiernan Ray wrote, "It's easy to see which top tech names should be on everyone's list. Cloud computing is seemingly destined to make two of its biggest competitors, Amazon.com (NASDAQ:AMZN) and Alphabet (NASDAQ:GOOGL) more and more powerful.
That's also true in Data Storage, as two of its biggest players - Digital Realty (NYSE:DLR) and Equinix (NASDAQ:EQIX) are also growing their fortress brands.
We continue to have a positive view on the Data Center REIT sector driven by a demand outlook that remains as strong as ever. The two larger players (DLR and EQIX) have benefited from their competitive advantages, further extending their wide moats and earning high returns on capital.
Before the sector took off, we decided to diversify our Data Center REIT holdings by adding a new name to the mix.
We have owned DLR since August 2013 and around a year ago (June 5th) we opted to increase exposure in the sector by pairing with CyrusOne (NASDAQ:CONE). We now hold 6.4% (in Data Center exposure) within our Durable Income Portfolio that has returned 16.5% year-to-date.
Our two Data Center REITs have returned an average of 41% year-to-date and we are continuing to increase exposure when warranted. We expect most all Data Center REITs to continue to generate above average FFO per share growth in the future and we would ultimately like to increase our total Data Center REIT exposure to around 10%.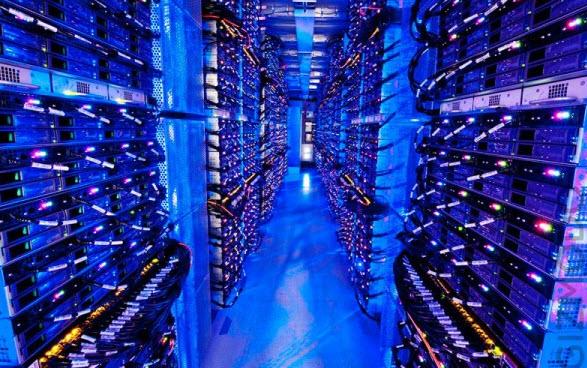 I'm Glad We Got On The CyrusOne Bus
As I said, we got on the bus early, our Data Center REIT returns have performed extremely well - In June 2015, we decided to diversify our Data Center REIT holdings by adding shares in CONE. Since that time, shares in CONE have generated above-average returns of 61.74%.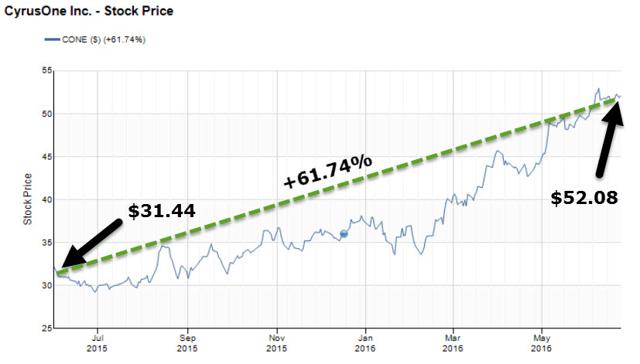 The pairing with DLR worked out well, we increased diversification and increased performance: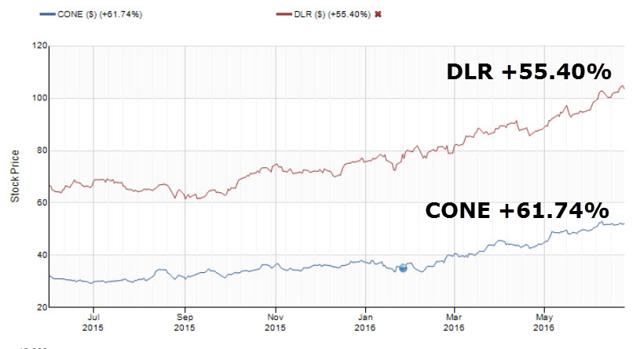 CONE was previously the co-location unit of Ohio-based Cincinnati Bell Inc. (NYSE: CBB), and on January 17, 2013, the $2.8 billion (total cap) REIT spun off its data center portfolio by listing around 16.5 million shares on Nasdaq, raising around $313.5 million (around $19 per share).
Cincinnati Bell is the last of the "Bell Companies," and the 140-year old phone company recognized that the data centers were throwing off a lot of cash. By spinning off CyrusOne, Cincy-Bell seized the opportunity to de-lever and help develop a standalone brand.
At the time of the IPO (January 2013), Cincy-Bell owned around 68% of CyrusOne's shares. However, since that time, the ownership stake has reduced to less than 9%.
Since going public, CyrusOne has grown from 526 customers to around 947 (as of Q1-16).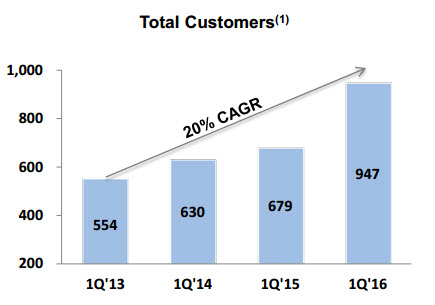 A majority of the company's tenants are Fortune 1000 companies, and around 60% of the REIT's annualized rent is from investment-grade customers. Since listing shares, CyrusOne's Fortune 1000 customer base has grown from 115 to 176.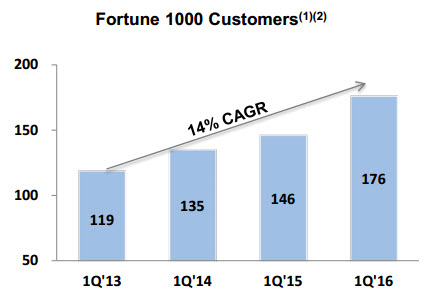 CyrusOne does not disclose its tenants and the company considers 9 of the Fortune 20 customers. The most important leading indicator for CONE's future success is its ability to attract and retain Fortune 1000 customers, which represent nearly 70% of revenue and 85% of that is with investment-grade companies.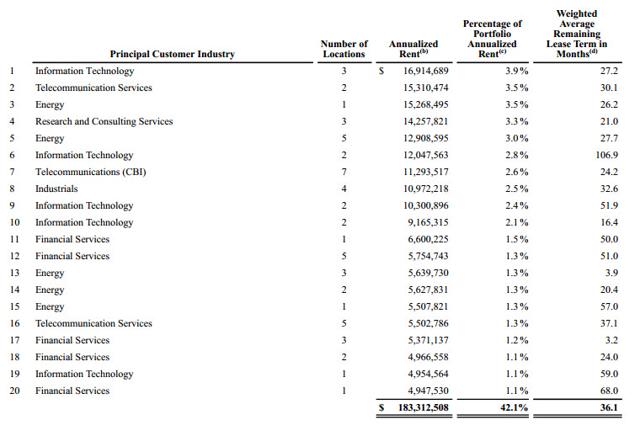 Interconnectivity Partnerships Drive Growth
We believe that CONE's expansion into the interconnection business may prove valuable in the long-term, especially given its large presence in the Texas markets.
CONE has partnerships with many of the leading cloud vendors and the company recently announced partnerships providing connectivity to Microsoft (NASDAQ:MSFT) Azure, Office 365 and Amazon Web Services. Offering direct connections to CONE's enterprise customers allows for greater reliability, faster speeds, lower latency and enhanced security.
The interconnection growth trends remain strong as revenue was up 56% in the first quarter and currently represents 6% of total revenue, up from 2% three years ago. 83% of leases signed in the first quarter included an interconnection product.
CONE now averages more than 11 cross-connects per customer, up from three per customer five years ago and the company has more than 11,000 cross-connects in total across the portfolio. This product line is expected to grow faster than the base business as enterprise has become more familiar with an outsourced network model and take advantage of the lower costs.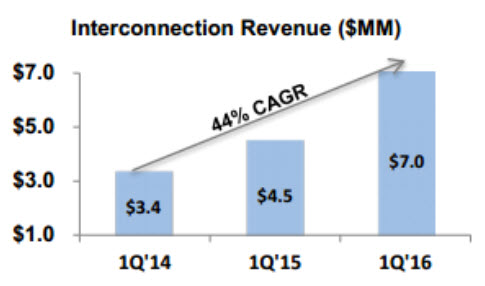 We Like The Development Business
CONE's development pipeline is the strongest it's ever been with 60% of the capital being deployed towards pre-leased facilities, which is allowing the company to maintain high level of utilization.
CONE is also seeing a significant change in customer buying behavior as more and more Internet scale companies are approaching the company to do build-to-suit projects for them. As CONE's CEO, Gary J. Wojtaszek, explains,
They are recognizing that our massively modular design approach allows them to overcome the demand forecasting challenges they face in their business, which creates a tremendous amount of volatility in the accuracy of their capacity planning.
Unlike the peers, CONE continues to generate very high yields in the mid-teens on the capital deployed. As the chart below illustrates, CONE has enough capacity available to increase the size of the company by nearly 65% and enough land capacity to grow 3.5 times larger than today.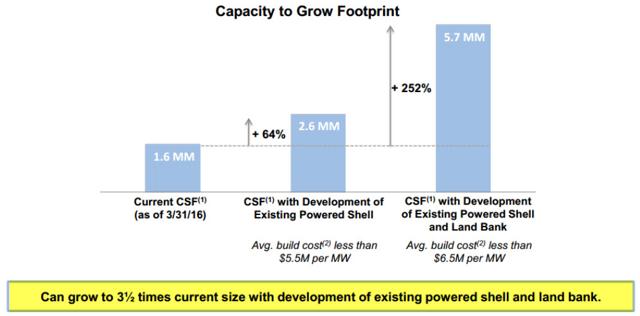 Acquisition of CME Group Data Center
In Q1-16 CONE closed on the acquisition of the Chicago Mercantile Exchange's data center in Chicago. With this deal, CONE entered into a 15-year lease agreement with the CME and will partner with them to create the preeminent financial services co-location hub in the industry. CONE has 36,000 square feet of space available in this facility to sell and 15 acres of land upon which it intends to develop an additional 500,000-square foot facility.
So, with one transaction, CONE acquired one of the premier interconnected facilities in the country, one of the most prestigious financial companies as a customer, diversified its geographic presence with an ability to double in size, and increased its presence in the financial services sector.
According to CONE's website the company paid $130 million and the transaction expands CONE's existing portfolio to more than 30 data centers across the US and overseas.
The Balance Sheet
During the first quarter CONE increased book assets by approximately $300 million to nearly $2.5 billion. When accumulated appreciation is added back, gross book assets are nearly $3 billion.
CONE's enterprise value is roughly $4.6 billion and here's how Total Capitalization compares to the peer group:

Based on current equity market capitalization, CONE ranks at number 67 on the list of the largest 100 REITs. In addition to the above-referenced acquisition, CONE expended roughly $120 million towards construction, primarily in Northern Virginia, San Antonio, and Dallas. The company had excess proceeds from its March equity offering and ended the quarter with $88 million in cash.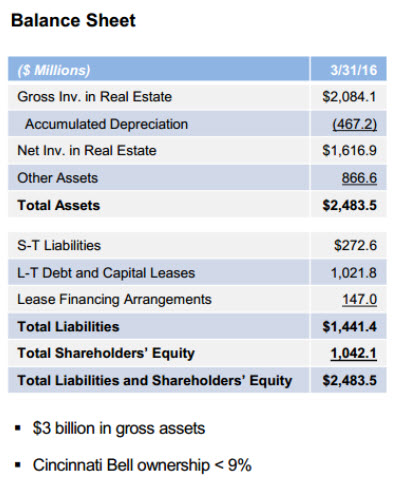 Note that Moody's recently affirmed CONE's LP's corporate family and senior unsecured debt ratings at B1. The company's ratings outlook was revised to positive from stable.
Moody's said in a note that the affirmed ratings acknowledge CyrusOne's expanding presence in the data center space, ample development outlays, income generated from leased versus owned assets and limited near-term debt maturities.
The positive outlook is based on meaningfully improved key leverage and coverage metrics, favorable trends in portfolio metrics and "rapid yet well planned" portfolio growth, according to the rating agency. S&P has rated CONE B+ (far below the BBB rating of DLR).

The chart below shows the current development pipeline for 2016. The major construction projects that CONE has underway have an estimated cost to complete in the range of $165 million to $200 million. The vast majority of that will be spent in 2016.
Approximately 60% of the colocation space under construction is contractually committed to customers, or pre-leased in real estate parlance. Projects in Northern Virginia, San Antonio, Phoenix and Dallas are all seeing healthy demand.
Interest in Chicago has been strong since CONE announced the acquisition of the CME data center there. CONE expects to achieve development yields in the mid-teens on the development pipeline in line with our historical returns.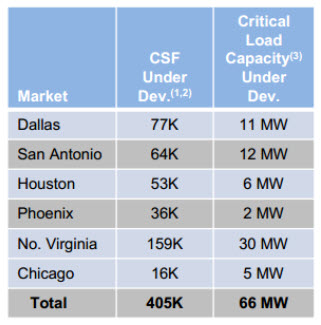 CONE's balance sheet metrics are strong: At the end of Q1-16 Net debt to adjusted EBITDA was 3.8x (excludes rental income recognized during the quarter from the lease with CME Group) and fixed charge coverage was 4.1x. At quarter-end, CONE had over $730 million of readily available liquidity.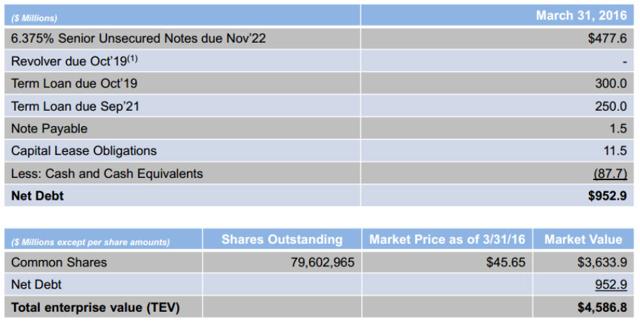 During the quarter, CONE raised over $500 million in capital, including $255 million of proceeds from the issuance of common equity and $250 million in proceeds from a new 5.5-year bank term loan. The company used the proceeds to fund the CME data center acquisition, to pay down the revolver to a zero balance and for working capital.
CONE's revenue backlog at the end of the quarter was $74 million, nearly twice as big as the $42 million backlog at the end of 2015 and four times as big as the backlog in previous quarters.

As shown below, CONE expects approximately 40% of that revenue to commence in the second quarter and 60% in the third quarter. The delivery of projects underlying the revenue backlog should help fuel growth well into 2017.

The Latest Results
CONE's normalized FFO and AFFO showed strong growth in the first quarter. Normalized FFO per share increased by 29% to $0.63 per share with the increase reflecting the high revenue, NOI, and adjusted EBITDA growth rates for the quarter. Here's FFO growth: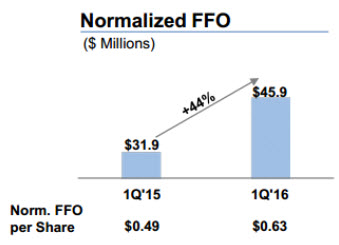 Here's AFFO growth: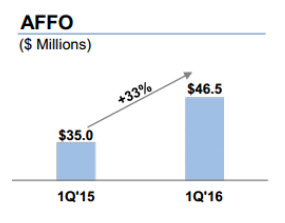 Churn for the quarter was 1.3%, slightly higher than in recent quarters, but in line with the historical average.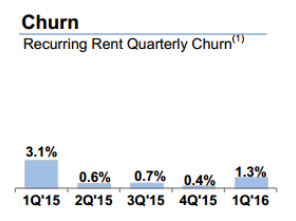 CONE's revenue growth of $32.1 million or 37% was driven by last year's acquisition of Cervalis and the leasing of additional capacity delivered in Phoenix, Dallas, Austin and Northern Virginia over the past year.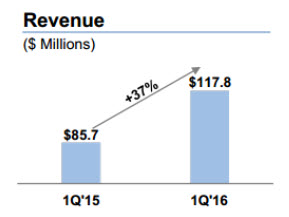 Adjusted EBITDA for the quarter was $62.7 million, which equates to an annualized run rate of $251 million. The 44% increase in normalized FFO was driven primarily by higher adjusted EBITDA, leveraged modestly with long-term debt financing.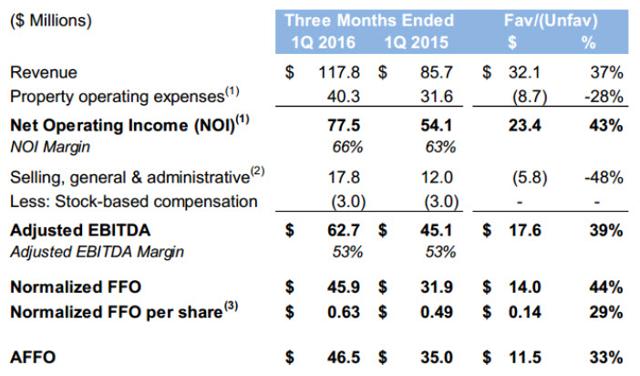 CONE increased revenue guidance by $15 million to $20 million, driven by the rapid pace of construction, strong year-to-date leasing and an anticipated increase in equipment sales and installations in the second half of the year.
CONE increased guidance for normalized FFO per share by $0.03 to $2.48 to $2.58 per diluted share, reflecting higher adjusted EBITDA, partly offset by higher interest expense related to the projected timing of capital investments.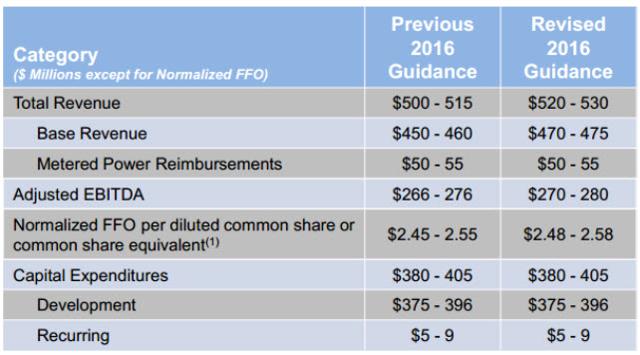 What To Do Next?
As I said above, we got on the CyrusOne bus early and we plan to stay strapped in. Here's how shares have performed over the last year:

Here's how shares have performed over the last 3 years:

A big reason that we jumped on the bus was because of the outsized dividend growth that we saw earlier:

Translation: CONE is the top dividend grower in the Data REIT sector:

With the sector so driven by external growth, we believe the best potential returns can be found from the relatively smaller players that are growing from a small base.
Accordingly, are maintaining our Buy ratings on CONE and we consider this REIT to be the best overall pick based on above average AFFO per share (forecast of 15% per year) and attractive valuation (price target implies 2016 EV/EBITDA which is 1.4x below peer average). Here's how the dividend yield compares to the peer group:

Here's how the P/FFO compares to the peer group:

As you review the FAST Graph below, there's little doubt that CyrusOne has been a top pick for our Durable Income Portfolio: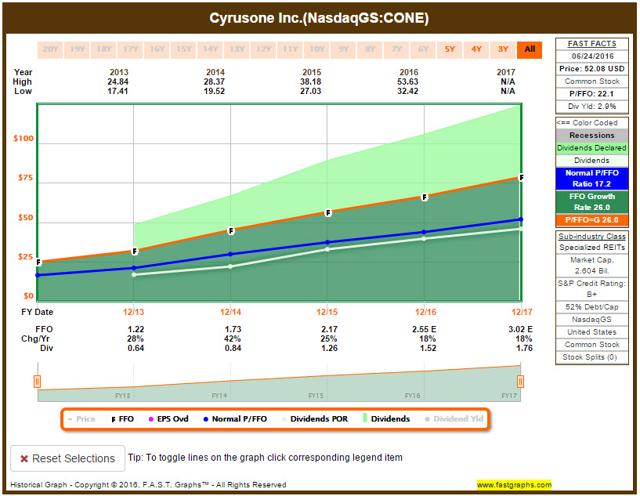 Although we like CONE, we're not as excited to buy shares today and we will continue monitoring, looking for a pullback.
But we like being a shareholder. CONE has been able to improve its costs of capital and the development returns are generating some very robust profit margins. We see no reason to trim shares at the current time and CONE is well-positioned to increase its interconnectivity business while further diversifying its operator and geographic footprint. (We are added a "Trim" Recommendation to our newsletter service).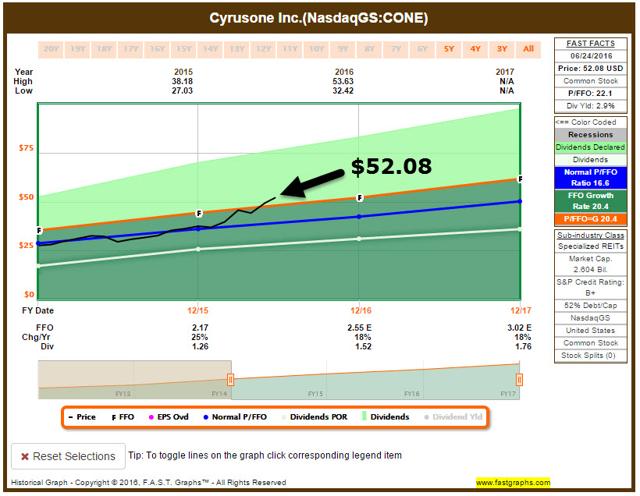 For a complete Data Center REIT Update, subscribe to out REIT newsletter HERE.
Author's Note: Brad Thomas is a Wall Street writer and that means that he is not always right with his predictions or recommendations. That also applies to his grammar. Please excuse any typos, and I assure you that he will do his best to correct any errors if they are overlooked.
Source: S&P Global, FAST Graphs, CONE Investor Presentation, and The Intelligent REIT Investor.
REITs mentioned: (NYSE:COR), (NYSE:QTS), (NYSE:DFT) and (NYSE:IRM).
Disclaimer: This article is intended to provide information to interested parties. As I have no knowledge of individual investor circumstances, goals, and/or portfolio concentration or diversification, readers are expected to complete their own due diligence before purchasing any stocks mentioned or recommended.
Disclosure: I am/we are long O, DLR, VTR, HTA , STAG, GPT, ROIC, HCN, OHI, LXP, KIM, WPC, DOC, EXR, MYCC, TCO, SKT, UBA, STWD, CONE, BRX, CLDT, HST, APTS, FPI, CORR, NHI, CCP, CTRE, WPG, KRG, SNR, LADR, PEB, BXMT, IRM, CIO, PEB.
I wrote this article myself, and it expresses my own opinions. I am not receiving compensation for it (other than from Seeking Alpha). I have no business relationship with any company whose stock is mentioned in this article.