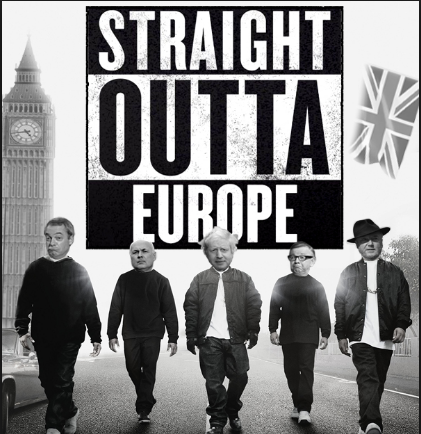 Source: Reddit
It's official, and it seems no one knows quite what to do. The Brexit has caused tremendous volatility and chaos around the world and given birth to comical representations of a very serious issue like the one above. I wrote last week about how I think the Brexit will impact the Fed's ability to raise rates and came to the conclusion that Brexit is exactly the excuse the Fed may have been looking for to only raise once this year. And since I'm working with that frame work on the Fed's potential actions, there are further implications for bank stocks (NYSEARCA:XLF) in particular. Interest rate moves were extreme (in opposing directions) for some of the world's major economies but here at home, there was only one direction.
US Treasury rates were pummeled on Friday as investors flew to safety in enormous numbers following the vote. The short end of the curve moved down between 5bps and 10bps while the longer end saw more like 15bps' worth of buying. The benchmark 10Y is continuing to move down and is now under 150bps, still well higher than some of the other major economies around the world but within striking distance of its all-time low. No one knows what is going to happen in terms of economic impact across the globe or here at home as a result of Brexit but one thing is for sure: until contrary evidence presents itself, US Treasury buyers are out in force.
That means that not only is the higher rates narrative impaired once again, but it also means that we must also reset our expectations for US rates lower until proven otherwise. Anyone that reads my work knows that I've thought the bank stocks have been cheap for a long time and they certainly have; I don't think anyone would deny that they are cheap. The problem is that the catalyst that was supposed to have taken them out of their well-publicized malaise in terms of earnings growth is continuing to disappear.
I've been a fan of most bank stocks in the recent past and in particular, the biggest ones. They have been beaten down the most and have the most to gain via higher rates. But as rates have continued to stay flat or even move down, they've also had the most to lose, it seems.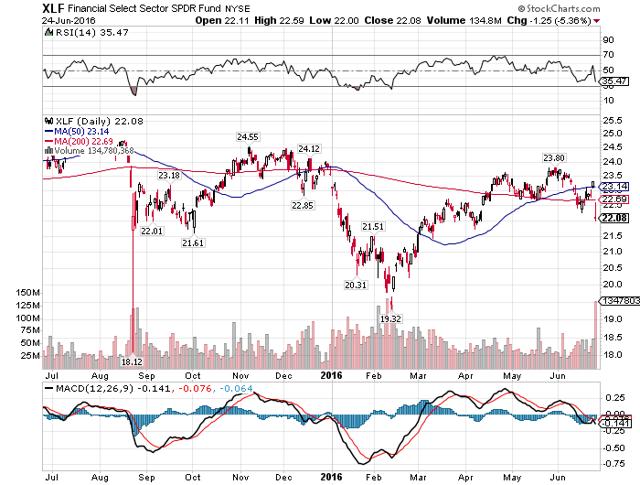 XLF had seen a nice rally off of the lows set in February and consolidated those gains throughout the last couple of months. But the Brexit vote has sent XLF crashing and it is well below the recent low set earlier in June and has gone well and truly through the 200DMA. What damage this will ultimately end up doing to the ETF is yet to be determined but for now, it certainly doesn't look good. So apart from general selling, what was the culprit on Friday? After all, the market was crushed but nowhere near the extent to which banks took a beating with the mega-caps all losing 7% to 10%.
Of course, uncertainly always crushes bank stocks. However, uncertainty, by its very nature, goes away at some point. As a catalyst, uncertainty can rip your face off if you're long because you never know when it is coming. However, no uncertainty lasts forever and at some point, we're going to know if all of this panic on Brexit was necessary or not. Until that happens, however, banks will trade with lower valuations than they would have if Britain had remained instead of leaving.
The other, more alarming problem to me is that rates are so low in the US and that the yield curve is so very flat. Here's a chart - as an example - of the 2/10 spread for US Treasuries.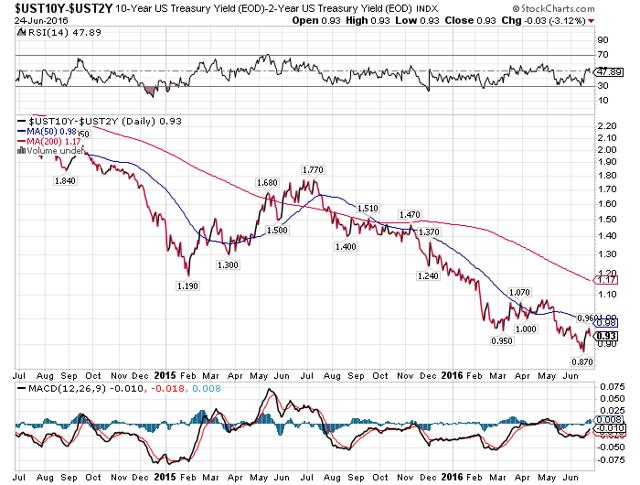 This is a big reason why US banks have had their valuations held down; banks aren't meant to operate in rate environments like this. There has been an extraordinary amount of yield curve flattening that has occurred and it isn't just on the 2/10 spread; you can pick any short and long combination and it looks very much like this. That's a huge problem for banks that make a fair amount of their revenue on the spreads of these types of things and after Brexit, we could see this even get worse.
Thus, even I, the seemingly perma-bull on banks over the last couple of years, am less bullish on banks than I was prior to Brexit. This extraordinary event has caused a lot of issues around the globe with various financial instruments and rates in the US are certainly counted among those issues as they relate to banks. And although the banks have proven the ability to make money with very thin spreads, the simple fact is that investors will continue to punish the banks as long as the yield curve looks like it does above. No amount of earnings or rationale will change that as the past few years have shown us.
For that reason, it seems the XLF is likely to see continued weakness until some clarity on Brexit comes forth. US rates are as low as they have been and the same is true around the world, indicating chaos is the order of the day. That is perhaps the worst possible time to own a bank stock so if you want to own the XLF, I think you can get it cheaper. As painful as it is for me to say that given that there are so many other positive fundamentals for the banks, the sellers are in control until further notice. The flat yield curve that is getting flatter is a terrible sign for the banks and by extension, the XLF, creating yet another victim of the Brexit vote. If you must own the XLF, see where it puts in a bottom; $22 likely isn't it.
Disclosure: I/we have no positions in any stocks mentioned, and no plans to initiate any positions within the next 72 hours.
I wrote this article myself, and it expresses my own opinions. I am not receiving compensation for it (other than from Seeking Alpha). I have no business relationship with any company whose stock is mentioned in this article.