The recent improvement of US Midwest weather, Brexit shock and looming USDA acreage report on June 30th had many investors wondering if the price for soybean had peaked on June 10th for the season. They worried that the heavy selling of corn futures on June 20th could also happen on soybean (as in picture below,showed July futures down from highs). In our opinion, there's still second half of the game lying ahead, for US soybean has very little room for error in the summer.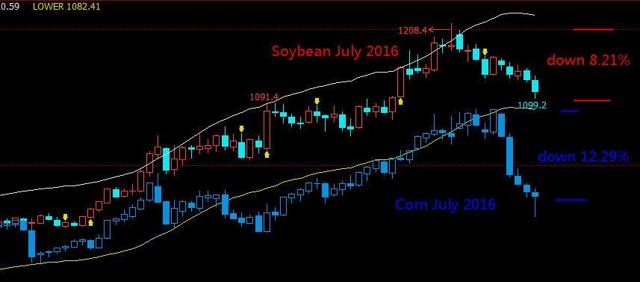 As it's the time of the year for investors to guess the final size of South American soybean crop, in this article, firstly we'll focus on two countries in SA, Brazil and Argentina, for they are the top 1 and 2 bean producers in that continent.
The numbers market once expected Brazil, the top bean producer in SA, in Q1 2016 ran from 100-million-ton to 95-million-ton, and in our opinion 96~97-million-ton could be the more proper estimation. With the adverse weather factored in, we had expected further crop size downgrades from the USDA, as its low frequency of crop estimation, probably more downgrade to see in July and August WASDE reports.

It's turned out that USDA only started to cut the size of Brazil crop in May 2016, almost half year after the drought event emerged, and the cut was still biased to the conservative side, in our opinion. Many other major estimators had downgraded the bean crop size of Brazil earlier. For example Conab, a branch of Agriculture Ministry of Brail, lowered the estimation to 96.91mmt, down 5.55 mmt from its February number.
The major reason to downgrade Brazil soybean crop is the dry condition in Northern Brazil,which had been seen since Q3 2015. We focused on the largest soybean-producing state Mato Grosso, which produces about 30% of Brazil soybean crop.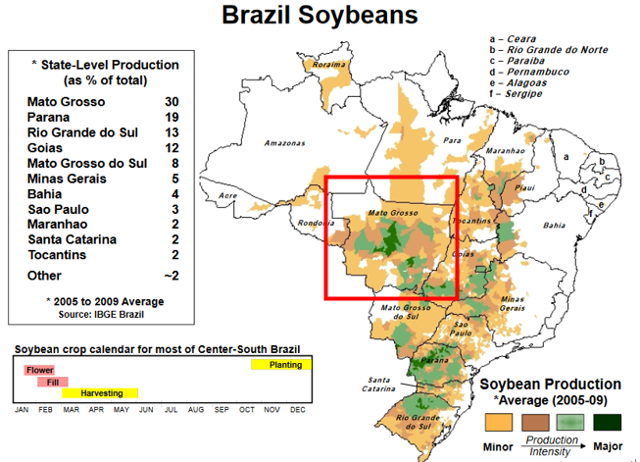 Source: USDA
The area suffered from drought :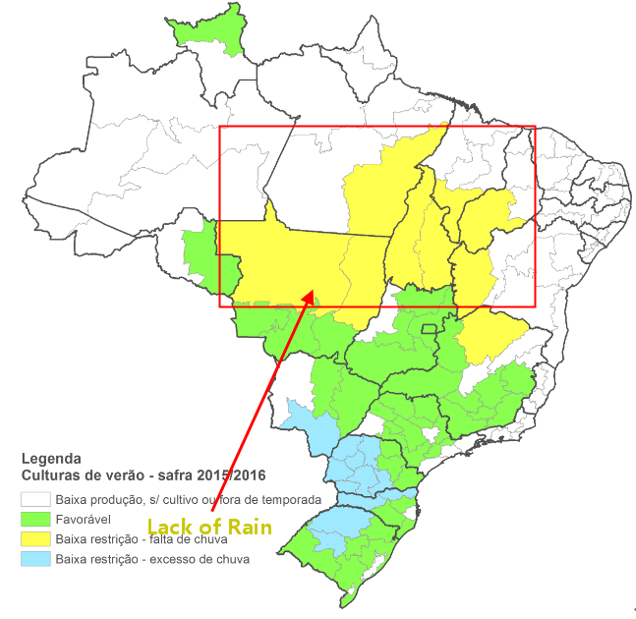 Source:Conab
As Conab monitored in its report, Northern Mato Grosso had been suffering from below average precipitation even since the growing started in September 2015 (shown in the picture below), which was the planting season of Brazil.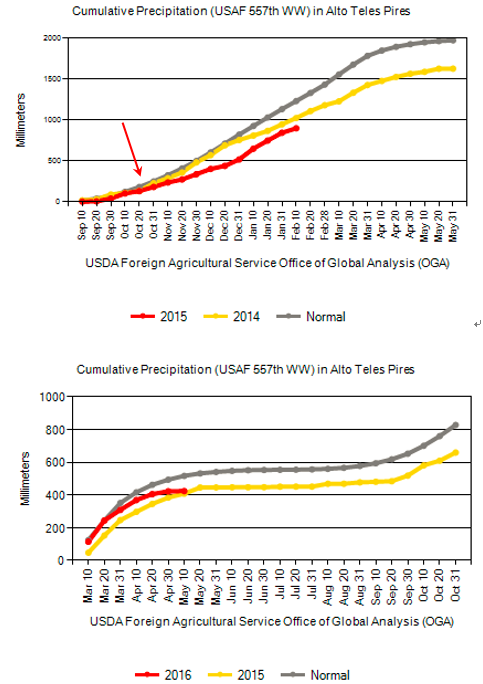 Source: USDA
If we compared the drought-related stress at the end of year 2015 to the same month of previous years, it's clear that 2015 presented the most severe drought stress for Brazil, especially for the northern part, and to our interest, the Mato Grosso region, as marked by the red square frame in the 6 pictures below.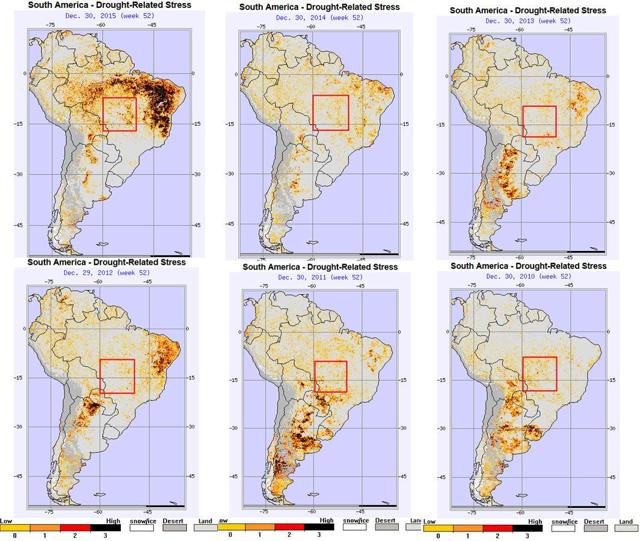 Source: NOAA
As the Seasonal Precipitation Forecast from Columbia University showed in December 2015 (in the picture below), the perspective of rainfall was still leaning to the deficient side for Northern and Northeastern Brazil, into the summer months, despite limited improvement in March 2016. So the downgrade of Brazil soybean yield number was much expected by speculators,despite the inaction of USDA, and this is still a factor worth watching for both producers and investors alike.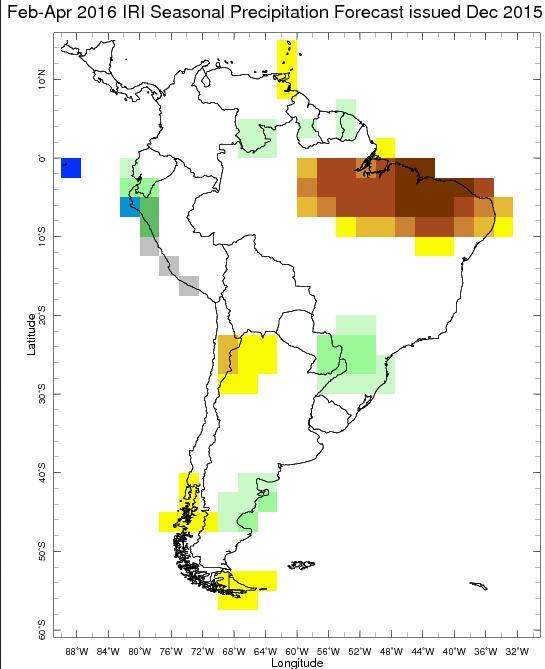 Source: The Earth Institute, Columbia University
From NOAA SA precipitation monitor we can see that most part of Brazil (central and northern) suffered from rain deficit, ranged from 30~90% of the normal, in the past 6 months(as in pictures below).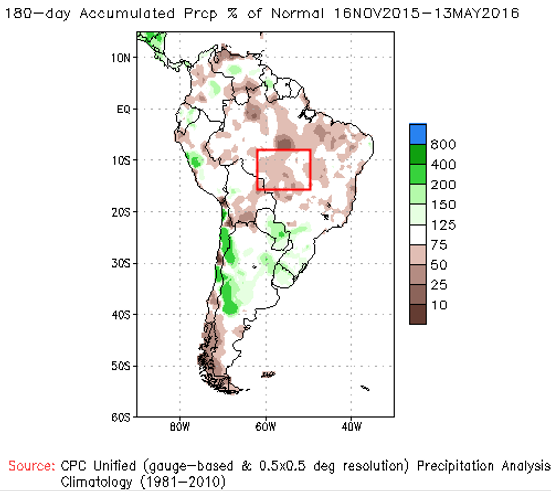 Source: NOAA SA Precipitation Monitor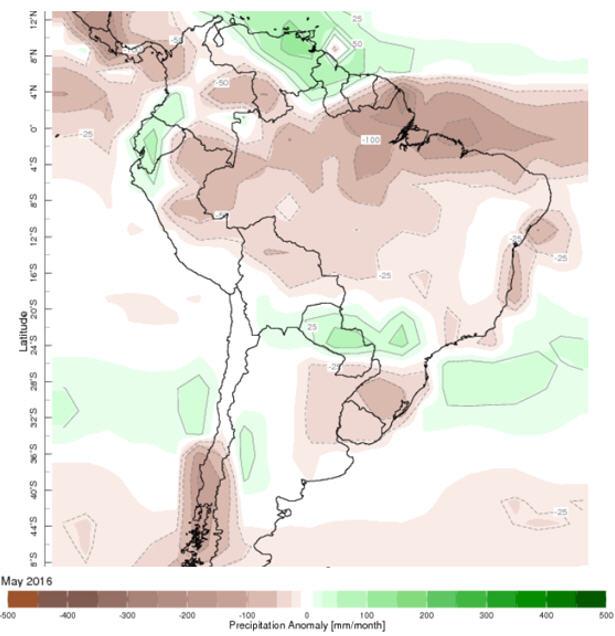 Source: IRI Climate Monitoring, Columbia University
With all these weather adversities, it's reasonable for investors to pin the 15/16 Brazil soybean yield under the trend line yield much earlier than the moves of USDA. We estimated the final yield number could be 2.9~3.0 mt/ ha with the final production number fell into the range of 95~97mmt, and biased to the lower end.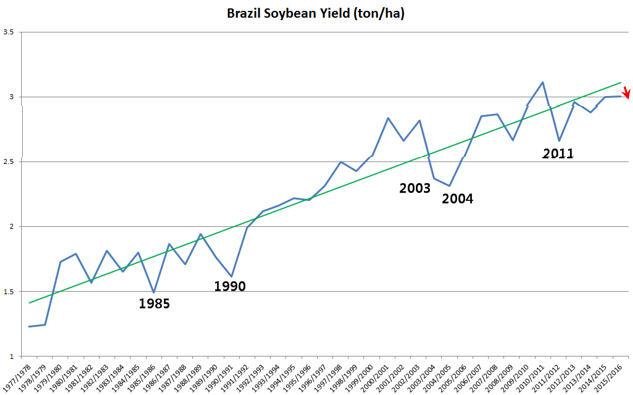 Contrary to Brazil, Argentina, the number two soybean producer of South America, suffered from too much of rain(as in pictures below). The abnormal precipitation hit top 5 soybean produce areas of this country in the time when rain is most unwelcome, the start of the harvest.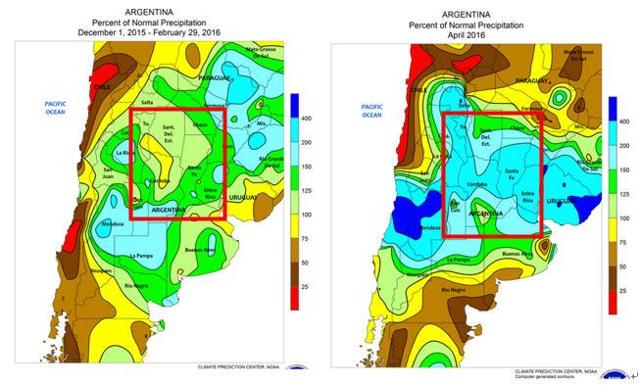 Source: NOAA
As shown in the picture below, the top 5 soybean areas are Cordoba, Buenos Aires, Santa Fe, Entre Rios and Santiago del Estero. Most of them received 150~300% of normal precipitation in April.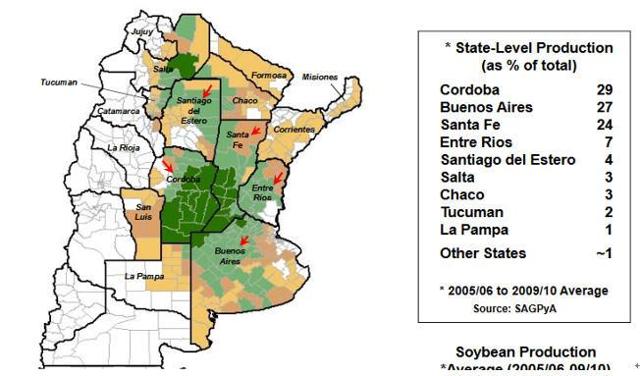 Source: USDA
As a result, the crop in Argentina could had suffered not only quantity loss but also quality downgrade, in a scale even larger than the loss in Brazil . For the harvest is near the end, and the progress is much slower than the normal year, we expected the production number could fall further for Argentina, probably in the range of 53~56 mmt.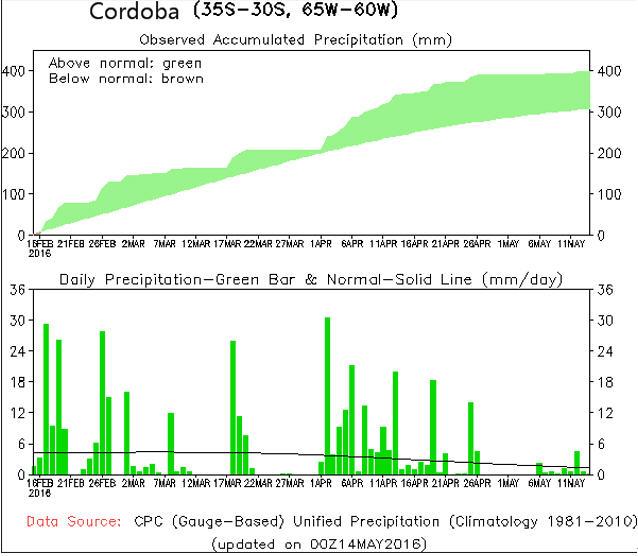 Source: NOAA
Similar to case of Brazil, soybean yield in Argentina also faced the risk of falling further below the trend line.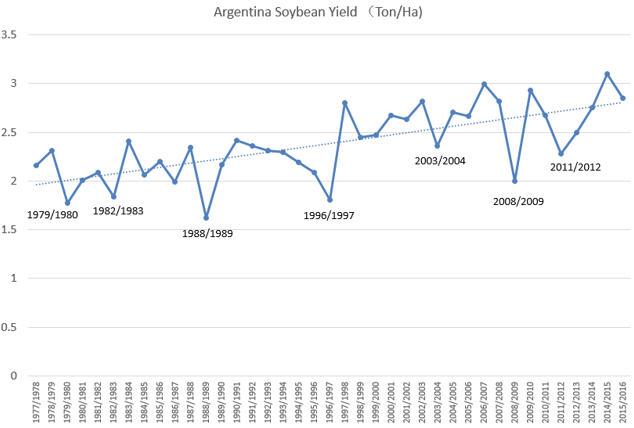 As a result, all major crop estimators downgraded the size of Argentina soybean crop from February to June,which had shocked market more than the long lasting drought in Brazil.

And if we look at the stock-use ratios for the world and top three soybean producers (as in the picture below), it's obvious that the supply-demand situation had evolved from an oversupply case to a much more balanced, if not tight, case. As a result, even some moderate production loss for US bean crop 16/17 could lead to a full blown bull run in this summer.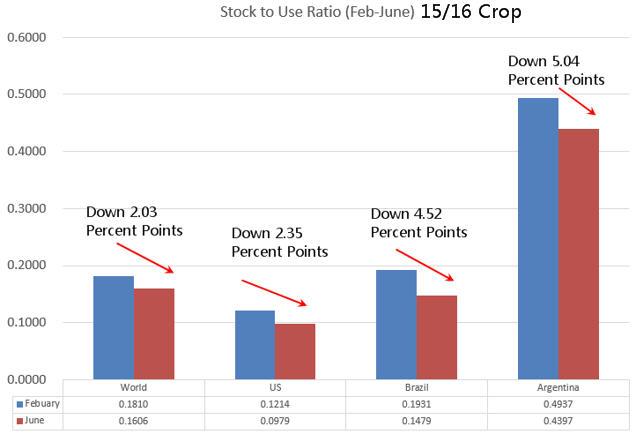 Given that many climate models estimated that the probability of La Nina to form in Q3 2016 is still high, some yield damaging weather, whatever it is drought or heat in US bean area, should stay in the watch list for the next 4 months.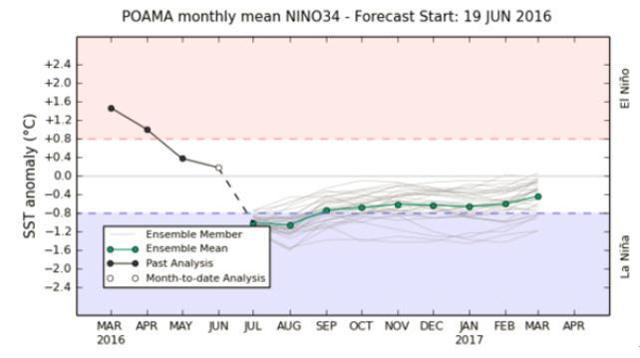 Source: BOM ENSO outlooks
As history showed that US soybean yield was prone to fall below trend line during La Nina years, we believed that there's weather premium to be traded before the crop harvest starts.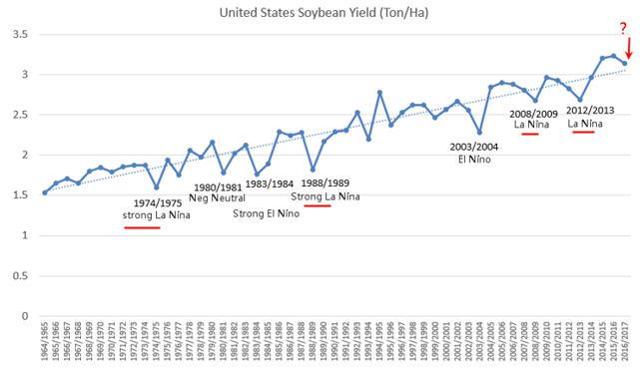 With both Brazil and Argentina crop size been downgraded, and export slower than average for South American nations, US old bean crop stock could deplete in a faster pace as China and other major importers switched some buying orders to US. And for US new bean crop, though the plating progress run faster than average and crop condition, for now, is in a better shape compared to that of the last year, it's still too early to call for a bumper harvest in June, given a switch from strong El Nino to a moderate La Nina could bring many weather surprises(a bullish case of yield loss shown in table below), not only to US but also for South American growers into Q4 2016.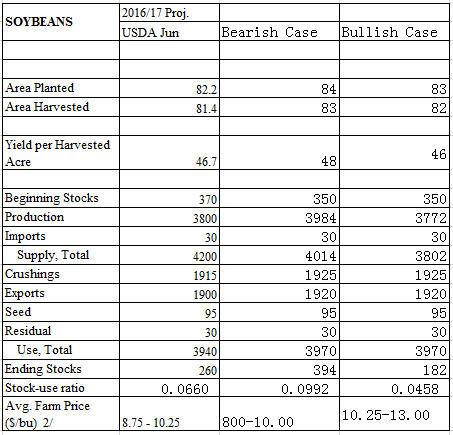 We believed that $ 10.5/bushel is a fair price for US bean crop this season. A price of $12 is very likely if some adverse weather shows up in this summer,for futures contracts August and September. Soybean buyers should order some beans if price dips below $10 or buy August or September $ 12 calls to hedge upside price risk. Investors can also watch companies that benefit from higher crop price, such as grain traders, including Monsanto, ADM, Mosaic and Cargill, as well as fertilizer producers, such as Agrium and CF Industries. On the other hand, puts with strike price around $9 and $8 for September and November futures contracts could be used to protect the downside risk if a larger than expected soybean crop materialized.
Supporting Documents
Disclosure: I/we have no positions in any stocks mentioned, and no plans to initiate any positions within the next 72 hours.
I wrote this article myself, and it expresses my own opinions. I am not receiving compensation for it (other than from Seeking Alpha). I have no business relationship with any company whose stock is mentioned in this article.