The U.K. voters surprised the markets on Friday by deciding to exit from the European Union. As a result, the Global markets pulled back substantially on Friday.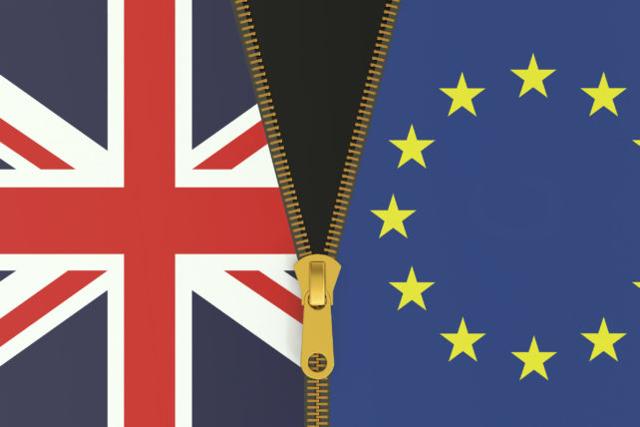 What Happens Now?
Following the Brexit initial scare, the S&P 500 closed the day down 3.6%. It looks like we are heading into some more volatility this week. Based on historical data, high market volatility related to political events such as the Brexit typically lasts 3 to 5 days, but tends to be followed by a swift market recovery. I believe that any further weakness in equities should be viewed as a buying opportunity for the following reasons:
The Global Markets Selloff is unlikely to last. The majority of economists believe that the Brexit would have a modestly negative long-term impact to Britain's GDP.
The UK is not sinking into the ocean. The world functioned just fine for years when the EU didn't even exist, and it can function just fine without Britain in the EU.
A Brexit will have minimal impact on the U.S. economy, which is the most shielded global economy as it is mostly based on domestic consumer spending. The U.S. economy is mostly self-sufficient which makes it an ideal economy.
Following a rally of 14% for the S&P 500 since February 2016, a pullback here is healthy and provides a good opportunity for investors who missed on the rally to add positions.
The equities markets' strong fundamentals remain the same
The arguments to remain invested in equities can be found by looking at the global macro-economic forces at play:
America's economy is still in good shape with US GDP growing at a moderately healthy rate. "Consumer spending," the main driver of the U.S. economy is encouraging. Perhaps the most important piece of economic data relates to sales of new single-family homes in the U.S., which recorded strong gains in April rising to the highest monthly pace since early 2008. Home sales in April increased by 16.6% on a monthly basis and by 23.8% year over year. The April rate of sales was significantly higher than recent trends and exceeded all expectations, beating even the most optimistic forecast by more than 90,000 units. I view home sales as one of the best indicators for the state of the U.S. economy. In general, people would not buy new homes unless they are feeling more "wealthy" and have a positive sentiment about the economic outlook. Buying a new home is a long-term commitment and most buyers usually finance their purchases through mortgages and count on the stability of their earnings.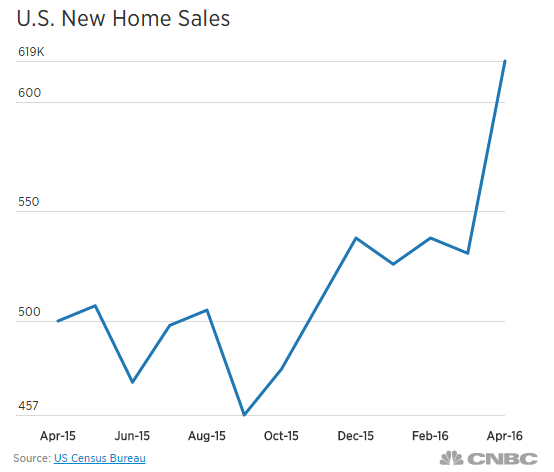 Inflation in the U.S. is still under control, which will limit how much the U.S. Fed will be able to implement interest rate hikes.
As the U.S. Fed Chair Janet Yellen stated last week, one of the main reasons for postponing the June 2016 interest rate hike was related to potential uncertainties from the U.K. Brexit vote. Now it looks like a rate hike in July 2016 will also be off the table. This is great news for the equity markets and for high-dividend stocks.
Expectations for future rate hikes during 2016 have been lowered by the U.S. Federal Reserve from 3 rate hikes to just one rate hike.
A Brexit is likely to result in more Quantitative Easing in Europe and possibly in Asia. This means that more cheap money will be injected into these economies, and interest rates are likely to go deeper into negative territory. The equity markets and Real Estate will be among the few "safe havens" for investors to protect against negative rates.
The main global risk factor to the equity markets in general stems from China. China turmoil was the main reason for the market pullback seen during 2015. Not only China will not be affected by the UK's exit from the European Union, but China's economy seems to be stabilizing. Deceleration in China's GDP has been less remarkable during 2016 than most analysts have predicted which has resulted in an improved outlook for the Asian and Global equity markets.
The Most Bullish Point for Equities
The most bullish piece of the global economic puzzle for equities comes from the USA and particularly from the U.S. Federal Bank. Fed Chairman Janet Yellen indicated this week that there are no plans to reduce the Fed's balance sheet and that there is currently no exit strategy for the $3.7 trillion in quantitative easing which was initiated first in 2008 by the U.S. to simulate the economy.
In the current environment, High-yield investors will be best served by trying to benefit from the current situation to maximize Dividends through the best High-Yield sectors.
"High Dividend" Winners from the Brexit Vote
There will be some winners and losers from the Brexit event. The biggest winners will be companies. which have a pure exposure to the US and will not be affected by the turmoil in Europe. Lower expectations for future rate hikes by the U.S. Fed following the Brexit vote will be very bullish for high dividend stocks. Furthermore, global Investors are likely to shift money to the U.S. markets, which are the most stable globally. Increased demand for U.S. stocks will help push the U.S. markets higher.
The following 7 high-yield sectors are set to be winners following the current turmoil:
1- Business Development Companies (NYSEARCA:BDCS): The Business Development Sector is an oversold High-Yield sector with a pure exposure to the USA. BDCs make their money by lending to medium and small businesses. This sector is poised to greatly benefit from improvement in the broader U.S. economy as medium and small businesses are set to perform better. As investor confidence is rising for the creditworthiness of small-to-medium-sized businesses, capital flows into this space have been lifting stock valuations.
The BDC sector barely moved last Friday and did not participate in the S&P selloff of 3.6%. The ETF, which tracks some of the largest BDC companies "VanEck Vectors BDC Income ETF" (NYSEARCA:BIZD) ended the day down by only 0.4%. The BDC sector is particularly attractive due to a very generous dividend yield and current attractive valuations. My two favorite plays in this sector include Apollo Investment (NASDAQ:AINV) with a yield of 14.7% and Medley Capital Corp. (NYSE:MCC) with a yield of 18.1%.
2- U.S. Property REITs: Property REITs have been one of the best performing sectors in 2016. Real Estate in general is one of the "safe haven" investments especially during periods of uncertainty and low interest rates. The strength in property REIT prices continues to be supported by higher home prices and declining supply. In the past 12 months, median home prices rose 5.7%. The labor market is as healthy as it has been in a decade. Reasons the US Property REIT sector will continue to outperform:
The rising cost of rental units is increasingly making the case for home ownership.
Banks are finally freeing up capital to allow increases in home loans volumes.
Mortgage rates remain at attractive low levels.
Despite recent variability in GDP forecasts, growth continues to be projected for America.
Mergers and acquisitions in the sector.
International demand for US property in general and for US Property REITs.
Real estate is slated for classification as a stand-alone sector at the end of August 2016, a change that recognizes its distinct characteristics and prominence in the global economy. This is expected to boost institutional investors' holding in REITs and further support REIT prices. The flow of capital to real estate represents part of a long-term trend by institutional investors increasing their alternative investments.
The Property REIT sector barely moved last Friday and did not participate in the S&P selloff of 3.6%. The ETF "Vanguard REIT Index ETF" (NYSEARCA:VNQ), which tracks some of the largest Property REIT companies ended the day down by only 0.9%. The VNQ ETF currently yields 4.2%
3- Oil & Gas Midstream Master Limited Partnerships: This sector is one of few, which still offer value to "high-yield" investors. Midstream oil & gas companies own valuable assets that are key infrastructure assets used to transport and store oil & gas produced in the USA. It is worth to note that despite a large pullback in the price of oil on Friday (about 5%), the oil & gas master limited partnership index is down 2% and remains flat for the week.
The large players in this sector have been seeing earnings and dividend distributions grow despite the oil price crash in 2015, because their business model mainly depends on volumes transported rather than the price of the oil commodity. I remain bullish on this sector. I view that any additional volatility in the price of oil and midstream MLPs next week will provide a good entry point to add new positions.
4- Amusement Park Operators: This sector is one of the most shielded against turmoil in Europe and is currently benefiting from an improved U.S. economy and offers investors generous yields. Companies in this sector include Cedar Fair, L.P. (NYSE:FUN), which was up on Friday by 0.8%, and Six Flags Entertainment Corporation (NYSE:SIX), which was down 1.4% on Friday. FUN currently yields 5.7% and SIX yields 4%.
5- Gasoline Distribution Companies: Gasoline distributors and gas station operators are benefiting from increased demand due to lower oil and gasoline prices. This sector is considered to be a non-cyclical and defensive one and provides a good hedge against economic downturns. My two favorite companies in this sector sold-off more than other dividend stocks on Friday. Sunoco LP (NYSE:SUN) down by 2.5% and Global Partners (NYSE:GLP) down by 3%. A further selloff in this sector will provide a great buying opportunity. SUN currently yields 10.9% and GLP yields 13.9%.
6- Mortgage REITs: mREITs are indirect beneficiaries from the BREXIT vote. I expect mREITs to fare well over the next 6 months mainly due to lower future interest rate hikes by the Fed. The U.S. Federal reserve is likely to continue to postpone its planned rate hikes and reduce their frequencies.
The Mortgage REIT sector barely moved last Friday and did not participate in the S&P selloff of 3.6%. The ETF "iShares Mortgage Real Estate Capped (BATS:REM)" which holds some of the largest Mortgage REIT companies ended the day down by a mere 0.3%, which is very bullish. The ETF REM currently yields close to 11%.
7- High Yield Bond Sector: Same as with mREITs, the High-Yield Bond sector will also indirectly benefit from the Brexit vote due to lower interest rates coming from the US. The ETF "iShares iBoxx $ High Yield Corporate Bond ETF (NYSEARCA:HYG)" was down 1.6% on Friday. Currently, there are many closed-end funds (CEFs) selling at large discounts and offering investors yields well over 8%. I would be a buyer of high-yield bonds in the current environment, and would prefer this sector to Mortgage REITs as high-yield bond products tend to be less sensitive to interest rates than Mortgage REITs. Mortgage REITs are particularly vulnerable to rate hikes due to the over-leveraged nature of their balance sheet.
The Losers from the Brexit Vote?
The main losers are the Global Banks & financial institutions, especially those with exposure to the UK. Friday saw a carnage in the large European Banks:
Banks with Large Operations in the UK:
Lloyds Banking Group (NYSE:LYG) yield 5.2%: Down by 23.2%.
HSBC Bank (NYSE:HSBC) yield 8.3%: Down by 9%.
Barclays PLC (NYSE:BCS) yield 4.3%: Down by 20.5%
Banks with Large Exposure to Europe:
Insurance Companies
Zurich Insurance Group Ltd. (OTCQX:ZURVY) yield 7.7%: Down by 9%.
Allianz SE (OTCPK:AZSEY) yield 5.9%: Down 12.6%
Brexit Opportunities?
Most of the European banks and financials were already trading at ridiculously low valuations even before Friday's selloff. Today, most are currently trading around their 52-week lows. Obviously, I would not touch any bank with its main exposure to the U.K. due to uncertainty about the British Pound and about the UK's future relationship with Europe. However, I believe that ultimately, the exit of the UK from Europe will benefit other European Banks as money will shift from the UK to other European destinations.
The most likely place this money will go is to Switzerland and Germany. Therefore, I would be a buyer of high-yield Swiss and German Banks. Furthermore, I find opportunities in insurance companies because of strong capital ratios, solid risk-management systems, and long track records. I view that the current financial sector carnage presents high-yield investors with some good buying opportunities. My favorites are:
Swiss Banks: Credit Suisse Group CS (yield 6.3%), and UBS Group UBS (yield 6.3%).
German Bank: Commerzbank CRZBY (yield 3.3%). I find that the carnage of Commerzbank (down 15.9%) is totally unwarranted as this bank is mainly a German domestic one with little ties to the UK.
Spanish Bank: Banco Bilboa Vizcaya BBVA (yield 7.6%).
Insurance companies: Zurich Insurance Group AG ZURVY (yield 7.7%), and Allianz SE AZSEY (yield 5.9%).
Many of the banks and insurance companies mentioned above are trading at extremely attractive valuations, 30-40% cheaper than their U.S. counterparts. This is a unique opportunity to lock in high-yields and achieve significant medium to long-term capital gains.
European Telecom Stocks Selloff
Other high-yield opportunities can be found in the beaten-up European Telecom stocks. Telecom is much less sensitive to political turmoil and tends to be a defensive one in general. Therefore, a price recovery will be quicker. The following are 3 telecom stocks, which sold off severely last Friday:
Telefonica SA (NYSE:TEF) yield 8.5%: Down by 17.5%. Telefonica is one of the largest telephone companies in the world, with particular strength in Spanish- and Portuguese-speaking countries.
Vodafone Group plc (NASDAQ:VOD) yield 5.5%: Down by 7.0%. Vodafone is a UK-based telecom with presence in Europe, the Middle East, Africa, the Asia Pacific region and the United States.
Orange SA (NYSE:ORAN) yield 4.4%: Down 10.8%. Orange is a French-based telecom company.
Conclusion
The high-yield sector remains one of the most attractive in the current economic and geopolitical environment. Any weakness next week should provide a buying opportunity to add positions or initiate new ones. I am continuously searching for dividends selling at bargains prices. For those interested to receive my next updates, click "Follow" at the top of this article.
Finally, I would like to take this opportunity to invite readers for a two-week free trial to my monthly newsletter at Seeking Alpha, High Dividend Opportunities. The service includes a managed portfolio with a selection of the best high-yield "closed-end funds," business development companies , oil & gas master limited partnerships (MLPs), and U.S. Property REITs. We are dedicated to bringing investors the most profitable and newest high-dividend ideas (with an overall target yield of 6-9%). For more info, please click here.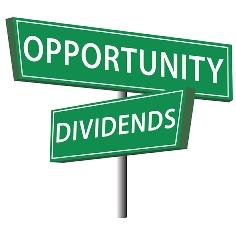 Disclaimer: "High Dividend Opportunities" service is impersonal and does not provide individualized advice or recommendations for any specific subscriber or portfolio, as I have no knowledge of the investor's individual circumstances. Readers should not make any investment decision without conducting their own research and due diligence, and consulting their financial advisor about their specific situation.
Disclosure: I am/we are long BDCL, AMLP, MLPQ, EPD, ETE, SXL, FUN, MCC, AINV, AMLP, LRET, VNQ.
I wrote this article myself, and it expresses my own opinions. I am not receiving compensation for it (other than from Seeking Alpha). I have no business relationship with any company whose stock is mentioned in this article.
Editor's Note: This article discusses one or more securities that do not trade on a major U.S. exchange. Please be aware of the risks associated with these stocks.