Here is why US equity REITs are a good place to hide for investors struggling with the Brexit crisis.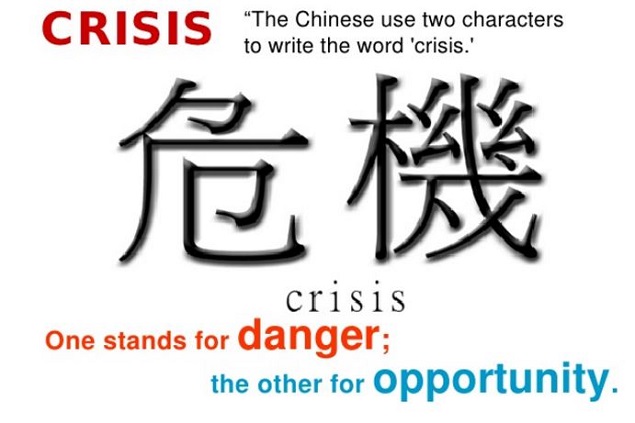 Source: Image - slideshare.net
Many Seeking Alpha contributors have already published on the Brexit fallout over the weekend, with S&P 500 Weekly Update: One Word: 'Brexit'. The Apocalyptic Views Are Everywhere; Time To Take A Sensible Approach, being one of the most comprehensive articles.
The main takeaway for rattled investors was not to panic. While the Brexit situation is unprecedented, it is a political crises, not a financial meltdown. It is a tempest in an English teapot compared with the global financial crises which led to the Great Recession.
I rarely turn on CNBC or any of the other "talking heads" financial shows during the trading day, but I make exceptions for global market meltdowns.
On Friday, the damage to US markets may have been limited to some extent by shorts covering their position to lock-in profits on the Brexit stock plunge. However, on Monday, there could be headline risk from a hedge fund blow-up, or similar news regarding a financial sector name on the wrong side of a trade. This could lead to some margin call related selling pressure.
UBS Floor Manager Art Cashin mentioned on CNBC 30 minutes prior to the market close on Friday that he was concerned Monday will be a "throw the baby out with the bathwater" trading day. However, he expected that market sentiment would become more level headed and expected to see bargain buying by 11:00 AM, or so, on Tuesday.
Of course, there are other situations that might play out, but expect some more volatility.
The Bigger Picture
Here is my take on the REIT sector opportunities, post-Brexit.
The sharp decline in the US 10-year Treasury on Friday appears to signal some clear sailing ahead for REITs. In a nutshell, yield-hungry investors will not be abandoning the majority of US equity REITs any time soon.
The dodgy UK and EU situation is a positive for US REITs because the FOMC now has major angst generated from a weakening global economy and a much stronger dollar.
Moving forward, the Fed may also discover some dicey home cooking mixed in with the global economic stew. I foresee consumer and business capex spending slowing a bit in 2H 2016 due to uncertainty over the November general election outcomes. Domestic GDP will also be seasoned by a decline in US exports, and increase in imports due to a strong dollar vs. euro and British pound.
A dovish FOMC is great news for REIT investors. This will make near-term interest rate increases unlikely, creating a longer runway for REIT sector outperformance.
GICS Real Estate Sector Tailwind
The Finiv.com heat maps below illustrate how Mr. Market was blindsided by the Brexit vote.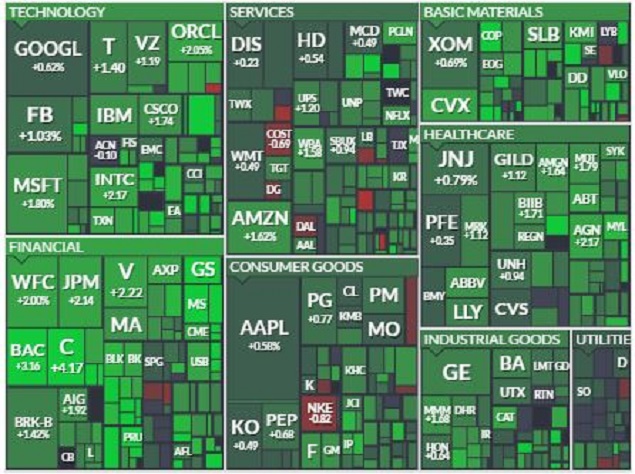 Source: Finviz.com - June 23, 2016; Dow +230 points
What a difference a day makes when Wall Street is caught flat-footed.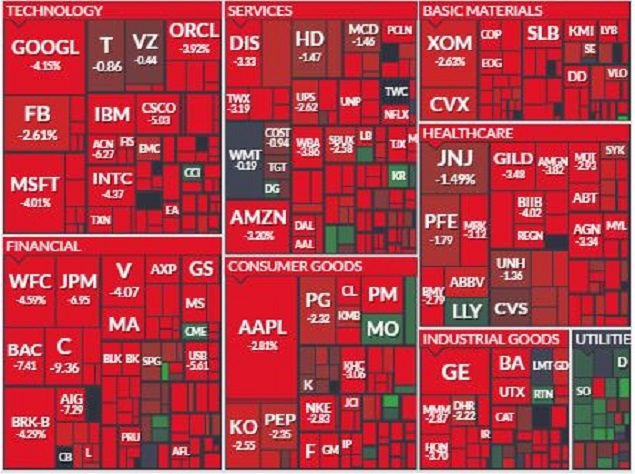 Source: Finviz.com - June 24, 2016 Dow -610 points
Friday's bright red heat map after the Brexit vote, highlighted the high-yielding Utilities sector as being one of the only safe havens, tucked away in the lower right corner.
A near-term plus for US REITs will be the visibility related to a new top level GICS Real Estate sector launched after the markets close on Aug. 31, 2016. Investors will be able to monitor at a glance how institutional quality Real Estate performs during the last four months of this year.
However, this past Friday, when the big money center banks took a severe pounding on the Brexit news, the relative strength of equity REITs was hidden due to being lumped in with Financials.
REITs Help Investors Diversify
The YChart below illustrates how the Vanguard REIT Index ETF (NYSEARCA: VNQ) was still in positive territory after the global Brexit equity sell-off. The VNQ closely tracks the performance of the MSCI REIT Index (RMZ), comprised of larger and medium-sized US-based equity REITs.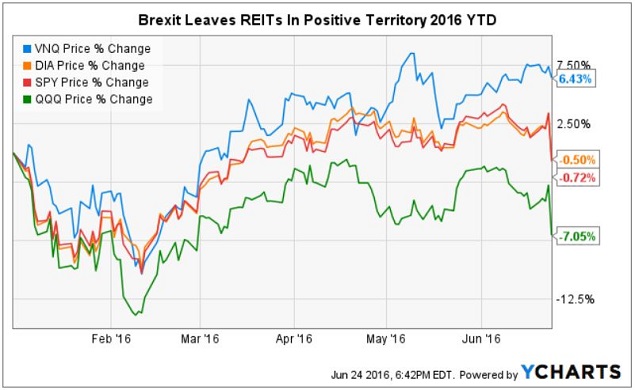 The Dow 30 and S&P 500 had slipped back into negative territory, illustrated by the SPDR Dow Jones Industrial Average ETF (NYSEARCA: DIA) and SPDR S&P 500 Trust ETF (NYSEARCA: SPY), respectively. Notably, the technology heavy NASDAQ PowerShares QQQ Trust ETF (NASDAQ: QQQ) took a nosedive on the Brexit news.
Allocating 10%-15% of a portfolio to REIT assets utilizing a passive index, or similar strategy, has been shown to improve risk adjusted returns over most time periods.
However, investors willing to perform due diligence and search out top performing REIT sectors, and individual REIT names, have been rewarded even more handsomely during the first half of 2016.
Brexit: REITs To Watch Closely
While most US REITs are a pure-play on US commercial real estate assets, there are some names which are more exposed to foreign currency headwinds.
Here are two REIT blue-chip names which you could put on a watch list to be bought on a pullback if they continue to be tarred with a "Brexit brush" moving forward.
Prologis, Inc. (NYSE: PLD) is a $25.5 billion cap industrial REIT blue-chip with a global portfolio of Class-A logistics and distribution warehouses. Prologis is an S&P 500 company with a BBB+ rated balance sheet, paying a quarterly distribution with a 3.5% yield.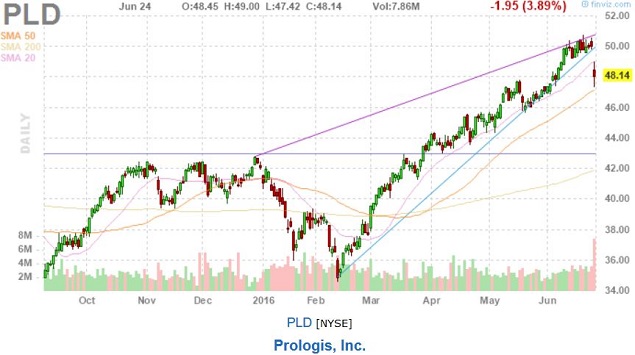 Ironically, Prologis was downgraded last week by analysts at BofA/Merrill Lynch (NYSE: BAC) and Deutsche Bank (NYSE: DB). In a bit of Schadenfreude, the shares of both banks were crushed during Friday's Brexit bloodbath by -9.4% and -17.5%, respectively.
While the stronger dollar could negatively impact AFFO per share derived from PLD's UK and European operations, it will also make importing goods into the US from across the pond more attractive. The majority of Prologis' revenues are generated in the US, and an increase in imports from UK and EU countries could help offset forex headwinds.
Investors should pay close attention to Prologis CEO Hamid Moghadam's remarks on the upcoming Q2 2016 conference call and earnings presentation. Prologis has its fingers on the pulse of global commerce and usually provides crucial insights for investors and traders.
Equinix, Inc. (NASDAQ: EQIX) has had a strong run up during the past 12 months, along with the rest of the data center REITs. Equinix has an 18-year history as a publicly traded company, and a $26 billion market cap, but does not have an investment grade balance sheet.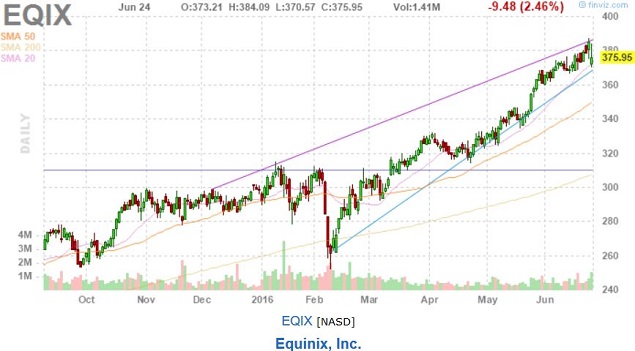 In the event that global interconnection giant Equinix's shares continue selling off next week, it may allow investors to find an entry point. The 200-day moving average for EQIX's shares is just below $310 per share, while the analyst consensus target price has steadily risen this year to $387 per share.
It remains to be seen if Equinix's increased European exposure from acquiring TelecityGroup will be viewed negatively by Mr. Market. Equinix now derives 52% of its revenues from international operations.
While Equinix is a technology company with a dominant moat, it is now being graded on REIT metrics after its REIT conversion last year. One chink in the Equinix armor could be its decreasing AFFO per share during the past four quarters. However, Equinix still has considerable assets in its TRS (taxable REIT subsidiary) that could be transferred over to help paint a more attractive picture.
External Managed REITs - Special Situations
NorthStar Realty Europe (NYSE: NRE) is a little known 2015 REIT-spin. The NRE portfolio consists mainly of multi-tenant Class-A office buildings in located in top European metros.
This NorthStar Realty Finance (NYSE: NRF) spin-out was already suffering from its external management agreement with NorthStar Asset Management (NYSE: NSAM), and concerns regarding slow European GDP growth, prior to Brexit.
Recently, NorthStar Asset Management and Colony Capital (CLNY) have proposed a merger with NorthStar Realty Finance. The proposed triparty Colony NorthStar merger sucks all of the air out of the room and usually hogs the headlines.
Notably, NRE was not included in this mash-up, and would remain externally managed by the combined asset manager.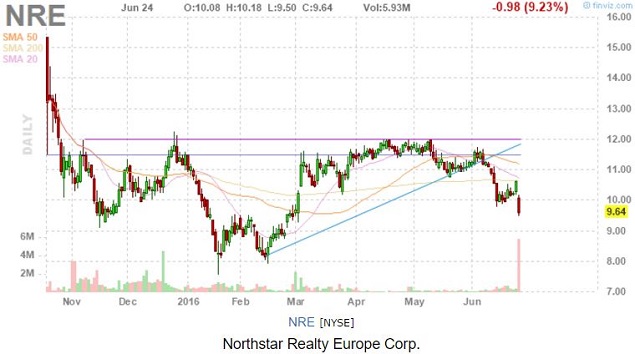 Friday's NRE hedge fund stampede (note the huge trading volume) could present an opportunity for investors with a strong stomach.
While the trophy NRE assets are now tarred with the Brexit brush, life will still go on in London, Paris and Germany, where the NRE core office portfolio is located.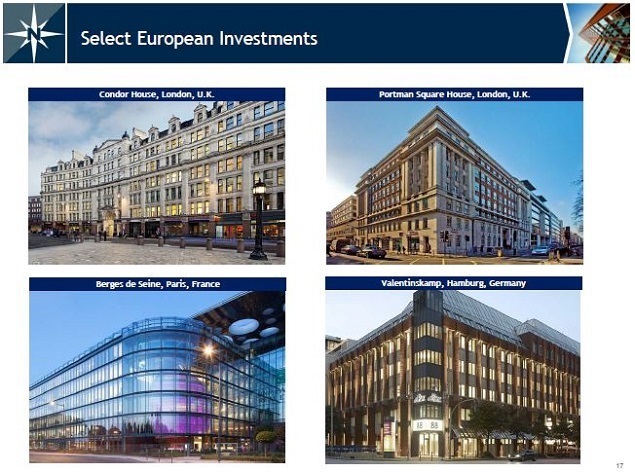 Source: NorthStar Realty Finance - presentation
The Brexit vote signifies the beginning of a slow moving process, and trophy London real estate will not become worthless overnight.
However, NRE is the only US-based REIT that derives 100% of its revenues from UK and European assets. This situation bears watching closely because panic selling of NRE's shares could present an intriguing opportunity.
Here is a link to an SA focus article from March where I concluded that $14.00 per share could be a reasonable valuation for NRE's shares. If you shave another 10% off for currency related headwinds in the near term, $12.60 per share would be a conservative target price.
Anything related to NorthStar Asset Management should be viewed as being highly speculative, making NRE a special situation.
Global Net Lease (NYSE: GNL) is another out-of-favor externally managed REIT that could become a special situation if investors decide to head for the exits.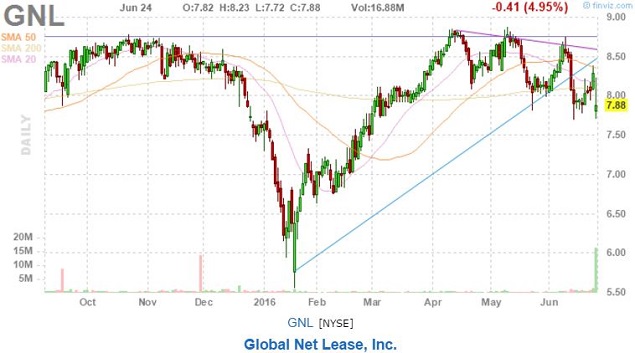 Global Net Lease's shares are now yielding 9%, after the 5% downdraft on high volume on Friday.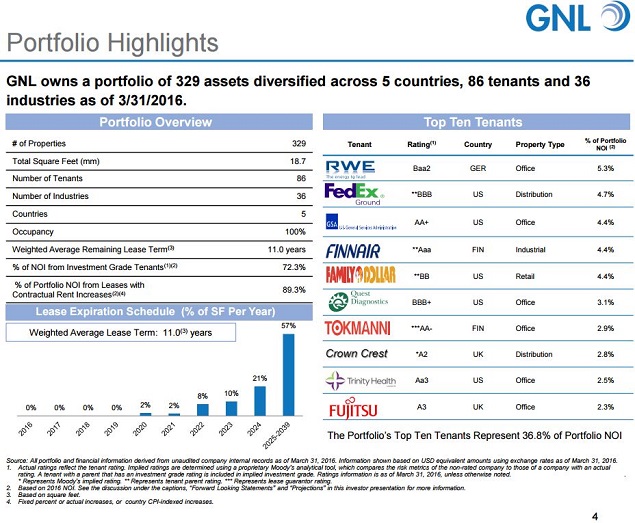 Source: GNL - NAREIT June 2016 presentation
This is a former American Realty Capital REIT, and is also tarred with that ugly brush. Between external management concerns, UK and EU assets, plus forex headwinds, GNL could become an attractive trade, if shares sink back down to bargain basement pricing.
Internally Managed REITs To Watch
Here are two internally managed REITs with European exposure that fared much better on Friday.
W.P. Carey (NYSE: WPC) specializes in underwriting mission critical single-tenant net-lease assets. Notably, one-third of W.P. Carey's revenues come from the UK, Western Europe and Northern Europe.
W.P. Carey has maintained a London office since 1994 and may be well positioned to pick up some properties at bargain basement prices.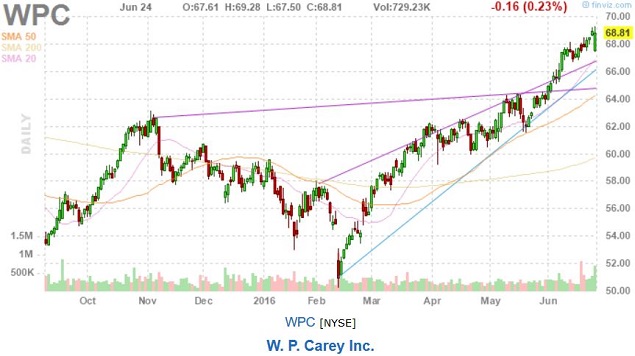 W.P. Carey's shareholders have recently weathered uncertainty regarding a sudden management change and a potential change in strategic direction. Here is a link to my most recent article, which reviews the situation in detail, "Net-Lease REIT W.P. Carey: Full Speed Ahead With A 6% Yield."
I'm sure it was a relief for investors to see WPC's shares exhibit relative strength on Friday, compared with the other US REITs with UK and EU portfolios.
Gramercy Property Trust (NYSE: GPT) is another US single-tenant net-lease REIT with European exposure which held up fairly well on Friday.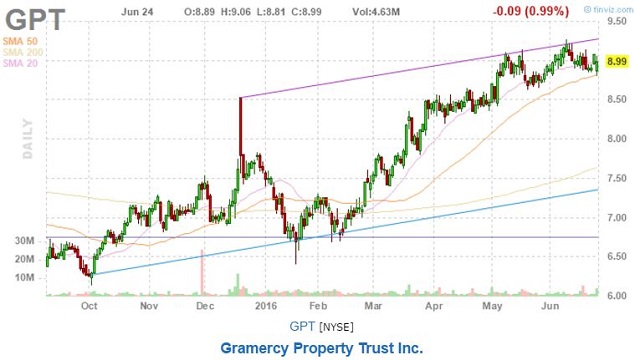 However, it is another name to watch closely if it is hammered unfairly by Brexit news moving forward. Here is a link to an update on Gramercy's UK portfolio exposure which was published on Friday.
Top REIT Sectors Are Also Defensive
If equity REITs do get caught up in a global equity sell-off during the coming weeks, then I would focus on opportunities to buy the cream of the crop.
I have previously pointed out that two strongest REIT sectors, data centers and self-storage, are minimally correlated to GDP and consumer spending. This makes them excellent defensive sectors - an attribute easily overlooked by investors primarily focused on recent outperformance.
Data center REIT performance is driven by cloud computing, streaming media, big data/analytics, social media, and enterprise outsourcing of IT to third-parties.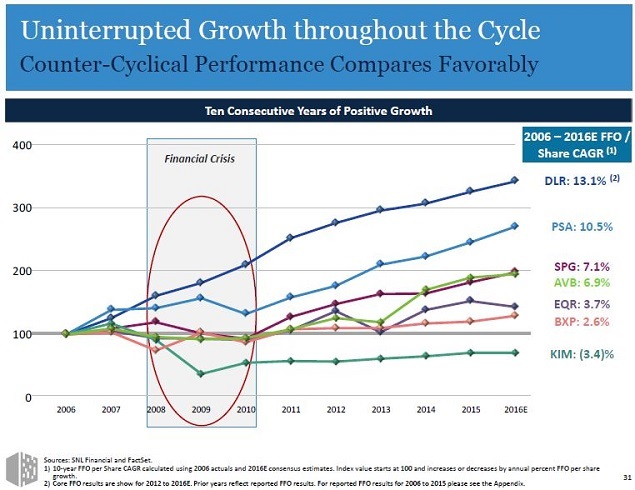 Source: Digital Realty - June 2016 presentation
Data center REITs have been the top performing REIT sector of 2016, and with one notable exception, did not give back any significant gains during Friday's panic selling.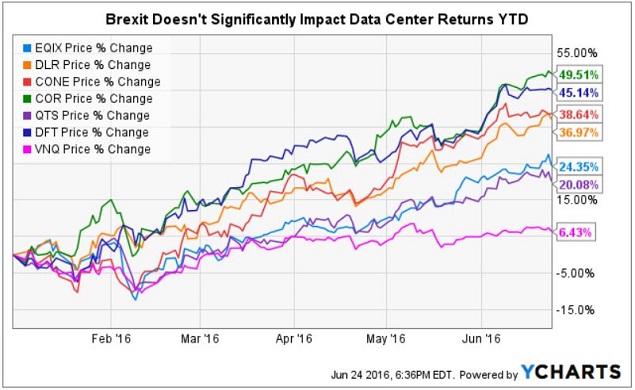 Equinix was the only data center REIT down noticeably on the Brexit news. Digital Realty (NYSE: DLR), another global player and Equinix landlord, derives far less of its revenues from overseas on a percentage basis. However, both Equinix and Digital Realty have been in the headlines recently regarding high-profile expansions in Europe.
My recent SA article, "The Amazon Or IBM Cloud Growth Debate Ignores A Winning Trade," compared and contrasted the six data center REITs with the "Big 4" Public Cloud providers.
Most multinational tech company shares took a nosedive on Friday over concerns regarding UK and EU market share for products and services, as well as forex headwinds.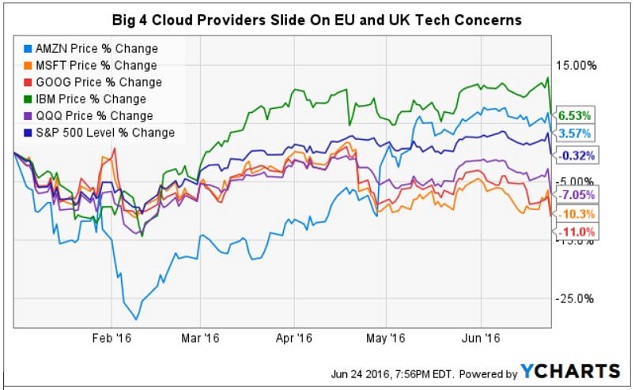 According to a recent Bloomberg article, IBM (NYSE: IBM) derives about 33% of revenues from Europe, and network giant Cisco(NASDAQ: CSCO), which generates 23% of its revenues from Europe "…is bracing for upheaval."
Data center REITs have leases in place with these large, creditworthy tenants, making them less vulnerable to any near-term pain. In times like this, it is better to be a technology landlord with a large US footprint than to be selling software, ads, IT services, and retail items in Europe.
US Self-Storage Remains Insulated
The self-storage REITs led the way in 2015 versus all other REIT sectors. While a lot of good news is already baked into the shares, these REITs are still growing same-store NOI and FFO at a faster clip than the vast majority of equity REIT sectors.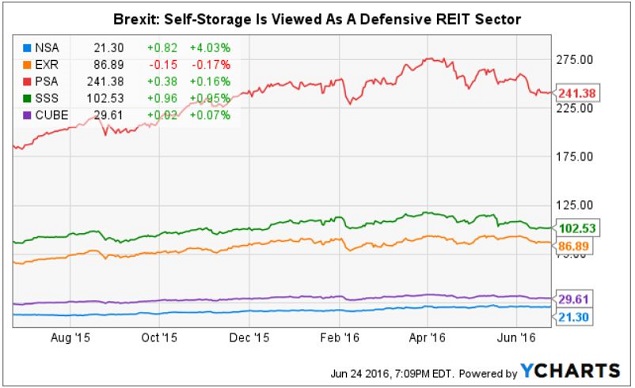 Success for a self-storage location is correlated to local demographics such as household income and population density. Additionally, the sharp decrease in US home ownership has also been a factor because renters move about three times more often than homeowners.
Industry pioneer Public Storage (NYSE: PSA) CEO Ron Havner described four components of demand in the PSA 2012 Annual Report, where he wrote,
"The key reasons people use self-storage remains the same: downsizing, death, divorce and dislocation."
Public Storage does have some international exposure, but it is quite small compared with US operations and other investments. Large-cap Public Storage is an S&P 500 company with an "A" rated balance sheet, making it a safe place to hide in a storm.
The factors supporting the success of the publicly traded storage REITs include a muted supply of new facilities since the Great Recession, a huge technology advantage vs. mom and pops, and the opportunity to consolidate a fragmented industry.
Here is a link to my June 13, 2016 SA piece which takes a close look at my top sector picks: "Self-Storage REITs Fell Back Down To Earth Last Week - Time To Buy?"
Any pullbacks in this sector related to a global decline in equities would represent a rare buying opportunity for investors looking to establish or increase positions.
Top Net-Lease REITs
The top names in the freestanding net-lease sector have been strong performers during 1H 2016.
These REITs own large portfolios of buildings leased to creditworthy tenants under long-term leases. In addition to monthly rent, tenants are responsible under "triple-net" leases for insurance, taxes, utilities, and almost all of the facility maintenance.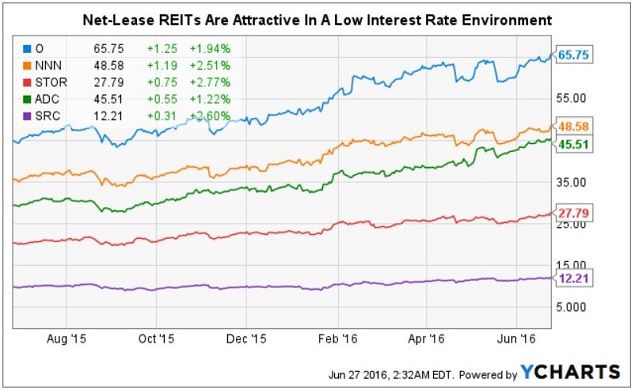 In a low interest rate environment, these "bond-like" REITs are attractive to retirees and other income investors looking for higher yields.
On Friday, the 10-year Treasury briefly traded as low as 1.47%, and ended the day down -16 bps at 1.58%. Most notably, the net-lease REITs shown in the chart, including retail investor favorites Realty Income (NYSE: O) and National Retail Properties (NYSE: NNN), were all bid up higher.
Bottom Line
The good news for US equity REIT investors is that the Brexit vote should result in a longer period of benign interest rates. However, investors may need to recalibrate their expectations regarding yield in a post-Brexit world.
SA readers who own REITs discussed in this article with significant exposure to UK and European assets should watch them closely over the next few weeks, as the Brexit situation continues to unfold.
Investors looking for Brexit-related REIT bargains can put together a watch list based on the information in this article.
I relentlessly hunt for diamonds in the rough and rising stars, in addition to closely following data centers, covering REIT blue chips and breaking news. Please consider following me as a Seeking Alpha author if you would like to be notified when my future articles are published.
Disclosure: I/we have no positions in any stocks mentioned, but may initiate a long position in NRE, PLD, WPC over the next 72 hours.
I wrote this article myself, and it expresses my own opinions. I am not receiving compensation for it (other than from Seeking Alpha). I have no business relationship with any company whose stock is mentioned in this article.