A lot has already been written about Tesla's (NASDAQ:TSLA) purchase of SolarCity (SCTY). The official story is that the combined company can offer better service and products to customers, and that story does make some sense. I was one of the first to point out that Elon Musk's master plan was not to have Tesla become the next General Motors (NYSE:GM), rather the Exxon Mobil (NYSE:XOM) of "a solar electric economy." to use his own words. This transaction can be seen as another step in that direction.
Thus, those who claim that this transaction means that owning TSLA is a bet on Musk, and anything at all that he might choose to espouse, are not necessarily correct. What it does mean is that those who put their money behind one stock or the other are about to own shares that carry more risk, and may no longer embody the investment thesis they originally bought into. This article will compare the new TSLA against other investment options related to the shifting hydrocarbon economy.
Practical Implications for TSLA shareholders
To begin, let's be clear about the immediate practical purpose of this transaction: It bails out SolarCity at the expense of Tesla shareholders. Anyone who doubts this should do some balance sheet analysis. SolarCity's Quick ratio of 0.44 is about the same as that of GT Advanced right before it descended into bankruptcy. I'd like to be clear about another thing, as well: I admire Mr. Musk's plan and hope he succeeds. I even appreciate his gaming of a financial system that no longer serves society in any meaningful way.
As a successful full-time investor, though, I have to tell you that the only thing that kept me from shorting TSLA as soon as the news broke is the fact that the rebate rate jumped from ~1% to over 8.5% overnight. Short sellers are some of the smartest traders out there, and many of them have far more integrity than is common for this industry. I understand where Andrew Left is coming from when he calls this "the worst of Wall St.," but I can also cite more egregious examples.
Many of those invested in Tesla might have already been comfortable with an I'm-with-Musk-no-matter-what strategy. This is another possible reason why TSLA didn't drop by even more than it did. Those who actually wanted to own Tesla as a next-generation car manufacturer find themselves with an investment that is increasing in risk even as it progresses away from the company's main source of income. Many must have been attracted by Tesla's profitability in 2013 and 14, but this transaction puts analyst projections of a return to profitability this year, or even next, in serious doubt. What's more, this comes at a time when electric car competition is cropping up from auto incumbents on all sides. Unfortunately, incumbents are not pure-plays on alternative automobiles, and in truth, I'm not sure how well they will compete with Tesla over the long haul.
An Automobile Alternative
Consequently, those interested in alternative automotive might consider Westport Fuel Systems (NASDAQ:WPRT). I see natural gas as a bridge fuel in the potential shift to a lower emission electric economy. The recent climate change accord, the ramp of natural gas production and shipping technologies, as well as the Volkswagen diesel fiasco are all signs of building momentum. Westport is an interesting play on this trend, which is actually helped by the continuing low price of natural gas. I see Westport's natural gas engine technology and expertise as already having been largely vetted in its joint ventures, particularly with Cummins (NYSE:CM).
Westport's technology portfolio is now greatly expanded by the merger with Fuel Systems. I'll be looking carefully at full year guidance for the combined company, which is to be provided at the next conference call, at the end of July. For now, projections are simply for $30M in annual savings by 2018, which signals lots of interim work and uncertainty, but that's certainly not a deterrent for anyone who invested in Tesla. By contrast, Westport's $50M in core asset sales and financing with Cartesian Capital should give it time to digest the merger and flesh out its plans.
Management has been a concern, but that is mitigated by new board members, especially from Cartesian. At least management has laid out a clear long-term plan and pulled off the merger despite opposition with delays, but no unpleasant surprises. That's more than can be said for Musk & Co. of late. To be sure, WPRT is another GRoDT (get rich or die trying) stock, but then so is TSLA. TSLA still potentially has a long way to fall, whereas WPRT is approaching all-time lows in the wake of Brexit, which I see as a non-issue for both companies.
Like Tesla, Westport already has two proven product launches in the Ford (NYSE:F) F-150 and Volvo (OTCPK:VLVLY) Bi-fuel engine station wagons, where a new model was just announced. Westport's HPDI 2.0 technology also shows major promise and the asset-light model of involving OEMs as manufacturing partners hopefully eliminates the risk that Tesla is facing in needing massive amounts of further financing. This last point is the most subtle, but by far the most important. It's quite likely that speculative investment capital is about to become very hard to come by. Westport already has a viable path forward in terms of finance. I'm not sure the same can be said for Tesla.
A Safer SolarCity Alternative
Those who were invested in SolarCity may be happy right now, as they probably faced a far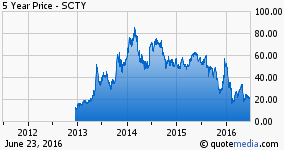 worse fate than becoming TSLA shareholders. Nonetheless, the SCTY chart shows that almost none will be doing so at a profit. This doesn't seem to be much of a concern to the I'm-with-Musk-no-matter-what camp, but it should be. More fundamentally, though, SolarCity investors will now find they own a company that is more focused on battery and auto manufacturing than solar. That's a shame, because there is reason to believe that renewables will eventually become truly mainstream sources of energy.
The catch is that it's likely to take another generation, and if there is one lesson to be learned for successfully investing in emerging technology, it's that time and dilution always matter. If I'm going to take a chance on solar right now, I need to be paid for tying up my capital, and AU Optronic's (NYSE:AUO) re-entry into solar offers just that opportunity. The high efficiency panels have already been piloted at utility scale, for a 20MW project in Celano, Italy, resulting in one of the world's highest power density ratings. This represents just one more wild card for real growth, to go along with the potential display investment from Apple (NASDAQ:AAPL) that I've already written about.
In the meantime, AU has now officially declared the dividend predicted here. Shareholders who own AUO before the ex-date of July 7th will receive 10.858 cents per ADR. For investors willing to wait on technological change, that's a 3.73% yield, for another stock that's near all-time lows. A future Pro article may detail the changes in the display industry, and how they are likely to favor AU Optronics' main business. For now, though, I'll simply point out that I think management has shown that it can maintain that business and the associated payout better any other company mentioned here, even in the face of relatively greater industry difficulties.
Conclusion
There are still scenarios where Tesla succeeds such that investors who buy today could profit, but I strongly doubt that the $360 price target implied by the convertibles will be achieved within the applicable time frames. So, that's one more set of investors who should wind up unhappy with Mr. Musk. Assuming the SolarCity deal goes through, and there are some that doubt that, it just makes things harder from the finance side. Either way, the story behind this stock is tarnished. SolarCity needed a bail out, and Musk chose to do it at the expense of TSLA shareholders.
Retail investors often feel safer when buying household names, but psychology like this is one of the main reasons they often lose money. Those who see their TSLA shares as a simple backing of Musk and his plans may continue to hold the shares, but they are no longer a pure play on anything else. Investors seeking profit can find alternatives that offer better growth prospects, income and safety, and perhaps even a better fit for their original investment rationale, whether that was a vision of better cars, or a better world.
Disclosure: I am/we are long AUO, WPRT.
I wrote this article myself, and it expresses my own opinions. I am not receiving compensation for it (other than from Seeking Alpha). I have no business relationship with any company whose stock is mentioned in this article.
Editor's Note: This article covers one or more stocks trading at less than $1 per share and/or with less than a $100 million market cap. Please be aware of the risks associated with these stocks.