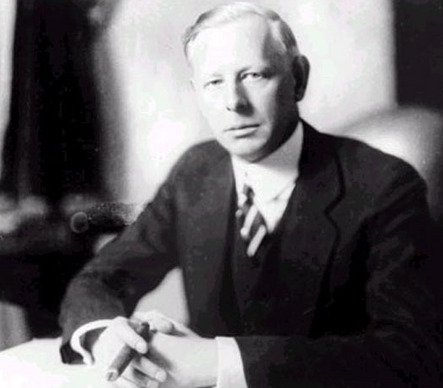 "The big money was never made in the buying or the selling; it was made in the waiting."
-Legendary trader Jesse Livermore
Author's Note: Please see our disclosure statements at the end of this article
Introduction. Are you interested in a hot stock in a roaring sector? The kind that breaks new highs on a daily basis with huge momentum behind it? If so, read no further. But if you are interested in a down stock in a hated and misunderstood sector where you have the chance to make a highly contrarian investment that just might work out far better than anyone is anticipating, this article is for you.
The preceding paragraph is basically the same opening we used when we began this series chronicling the story of our favorite uranium company, Ur-Energy (NYSEMKT:URG). Amazingly, the company has only gotten better since then yet the stock price has sunk lower. The main reason for this is a decline in uranium prices that caught even the experts by surprise. We admit to being early on this call, but still think that we'll be proven right -- very right. We'll use this article to explore why we believe Ur-Energy is so well positioned in the space, why the turn in uranium prices may finally be arriving, and why we think Ur-Energy offers the potential to reach multiples of its current price.
For additional background on the company, you can find our initiation article here, part 2 here, and part 3 here.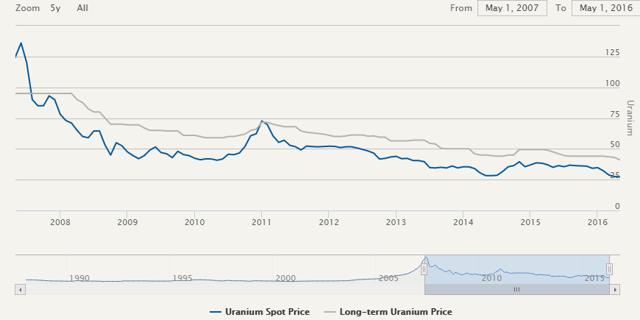 Multi-year uranium price chart, for both spot and long term (source: Cameco)
What's Going Right, Part I: Asset Value. Uranium is easy to pick on. After its spot price peaked around $136/lb in June of 2007, it has been in a long term downtrend since. It began to recover in early 2011 and broke the $70 mark but that was cut short by the Fukushima disaster that has since weighed on the sector. The late 2014 bounce that caught the industry's attention also proved to be short-lived. The Global X Uranium ETF (NYSEARCA:URA) is down 30% over the past year. While all this may tempt you to run for the hills, we actually think that today's decade low prices are a good time to be investing. We'll explore this further below, but first want to put aside the bull vs. bear conversation on uranium and pause to look at what's going right at one particular company, Ur-Energy. For all the volatility in uranium pricing, Ur-Energy has been executing wonderfully.
"Key in this market, Lost Creek operations continue to be reliable, at industry-leading costs of production." -Ur-Energy's May 2016 press release
We'll start by talking about the company's assets. As CEO Jeff Klenda highlights at every investment presentation, Ur-Energy was not built to be a "pounds in the ground story." It is one of a handful of domestic companies that produces and sells uranium. Through March of this year the company produced over 1.7 million pounds of uranium at its state of the art facility. Revenues last year were $42 million. To our knowledge, Ur-Energy is the 2nd largest domestic producer of uranium with the lowest per pound costs of any public company. While many of Ur-Energy's peers have uranium on paper that theoretically can be mined after capex and permitting, Ur-Energy is a proven, strategic asset that is mining uranium today. Getting to this point took over 10 years and ran up costs of $158 million, about twice the current market cap. Replicating these assets today would likely take even longer and cost even more, with no certainty on the outcome.
The company's Lost Creek property has close to 14 million pounds of recoverable uranium over the projected life of mine. The February 2016 Amended Preliminary Economic Assessment predicts $919 million in sales and $511 million in pre-tax cashflow from the property. The January 2015 Preliminary Economic Assessment for the company's Shirley Basin property (permit to mine filed late last year) predicts over 6 million pounds of recoverable uranium, revenues of $230 million, and cash flow of $216 million (and an IRR of 117%). The numbers from these two assessments should be dinged for lower uranium prices today, but let's not lose sight of the fact that together we are talking about over $1.1 billion in sales and $700 million in cashflow from just these two properties. That leaves plenty of room for dinging and still getting to a value materially higher than Ur-Energy's current market cap of $78 million.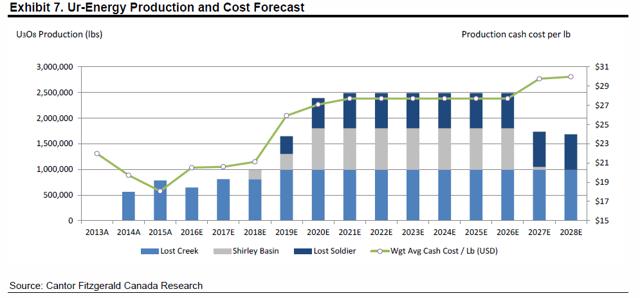 Cantor Fitzgerald's long term production forecast for Ur-Energy shows rising then stable production at a high rate for the next decade
It's also worth noting that despite having mined nearly 2 million pounds from Lost Creek, the resource estimate for Lost Creek keeps on growing. The property is proving far more valuable than initially thought and is behaving the opposite of how a depleting asset is expected to behave. The more uranium Ur-Energy takes out of the ground at Lost Creek, the more they find. Not only has the company replaced the mined uranium to-date but they've actually grown the resource estimate by 250% since Fukushima.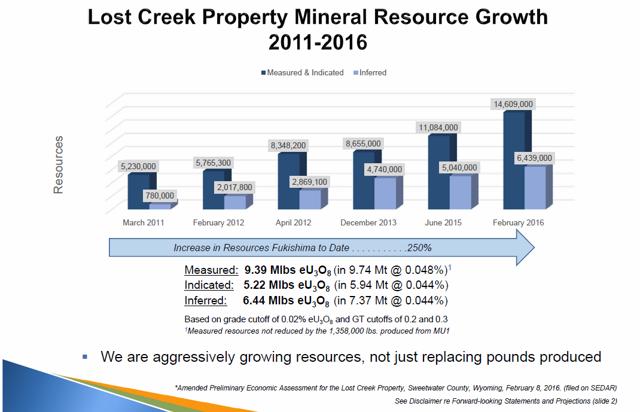 Resource growth at Ur-Energy's Lost Creek property.
As if Lost Creek and Shirley Basin and their $700 million in cashflow weren't enough to make Ur-Energy stock a bargain, the company has:
another estimated 5 million pounds of uranium at Lucky Mc,
2,710 mineral acres at Lost Soldier, just 14 miles northeast of Lost Creek,
one of only four by-product disposal facilities in the country,
nearly 200,000 pounds of dried and drummed uranium inventory,
and an exploration database of 15,000 drill logs which provides an edge when seeking to add new resources.
Altogether, we think the company has amassed a unique collection of assets with a track record that inspires confidence in management's ability to continue to grow the asset base in a smart and disciplined manner.
What's Going Right, Part II: Management Foresight. Ur-Energy may have one of the most forward thinking management teams around. Their most brilliant move was locking in a portion of their sales under long term contracts when uranium prices were much higher. At the time, it was a controversial decision and management took a lot of heat for giving up the additional upside. Today, it virtually guarantees the company income at prices that are no longer available and allows the company to not only survive but to keep pushing forward on their plans.
Specifically, Ur-Energy announced earlier this month that they have approximately 3.1 million pounds of uranium contracted between 2016 and 2021 at an average price of $49.81/lb ($154 million in total). This average price is over $20 above the current per pound spot pricing. For the last two reported quarters the company's average cash cost per pound of uranium was $15.85 and $15.39. Thanks to these contracts, Ur-Energy is able to realize profit margins of $30/lb when uranium is trading at under $30/lb, a rather impressive feat.
"This company has outperformed from both cost and production standpoints almost since the start. We're pretty excited by what we see. The company can also ramp up production. . . . This is a proven low-cost producer that will look even better when prices rise." -Rob Chang of Cantor Fitzgerald, as told to Streetwise
Another way in which Ur-Energy management has been forward thinking is in recognizing the challenges the industry is facing from current pricing, and taking proactive measures accordingly. First, the company was not afraid to revisit its earlier targets for the number of pounds to be mined in 2016. Starting in the first quarter, the company deliberately slowed down production. As uranium prices weakened, it didn't make sense to hold onto past production decisions so the company shifted course.
Second, management made the difficult decision to cut spending, especially through workforce reductions, in light of the current state of the industry. These actions are estimated to save $1.5 million in costs on a run rate basis beginning next year and speak further to management's ability to be both forward looking and grounded in their planning.
A Survivor. With mining operations already up and running, highly profitable long term contracts in place, and a new, leaner cost structure, Ur-Energy (unlike so many of its no-revenue small cap peers - see the table) is in solid shape to survive the industry's downturn. We also think that the industry might turn quicker than anyone is anticipating (more on this point later) and the company can come out on top as a low cost miner with attractive assets and the ability to scale up quickly.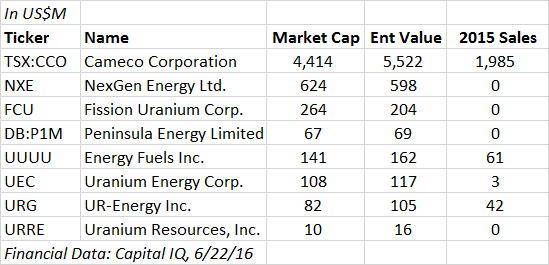 URG Comps: (NYSE:CCJ), (NXGEF), (OTCQX:FCUUF), (OTC:PENMF), (NYSEMKT:UUUU), (NYSEMKT:UEC), (NASDAQ:URRE)
The company explained in June that they anticipate to maintain production at levels that will meet their contractual sales obligations for the year, which are 662,000 pounds at an average per-pound price of $47.61. This is within the range, although at the lower end, that they previously announced for the year of 650,000 to 750,000 pounds. Management also explained that they have the ability to adjust the production rate as warranted, especially if uranium pricing supports the case for producing and selling more.
This combination of targeted production with optionality on its upsizing was noticed by the analyst community. Here are some of their observations:
"Ur-Energy is an ISR producer with industry-leading, low-cost production, and it is best suited to survive a down uranium price for the long term." -Joseph Reagor of Roth, as told to The Energy Report, May 2016
"We continue to believe that Ur-Energy's long term contracts place the firm in a unique position to withstand the currently depressed uranium market, regardless of spot prices in the near term." -Rodman & Renshaw, May 2016
"We feel the flexibility to scale up and down production rates uniquely positions Ur-Energy to right-size operations depending on market conditions." -Rodman & Renshaw, April 2016
"Ur Energy has amongst the lowest operating costs in the industry, and its higher priced contracts [allow] it to remain as one of our top safety picks for investors within the uranium sector." -Dundee, June 2016
Valuation. You might think that given all that Ur-Energy has accomplished it would trade at a hefty premium. Amazingly, the opposite is true. Despite the company's assets it actually trades at a low valuation that's a discount to comps.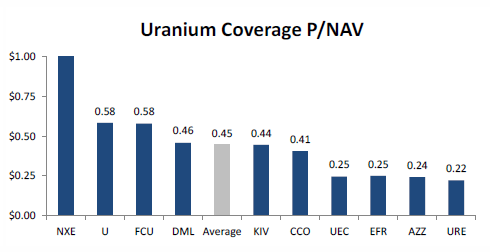 URE is Ur-Energy's ticker symbol in Canada. Source: Cantor Fitzgerald 4/13/16
Consider the above graphic which maps out Cantor Fitzgerald's coverage universe on a price to net asset value basis. Ur-Energy (which is ticker URG in the US but URE in Toronto) is the cheapest of the bunch, trading at just 22% of its net asset value. The implication here is that Ur-Energy would have to trade at 4.5x its current price just to trade at NAV. Seeing that the industry as a whole trades at a discount, still note that Ur-Energy trades at less than half of the industry average, which itself trades at less than half of NAV! Ur-Energy could double and still trade below the industry average and under half its net asset value. As detailed below, Cantor gets to a per share net asset value for the company of $2.35, which is 4.3x the current stock price.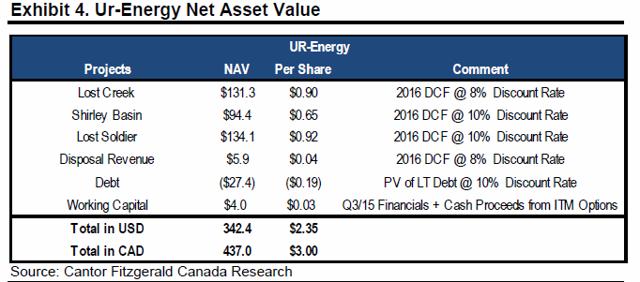 Lest you think that uranium stocks always trade at a discount to NAV, consider the below research by BMO. They found that historically the uranium sector has traded at a premium to the non-precious mining sector and "near the top of the group on a P/NPV basis." A quick glance at the chart shows that prior to 2015 uranium companies traded at 1x NPV and above, compared to Cantor's calculation of 0.22x NAV today for Ur-Energy. Do keep in mind that NAV and NPV are not necessarily identical and that the two firm's calculation of each for any company will differ. Nonetheless, we think this is an indication that Ur-Energy's steep discount to its net asset value has the potential to be dramatically different in the future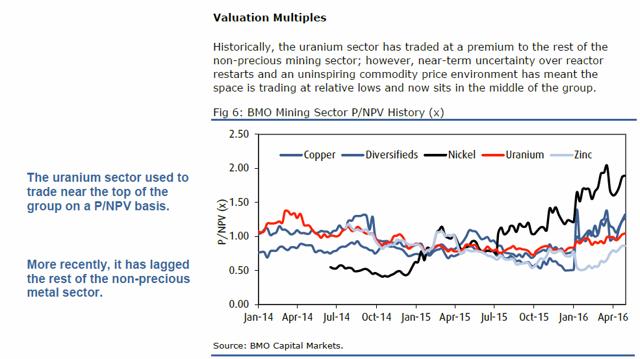 Looking at things from another perspective of value per pound, Cantor calculated a few interesting metrics. First, Ur-Energy is trading at a discount to the average enterprise value per pound of uranium among the group of producers they studied -- even though Ur-Energy has the lowest cash cost per pound. The average cash cost per pound for the group is $30.06 and they report Ur-Energy at $20.51 (which has dropped to less than $16 as mentioned above), and one would think that having a per pound cost for a commodity a third less than peers--including industry giant Cameco at $27.82--would warrant a premium valuation. Instead, Ur-Energy trades at a 27% discount to the average on an EV/lb basis.
Another interesting finding is that Cantor shows the uranium explorers group trading at even higher average values than the producers--as if it was better to not be in production! The producers, on average, trade at a 25% discount to the explorers' EV/lb valuation, which doesn't make sense to us. A close look reveals a wide dispersion in the values for the producers group so this observation is not entirely conclusive. That said, with the lowest cost producer trading at a discount to the average producer and the average producer trading at a discount to the average explorer, all on a per pound basis, it strikes us as another clue that the uranium equities market is simply not efficient and there are bargains to be had.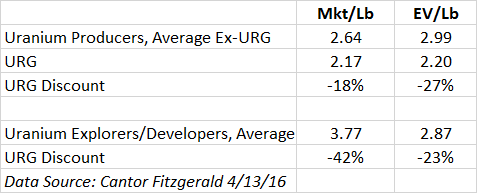 What Could Happen, Part I: Upside. Let's start with a review of analyst price targets for Ur-Energy. There are differences of opinion, but all support the above argument that this stock is just too cheap.
Rodman & Renshaw $2.10 (5/12/16)
Roth $2.00 (6/9/16)
Cantor Fitzgerald $2.34 (4/13/16, CAD$3.00)
Dundee $1.44 (6/8/16, CAD$1.85)
Raymond James $1.17 (4/13/16, CAD$1.50)
The average here is $1.81, which is 3.3x the current stock price. The highest target is 4.25x and the lowest is 2.1x. If any of these price targets are hit, Ur-Energy is worth 2-4x the current stock price.
Price targets are typically set for one-year periods. What if we look out longer than that? Below is Rodman & Renshaw's long term financial model for the company, showing EBITDA rising to $90 million by 2021--compared to an enterprise value of around $100 million today, or an EV/EBITDA ratio of 1.15x. Mining companies own depleting assets so the application of EBITDA multiples gets tricky, but even in that context 1.15x is just too low.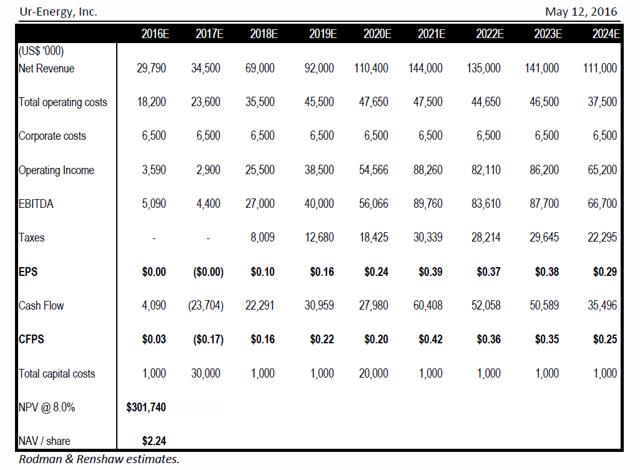 An earnings per share analysis leads to a similar conclusion. Ur-Energy is trading at 5.5x to 1.4x Rodman's earnings forecast for 2018 to 2021, as detailed below--once again, incredibly cheap.

While acknowledging that a P/E ratio is an imperfect tool for valuation analysis of a mining company (NPV and NAV addressed above), one might ask what the normalized P/E ratio should be. Since most companies in the sector are losing money, it's hard to look at an industry average, but an analysis of Cameco could be instructive. We found the below table from BMO who studied Cameco's P/E ratio going back to 1994. It shows a high of 65.2x and a low of 8.3x. The low, not surprisingly, was reached during the 2008 crisis. You can pick the multiple you'd like, but even if you pick the very lowest multiple of 8.3x that's still 50% higher than Ur-Energy's 2018 multiple and nearly 6x the company's 2021 multiple.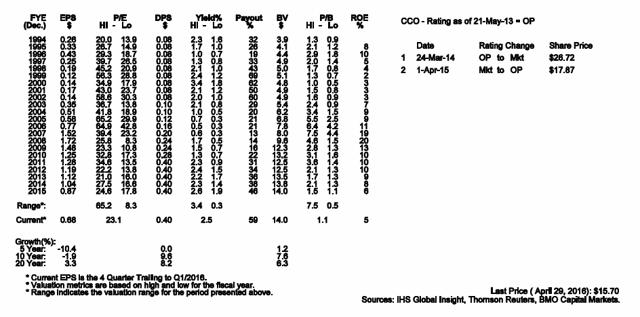 Cameco's P/E ratio, from BMO
Morningstar shows Cameco trading now at 37.2x trailing earnings and in a range of 18.3x to 76.3x over the past 10 years. If you apply Cameco's 10-year average multiple to Ur-Energy's 2019 earnings (before earnings more than double in 2021) you get a stock price of $5.44, which is nearly 10-times the current stock price.

Cameco's P/E ratio, from Morningstar
What Could Happen, Part II: M&A. Decade low uranium pricing, many industry players not prepared to survive the storm, irrational equities pricing, and at the same time generally positive longer term industry prospects are all factors that come together to create an environment where there has been significant merger and acquisition activity.

BMO published the above table which summarizes transactions over the past few years. We know of a few transactions (including attempted transactions) in the 2015-2016 time frame to add to the list. These include Fission Uranium, Denison (NYSEMKT:DNN), CGN (China's largest nuclear operator), Uranerz, Energy Fuels, Mestena Uranium, Uranium Resources, Anatolia Energy, and Roca Honda (hat tip: JR). BMO wrote in their May 2016 report:
"With uranium in the doldrums, but a general consensus of a long-term price at more than double the current level, the next couple of years could be a good opportunity for investors to make strategic acquisitions." -BMO
We won't speculate as to how the M&A front relates to Ur-Energy. We will though mention that it has been flagged by some as a possible participant. Raymond James' David Sadowski stated last year regarding Ur-Energy,"We see the company as being a good takeout candidate, or even being a buyer of other U.S. ISL assets." At Ur-Energy's annual meeting management stated, paraphrasing, "We get calls all the time," but didn't provide further detail. The company's presentation also highlights "M&A activities" without providing additional comment.
Whether or not Ur-Energy is involved in any way in M&A, and despite the risk of a takeover providing modest near term upside that precludes the longer term potential from being realized, we think the industry's M&A activity adds to the company's attractiveness.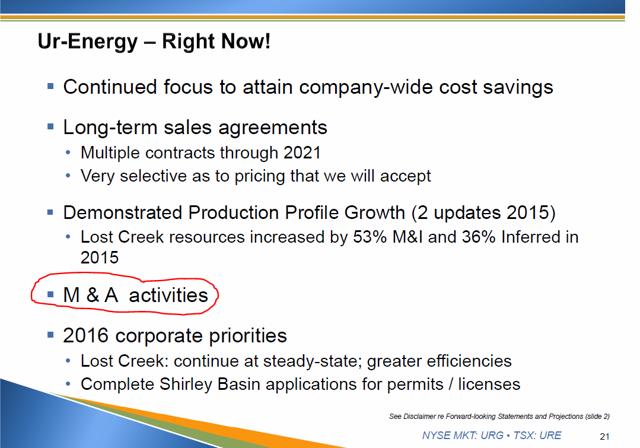 What Could Happen, Part III: The US Wakes Up. Not critical to our thesis but certainly possible, and some would argue likely, is that the environment in the US shifts to favor domestic suppliers of uranium. We view this as a free call option on Ur-Energy. It makes a lot of sense since the US uses much more uranium than it produces and is dependent on volatile countries with their own political agendas for this strategic asset. Should the US start to prioritize domestic uranium supply it also wouldn't be the first time that the country took such an approach.
Before we explore the outlook for uranium, we'll start by mentioning here that--while not yet reflected in the spot price--the world is already consuming more uranium than it produces, 171 million pounds consumed in 2014 vs. 145 million produced (Ur-Energy). The US Energy Information Administration reported that US utilities consumed 46.5 million pounds of uranium while domestic miners produced only 3.3 million pounds in 2015, which is only 7% of the need.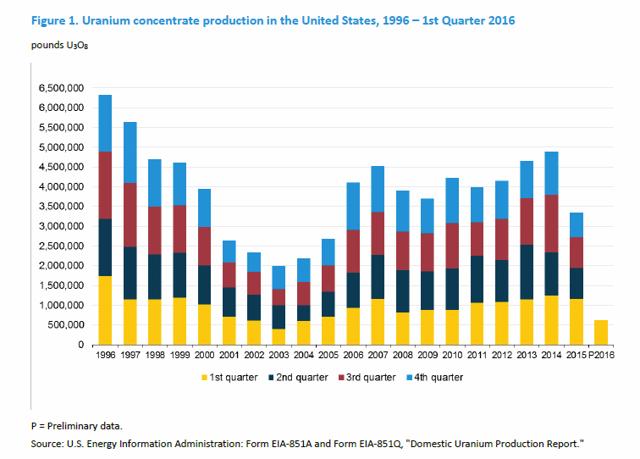 The US has long been a weak uranium producer, with peak production over the past 20 years reached in the mid 90's in the 5-6 million pound range, and 2015 production representing only about half of the 1996 level, at 3.3 million pounds. In the first quarter of this year domestic uranium was produced at only six facilities, including Ur-Energy's Lost Creek site, making the company's assets extremely rare. Part of the reason for this is that the US doesn't even have that much uranium to start. A 2013 World Nuclear Association study showed that the known reserves in the US are only 3.5% of global known reserves, with eight other countries having far greater supply.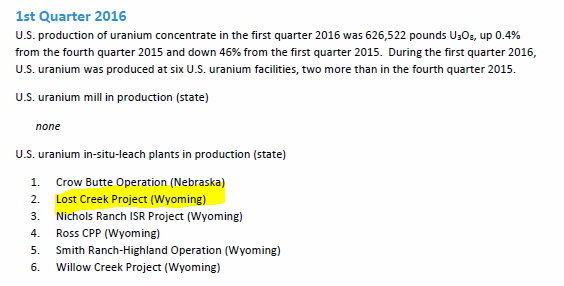 Ur-Energy is one of only six domestic uranium miners. US Energy Information Administration, May 2016
With US production so low relative to domestic needs, and more so on a global basis, where is all the uranium coming from to meet our needs? None of the top uranium mines in the world are in the US. Rather, uranium supply is in the hands of a few large players. For 2015, the WNA reported, eleven companies marketed 89% of the world's uranium mine production. In 2014, 54% of world production came from a mere ten mines in six countries and these six countries produced 85% of mined uranium globally.
The WNA also added that more than half of uranium mine production is from state-owned mining companies, "some of which prioritize secure supply over market considerations." In 2015 Kazakhstan produced the largest share of mined uranium, at about 39% of global mined supply (uranium can also come from non-mined sources, such as decommissioned warheads). Ur-Energy has highlighted 39% of the pounds purchased by US utilities as originating in Kazakhstan, Russia, and Uzbekistan.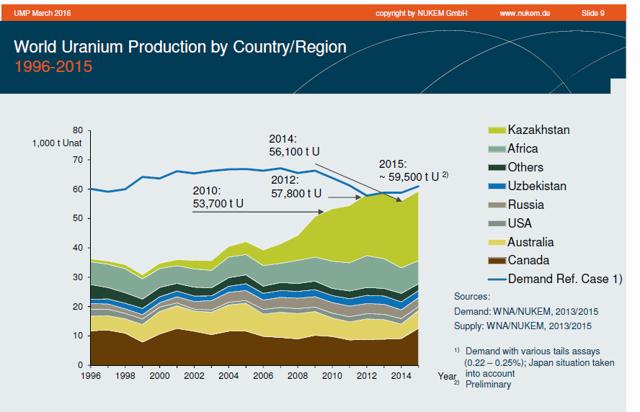 Source: Nukem GmbH
To review, the US has only 3.5% of known global uranium reserves, produces only 7% of its annual consumption, and is dependent on Kazakhstan, Russia, and Uzbekistan to, literally, keep the lights on. Yet, despite our scarce resources and uranium dependence, the US is the world's largest producer of nuclear power at over 30% of worldwide nuclear electricity generation (WNA). We have 100 reactors (99 active) that produce over 19% of the country's total electrical output (WNA).
The lack of political attention to this situation is a headscratcher, especially considering that it wasn't always this way. Going back to the 1950's, the country was more proactive about creating and defending domestic uranium production. Back then, the WNA reported, not only was there "a great deal of uranium mining," but the mining was promoted by federal subsidies. Today the regulatory environment is so severe that, except for some more entrepreneurial pockets such as the State of Wyoming, it discourages uranium mining by making attempts for approval take a fortune and forever, with approval highly uncertain.
"The market that we now find ourselves in is like no other in the history of uranium. Production is far below requirements, which are growing. . . . Supply has become more concentrated, making the market more vulnerable to disruptions if there are any problems with a particular supply source. Another source of market vulnerability is the relatively low level of inventory held by buyers and sellers alike." -Ux Consulting Company, one of the industry's leading consulting firms
For these reasons, we don't think it's hard to imagine a re-prioritization of domestic supply returning to the forefront. That would make Ur-Energy, one of only six current producers and #2 in the country after Cameco, an extraordinarily precious asset. (By the way, being the #2 producer is essentially by choice as the company chose not to produce more uranium into the weak spot price environment, but it has a shot at being #1 if it so chooses.) Considering that we are talking easily over a decade and well over $100 million to bring new domestic supply online, it makes Ur-Energy almost impossible to replace even in a recovering uranium market.
We are not the only one espousing this possibility. Roth's Joseph Reagor told The Energy Report last month:
"Our thought process, as the country has tried to focus on energy independence, is that at some point there is going to be a push to potentially even subsidize U.S. production of uranium in order to avoid reliance on imported uranium to supply power plants."
In the same vein, Rodman wrote the below paragraph with regard to Peninsula Energy, but it applies equally well to Ur-Energy.

This is all a long way of saying that while Ur-Energy's assets would be attractive anywhere in the world due to their economics, their domestic location gives them an added strategic benefit in an environment that increasingly seems likely to acknowledge that economically.
Uranium Outlook. As we learned the hard way, it's difficult to be right about a uranium stock without getting the timing right on uranium pricing as well. Indeed, one of the key risks to our investment in Ur-Energy is that the turn in uranium get further delayed or comes in more muted form than anticipated. We will make the case why we think the uranium bull market is overdue, but want to acknowledge that we've been early here before and may continue to be proven wrong.
We are already at the point where demand is outstripping supply. This remains true for the foreseeable future, even after adding in mines under development, mines in the planning stages, and prospective production. What's more, as we get even further out to the late 2020's, the supply/demand imbalance is anticipated to get more severe, as indicated in the below graph. Utilities plan their uranium supplies years in advance and these facts are not lost on them.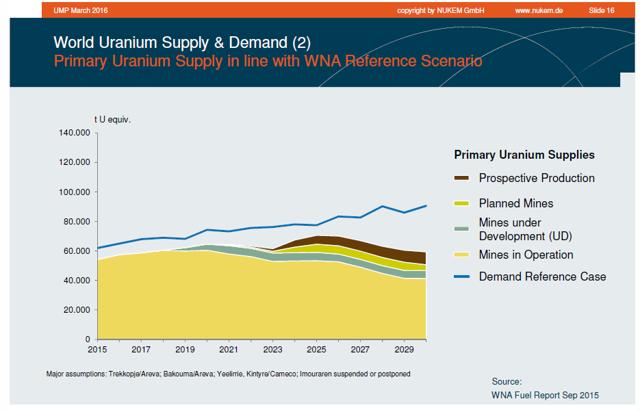 Source: Nukem GmbH
What's driving the demand? At a high level it's increasing electricity consumption globally, coupled with the growing realization that nuclear power, while far from perfect, may be the best choice available for carbon-free baseload power (more on this below).
Amir Adnani from Uranium Energy Corp stated in an interview,"We have more reactors under construction globally than probably any time in the history of nuclear power." Ur-Energy cites 440 reactors operable today with 65 under construction, 173 planned, and 337 proposed. China alone could move the market. Dr. Hui Zhang told UxC, a leading uranium consulting firm, that 24 reactors under construction in China will nearly double the count from 30 today, and by 2030 the country is aiming for 120-150GWe of nuclear power compared to 27 GWe today.
"Uranium prices remained weak in 2015, owing to the current supply glut caused by delayed Japanese reactor restarts. This situation won't last much longer. We expect new reactor capacity to drive the strongest uranium demand growth in decades. A quadrupling of China's reactor fleet headlines this growth. New reactors in India, South Korea, and Russia, as well as restarts in Japan, lend additional support."-Morningstar
The coming new reactor count should be considered not just in absolute terms, but also in terms of uranium consumption. New reactors are larger and consume more uranium, making the reactor count growth even more impactful than you would think. David Talbot from Dundee Capital Markets wrote in January that the electrical generating capacity of new reactors average 950 MWe, while old reactors average 572 MWe, an increase of 66%.
"Among commodities, uranium was the worst-performing in 2016. Downcast prices made the raw material unremunerative for many producers. But things are changing. David Wang, an analyst at Morningstar, said uranium price will more than double to about $65 a pound by 2019 from $28.25 now. 'We're all surprised by how low it's gotten, especially considering the bright prospects going forward,' Wang said in an interview." -FX News Call
These are some of the reasons why analysts are calling for uranium to increase dramatically in price in coming years. The median estimate on Bloomberg is $43/lb in 2017, up 50% from today. Some think it will double or more by 2018. Morningstar forecasts uranium prices hitting $65/lb by 2019. BMO thinks "the longer-term uranium outlook remains attractive" and pricing will eventually rise to $60/lb.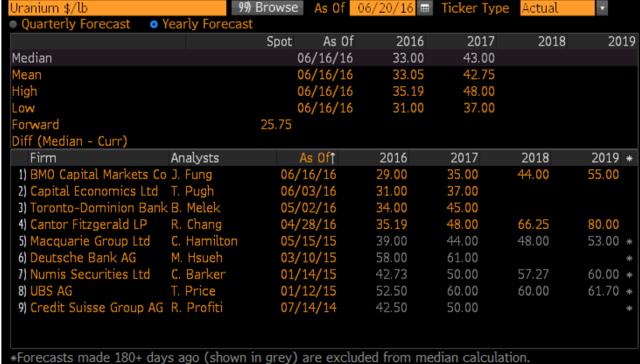 Bloomberg screenshot of uranium price forecasts
At current uranium prices BMO estimates that more than 50% of primary uranium supply is underwater on a total cost basis. Analysts differ on just how high prices need to get to support the advancement of new mining projects. Joseph Reagor at Roth sees a significant rise in demand in 2018-2019 and $50-60 per pound as a sustainable long term level. Uranium Energy Corp's presentation states that close to half of global mined supply comes from conventional mining which requires prices above $75 (2.6x the current price) as an incentive for the development of new conventional mining projects.
An even bigger uranium bull is Cantor's Rob Chang who spoke about prices moving "violently higher," and possibly getting to $100/lb long term. Even breaking the $100 mark wouldn't be a first for uranium, as prices hit $136 in 2007.
" We conservatively predict that a price of $80/lb is the breakeven required for global supply and demand to meet over the long term, and with incentive pricing, that range will likely rise to $90-100/lb." -Rob Chang, Cantor Fitzgerald
If anyone surpasses Chang's bull call it might be James Stafford of OilPrice.com who wrote not only that prices are set to double by 2018 but:
"The minute the market catches on to the massive amount of reactors coming online combined with the pending uranium supply shortage, uranium will experience a price surge like no other commodity before it." -James Stafford of OilPrice.com
Why Uranium's Outlook Matters Today. A question you might be asking is why you should care in 2016 about uranium price movements years from now. One reason is that the general rule of the market being a forward looking mechanism applies here as well. Uranium pricing, like any asset, incorporates expectations about future pricing that will impact the price in advance of the future.
This forward-looking idea is particularly true for uranium because of how utilities operate and the processing times for uranium. It usually takes 1.5 to 2 years from the time uranium is mined until it completes the enrichment process for fuel fabrication, BMO wrote. Utilities also can't afford not to keep their reactors running and their customers serviced, so they plan their supply years in advance. That's why we think the higher price forecasts for 2018 and beyond and the coming deepening of the supply shortage will soon work their way to drive the spot and long term contract price for uranium materially higher. As David Talbot from Dundee wrote in January, "On fundamentals, uranium appears poised for a revival. . . . Historically, when uranium prices move, they move fast."
"Ur-Energy remains one of our preferred producer vehicles for exposure to inevitably higher uranium prices." -Raymond James 4/13/16
The impact of higher uranium prices for Ur-Energy could be astronomical. Recall that in uranium's mini bull run of 2011 when prices reached over $70, Ur-Energy hit a high of $3.27, which is nearly 6x the current share price. That was before the company had ever taken a pound of uranium out of the ground, before it was fully financed, before it had all its permits, before Lost Creek was known to have as much uranium as it has today, before the Pathfinder assets were acquired, before the company had much of anything at all. With the experts saying that uranium should get back to that price level and maybe even higher, we would think Ur-Energy should blow past its old price to reach many times its current level.
Whether that makes it a 10-bagger or some other number is hard to say precisely, but our view is that 10x+ upside is on the table, which is why we own so much of the company and have been so patient with our investment. We'd rather be early and eventually make a fortune than pretend that we can predict the exact time to buy and miss it all. As Ur-Energy's Jeff Klenda put it so well in Part 2 of this series,"There will be no starting gun when it's time to invest in uranium equities."
Nuclear Turns Green. Also supporting the bull case for uranium is that it is increasingly winning the support of environmental groups. Despite the section heading, it's not so much that nuclear is turning green, as much as green is turning to nuclear. The OECD's International Energy Agency is predicting global electricity demand by 2030 to be double from that of 2004. The green movement, or at least parts of it, are coming to the realization that nuclear power is the best available option to meet that demand. Ken Caldeira of Stanford University's Department of Global Ecology put it this way, "There's really only one technology that we know of that supplies carbon-free power at the scale modern civilization requires, and that is nuclear power."

A recent article from the Wall Street Journal on environmental groups warming up to nuclear power
Aside from the emissions issue, oil is just not up to the task. It takes 220,000 barrels of oil to produce the energy equivalence of just 6 barrels of uranium according to Uranium Energy Corp. The WNA has highlighted the cost inefficiency of oil as compared to uranium and concluded that the finding costs of oil are about 300x more expensive than that of uranium, on an energy value basis.
Other sources of clean energy are also either too expensive or too intermittent to provide baseload power at scale. The below slide from Energy Fuels highlights nuclear as the best source of clean energy for providing the highest percentage of emissions-free electricity generation in the US and also being the most efficient. Nuclear waste storage and the potential for plant accidents do remain issues, but we think the acceptance of nuclear energy as the only realistic solution to the world's energy needs will continue to grow and make uranium an increasingly coveted asset.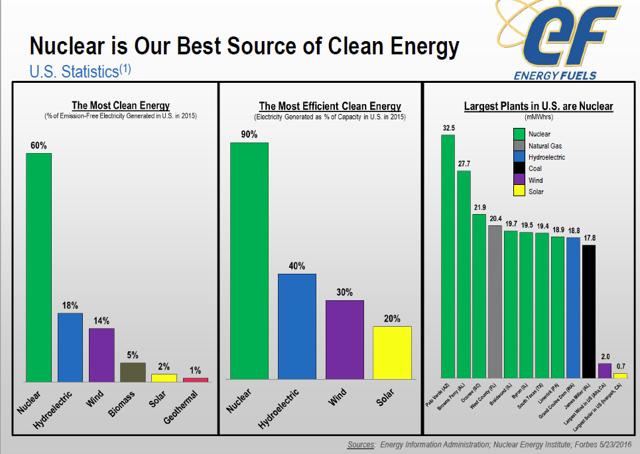 Where the Billionaires Play. We are not alone in seeing where the puck is heading with uranium. Several large, highly sophisticated investors seem to share our beliefs and have invested accordingly.
Li Ka-shing, who Forbes ranks as the second richest person in Asia at $27 billion, turned heads with the announcement earlier this month of a $60M investment in Nexgen Energy, a Canadian uranium exploration company with no revenues but promising mining assets. OilPrice.com stated that D.E. Shaw acquired 1.4 million shares in Cameco (current price over $11/share), and joined a shareholder group that includes some of the most highly regarded investors today: George Soros, Ken Griffin, Ray Dalio, and Steve Cohen. Warren Irwin of Rosseau LP, a hedge fund that has beat its benchmark by over 50% since its 1998 inception (and thinks it has a shot of being up 100% this year), has also been highlighted for his "blockbuster uranium call."
Of course none of this guarantees that either uranium or Ur-Energy will have the future that we are anticipating, and for a long time have been anticipating. There are many paths for events relating to the commodity and the company to derail our investment. But there are also paths for it to be worth multiples, and potentially many multiples, of its current price, and that's what keeps us motivated to see it through. Extended patience can test even the finest of investors, but, as the legendary trader Jesse Livermore put it, the big money is made in the waiting. With Ur-Energy so undervalued and so many catalysts already in play, that waiting may soon be handsomely rewarded.
Disclosures: Lazarus is long Ur-Energy and a significant shareholder of the company. Nothing here is to be deemed investment advice. This article is also subject to our disclaimer available here.
Editor's Note: This article covers one or more stocks trading at less than $1 per share and/or with less than a $100 million market cap. Please be aware of the risks associated with these stocks.