Methodology:
Evaluating the potential of a new pharmaceutical can be an extremely challenging task as there are an ever-increasing number of complex factors that influence a product's ultimate success or failure. When I look at any new product, I always begin the process by trying to answer two simple questions:
Is there a market need?
Does the product value proposition meet that need?
If you have a product that works and there is a market, then there is potential for success. If not, trouble is likely in the future.
This article will walk you through a series of related of questions to establish my opinion of Relypsa's (NASDAQ:RLYP) Veltassa:
Is there is a market for Veltassa?
Does the Veltassa value proposition meet that need?
What is Veltassa®
Available in powder form, Veltassa is mixed with water and taken daily. Its smooth, spherical beads bind to potassium in exchange for calcium, primarily in the colon. The potassium is then excreted from the body through the normal excretion process

Veltassa should not be used as an emergency treatment for life-threatening hyperkalemia because of its delayed onset of action

Veltassa also has the following Boxed warning: Veltassa binds to many orally administered medications, which could decrease their absorption and reduce their effectiveness. Administer other oral medications at least 6 hours before or 6 hours after Veltassa. Choose Veltassa or the other oral medication if adequate dosing separation is not possible
(source)
What is hyperkalemia?
Hyperkalemia is an elevation in blood serum potassium concentration with degrees of hyperkalemia defined as follows (source):
5.5-6.0 mEq/L - Mild
6.1-7.0 mEq/L - Moderate
≥7.0 mEq/L - Severe
Note that there is some variance around the lower boundary for mild hyperkalemia as I have seen definitions for the lower bound in the 5.0 to 5.2 range.
However, it is generally accepted that levels higher than 7.0 mEq/L requires hospitalization and immediate rescue therapy since levels exceeding 8.5 mEq/L can be fatal
What causes hyperkalemia?
Hyperkalemia can occur due to excessive intake of potassium or a shift of potassium out of cells although both are rare. Diabetes can also cause hyperkalemia due to defects in potassium metabolism. Typically, hyperkalemia occurs due to decreased excretion that can occur due to (source):
Loss of renal function due to end stage renal disease (ESRD)/chronic kidney disease (CKD)
Potassium sparing diuretics
Renin-angiotensin-aldosterone-system (RAAS) Inhibitors which includes commonly used classes of drugs used to treat hypertension such as ACE inhibitors and Angiotensin-receptor blockers (ARBs)
How large is the opportunity for hyperkalemia in RAAS?
For most patients, the rate of hyperkalemia for RAAS monotherapy is fairly low (≤2% overall and ~5% with dual RAAS inhibitor use). This increases to about 5-10% in patients with heart failure or chronic kidney disease. Increases in serum potassium levels from a RAAS tend to be modest (0.1 to 0.3 mmol/L), and discontinuations reported in clinical trials tend to be low (1% to 5%) (source).
The RAAS inhibitor market is large. Novartis' ARB Diovan alone was a $5 Billion drug. Therefore, capturing even a small percentage of this market has the potential to be a meaningful opportunity.
How is hyperkalemia treated?
When serum potassium reach severe levels (higher than 7.0 mEq/L), a range of treatment options exist to reduce blood potassium levels that include:
Diruetics - To excrete potassium.
Kayexalate (cation exchange resin) - To absorb and excrete potassium.
IV insulin and glucose - To accelerate cell uptake of potassium.
Emergency Dialysis - To remove potassium.
This is what is commonly referred to as the "acute" market since treatment is only for a short period of time until serum levels are restored to levels below 7.0 mEg/L.
When levels are maintained at mild or moderate levels (less than 7.0 mEq/L), options to manage hyperkalema include:
Dialysis to remove potassium from the blood.
Conversion to a non-potassium sparing diuretic.
Dose reduction or discontinuation of RAAS inhibitor therapy.
This is what is commonly referred to as the "chronic" market. Kayexalate is typically not used chronically due to risks of colonic necrosis and questionable efficacy Monitoring potassium intake is another option although typically not reliable given the availability of potassium in a wide variety of foods (source).
Patients with HF or CKD are at greater risk of hyperkalemia with RAAS therapy, however changes in serum potassium are generally small and unlikely to be clinically significant. These patients typically tend to benefit from RAAS inhibition so monitoring electrolyte levels is typically recommended (source).
What are the current opportunities and unmet needs in hyperkalemia?
Potential opportunities for treatment of hyperkalemia include:
An alternative to kayexalate (acute use).
Given the questions surrounding the utility of kayexalate, there is an opportunity for a product with a better profile. However, there is no opportunity here since according to the package insert, Veltassa is contra-indicated for acute use.
Delay the initiation of and/or minimize frequency of dialysis (chronic use).
Dialysis removes excess water, sodium, bicarbonate and others beyond potassium, so simply managing excess potassium is not likely to impact the need for dialysis.
Ability to maximize the use of RAAS inhibitor (chronic use).
When a RAAS inhibitor that is used to control hypertension causes hyperkalemia, the recommended solution is to try to maintain use of the RAAS and closely monitor/manage electrolyte levels.
I believe this creates a potential opportunity for Veltassa® to help manage RAAS induced hyperkalemia. Based on clinical trials and various investor filings, Relypsa appears to be targeting Veltassa® for use in patients that experience hyperkalemia from use of a RAAS inhibitor.
What is the evidence that Veltassa® works?
Veltassa was approved by the FDA primarily based on two clinical studies with the results published in two leading medical journals: NEJM and JAMA. Results presented below are from the package insert.
Adverse Events (Pooled from both studies)
In the safety and efficacy clinical trials, 666 adult patients received at least one dose of Veltassa, including 219 exposed for at least 6 months and 149 exposed for at least one year. Table 1 provides a summary of the most common adverse reactions (occurring in ≥ 2% of patients) in patients treated with Veltassa in these clinical trials. Most adverse reactions were mild to moderate. Constipation generally resolved during the course of treatment (source).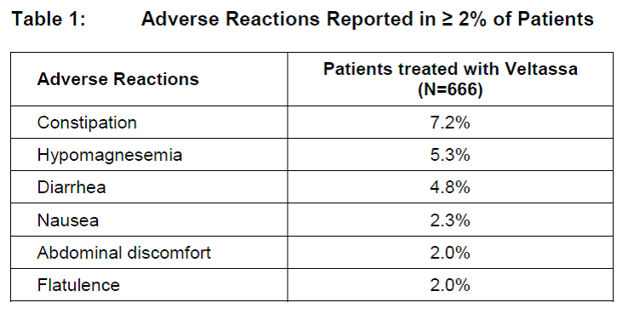 During the clinical studies, the most commonly reported adverse reactions leading to discontinuation of Veltassa were gastrointestinal adverse reactions (2.7%), including vomiting (0.8%), diarrhea (0.6%), constipation (0.5%) and flatulence (0.5%). Mild to moderate hypersensitivity reactions were reported in 0.3% of patients treated with Veltassa in clinical trials. Reactions have included edema of the lips. Laboratory Abnormalities Approximately 4.7% of patients in clinical trials developed hypokalemia with a serum potassium value < 3.5 mEq/L. Approximately 9% of patients in clinical trials developed hypomagnesemia with a serum magnesium value < 1.4 mg/dL.
(source)
Study 1: Two-Part, Randomized Withdrawal Study
Results for the Part A primary endpoint, the change in serum potassium from Baseline to Week 4, are summarized in Table 2. Mean serum potassium over time for the intent-to-treat population is displayed in Figure 2. For the Part A secondary endpoint, 76% (95% confidence interval [CI]: 70%, 81%) of patients had a serum potassium in the target range of 3.8 mEq/L to < 5.1 mEq/L at Week 4. The mean daily doses of Veltassa were 13 grams and 21 grams in patients with serum potassium of 5.1 to < 5.5 mEq/L and 5.5 to < 6.5 mEq/L, respectively.
The primary endpoint for Part A, the change in serum potassium from Baseline to Week 4 was a statistically significant (p<0.001) with an average 1.01 reduction from baseline potassium levels. For the Part A secondary endpoint, 76% (95% confidence interval [CI]: 70%, 81%) of patients had a serum potassium in the target range of 3.8 mEq/L to < 5.1 mEq/L at Week 4.

The Part B primary endpoint was the change in serum potassium from Part B baseline to the earliest visit at which the patient's serum potassium was first outside of the range of 3.8 to < 5.5 mEq/L, or if the patient's serum potassium remained in the range. In Part B, serum potassium rose by 0.72 mEq/L in patients who were switched to placebo, versus no change in patients who remained on Veltassa. This was also statistically significant (p<0.001).

Study 2: One-Year Study
In the second study, the effect of treatment with Veltassa for up to 52 weeks was evaluated in an open-label study of 304 hyperkalemic patients with CKD and type 2 diabetes mellitus on RAAS inhibitor therapy. Figure 3 shows that the treatment effect on serum potassium was maintained during continued therapy.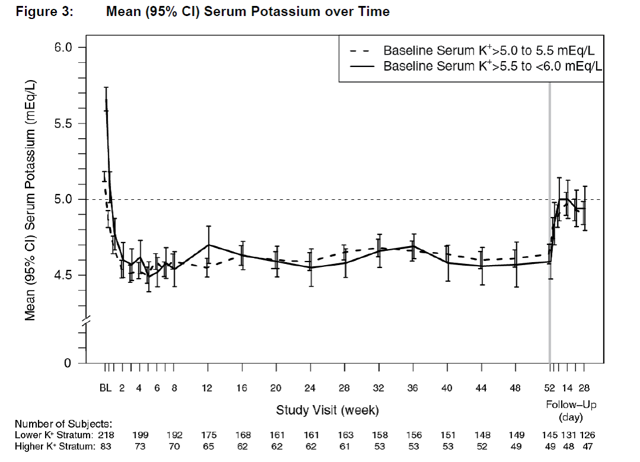 So the data looks pretty good right?
I my opinion, three problems appear with the currently available data and evidence supporting the use of Veltassa.
Problem #1: Patients seem to have trouble staying on Veltassa
If you look closely at the number of patients on study over time at the bottom of Figure 3 from the package insert, you'll see a disturbing trend. The lower K+ stratum started with 218 patients, but only 145 were still on study by week 52 (66%). Even worse is the higher K+ stratum that started with 83 patients, but only 49 were still on study by week 52 (59%).
If you are seeing 40% dropout rates in a well-selected trial, then in real world use the use is likely to be the same if not worse. Regardless of the reason for the high dropout rate, it will be a major challenge to be commercially successful if you have to continually replace 40% plus of you patients every year just to maintain a steady state number of treated patients. This is like trying to walk up an escalator that is going down.
Problem #2: Veltassa doesn't work for everyone
According to the package insert only 76% of patients reached a target serum potassium level of 3.8-5.1 mEq/L after 4 weeks. In addition, according to the NEJM article, an additional 6% of patients dropped out of the study (which was 12 weeks or less) due to adverse events. This suggests a short-term dropout rate of approximately 30% in a controlled clinical trial which again should be equivalent to if not higher than real world use.
Furthermore, some have questioned the reported efficacy data given the high use of a loop diuretic in 32% of patients.
On the surface, a drug that works in close to 70% of patients sounds pretty good. However, this is a condition where a non-controlled patient is at risk of hospitalization so there is not a lot of room for error. I believe that because the downside risk of failure is high (hospitalization) many prescribers will use caution when thinking about how they use Veltassa.
The authors of the JAMA (12-month) and NEJM (4-week) articles respectively (with much higher credentials than myself) in discussing the study designs illustrate that concerns over this type of risk are real:
Alternatives to this design were considered, but the study investigators did not think it clinically appropriate to use a placebo control in this long-term trial as this would subject study participants to the potentially life-threatening risks of hyperkalemia."

"Given that patients with serum potassium levels up to 6.5 mmol per liter were enrolled in the initial treatment phase, placebo control was considered to be unethical."
I don't think that this will prevent Veltassa from ever being used. However, it does pose serious challenges for the prescriber to balance integrating Veltassa into the treatment algorithm in a manner that doesn't expose patients to risk if the drug doesn't work, they stop taking it, etc. In addition, Veltassa has a black box warning regarding drug-drug interactions that warns against dosing oral drugs 6 hours before or after taking Veltassa. This poses even further challenges and concerns for prescribers.
Problem #3: Veltassa data fails to answer the hard questions
For a hyperkalemia treatment to be successful, there are several questions that insurers and prescribers typically want answers to:
Does therapy prevent patients from severe hyperfkalemia events that require costly hospital visits? (aka "health economics").
Do patients on therapy live better and/or longer? (aka "health outcomes").
What is data applicability and relevance to various patient types? (aka "clinical relevance").
In a nutshell, so far. Relypsa has shown that Veltassa can take a borderline hyperkalemic patient (serum potassium of about 5.5%) and reduce it on average by about one full percentage point. This intuitively should provide some value, but it has not been demonstrated what impact it has on either hospitalization rates or patient outcomes. There is virtually no clinical evidence (at least that I'm aware of) that says Veltassa taking a borderline hyperkalemic patient with 5.0-5.5% serum potassium to 4.0-4.5% on average is going to result in fewer hospital visits or make patients live any longer or better. The only thing even close is a recent poster looking at pre vs. post Veltassa variance in daily serum potassium levels for just six patients over 2 weeks. This is a step in the right direction but until much more of this type evidence is generated on a larger scale, I believe that Veltassa will struggle to gain adoption.
Again the authors of the JAMA article also share this same opinion:
"The 52-week data support the finding of OPAL-HK, demonstrating that long-term management of serum potassium level is needed in patients with CKD taking RAAS inhibitors to reduce recurrence of hyperkalemia. Whether control of hyperkalemia and continued use of RAAS inhibitors (including dual RAAS inhibition) in stages 4 and 5 CKD will improve long-term outcomes remains to be established."
As well as a letter to the editor at the NEJM questioning the utility of the data:
"Evidence is scarce about the treatment of patients such as these with moderate-to-severe hyperkalemia. Can the authors clarify why they felt safe sending these patients home with a potassium level as high as 6.4 mmol per liter without a specific established treatment?"
Currently, there don't appear to be any major efforts currently underway to answer these questions as clinicaltrials.gov shows the only active company-sponsored trial related to drug-drug interactions. I'm not surprised by this given such an outcomes study would likely require significant time and investment. For example the famous Lipitor ASCOT study enrolled over 10,000 patients over the course of 3.5 years. I am doubtful that either current investors or a new acquirer will be willing to invest the time, money and absorb the risk associated with such a study. Furthermore, a 40% one-year dropout rate could make running such a study even more challenging.
Putting it all together:
Is there a market need?
Yes. Given the need to control hypertension in certain patient populations and risk of hospitalization, here is a real need to help manage hyperkalemia especially in a subset of patients on a RAAS inhibitor.
Does the Veltassa value proposition meet that need?
Veltassa has the potential to meet this need, but faces a number of hurdles to adoption that I have outlined. My belief is that Veltassa faces a fundamental challenge to demonstrate the risk-reward benefits with prescribers and gain initial use. Using it puts patients at risk of hospitalization if it doesn't work/patients stop taking it, while they haven't been able to adequately demonstrate the tangible benefits to justify taking on those risks (patient benefits).
Further complicating matters is the black box warning about possible drug-drug interactions. RAAS induced hyperkalemia isn't something new. Prescribers have been managing it for a long time since the ACE inhibitors were first approved in the 1980s. This results in the natural challenges and skepticism that come with trying to change the status quo. They may be able to ultimately overcome this but it will likely be a slow process as it takes time for prescribers to gain comfort with the product and expand use.
How does this impact the investment thesis?
I believe the issues I've outlined is one of the main contributing factors as to why Veltassa adoption has been slow and will likely remain slow moving forward.
Near term the only option is continue pounding away at prescribers to try the product. So far, this has had mix success at best. According to the recent 8-K filing for the month of May (the fifth month since launch), Total TRx were reported at 2,615 which includes 1,385 free starter TRx. Based on first quarter paying TRx of 1,155 and sales of $0.6 M the average paying TRx is generating ~$600. I have modeled out that they continue on the current trajectory of +500 Total TRx per month. I have also recognized that only about 50% of payers have made a decision to cover Veltassa. My guess is that these are largely Part D plans that should kick in during 2017. To account for this, I've kept the free TRx flat in 2017 at the 2016 exit rate along with a lower ASP per TRx to $450 to reflect Part D discounts.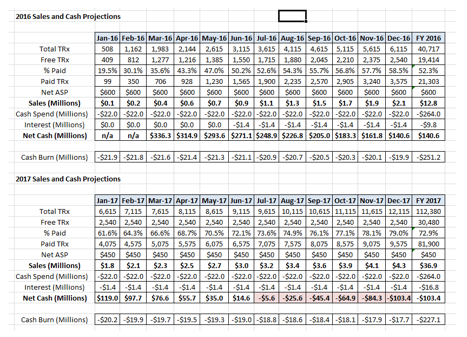 As reflected above, this generates product sales of $13 Million for 2016 and $37 Million for 2017. This would be fine if the expenditures were manageable, but Relypsa is guiding to $250-280 Million in cash burn for 2016 alone. A recent $150 Million debt offering provides some cushion as Q1 pro-forma cash including the recent financing was reported at~$330 Million but the 11% interest rate also adds $17 M a year in interest payments at current revenue and cash burn rates. Cash will run out in about a year generating a need to raise additional cash.
So how long will it take to break even? Based on current spending and sales growth trajectory above, you'll expect to reach break even in June 2023 after spending a cumulative $795 Million.
If the concerns that I've outlined prevent near-term prescription trends from accelerating then I believe Relypsa will find it increasingly difficult to find additional financing and/or a strategic partner. I believe that this makes Relypsa a stock to avoid or for aggressive investors to short.
I look forward to hearing Bret's counter-arguments and watching this saga unfold over the next 12 months!
Disclosure: I/we have no positions in any stocks mentioned, but may initiate a short position in RLYP over the next 72 hours.
I wrote this article myself, and it expresses my own opinions. I am not receiving compensation for it (other than from Seeking Alpha). I have no business relationship with any company whose stock is mentioned in this article.