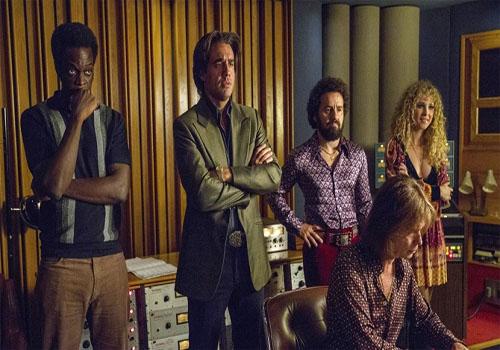 For investors, the nice thing about a company like Comcast (NASDAQ:CMCSA), Disney (NYSE:DIS) or Time Warner (NYSE:TWX) is that when one division is slumping the others can lend support.
In the case of Time Warner that load is getting pretty significant for HBO to carry.
The pay cable leader has road a record hot streak over the years with top programming, even claiming both the top prizes in comedy and drama at last year's Emmy awards. Yet it has also lost a lot of those marquee series and they've been harder to replace than initially expected.
The exit of True Blood, Boardwalk Empire and The Newsroom within just months of each other in 2014 was a major blow. The silver lining (at the time) was that the network still had Game of Thrones going strong and rookies True Detective, The Leftovers and Vinyl were (then) hot commodities.
Fast forward a bit and even though Thrones has never been more popular it's nearing its end, while the case may as well be closed on Detective and Leftovers will soon limp into its swan song season.
Then there's Vinyl…
Vinyl was supposed to be the next big thing for a network that needed a next big thing, especially coming off the True Detective debacle of last summer.
It had Martin Scorsese, Mick Jagger and go-to showrunner Terence Winter behind the scenes and the talented Bobby Cannavale, Ray Romano and Olivia Wilde in front of the camera. It had the music industry as its backdrop with a rich tapestry of singers and songs to spotlight. It had the pedigree of being on HBO Sunday nights and the backing of critics.
It just didn't have viewers.
For HBO, which relies on subscribers to stay afloat, that's not as big of a deal as it would be a broadcast network, but it is still important. Remember HBO has never played by the same rules and previous shows have carried low audiences but stayed on air because of quality (i.e. The Newsroom, Girls, etc.)
In fact to prove its loyalty, HBO executives initially renewed Vinyl not long after its disastrously low opening. To be honest, the move made sense as Vinyl was always going to be a awards season player and if that ship came in, then the ratings mattered even less.
So when HBO reversed course this week and pulled the plug on the music drama you could hear the shockwaves reverberating through the industry. After all this is at least the fourth time in recent memory HBO has done this (i.e., Tell Me You Love Me, Luck, The Brink) and I can tell you as someone who watched the full season, it was a very enjoyable and well-acted show… if you could just get through the over-stuffed two-hour premiere that for some strange reason was slated to debut verses The Walking Dead's mid-season premiere.
Here's the good news, HBO's arsenal is slowly rebuilding… and this time it may actually hold up in battle.
The long-delayed but highly anticipated star-studded Westworld finally has a airdate (October), Sarah Jessica Parker's return series Divorce is slated for the fall, limited run summer series The Night Of could be a real sleeper success story and most importantly Larry David's returning (at some point) with more episodes of Curb Your Enthusiasm.
There's a lot of good news for investors and the industry. And even better, Warner Bros. is looking like it may have turned a corner enough to take some of the pressure off the cabler. Despite a weaker than hoped for spring, the studio has put together a very solid June.
Romantic drama Me Before You captured the same pulse that The Fault In Our Stars did a few years ago, The Conjuring 2 defied the recent trend of films suffering from "sequelitis" and Central Intelligence proved Dwayne Johnson and Kevin Hart may be Hollywood's new "it" team.
The three has so far earned over $200 million off a combined budget of $110 million. While that amount of money may not seem like a big win, for a studio that has struggled to put together a string of hits in recent years it's a huge milestone.
You have to think of it as baby steps, because with the $180 million flop-in-waiting The Legend of Tarzan coming around the corner this weekend that streak is going to be shattered quicker than the ape-man can swing from tree-to-tree. If tracking holds and Tarzan opens to just $30 million, detractors will again start circling the wagons overlooking all the good the studio's accomplished as of late.
You can expect that Batman V. Superman debate to come roaring back as analysts will immediately re-commence talks of how vital August's Suicide Squad is to the health of Time Warner. Yet to be fair in this case, they aren't wrong. Coming off Batman V. Superman and Tarzan, Warners needs a win in much the same way HBO does.
The difference is HBO is relying on it's segmented subscriber base to come through while the WB has to rely on the notoriously fickle and vocal fanboy community. Even the combined armies of the Seven Kingdoms from Game of Thrones have nothing on them in terms of sheer destructive capabilities.
Luckily for investors Warner's Fantastic Beasts And WhereTo Find Them is also on the horizon and if that film and Suicide Squad live up to expectations, this could still end up being the big year that was once hoped for.
Image Credit: HBO
Disclosure: I/we have no positions in any stocks mentioned, and no plans to initiate any positions within the next 72 hours.
I wrote this article myself, and it expresses my own opinions. I am not receiving compensation for it (other than from Seeking Alpha). I have no business relationship with any company whose stock is mentioned in this article.