The U.S fast food industry is very competitive these days as more than 200,000 fast food restaurants are serving approximately 50 million Americans on the daily basis. Sonic Corp (NASDAQ:SONC) is one of the successful fast food chains in the U.S. Sonic's business model revolves around franchising while convenience, taste, and unique ordering system have helped the company grow consistently. With its network of more than 3,500 drive-in locations, Sonic generates $619 million in annual revenue and $70 million net income.
Is Sonic Slowing Down?
The U.S. fast food industry is experiencing a slowdown and Sonic is also feeling the heat. During the third quarter of the fiscal year 2016, Sonic recorded 2% systemwide same-store sales growth, which was lower than the revised consensus estimate of 2.5%. Resultantly, the company's third quarter revenues of $165 million missed the expectations by $0.92 million. However, increase in profit margins due to effective cost management and continued share repurchase boosted the earnings per share to $0.43 - 1 cent ahead of estimates.
With the changing industry outlook, Sonic now expects same-store sales growth in a range of 2% - 4% primarily due to soft traffic at systemwide drive-in locations. Although traffic is likely to remain subdued for a while, the long-term growth prospects are still intact. The analysts at RBC Capital Markets are expecting second quarter fast food industry same-store sales growth to settle at 1% to 1.5%, which would be a considerable slowdown from 3% increase during the first quarter of 2016.
Sonic's same-store sales growth pace may tumble this year, but average sales per drive-in are getting sturdy. So far in the first three quarters of 2016, average sales per drive-in have increased to $0.933 million as compared to $0.894 million in the same period of the fiscal year 2015, and the number is likely to reach 1.28 million for the full fiscal year 2016.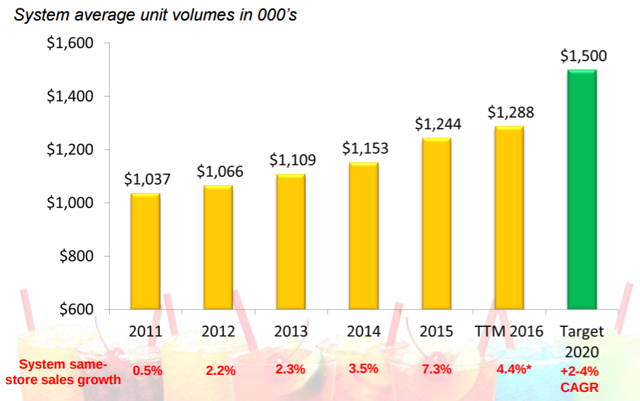 Source: Company Presentation
Sonic is looking at $1.5 million average sales per drive-in by the end of 2020, which would require 3.7% average same-store sales growth over the period. The fast food industry is slated to grow at an annual growth rate of 2.5% over the next several years. Although Sonic's target looks slightly optimistic, the company has the potential to outpaced the broader industry growth. The network expansion, innovation across the product portfolio, and new seasonal menu could help Sonic grow faster than the industry average. Moreover, relocation and rebuilding of some of its locations are already fueling the average same-store sales.
Sonic has 3,500 drive-in locations, but 90% are franchises. To continue growth momentum and keep up with its peers, Sonic opened sixteen new drive-in franchises during the third quarter of the fiscal year 2016. Sonic is also focused on the refranchising initiative and plans to increase the franchising to 95% of total systemwide locations by the end of the fiscal year 2017. The rationale is that Sonic's owns drive-in locations are witnessing soft traffic, which is evident from 2.5% drop in drive-in revenue during the third quarter as compared to 6.8% increase in franchise royalties and fees. Thus, adding 140 franchises will reduce the earnings volatility. On the other hand, divestiture will improve the capital efficiency and will allow franchisees to optimize the performance.
What's On The Menu?
Sonic consistently focuses on strengthening of its core menu to remain competitive. Besides its routine items, Sonic introduces value-based promotions and limited time offers to increase the engagement. Currently, the company is offering a special summer treat with its all-new $5 Sonic Boom Box. This limited time deal, which includes the choice of any premium beef 6-inch hot dog, medium fries or tots, a junior deluxe cheeseburger, and a medium fountain drink or tea has increased the traffic.
To engage the customers, Sonic has also launched a new line of 6-inch Coneys for the month of June. The company has increased the options for customers by adding three new flavors of cheese. Moreover, customers can also choose from four other options, such as regular Chili Cheese Coney and New York Hot Dog.
The product portfolio of Sonic is very competitive. Sonic is amplifying its marketing efforts around Boom Box over the next two to three months to further benefit from healthy demand for it. The company is also offering premium options, such as Frozen Lemonades and Bacon Lovers Chili Cheese Coneys, which would positively impact the profit margins. Thus, adding a few premium products on the menu along with value items would be a great mix to boost the earnings.
Energy Costs Reduction
Typically, lighting accounts for 10% to 15% of the total energy expense. As fast food chains operate on thin profit margins, Sonic has adopted a different approach to reducing the overall energy cost to beef up the margins. Installing the rooftop solar panels at company-owned drive-ins are reducing the lighting cost, and Sonic is also benefiting from rebates and federal tax credits. As investment in solar panels would reduce the energy costs by 15% to 20% at company-owned locations, pushing this strategy across all the franchises could create a decent amount of cost savings in the future.
Reward To Shareholders
Sonic is also very generous to shareholders. The stock currently pays $0.44 per share annual dividend, but 1.45% yield is pretty small. During the fiscal year 2015, Sonic returned $143 million cash to shareholders in the form of dividends and share repurchase. So far, the company has repurchased approximately $111 million worth of shares and has increased share repurchase authorization by $155 million through the end of the fiscal year 2017. Continued cash reward to shareholders will positively impact the stock and earnings per share.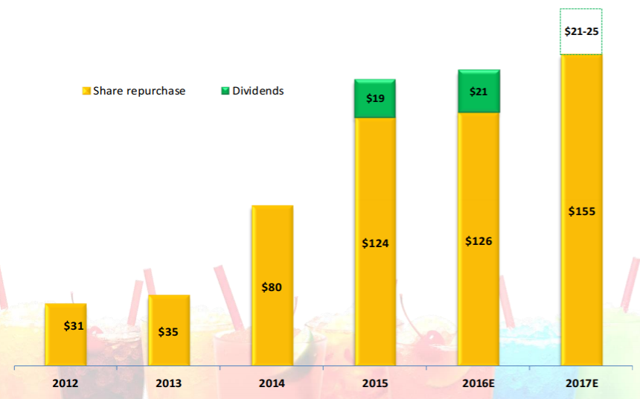 Source: Company Presentation
Although Sonic witnessed slower same-store sales growth in the third quarter, its earnings performance is still impressive. The waterfall impact of same-store sales growth, margins expansion, and share repurchase have amplified the earnings per share by 27% during the third quarter of the fiscal year 2016. Sonic's earnings are likely to continue to grow at double-digit in long-run, but growth would be less than 5-year historical average due to maturing same-store sales.
Despite solid earnings growth and reasonable valuation, Sonic has plunged more than 14% YTD. The soft outlook for same-stores sales growth and market volatility has hammered the stock in the past few months. Resultantly, Sonic is trading at forward price to earnings multiple of 18 times with PEG ratio of 1.15 times, which is significantly lower than the sector forward price to earnings of 23 times. As Sonic's earnings are expected to grow double-digit in the long-run, the current valuation level implies that the Sonic is at least 22% cheaper based on PE multiple. Thus, I would suggest to keep an eye on Sonic and buy it when the dust settles in the market.
Disclosure: I/we have no positions in any stocks mentioned, and no plans to initiate any positions within the next 72 hours.
I wrote this article myself, and it expresses my own opinions. I am not receiving compensation for it (other than from Seeking Alpha). I have no business relationship with any company whose stock is mentioned in this article.