AECOM (NYSE:ACM) is a vertically integrated firm, helping customers (both private and public) design, build, finance, and operate infrastructure assets. The business model is a little "all over the place," as it includes transportation design (bridges, tunnels), industrial facilities management, government military base operation and maintenance. AECOM faces the major challenge of discovering secular trends across multiple business models. Now the stock has taken a 9% nosedive on news of the Brexit, despite just 14% of revenue being derived from EMEA. Has the market presented us with an opportunity, or is AECOM still unworthy of investors' dollars?
Blotchy History
The company has been plagued by mistimed and ill-advised purchases of bolt-on acquisitions that do not, at first glance, seem highly complementary. AECOM's reputation within the industry, with regard to integration activities, has been poor, and it shows in the company's results.

The $500M in smaller acquisitions from 2011-2014 did little to bolster muted performance, and thus far the $3.3B behemoth of an acquisition of URS has basically done very little to help results. Assuming the legacy business had relatively flat margins from 2014 onward, URS has to be toeing the line of being unprofitable for the company at this point. Fiscal 2016 has seen no respite in this trend; margins remain below pre-acquisition highs. Construction Services, the company's largest segment, generated 0.4% operating margins in fiscal Q2 2016. Investors are an impatient bunch, and after eighteen months, they are beginning to pull their hair out a bit on this one.
Even assuming a return to the 5% operating margins that URS achieved before being acquired, it barely adds to the bottom line once interest costs associated with the acquisition ($200M annual interest expense, 33% shareholder dilution) are considered. AECOM needs to continue to execute on their synergy guidance ($300M+ guided in 2017) for this deal to deal make sense. There is a discount to the company's shares (as we'll see later) because of this, and it is really is just as important as overall macro trends within the business lines when it comes to deciding whether to build a position in this name.
Contract System
A real risk in this business comes down to the bidding process. Historically, contract types at AEMCOM have fallen in the "cost plus" (we'll bill you at our cost plus a margin for ourselves) or guaranteed maximum price wWe'll bill you at our cost plus a margin, and we promise it won't be more than "x") buckets.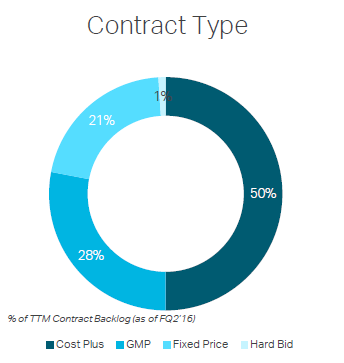 Fixed price bids bring about a lot of risk, because if cost overruns happen for whatever reason (increased labor and material costs, underestimation of time and materials needed, etc.), contractors can end up eating a loss on what should have been a profitable venture. However, in this business, that is where higher margins are generally generated, if properly done. In what is generally an extremely competitive bidding process, allowed margins are often relatively low.
With that said, contracted backlog remains strong ($24B at the end of Q2), with healthy growth in commercial construction, which has been a muted piece of the business but appears to be on the mend. Oil and gas is providing headwinds ($0.20/share) given the lack of capital investment being done within that sector.
Valuation
With all that negativity out of the way, the back half of 2016 is when things are supposed to turn according to management. The company expects $3.00-$3.40/share in earnings in fiscal 2016 (this is non-GAAP, excluding acquisition/integration costs, finance charges, and amortization of intangibles, but nonetheless should still come in around $2.00-2.20/share GAAP), along with $600-800M in free cash flow (similar guidance for 2017). With margins so low, even marginal movement in operating margins can have an outsized impact on results, which is what is expected to occur here.
At the midpoint of free cash flow guidance, the company is guiding for a roughly 8% free cash flow yield on the enterprise value. That is a sizeable yield, and given there are no shareholder returns (the company has not traditionally bought back stock and has no dividend), that means all this free cash flow is going to go towards debt retirement. This will only boost earnings as the company gets out from underneath its substantial interest expense ($240M annual) and continues to bolster its synergies with the acquired URS business (expected to run $250M in fiscal 2016, $325M in fiscal 2017).
The market is clearly currently skeptical of the company's ability to execute on this acquisition - which is where the cheap valuation comes into play. If you're willing to give the company a chance, and believe end market trends are strong, Overall, I'm not 100% sold despite the cheap price, but nonetheless, I'm curious how the rest of fiscal 2016 will go for the company and have added it to my watch list.
For more research like this on small/mid cap companies perpetually under-followed by Wall Street and under-owned by retail investors, consider following me (by clicking the "Follow" button at the top of this article next to my name) to receive notification when I publish research. Feel free to ask any questions in the comments section below.
Disclosure: I/we have no positions in any stocks mentioned, and no plans to initiate any positions within the next 72 hours.
I wrote this article myself, and it expresses my own opinions. I am not receiving compensation for it (other than from Seeking Alpha). I have no business relationship with any company whose stock is mentioned in this article.