One collective data point that we as a firm find incredibly helpful to monitor, in terms of monitoring overall spatial risk within the Energy Complex, in terms of monitoring current and future costs of capital, in terms of monitoring overall money flows to the Energy Complex, and in terms of monitoring general credit availability and outlook, are Credit Default Swap pricing, dollar volume (notional principal), and volatility for Energy Complex Super Majors Exxon (NYSE:XOM), Chevron (NYSE:CVX), and Shell (NYSE:RDS.A) (NYSE:RDS.B). For those unfamiliar, Credit Default Swaps are a form of insurance used to risk manage credit events - including total failures - but which can also be used in complex transactions to "derisk" large portfolios of managed money; this allows the money manager to detach the "warehoused" risk from risk modeling and to, potentially, manage a larger exposure to the individual position (referring to Exxon, Chevron, Shell, and other general Energy Complex names). We believe that much can be learned by monitoring these general Energy Complex "proxies" for data outliers within CDS. Never was this truer than just prior to the commodity collapse: CDS pricing, dollar volume, and overall volatility showed marked spikes (detailed within the screencast breakout below) which preceded the alluded to commodity pricing collapse.
So, with this prefacing the core focus of this note - we naturally turned to monitoring CDS data for the above listed energy Super Majors prior to the "Brexit"-event during the week ended 6/24/2016. Our findings, much to the relief (I'm sure) of those owning these Super Majors, concluded that the Super Majors ( or at least those monitoring the credit risk associated with this Brexit) shrugged off the Brexit as a "non-event". No significant data outliers were monitored, at least not leading up to the Brexit, and no significant data outliers led into the Brexit on any duration (as was the case with the commodity pricing collapse).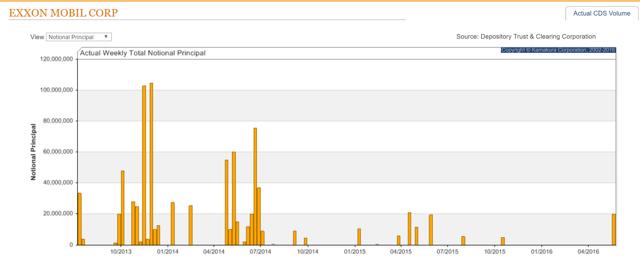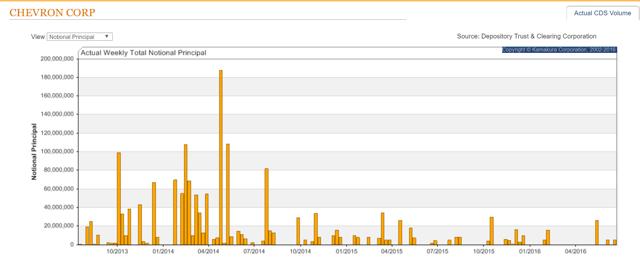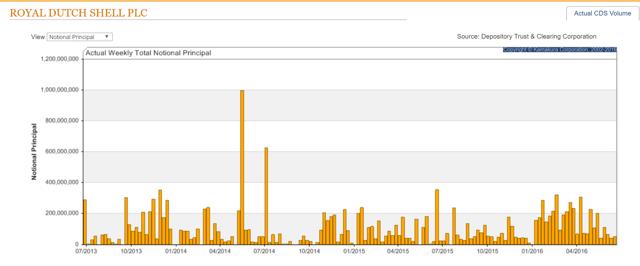 This provides us with several key takeaways:
Outside of algorithm-driven, potentially macro-index "headline" driven volatility, we don't expect much pricing drawdown for Exxon, Chevron, or Shell common as a direct result of the Brexit.
Outside of significant, currency-driven and/or macro Euro-uncertainty driven pullbacks to oil pricing we don't expect much pricing drawdown for Exxon, Chevron, or Shell as a direct result of Brexit. However, it should be noted that we saw a bit of this as of the close on 6/24/2016.
With Exxon yielding ~3.36%, Chevron yielding ~4.20%, and with Shell yielding ~7.28% we believe money inflows will continue to provide support to all three equities (with inflows accelerating as Exxon's yield approaches ~4.00% - which proved out to be a significant point of buying prior; as Chevron's yield approaches ~5.00%; and as Shell's yield approaches ~10.00% - which also was a point of massive inflows prior). We believe, for income investors or for investors looking to add high quality yield to a yield-focused micro-strategy, that these are "yield points" worth considering buying at or around.
We believe that Exxon, Chevron, and Shell will continue to be used as an Energy Complex "proxy" by money managers and generalists. Expect several levels of support should misled, non-fundamental pressure cause equity pricing volatility.
We hope you enjoy the following screencast - which breaks out Exxon, Chevron, and Shell CDS data across 12, 24, and 36 month durations. Good luck.
Disclosure: I/we have no positions in any stocks mentioned, and no plans to initiate any positions within the next 72 hours.
I wrote this article myself, and it expresses my own opinions. I am not receiving compensation for it (other than from Seeking Alpha). I have no business relationship with any company whose stock is mentioned in this article.