Donuts, a private company exploiting a diversified portfolio of generic top level domains or gTLDs, made a $70 million offer to obtain the gTLD properties of Rightside (NASDAQ:NAME); sounds compelling, but it isn't. Donuts CEO Paul Stahura reasons it is a great offer as Rightside would receive $70 million or close to half of its enterprise value in exchange for a number of assets that only contribute 5% or less of its revenue. Rightside is active in the registry and registrar business, and it only acquired its gTLD portfolio recently as they were made available by Internet Corporation for Assigned Names and Numbers or ICANN. Donuts CEO Stahura sold eNOM, an important part of Rightside's legacy business, to Demand Media (DMD) in 2006. Rightside was subsequently spun out of Demand Media. Rightside and Donuts have cooperated in the ICANN auctions and Rightside serves as Donuts' back-end registry provider.
Stahura has a point but there are a few important bits he left out. The revenue from the gTLD properties falls almost straight to the bottom line. The difference is profound; revenue associated with a .attorney domain comes at 10x the direct margin of a .com domain on the Rightside registrar. Because gTLDs are just emerging they have not been widely adopted yet and therefore they make up only 5% of the total revenue base. However, as gTLD use accelerates this will push profitability in exponential fashion. No wonder Donuts is eager to acquire these assets for a mere $70 million.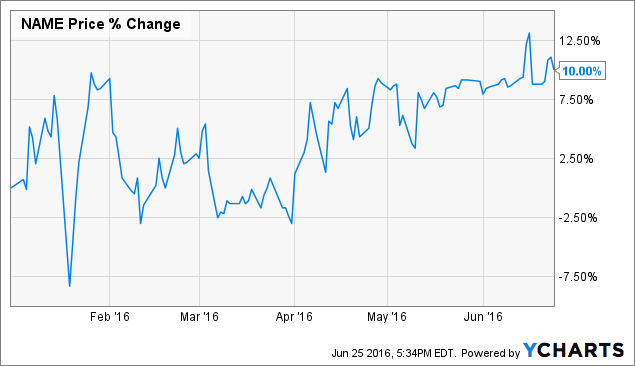 If this gTLD business is so great why isn't it growing faster?
The nascent business is actually growing quite fast. However, Rightside, with 46% insider ownership, isn't about to waste any marketing dollar. Its budget is earmarked to educate the right customer about the right product. This allows for a high ROIC on its marketing dollar and a longer runway for the company, by preserving liquidity, in case (some of) the gTLDs do not instantly catch on. An interesting example of the company's marketing effort is this recent paper which proves the value of gTLDs.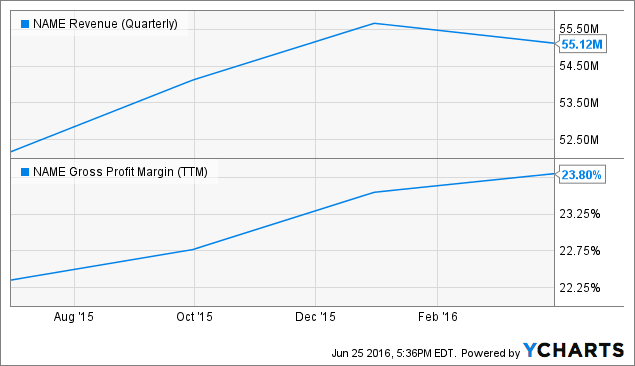 NAME Revenue (Quarterly) data by YCharts
There are also government regulations that obstruct growth that need time to get cleared away, specifically in China as the company explained in its most recent earnings call;
We are still in the very early stages of the domain market development into China. Due to certain regulations composed by the Chinese government purchasers of new gTLDs cannot actively use their domains until registry setup at Chinese base entities are licensed. Rightside is amongst the earliest of the industry participants to pursue this government certification and we believe our market opportunity there will further accelerate when we receive this license.

Which we anticipate happening in the second half of the year.
Some of the gTLD assets Rightside has acquired are not a good fit to market aggressively early on in the discovery process. Both Rightside and competitors are spending money to educate customers and in case of some of the gTLDs customers will instantly recognize the value of these domains. In other cases, it will take a while until gTLD adoption is more widespread, before their use case becomes obvious. .News or .Live gTLDs are examples of gTLDs for which value is obvious but .Studio or .Gives are more difficult to sell at this early stage. The value of these assets is therefore extremely obscured because these are dormant assets for the time being.
The very gTLD assets Donuts so generously offers $70 million for are what make Rightside an attractive investment. If we exchange these assets for $70 million we are left with a company with much-reduced growth prospects, roughly ~$4 million in operating cash flow against an enterprise value of $80 million. Because CapEx and SG&A could be substantially reduced it wouldn't necessarily be a horrible holding but it would be lacking the upside potential I'm interested in.
Stahura's rationale that the registry and registrar business should be split up isn't without merit, but that doesn't mean the high potential assets should be sold off cheaply to his company Donuts.
The offer was made public after Donuts had been rebuffed privately and the lackluster official response to the public offer;
Rightside appreciates Donuts' interest in these assets and also shares their enthusiasm for the Registry business. The Company's Board of Directors and management team remain committed to maximizing long-term shareholder value and as such they will evaluate any proposal to determine whether it is in the best interests of the Company and its shareholders.
I don't fear management will go for Donut's offer unless it is substantially improved. A more compelling and creative bid could include a CVR, contingent value right, structure based on the performance of the portfolio of gTLD assets over time. Without a security like that, it's hard to see how buyer and seller could come to terms about the value of these high potential but unproven assets.
Disclosure: I am/we are long NAME.
I wrote this article myself, and it expresses my own opinions. I am not receiving compensation for it (other than from Seeking Alpha). I have no business relationship with any company whose stock is mentioned in this article.