Peabody Energy Corp (OTCPK: BTUUQ) is imploding. Australian operations could soon go into administration. The equity that the U.S. Peabody owns in their Australian operations is worthless and the AU$5.7 billion that Peabody Australia Holdco owes various U.S. affiliates is worth a small fraction of that amount. Domestic thermal coal prices and production continue to decline despite natural gas price increases. Now the U.S. Department of the Interior is threatening not to approve federal coal lease transfers in recent bankruptcy court filings.
Australian Operations
Peabody's Australian operations finally filed year-end 2015 results with the Australian Securities and Investment Commission on May 31. They were horrific. (Note: because of uncertainty regarding ASIC copyright issues I am only able to reference third-party media sources.) They had AU$2.7 billion loss for 2015, which included AU$1.86 billion write-downs and AU$12.9 million from discontinued operations. They owe various U.S. Peabody affiliates a staggering AU$5.7 billion of inter-company loans. On reported consolidated U.S. Peabody Energy Corp. balance sheets these inter-company loans/assets are netted out and are, therefore, not shown as if they do not exist. Liabilities exceed assets by AU$4 billion. They also received a qualified opinion from their accounting firm:
There is significant uncertainty whether the company and/or the consolidated entity will continue as a going concern, and therefore whether they will realise their assets and extinguish their liabilities in the normal course of business and at the amounts stated in the financial report..."
At year-end 2015, the Australian operations only had AU$219 million cash. When the U.S. operations filed for bankruptcy the available letters of credit were cancelled and they now have relied solely on U.S. entities to supply needed cash. U.S. operations have made a $250 million loan and could loan up to an addition $200 million, but Australian operations have been even forced to get waivers from local vendors on contracts. They sold assets recently and already received AU$65 million cash. In short, they are severely strapped for cash.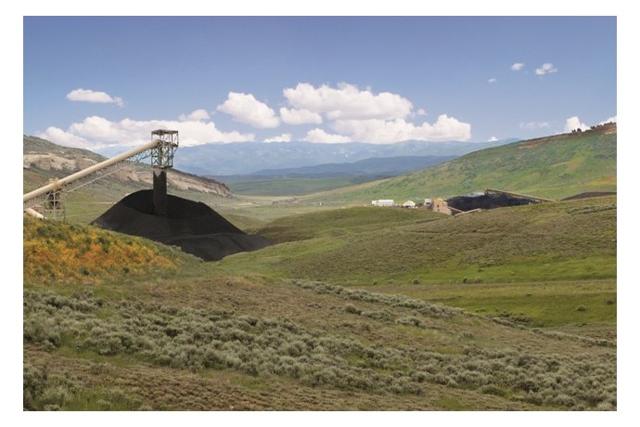 Peabody's Australian operations are owned via companies in Gibraltar and the Netherlands. In addition, there are multiple layers of companies internally in Australia that own various companies. In the past, I have usually referred to PEAMCoal Pty Ltd for owning these operations, but it is at the Peabody Australia Holdco Pty Ltd level were most of the important financial data is reported. None of these entities were included in Peabody's U.S. Ch. 11 bankruptcy filing.
The news media in Australia is expecting that they will go into administration soon. One local media's title to a June 7 article said it all, "Peabody close to going bust in Australia". The Australian board of directors will appoint an independent administrator to manage their Australian operations, but Peabody will no longer control operations. Local managers and employees will most likely continue their normal work. (For more information about the differences between U.S. bankruptcy and Australian administration read my article from last fall.) Last year, in my articles I asserted that Peabody would not file for U.S. bankruptcy because of the negative issues associated with Australian laws, but because of inept "do-nothing" management, they eventually had to file.
Peabody Energy owns their Australian operations via being sole shareholder of a holding company that owns the Australian assets. These shares are now most likely worthless. The 1liens are secured by 2/3 of the Australian shares and not the actual assets. This is 2/3 of zero. It is extremely unlikely that the administrator will pay anything to equity holders. The real concern now is how much will the administrator pay the various U.S. affiliates on their AU$5.7 billion inter-company loan. The priority ranking is different in Australia and the issue may not be resolved for a number of years. Those wanting to buy Australian mining assets may want until they go into administration to get a better deal. Therefore, it could be many years before Peabody exits Ch. 11 in the U.S.
Recent News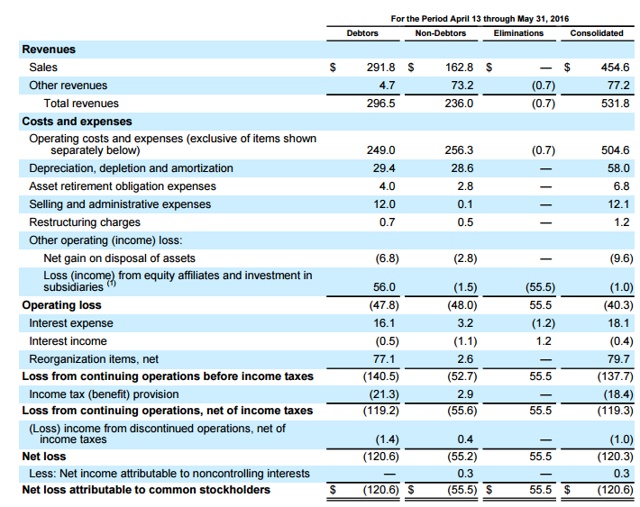 On June 20th Peabody filed a financial statement with the bankruptcy court in the U.S. that covers from their filing date, April 13, until May 31. (Docket 0806). This filing also included a balance sheet that is extremely misleading. The inter-company loans, for example, do not reflect what Peabody Australia Holdco filed. Therefore, I am not going to even cover the balance sheet. Two points regarding the income statement. First, the re-organization expense includes $75 million derivative contract termination charge. Second, the revenue from the "non-debtors" may include the AU$65 million received from asset sale.
Despite recent natural gas price increases, domestic thermal coal prices and production continue to drop. The latest Powder River Basin price is only $8.80, which is a drop of 15% from a year ago. The June 2016 outlook from the U.S. Energy Administration expects that 2016 domestic coal production will decline 17% from 2015, but is forecasted to increase 4% in 2017. Metallurgical coal prices in Australia have increased to $51.16 in May from a $49.82 low in January. That still is much lower than $60.40 in May 2105 or $95.83 in May 2012.
One-year price chart

The Council of Economic Advisers issued a report June 22 that suggested raising the federal coal royalty rates and closing loopholes. Currently many coal companies, including Peabody, sell to coal to affiliated coal sales companies at low prices in order to reduce the royalty payments. Another gimmick used is to price coal low to customers to save on royalty payments, but include a very high delivery penalty that is not subject to royalties.
Coal Lease Transfer Problems
It could get even worse. The federal government has filed objections to both Alpha Natural Resources' (OTCPK: OTCPK:ANRZQ) and Arch Coal's (OTCPK: ACIIQ) plans for re-organization asserting a potentially extremely important issue for the entire coal industry. The Secretary of the Department of Interior has to approve any and all federal coal lease transfers according to government's objection "... all federal coal leases are subject to the transfer prohibition set forth in 30 U.S.C. §187: "No lease issued under the authority of this Act shall be assigned or sublet, except with the consent of the Secretary of the Interior." A federal bankruptcy judge can approve a re-organization plan that includes federal coal lease transfers, but that is not the same as actually approving the coal lease transfers. There is a difference. Only the Secretary can approve and they are not required to show cause. The environmentalists are waiting in the bushes to pounce on this issue. They see the opportunity to actually close major coal mines. President Obama announced a moratorium on new federal coal leases and the environmentalists are hoping to get him to expend that moratorium to include new lease transfers. Of course, this will be litigated and may take a long time to settle.
Part of the objection is because the re-org plans do not disclose how future mine reclamation expenses will be completely covered, but it is also throwing red meat to environmentalists. They want the Secretary to disapprove the transfers, which they think could eventually close the mines. The environmentalists also may try to pressure Hillary Clinton to agree not to transfer mines or threaten to vote for the green party candidate instead.
Some shareholders are dreaming that the coal companies will then decide not to transfer the leases and keep the current and current shareholders; instead of forming a new company and issuing new stock. Under their dream idea, debt holders would be issued new stock in the 'old' company in exchange for their debt.
I do not think the mines will be closed, but I do expect lengthy litigation. This could cause even more utilities to switch to natural gas from coal. Court rulings could increase price volatility for stocks/bonds, including coal companies that are not in bankruptcy.
Some other news. Peabody finally closed a sale. They closed on the sale of Prairie State Energy, the power plant, and they started litigation against Bowie Natural Resources for non-payment of the $20 million termination fee for failing to complete the purchase of the three coal mines.
Conclusion
Last year when I stated that I did not think Peabody would file for U.S. Ch.11 bankruptcy because of many negative issues associated with having their Australian operations going into administration, many S.A. readers asserted that Peabody could file and exit bankruptcy in the U.S. only and continue normal operations in Australia. I disagreed. When they eventually did file for bankruptcy I was hoping to get "extra" payment for my unsecured debt (and for other unsecured debt holders) by agreeing not to attempt to put Australian operations into administration. It seems that potential leverage will soon be gone. The Australian operations are expected to go into administration. This could result in a very long Ch. 11 process because administrations in Australia are slow and it will take a long time before it is determined how much the inter-company loan holders will be paid.
The equity holding of their Australian operations is worthless. 1lien holders have 2/3 secured interest on these worthless shares. So instead of having a 2/3 claim, the 1liens only have an interest in the "unsecured pot" because the only value expected to flow to U.S. Peabody is via the AU$5.7 billion inter-company loan. It is not known how much will actually be paid on those loans. Clearly 1lien holders are not as secured as they thought. Since I was unable to get enough details about these loans, I sold all my Peabody notes at a respectable profit. I still own some convertible bonds because their price is so extremely low, I am keeping them as what I call "lottery ticket" trade.
The expected litigation over federal coal mine lease transfers in the ANRZQ and ACIIQ cases will also impact Peabody. Between the slow administration process and litigation over coal lease transfers, this could be a very long Ch. 11. Actually some investors want a very long process hoping that coal prices/production will have improved significantly during the time period resulting in them being paid more for their notes and even "something" for common stockholders. The current stock price is nearing the pre-bankruptcy level and is too high given the risk reward ratio. In order to justify buying the various Peabody notes, an investor needs to get details about the large inter-company loans to determine the possible risk and reward. Otherwise it may be time to sell them.
Disclosure: I am/we are long CONVERTIBLE BONDS.
I wrote this article myself, and it expresses my own opinions. I am not receiving compensation for it (other than from Seeking Alpha). I have no business relationship with any company whose stock is mentioned in this article.
Editor's Note: This article covers one or more stocks trading at less than $1 per share and/or with less than a $100 million market cap. Please be aware of the risks associated with these stocks.