The vote to withdraw from the European Union (EU) in the United Kingdom (UK) has shocked international markets and caused a sudden devaluation of the British Pound. Despite short-term headwinds, this may offer an opportunity for Apple (NASDAQ:AAPL). Apple can move its international headquarters from Ireland to the UK, and be assured of being out from under the thumb of EU regulation.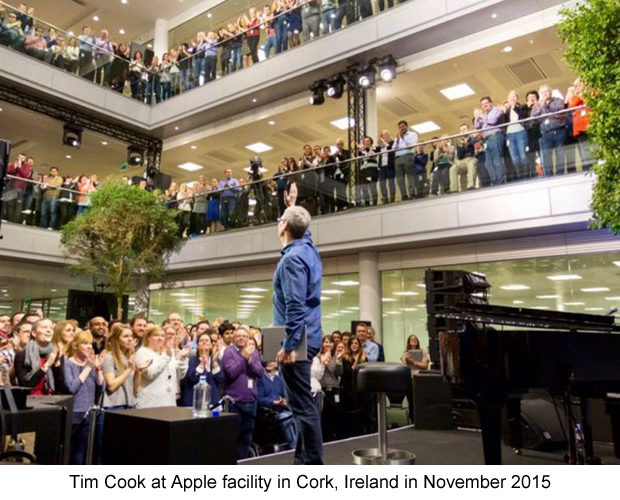 Source: Business Insider
Double Irish
In the March quarter, Europe generated almost as much revenue as Greater China, so Apple investors should be concerned about Britain's vote to withdraw from the European Union. The short-term effect of the vote appears to be mainly the sudden drop of the British Pound against the US dollar (and the Euro). This could have the effect of making Apple products more expensive in the UK and depress sales.
The longer term effects are open to debate. Reaction to the vote seems to depend on political philosophy. Those in favor of smaller government and less regulation hail the move as Britain freeing itself from the yoke of left-leaning Eureaucrats.
Britain could benefit from no longer having to comply with EU regulations on taxation and trade, making it a more desirable destination for multinational corporations such as Apple. It's this aspect that I would like to focus on, especially in light of the investigation by the EU of Apple's tax status in Ireland.
Apple's international operations are headquartered in Ireland, and it is through provisions of Irish tax law that Apple has been able to shield its overseas income from US taxation. Bloomberg has estimated that Apple could be liable for about $8 billion in back taxes if the EU decides that the Irish violated EU regulations (Ireland is a member of the EU). But there's some debate about whether the EU could actually recover that amount.
Apple's Irish subsidiaries exploited a provision of Irish tax law that determined tax residency on the basis of where the corporation is controlled and managed. Thus, an Irish corporation could be considered tax resident in a tax haven such as Bermuda and be beyond the reach of Irish taxation.
In the "double Irish" scheme, the non-tax resident Irish corporation licenses a second Irish corporation that is tax resident in Ireland. This corporation conducts business domestically and internationally, and pays the Irish corporate tax rate of 12.5%.
However, the royalties paid to the non-tax resident corporation are considered tax deductible. In effect, most of the profit from the overseas operations of the double Irish corporations pass through it untaxed. Apple first negotiated this arrangement with Ireland in the 1980s, and its thought that Steve Jobs had a hand in setting it up.
The EU investigation of the tax arrangements of Apple is not based on the effective tax rate (thought to be 2.5%), or even the double Irish scheme. These are not prohibited under EU regulations. The basis of the investigation is that Ireland accorded the effective tax rate only to Apple and a few other large corporations. Such favoritism is specifically forbidden under EU regulations and is considered "state aid".
Greener Pastures
Although portrayed in some circles as an overweening centralized bureaucracy, the EU lacks a key power of central governments. The EU cannot directly tax individuals and corporations, except for its own employees. The EU is primarily supported by contributions from the member states as a percentage of gross national income. So the EU has no power to directly tax Apple or recover back taxes it believes Apple owes.
In its fiscal 2015 Q2 SEC 10Q, Apple conceded that it could be liable for back taxes in Ireland if the EU investigation were to find that Ireland violated EU regulations:
On June 11, 2014, the European Commission issued an opening decision initiating a formal investigation against Ireland for alleged state aid to the Company. The opening decision concerns the allocation of profits for taxation purposes of the Irish branches of two subsidiaries of the Company. The Company believes the European Commission's assertions are without merit. If the European Commission were to conclude against Ireland, the European Commission could require Ireland to recover from the Company past taxes covering a period of up to 10 years reflective of the disallowed state aid. While such amount could be material, as of March 28, 2015, the Company is unable to estimate the impact.
Such retroactive taxation would probably rankle Apple's management. After all, it complied with Irish tax laws as it understood them, and there were no mistakes made in interpreting it, either by the Irish government or by Apple. Is it Apple's fault that Ireland was found to be violating EU regulations? Clearly not.
Apple would probably have no choice but pay any EU-mandated fines. Apple has been expanding operations in Ireland, according to the WSJ, and plans a large data center in Ireland as well. It probably wouldn't be practical to remove its operations from Ireland. And, of course, Apple wants to continue to do business in the EU.
However, Apple could remove the non-tax resident Irish corporation, or abolish it in favor of something else. The double Irish scheme has already been discontinued under Irish law effective 2015, and existing schemes such as Apple's are due to be phased out by 2020. Apple needs to find an alternative.
That's where Britain comes in. Britain's withdrawal from the EU opens up all sorts of interesting possibilities. Britain has now in effect become a competitor to the EU rather than a member of it, and it can do things that it couldn't do before to make itself more attractive to multinational corporations such as Apple.
Britain had already been moving in the direction of making itself more attractive to multinationals. As described in this guide to taxation for corporations, Britain has lowered its tax rate, and most importantly, embraced the concept of territoriality in taxation. Britain's regulations regarding Controlled Foreign Companies effectively exempts profits earned overseas from UK tax. And now that Britain is out from under the EU, it doesn't have to worry about "state aid" provisions. It can offer additional incentives and tax breaks to any corporation it chooses.
It's not clear that Britain can offer a better deal than Apple will get from Ireland, even in 2020. The Irish corporate tax rate is 12.5% versus the British rate of 20%. But it's clear that Britain is now incentivized to attract corporate headquarters for multinationals that may have found the regulatory climate inside the EU to be less than friendly. Apple will get the best deal possible, whether it goes with Ireland or the UK.
Investor Takeaway
The global stock markets didn't react favorably to the UK vote, but that's understandable. The markets don't like uncertainty. For Apple, and for other US multinationals such as Alphabet (NASDAQ:GOOG) (NASDAQ:GOOGL), Facebook (NASDAQ:FB), and Microsoft (NASDAQ:MSFT), there's a silver lining in the British withdrawal from the EU. It offers these companies a chance to get out from under the EU once and for all. Undoubtedly, this appeal was in the backs of the minds of the British leadership that espoused the withdrawal.
Regardless of whether Apple keeps its international headquarters in Ireland or moves over to the UK, it's a win for Apple. I wouldn't be surprised if Apple begins serious discussions with David Cameron's successors about moving to the UK.
Although there are some near-term currency headwinds associated with Brexit, I think the long-term prospects are bright for Apple and other companies frustrated with the EU. I continue to rate Apple a buy for investors with a 3-5 year investment horizon.
Disclosure: I am/we are long AAPL.
I wrote this article myself, and it expresses my own opinions. I am not receiving compensation for it (other than from Seeking Alpha). I have no business relationship with any company whose stock is mentioned in this article.