There has been plenty of good commentary on SA regarding Brexit, both by contributors themselves and in the accompanying message threads. I'd like to offer my own (hopefully different) take.
What will the impact be for Britain, the global economy, and financial markets in the days and years ahead? There are many theories regarding the outcome, that run the gamut from meaningless to highly impactful.
My two cents: to the degree that Brexit has a lasting impact in the financial markets, it will assert itself largely through currency volatility and displacement. So long as currencies remain stable, I do not see Brexit impacting markets over a sustained window. If the Yen continues to strengthen and the Yuan continues to weaken, then look out.
Brexit is really not the point!
From a certain standpoint, I think that true buy-and-hold investors present the correct approach by just taking the markets a day (or decade?) at a time and not getting overly ruffled by the crisis-du-jour. How will Warren Buffett or Jack Bogle be modifying their holdings now that Brexit has taken hold? How many shares of Amazon (NASDAQ:AMZN) will Jeff Bezos be selling?
If you truly are a buy-and-hold investor (most who claim to be are not), then the best action really is inaction. Stay the course: that's your strategy. And if you are an American investor, there is plenty of good historical evidence that says that you should just be a passive, buy-and-hold investor. I say American investor because there is definitely historical data for other countries that does not support buy-and-hold as a strong strategy.
To be clear: I do not believe buy-and-hold will be a viable strategy for US investors on a look-ahead basis. In my view, the ship has sailed on that formerly excellent approach for the next quarter century or so. I will explain further in future articles why I hold this stance, and why history paradoxically supports my view rather than opposes it (yes I have seen all the long-term performance charts, thank you).
"But what if you're wrong?"
I could be wrong: the next thirty years or so could provide investors with an adequate compound return profile. Indeed, I think this is entirely reasonable for investments in the emerging markets. There will of course be great individual years and some asset classes that enjoy their time in the sun.
But the likelihood that US equity investments will return anything like what investors have grown accustomed to is deeply unlikely.
Briefly:
Current dividend+sharebuybacks make up more than 100% of either GAAP or Operating EPS… companies are openly eating their own seed corn.
Sales growth has slowed much over the last 35 years due to taming inflation, aging demographics, slowing productivity growth, and slowing credit expansion.
The 4.3% annual tailwind to US equities over the last 35 years attributable to expansion in the P/S ratio is just not too likely to make a repeat performance (we're at or near all-time highs, depending on which version of the metric one uses), and in fact an unwind of that expansion is definitely in the cards. A complete reversal in this factor alone would subtract 8.6% annually over the next 35 years from what US equity investors have experienced since 1981! Let's just make sure that the US P/S ratio never ever goes back to lows that it experienced on multiple occasions over its history.
Suffice it to say I personally do not believe that buy and hold is a strong strategy in the coming years based on where we stand today. Maybe you agree and maybe you do not… it doesn't matter.
"OK, Adam, what does this have to do with Brexit?"
Everything! See, just prior to the Brexit results, global markets rallied heavily, lumbering under the false assumption that the vote would go as planned. In fact, ES futures (futures on the S&P 500) shot up to 2119 right before the results began to stream in, which corresponds with an all-time high on the S&P total return index.
Now, maybe Brexit will become an issue, and maybe it will not. It is far too early for anyone to know.
But the fact that risk markets were uniformly striding proudly higher on a dead-heat contest is very telling of today's global attitude towards risk. Global markets, from equity markets to bond markets to currency markets to commodities were just so positive that "Leave" would prevail.
Really? The polls showed a 50/50 outcome (final tally was 51.9 Leave to 48.1 Remain; decisive but far from a blow-out) with a lot of fluctuation, and markets simply were not willing to price in the uncertainty. EVERY risk market effectively said: "This large, 50-50 risk is not something to take seriously."
"But it's not something I take seriously!"
Perhaps not for you, sure. Perhaps not for anybody once all the dust settles. But let's not kid ourselves about the immediate market impact: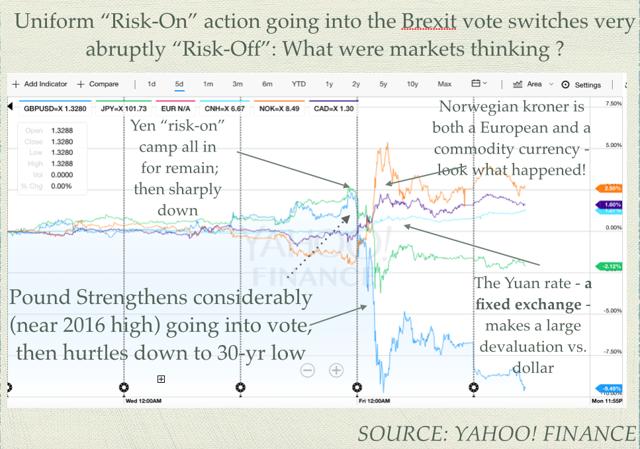 The Yen shot from 106+ down to 99 at the low. The Pound had its largest one-day loss ever, and most of that was realized within a matter of a couple hours. Currency markets the world over were roiled (once more: that's the one risk from Brexit to global markets that seems to me could really have legs).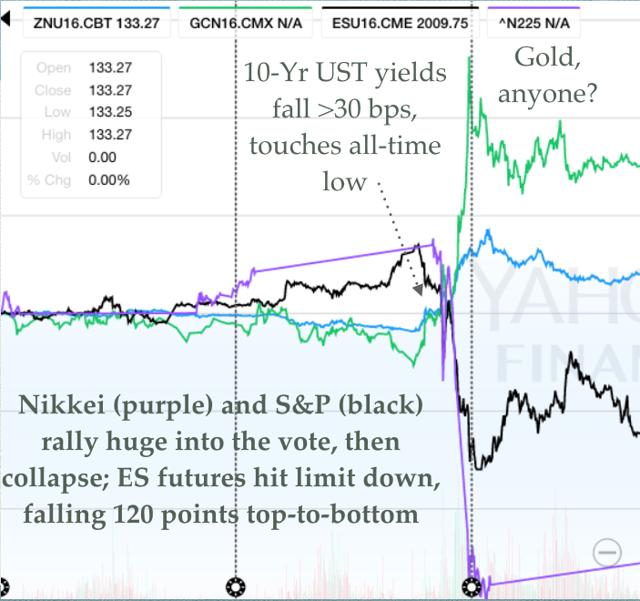 The 10-Yr UST fell over 30 basis points in a matter of a couple hours, briefly hitting a record low yield. Ditto German Bunds. Ditto Japanese JGBs. As I write this, the UK 10-Yr UK Gilt just fell below 1% for the first time ever.
Peripheral European markets got hammered - a lot worse than did the British stock market. The Spanish, Italian, and Greek ETFs fell between fourteen to seventeen percent. ES futures froze after hitting limit-down on a 120-point swoon that transpired over just a few hours. It was a global risk rout.
The Biggest Lesson
My point is not that all of a sudden one should bail on their investing strategy, even if it is one that I disagree with like buy-and-hold. The point is that markets are supposed to be discounting mechanisms.
You can have whatever investing strategy you like, but there is no denying that markets got this one horrifically wrong. And the troubling aspect is not that global markets guessed a coin toss incorrectly; rather it is that the markets so obviously and jointly assumed everything would work out well and there was no coin toss to consider at all. US stocks hit all-time highs going into a vote with tremendous uncertainty and potentially large impact…really? Remember, the ES futures contract hit limit down within a matter of hours of the outcome. Whether or not such movement matters to you personally is totally irrelevant. Risk was wildly mispriced.
The Brexit story and the immediate market fallout resembles the story of "Casey at the Bat". Casey was such a great baseball player and he didn't even need to bother swinging at the first two pitches, because he knew he had it in the bag.
Conclusion
So what other "50-50 Black Swans" are residing in your portfolios? Even if you've really done your homework and you don't believe there to be any, what black swans might others believe (that others believe, that others believe) live in your portfolio? Half of contagion lies in mere suspicion.
You've heard many of them before, often accompanied by scoffs and scorn.
Falling earnings
Widening between GAAP results and Operating EPS results
High market multiples
Rising ratings downgrades
Sovereign risk
Chinese (really pan-Asian) hard landing
Rising US defaults, even in the non-energy sector
Currency volatility
Way more oil inventory than even a year ago
Fed flip-flopping, or generalized central bank credibility lapses
The constant and hidden "Other" - aka real black swans
Consider how correlated many markets have been over the past year. Junk bonds, commodities, global equity, US equity. Certainly during periods of stress, there have been many large and sympathetic movements, both up and down. No matter who you are, the diversification benefit that lives inside your portfolio has almost certainly decreased, which is to say that your long-only portfolio risk has increased unless you have tuned your holdings accordingly.
Depending on the markets you choose as investments and your strategy, maybe the dips were great buying opportunities. This time. My hope is that in reading this, you step back and consider the impact of large, highly correlated and sustained down moves on global risk assets, most certainly the US stock market included.
That does not mean that you have to sell or short the market or change your strategy, but I hope that Friday's large risk-off move is enough to convince you that risk positions are quite correlated in today's global investment set. This realization needs to be at the front of your mind, regardless of your market outlook or your investment strategy.
The real message of Brexit is that markets - across the board - are not taking their solemn duty of risk pricing seriously. That does not mean that some particular event has to go wrong, but it does mean that when something finally does go wrong, the consequences are likely to be swift, severe, and widespread. Tell me about all the "market of stocks" that did so great this past Friday, or last August, or Jan-midFeb.
As a final note, there has been a fair bit of blaming the Brexit outcome on the weather. Flooding and inclement weather may have done more to keep the "Remain" vote at home rather than the die-hards of the exit group. What might have been had the sun shined on England that day?
Exactly! When polls are running essentially at fifty-fifty, something as fickle as British weather can completely determine the outcome of the political (and to a lesser degree economic) future of millions.
How dare global risk markets leap giddily into Thursday's close, as though a negative outcome were anything other than a remote black swan?
Brexit was nothing even like a black swan. Global markets simply decided to treat it as one. Caveat emptor.
Disclosure: I am/we are short SPX.
I wrote this article myself, and it expresses my own opinions. I am not receiving compensation for it (other than from Seeking Alpha). I have no business relationship with any company whose stock is mentioned in this article.
Additional disclosure: Short SPX via futures and options positioning