For those of you unfamiliar with this series of articles, they're basically an approximate five year profit and loss review of a number of Exchange Traded Funds, ETFs, that primarily invest in and hopefully profit from dividends earned from their investments in preferred securities, which they then distribute to shareholders. This link will provide you the information necessary to fully appreciate and understand the following article, and the remaining articles of this series. It will also serve to eliminate lots of reading redundancy for my regular readers.
This report concerns the Global X SuperIncome Preferred (SPFF), hence the following description and chart: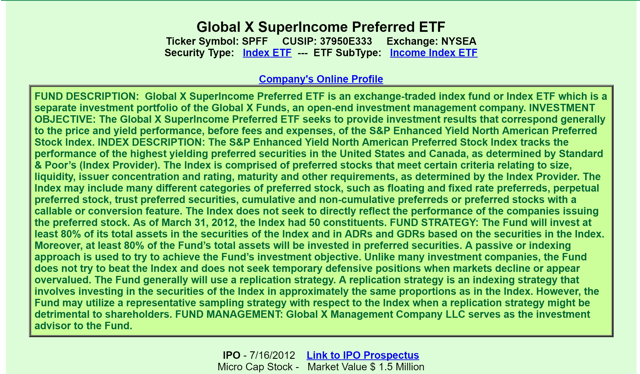 Lets dig into the facts learned from SPFF's prospectus. Management fees including unnamed expenses adds up to a total of .58%. Doesn't seem like much but it adds up over time. However there are added fees not included in the above: Transaction costs, such as commissions when securities are bought or sold, and any applicable taxes if held in a taxable account. The more active the trading account the higher these fees. From my research thus far this appears to be standard operating procedure for funds such as this. The following quotes, of interest, are taken from the fund's prospectus:
The Fund invests at least 80% of its total assets in the securities of the Underlying Index and in ADRs and GDRs based on the securities in the Underlying Index. The Fund's 80% investment policy is non-fundamental and requires 60 days' prior written notice to shareholders before it can be changed.

The Underlying Index tracks the performance of high income securities globally across a variety of asset classes, including equities, real estate investment trusts ("REITs"), master limited partnerships ("MLPs"), preferred securities and fixed income securities, as defined by Structured Solutions AG. Fixed income securities include emerging markets government bonds and high yield corporate bonds. The Underlying Index may include equity securities, fixed income securities and exchange traded funds ("ETFs").
This fund generally invests 90% of it total assets in preferred securities of financial institutions, which might be fixed or of variable rate that might adjust to LIBOR or a T-Bill rate. The fund strives to avoid concentration of more that 25% of the value of its total assets in any one industry or sector.
Its ten top holdings: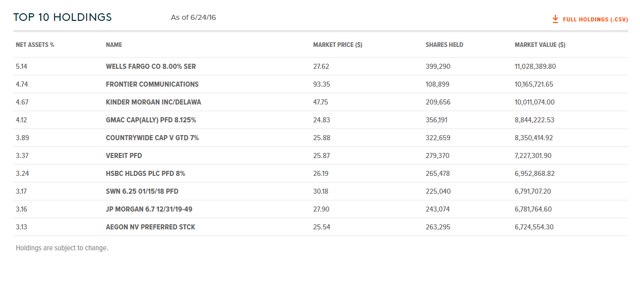 There are the usual risk disclaimers, but one that I paid close attention to was the fact that the financial preferreds they invest in are non-cumulative, meaning if for any reason the dividends are suspended, they are lost and will not be made up. Worse, the fund might be required to include that unpaid income in their gross income statement, thereby taxed even though the payments were not received. Additionally, these preferreds are less liquid and difficult to sell, especially during a downturn. And because they hold a greater number of shares than the normal private shareholder, selling them in quantity becomes that much harder in the event of that downturn.
Finally, the fund's distributions will generally be taxable as either ordinary income or a long-term capital gain or loss.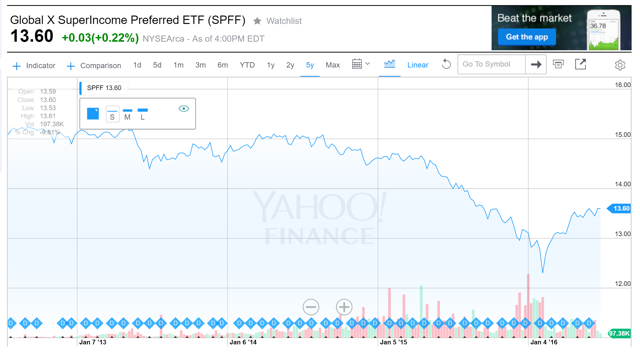 It displays SPFF's performance over the past four years. Frankly, at first look, this fund has not performed as well as PFF or PGX, losing $1.48 in value from its $15.08 price to its current $13.60. This fund was initiated 7/16/12.
Consequently, over the past four years, SPFF has distributed $4.02* for each share invested at an approximate price of $15.08 on July 23, 2012.
*I got the dividend distribution figures from DividendInvestor.com.
4.02/15.08 = 2.67% yield over 47 months.
2.67/47 = 0.00567 X 12 = 6.81% per year yield.
Therefore, if my math is correct, the investor would have profited by a yearly dividend yield of 6.81% over the past 4+ years. Respectable, but not earth shattering; yet, it's relatively of limited risk and the need for careful and constant monitoring.
However, over the life of the fund, the figures have not been as kind, considering the $1.48 loss from its price at inception.
15.08 - 13.60 = 1.48 lost since inception.
4.02/47 = 0.0855 per month per share dividend received.
47 (months) X 0.0855 = $4.02 total dividends.
4.02 - 1.48 (Lost) = $2.54 total gain over 3.917 years.
2.54/15.08 (price) = 16.84% yield over 47 months.
16.84/3.917 (years) = 4.30% per year yield.
Not a very impressive profit over the life of this fund thus far. However, the individuals profit or loss will primarily depend upon when one entered the fund and at what price he bought in. Had he bought in low, say in 2/8/16, at the very bottom, his gains would be impressive; however, had he bought in at inception, his gains were certainly nothing to brag about, considering that during that time, had he invested in the S&P 500 his gains would have been substantial, as displayed below: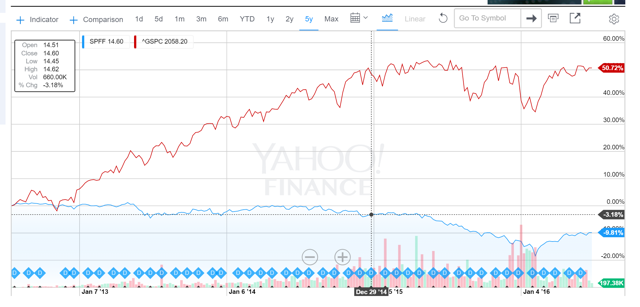 In conclusion, if my calculations are correct (Please review them carefully to determine if any were made in error, and the wrong conclusion was consequently arrived at.), this has not been a good investment. In fact, the success of your investment is absolutely determined by the time you bought in and the price you paid for your shares. Therefore, I remain unconvinced at this time that an investment in this fund is a wise decision.
This following is the list of funds I have, and will investigate to give you a clear picture how each has performed over the past five years. Initially, I had decided to judge each over the entire life of the fund, but was dissuaded by a number of followers who advised that the results would be unfairly skewed by the recessionary contraction of 2008-9. Here's that list of funds, which has grown considerably as a result of additions you requested: iShares US Preferred Stock (PFF) Power Shares Preferred ETF (PGX), Global X SuperIncome Preferred (SPPF). PowerShares Financial Preferred Portfolio (PGF), Market Vectors Preferred Securities ex Financials (PFXF), SPDR Wells Fargo Preferred Stock ETF (PSK), PowerShares Variable Rate Preferred Portfolio (VRP), iShares International Preferred Stock ETF (IPFF), John Hancock Preferred Income Fund II (HPF), First Trust Preferred Securities and Income ETF (FPE), Flaherty & Crumrine Total Return Fund (FLC), Flaherty & Crumrine Preferred Securities Income Fund (FFC), Flaherty & Crumrine Dynamic Preferred & Income Fund (DFP), and Flaherty & Crumrine Preferred Income Opportunity Fund (PFO), Clough Global Opportunities Fund (NYSEMKT:GLO), First Trust Strategic High Income Fund II (FHY), First Trust High Income Long/Short Fund (FSD), Prudential Global Short Duration High Yield Fund (GHY), and ProShares UltraShort S&P 500 (NYSEARCA:SDS).
Below is a screenshot taken from my IB platform, I populated, to keep you apprised of the order of my reviews, and as a bonus, I included the total amount of each of their 2015 disbursed dividends.
(click to enlarge)

Notice, the 2015 dividends are placed just to the right of the fund symbols. To the right of that are the last trade prices as of the close of trading on 6/23/16. Of further interest, at the far right of the screen are the prices of the 13 week highs and lows of each fund. You might want to compare the funds' prices after the 6/24/16 close. An interesting view of how these funds fared after a particularly horrible day in the market as a result of the Brexit.

Notice too, that I selected 2015 for the dividend disbursement figures, however should you desire to do this for the trailing twelve months, all you need do is visit DividendInvestor.com where these figures are readily available. An example of which I have provided below:
(click to enlarge)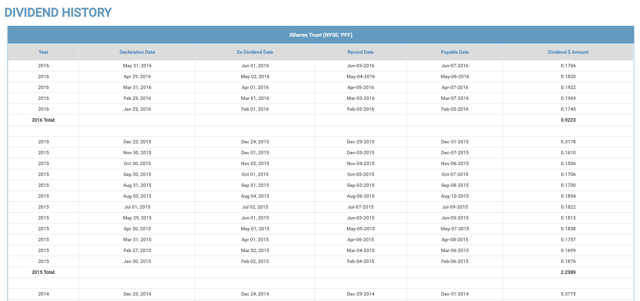 Disclosure: I/we have no positions in any stocks mentioned, and no plans to initiate any positions within the next 72 hours.
I wrote this article myself, and it expresses my own opinions. I am not receiving compensation for it (other than from Seeking Alpha). I have no business relationship with any company whose stock is mentioned in this article.