Despite the volatility in oil and gas prices, Kinder Morgan (NYSE:KMI) has done well on the market this year on the back of its moves to keep the distributable cash flow in good shape. In fact, so far this year, Kinder Morgan has shot up close to 25%, and I won't be surprised if the momentum continues going forward.
As such, in this article, we will take a look at the reasons behind Kinder Morgan's resilience and check whether the company is capable of maintaining that in the long run.
Attractive distributable cash flow at current levels
I believe that it is a good time to remain invested in Kinder Morgan shares as its distributable cash flow has increased in the past year, and the trend will continue in the long run. Take a look at the following charts for a better understanding:

Source: Kinder Morgan
Now, Kinder Morgan's DCF per share has increased by 7% year-over-year in 2015. Concurrently, its stock price is down nearly 55% in the past year. Therefore, the price an investor pays for each unit of the distributable cash flow has vastly declined. This makes Kinder Morgan a compelling buy as compared to last year. The following chart shows a comparison between the stock price decline and the improving DCF: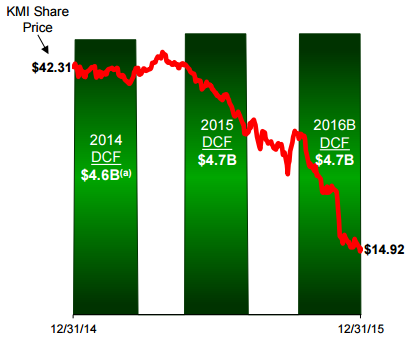 Source: Kinder Morgan
Kinder Morgan has strong cash generating ability
Kinder Morgan's cash generating ability is appreciable. The company had reported first-quarter distributable cash flow before certain items available to common shareholders of $1.233 billion as compared to $1.242 billion a year ago. Although this represents a slight decline, it wasn't that bad after we consider the impact of low commodity prices seen by the other energy companies.
Going forward, I won't be surprised if Kinder Morgan is able to keep its cash flow in good shape due to a few strong reasons. First, the company is focusing on a higher-grade backlog so that it can focus on those opportunities that will provide a higher rate of return and reduce costs. As a result, Kinder Morgan's new project expenditure in 2016, which was initially projected to be $4.2 billion last year, has been scaled down by $1.4 billion. Moreover, the company has reduced its backlog by $4.1 billion from the fourth quarter of 2015 as it focuses on high-grading its capital investments to generate better returns.
Next, Kinder Morgan had also reduced the dividend to $0.125 per share, down 52% from its prior dividend of $0.51 per share. The reduction in the dividend has had a positive impact on Kinder Morgan's cash flow since it was able to generate excess distributable cash flow of $954 million. The dividend cut is huge when seen in isolation. However, when we look at it from the view point of an improved balance sheet, Kinder Morgan has made the right move.
Kinder Morgan's cash generation has also been helped by its moves to reduce costs. For instance, in the first quarter, Kinder Morgan had seen a drop of just 12% in the revenue, while the company's EBITDA increased slightly as compared to the prior-year period. In fact, Kinder Morgan managed to control its costs impressively, with its cost of sales dropping 33% on a year-over-year basis, while the revenue decline was much lower as discussed above. This had helped it increase the EBITDA to $1.88 billion from $1.85 billion last year.
Since oil and gas commodity prices directly affect a portion of Kinder Morgan's EBITDA, the company has done well to mitigate the weakness in the market.
Conclusion
The points discussed above clearly indicate that Kinder Morgan is a good buying opportunity at current levels even though it has gained more than 20% in 2016. The company's ability to generate cash and the discount at which it is trading as compared to last year in terms of distributable cash flow make it an attractive bet. So, investors should continue to remain invested in Kinder Morgan shares given its strong fundamentals and cash generation.
Disclosure: I/we have no positions in any stocks mentioned, and no plans to initiate any positions within the next 72 hours.
I wrote this article myself, and it expresses my own opinions. I am not receiving compensation for it (other than from Seeking Alpha). I have no business relationship with any company whose stock is mentioned in this article.