In my favorite film It's a Wonderful Life, the iconic leading character, George Bailey, faces a run on his bank and the panic of his shareholders as they seek 10 cents on the dollar from the wealthy opportunist Mr. Potter. George desperately pleas with the people, "Don't you see, Potter isn't selling. He's buying!" On Friday U.S. stocks sold off a bit because of the unexpected referendum result leading the U.K. out of the European Union. This morning, stocks are down again, and I tell you, Potter isn't selling, he's buying.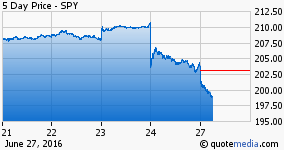 5-Day Chart of SPY at Seeking Alpha
Stocks were reflecting trepidation again Monday morning post the undesirable result in the U.K. referendum. The SPDR S&P 500 (NYSE: SPY) was down another 1.2% after dropping 3.6% on Friday. Led for a second day by fallout in the United Kingdom and the EU, U.S. equities opened broadly lower, with no sector in the green in the very early going. Though, perceived safety in the U.S. dollar and gold continued to find capital support, and income stocks in the consumer staples and utility sectors were showing relative strength.
| | |
| --- | --- |
| Security Sector | 06-27-16 Early AM |
| Vanguard FTSE Europe (NYSE: VGK) | -2.7% |
| iShares Europe (NYSE: IEV) | -2.3% |
| iShares MSCI United Kingdom (NYSE: EWU) | -4.2% |
| iShares MSCI Germany (NYSE: EWG) | -2.5% |
| CurrencyShares Euro (NYSE: FXE) | -0.5% |
| CurrencyShares British Pound (NYSE: FXB) | -3.0% |
| SPDR S&P 500 | -1.2% |
| SPDR Dow Jones (NYSE: DIA) | -1.2% |
| PowerShares QQQ (NASDAQ: QQQ) | -1.2% |
| iShares Russell 2000 (NYSE: IWM) | -2.0% |
| Vanguard Total Stock Market (NYSE: VTI) | -1.3% |
| Financial Select Sector SPDR (NYSE: XLF) | -2.3% |
| Technology Select Sector SPDR (NASDAQ: XLK) | -1.3% |
| Energy Select Sector SPDR (NYSE: XLE) | -1.6% |
| Health Care Select Sector SPDR (NYSE: XLV) | -0.6% |
| Consumer Discretionary Select Sector SPDR (NYSE: XLY) | -1.3% |
| Consumer Staples Select Sector SPDR (NYSE: XLP) | -0.3% |
| Utilities Select Sector SPDR (NYSE: XLU) | -0.1% |
| Materials Select Sector SPDR (NYSE: XLB) | -1.8% |
| Industrial Select Sector SPDR (NYSE: XLI) | -1.8% |
| iPath S&P 500 VIX ST Futures (NYSE: VXX) | +0.2% |
| SPDR Gold Trust (NYSE: GLD) | +0.4% |
| United States Oil (NYSE: USO) | -1.8% |
| PowerShares DB US Dollar Bullish (NYSE: UUP) | +0.7% |
| Widely Held Stocks | |
| Apple (NASDAQ: AAPL) | -1.2% |
| Microsoft (NASDAQ: MSFT) | -1.5% |
| General Electric (NYSE: GE) | -0.9% |
| Verizon (NYSE: VZ) | -0.5% |
| McDonald's (NYSE: MCD) | -1.4% |
| Facebook (NASDAQ: FB) | -1.3% |
| Alphabet (NASDAQ: GOOGL) | -0.8% |
| Alphabet (NASDAQ: GOOG) | -0.8% |
| Ford (NYSE: F) | -2.5% |
| Tesla (NASDAQ: TSLA) | -1.4% |
| Citigroup (NYSE: C) | -2.6% |
| Intel (NASDAQ: INTC) | -1.7% |
| Exxon Mobil (NYSE: XOM) | -1.0% |
| Amazon.com (NASDAQ: AMZN) | -0.9% |
It takes a couple days for fear to transform into greed, but it happens. It will happen again soon, in my view, given my expectations for refreshing economic news in the U.S. As investors, both here and abroad, start to absorb the fact that uncertainty in Europe and the U.K. (we have to separate them now) contrasts against relative certainty in the U.S., American stocks must draw capital investment. And, as equities in Europe are discounted, eventually fear will subside over there as well and those stocks will find capital support. Times like these more often prove to be buying opportunities in the medium term and always so over the long-term, at least going back a hundred years or so.
Investors should keep a list of the companies they most believe in and buy them when broad macro factors drive the entire market lower. Citigroup is down 2.6% today, more than most of the most widely held stocks, because the banking sector might have some entanglement issues relative to the EU problem. Financial stocks generally are taking a hit today because the Fed is perceived to be off the table now for a long time. It's exactly the type of situation opportunists like Potter look for, and it is what you should look for as well. Facebook is down another 1.3% today, but should it be considering how well it performed at its last earnings report, both operationally speaking and in terms of stock performance?
This weekend, I ran into a pizza shop owner friend of mine who commended me for a tip I gave him a hundred dollars a share ago on Ulta Salon (NASDAQ: ULTA). I told him, yes, ULTA, Home Depot (NYSE: HD), Facebook, Apple, Bank of America (NYSE: BAC) and several other stocks must be bought at times like this. I hardly shared my full list. You must see opportunity for what it is, and this Brexit scare is an opportunity for investors in U.S. equities. Unfortunately, I don't always have the opportunity to share all my ideas with readers, but if I create a PRO Marketplace page here at SA soon, I will certainly keep readers informed of everything I hold and like along with a full spectrum of Wall Street style guidance. I have plans for something special, so stay tuned to my business column. 2016 is a year for volatility and for good reason (report pending), so there will be more opportunities to buy at discount in the months ahead. Put your buy list together and keep cash at the ready, because it should pay off for you if history proves of any value.
Disclosure: I am/we are long BAC.
I wrote this article myself, and it expresses my own opinions. I am not receiving compensation for it (other than from Seeking Alpha). I have no business relationship with any company whose stock is mentioned in this article.