Well, "it" happened. Britain is officially leaving the EU, and markets have already begun to react.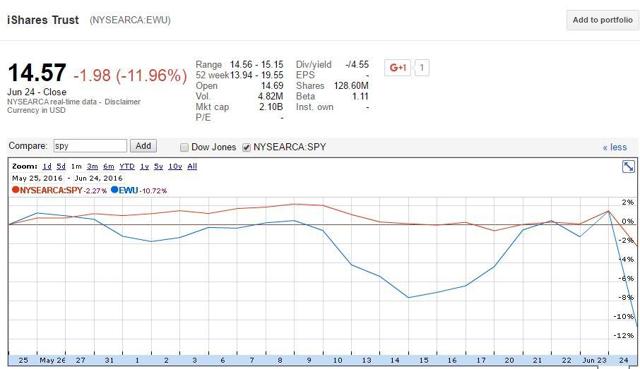 Courtesy of Google Finance.
You can see here that the reaction from the US is fairly muted compared to that of Britain. That isn't a big surprise, because investors view the US as something of a safe haven.
As I've said before, I don't believe that Brexit is such a big deal, financially and economically, at least. In the end, the UK will get free trade access to the EU because the German automaker lobby in Brussels does not want to dent its most lucrative market. As for the pound, I just don't believe that it will be low for too long. Financially, Britain is in much better shape than Europe or Japan are, and I believe the pound's value will reflect that soon enough.
Might the economy be a bit slower due to dis-integration? It well could, but I am certain that Britain will continue to be a very attractive place for European companies to invest in and do business in. Britain has been one long since before the Maastricht Treaty, and it will be for long after its involvement in it ends.
For this reason I have put together a small "Brexit shopping list." Some of these are aspirational, and some can be bought right now. This article explains why I like each of them, and, if applicable, when they can be bought.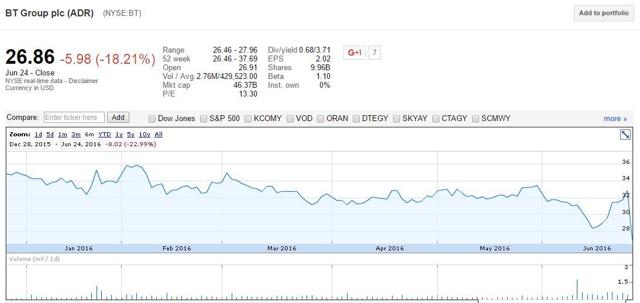 Courtesy of Google Finance.
British Telecom (NYSE:BT) is my first choice. Since Friday it is down a whopping 18%. BT is a steady play on the British economy. It is formerly a state-owned company in a heavily-regulated industry.
BT's dividend is as safe as it gets. This year BT expects to generate some $4.2 billion in cash flow, and paid about $1.4 billion in dividends (based on the old exchange rate). Management expects to raise the dividend by "over 10%" this year, at least in pound terms. BT's latest capex efforts have turned revenue from -3% the year before to 2% in the last fiscal year. Overall growth is modest, but it's there.
BT trades at 12.8 times trailing earnings and yields 3.7%, which is not bad for such a sure dividend. The only concern for American investors should be the British pound. If the pound continues dropping, earnings will also drop in dollar terms. BT is in 'ground zero' of Brexit, but this is a calculated risk I am willing to take. It's a solid company in an historically solid economy.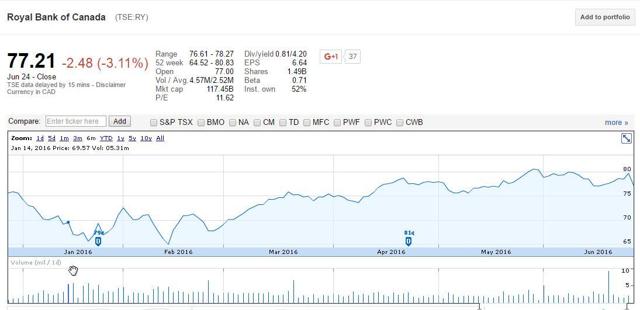 Courtesy of Google Finance.
My second pick is more of an aspirational one, Royal Bank of Canada (NYSE:RY). Unfortunately for me, Royal only dropped 5% on Friday. Financials have been shellacked in the US as well as Europe, but Canadian banks have stayed above the fray. That isn't much of a surprise, as the Canadian financial system is typically seen as the safest financial system in the world, and Royal is the biggest bank in Canada. I believe investors have fled to Canadian banks, too, somewhat.
Growth has slowed in Canada as crude oil prices tanked. Net income is up 4% on the year, and I suspect that dividend growth will be similar here. Royal yields 4.2% and sits at about 11.5 times earnings. If things continue to deteriorate in financials, Royal Bank of Canada is the one to go to.
My next recommendation is Cisco Systems (NASDAQ:CSCO). The networking communications giant was cheap before Brexit, and is now a good 5% cheaper. Cisco has an incredible balance sheet, with $35 billion of cash net of debt, and the dividend is only 33% of cash flow, so there is lots of room for outsized dividend growth, even with 0%-3% revenue growth, which is the expectation for 2016.
Cisco is heavily discounted, trading at just 12 times earnings, a 20% discount to its ten-year average P/E, according to FAST Graphs.
Cisco is in a good spot, but is not without risk. About 60% of Cisco's revenue is in North America. Another 25% is in Europe. That's not terribly much, but if Brexit leads to a domino effect that spreads financial contagion through Europe, followed by a sharp recession, then even Cisco will feel it. Again, I'm willing to take a calculated risk for this dividend-growing multinational company.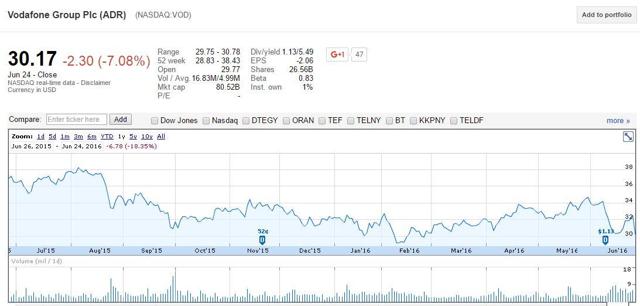 Courtesy of Google Finance.
Finally, I recommend British-based but Europe-wide telecom Vodafone Group Plc (NASDAQ:VOD). Vodafone was down 7% on Friday, not nearly as much as BT was down. That discrepancy is because the UK is only a piece of Vodafone's business. However, about 2/3rds of all revenue comes from the EU.
Like British Telecom, Vodafone is growing modestly. The difference is that Vodafone has a higher yield of 5.6% based on last year's distributions. Its free cash flow is about even with the dividend. That should change as capex needs decline, which will boost free cash flow and also put some margin of safety into the dividend.
Unlike British Telecom, Vodafone is hitched to multiple countries. Only another Europe-wide recession could really hurt Vodafone. A weakening Euro would hurt Vodafone's earnings in dollar terms, and because I think the Euro is at greater risk than the pound is over the long run, Vodafone is somewhat riskier than BT is at the end of the day. Despite all that, Vodafone is worth buying down here, and I've previously recommended the stock several times at around these levels.
Conclusion
Consider this article a 'starting off' point for further research. In the case of Brexit, I believe there is quite a bit of value to be had out there, for various reasons. In the long run, I don't think this tectonic shift in geopolitics will be as detrimental as the market seems to fear at the moment. Frankly, I believe a lot of the 'gloom-and-doom' predictions are fear-mongering trying to prop up the existing world's status quo. In the end, cooler heads will prevail because Britain is a vitally important piece of the global economy and cannot be left out as a "pariah" state like some others have been.
If you are interested in any of these companies, feel free to follow me on Seeking Alpha. I am long several of these names, and will provide update articles when they are material and relevant.
Disclosure: I am/we are long VOD, RY, CSCO.
I wrote this article myself, and it expresses my own opinions. I am not receiving compensation for it (other than from Seeking Alpha). I have no business relationship with any company whose stock is mentioned in this article.