Welcome to the energy sector's seventh edition of "Buy on Weakness?", a series of articles that sifts through the underperformers of the week to find potential investment opportunities in the large-cap energy world.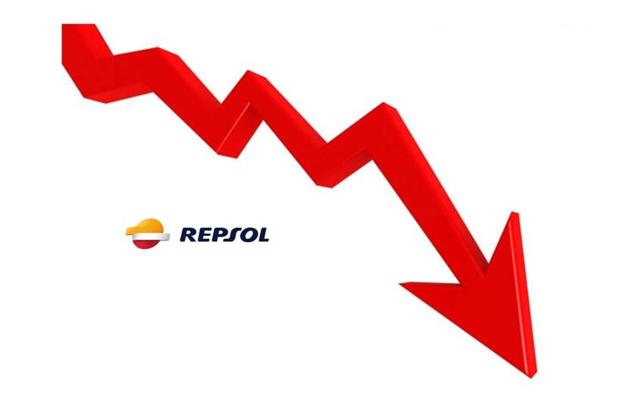 Credit: DM Martins Research montage using company logos
The idea is to help investors, particularly those focused on value plays, unearth ideas for the coming week. Check out the sixth and fifth editions of "Buy on Weakness?" for a look into prior weeks' "energy losers".
The table below highlights the top 20 energy companies - worth $10 billion or more in total equity value - that have performed the poorest in the previous five trading days.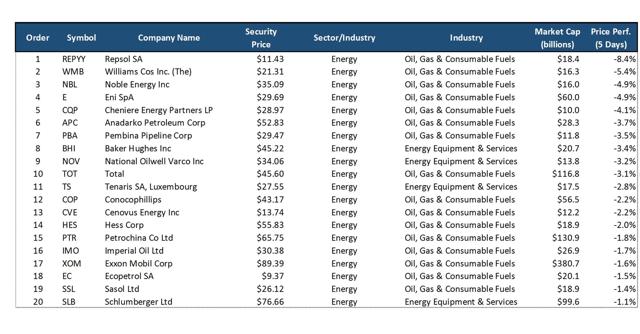 Source: DM Martins Research, using market data compiled from Fidelity and Yahoo Finance
Energy sector nosedives after Brexit
Following an eventful trading week with Thursday's U.K. referendum, both S&P and Dow notched close to 2% gains up until Thursday before nosediving into negative territory after U.K.'s voting to leave E.U., both indices ending the week down 1.6%. The large-cap energy group lost 0.4% or nearly $13 billion in market value, more than the previous week's loss of $9 billion. Brexit impacted energy companies significantly, as the sector was up 5% up until Thursday before plunging down on Friday.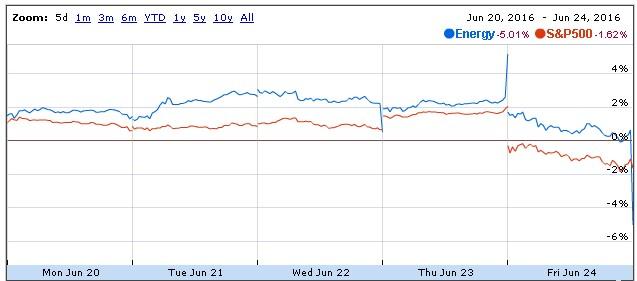 Source: Google Finance
Oil, Gas & Consumable Fuels subsector losses were led by Repsol SA's (OTCQX:REPYY) and Williams Cos Inc.'s (NYSE:WMB) respective 8.4% and 5.4% declines. The Energy Equipment & Services subsector was driven lower by Baker Hughes Inc's (BHI) loss of 3.4%. Overall in the portfolio of 62 large-cap energy stocks that we analyze each week, there were 31 with negative performance over the past 5 trading days - an even split.
WTI Crude was down over 3% in the same week, eventually closing at $47.64. On Friday June 24th, prices plunged more than 7% after testing $50 twice in the week. Natural gas futures were up 1% on the week closing at $2.66 on Friday.
Let's take a closer look at some metrics focusing on the weeks' top 20 underperformers in the energy space.
Diving deeper into the data
The top 20 energy losers of the week have a median 2017 forward P/E of 19.8x, compared to the S&P 500's current trailing P/E of 23.2x. This week's top 20 group is expected to grow EPS in 2017 by 81.8%, and the companies generate a very decent median dividend yield of 4% (all 20 companies are dividend-payers).
The table below highlights, in green font, the three best-positioned energy companies in each of the following categories: projected EPS growth, dividend yield, 2017 forward P/E and 2017 forward PEG (P/E divided by percentage-point EPS growth).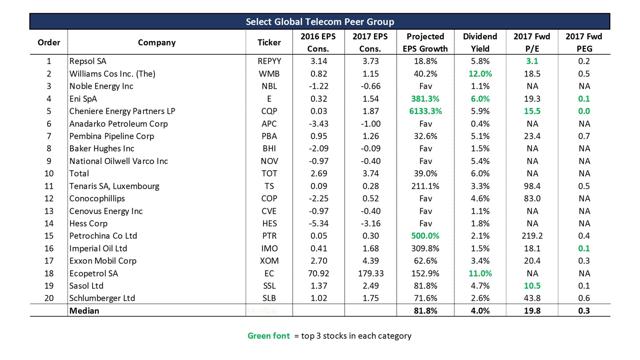 Source: DM Martins Research, using data from Yahoo Finance, Nasdaq and Market Watch
So which short-term loser should investors consider adding to their portfolio to take advantage, in the long run, of the price pullback? Let's take a closer look at one potential opportunity featured on energy's top 20 "biggest loser" list last week.
Repsol SA : a good buy on weakness?
Trading Recap:
As of the close of business Friday June 24th, REPYY was up 2.7% YTD, quite significant underperformance when compared to YTD benchmark results for the energy sector SPDR (NYSEARCA:XLE), up 15.4%. Throughout the past few days, Repsol was in the midst of a $5.5 billion arbitration claim related to loss from a 2012 joint venture with China Petroleum & Chemical Corp.
Given the YTD suppressed share price, at the current valuation REPYY trades at a very low P/E of 3.6x (forward 2017 P/E of 3.1x) and has a dividend yield of 5.8%. And despite a tough environment for the energy sector, the company expects to generate over $10 billion (two-thirds of its current market cap) in free cash for dividend and debt repayment through 2020.
Investment Thesis:
- From a valuation perspective, REPYY presents an interesting entry point for a long-term, income-oriented investor with capital appreciation potential.
- Upside in continuing integration of Talisman Energy acquisition in 2015, which is expected to achieve $1.2 billion in cost saving through synergies and efficiencies this year. The synergy target was also revised to $400 million, up from $220 million previously.
- Repsol is well positioned to take advantage of oil price rebound with its global presence and continuing divesture of non-strategic businesses. Late last week, it also inked an oil deal to import crude from Iran.
Risks:
- Macro-economic uncertainty given U.K.'s exit from E.U. In the short term, oil analysts seem to be in agreement that the decline in price is likely to continue due to the strengthening U.S. dollar. Over the long term, the impact is still a question mark as the U.K. sorts out its troubling relationship with the E.U.
- Repsol's synergy and cost cutting estimates from Talisman Energy might prove to be too aggressive. Repsol has already increased the target synergy from the 2015 acquisition of Talisman Energy nearly two-fold to $400 million, which is also an increase from the target of $350 million laid out in its Strategic Plan to 2018.
Disclosure: I/we have no positions in any stocks mentioned, and no plans to initiate any positions within the next 72 hours.
Business relationship disclosure: Report authored by Jay Yang, edited by Daniel Martins
Editor's Note: This article discusses one or more securities that do not trade on a major U.S. exchange. Please be aware of the risks associated with these stocks.