Shares of Facebook (NASDAQ:FB) have taken a hit following the Brexit. This fall makes sense, as a majority of FB's growth story is internationally based, and a strong dollar coupled with global economic uncertainty will weigh on international results and perhaps delay or slow the international FB growth machine. Specifically, we think that while the Q2 revenue estimate looks beatable, the Q3 revenue estimate now looks overly bullish considering increased FX headwinds. We expect continued near-term weakness in the stock, but remain bullish on the long-term growth story.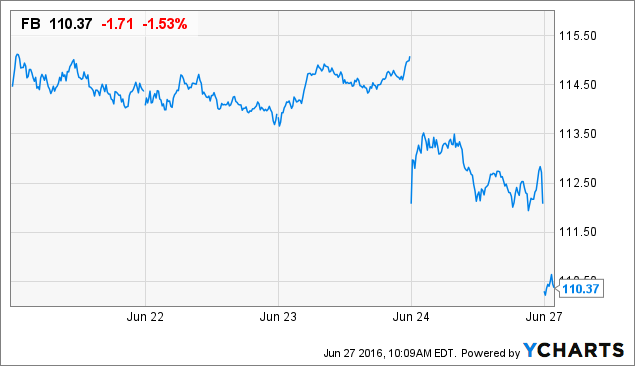 FB has significant international exposure. Only roughly 16% of FB's DAUs are from the US and Canada. The US and Canada mix shrinks to 13% when talking about MAUs. Meanwhile, Europe accounts for roughly 23% of DAUs and 20% of MAUs. As it relates to growth, right around 63% of US and Canada's total population has a FB account, implying long-term potential MAU growth of 133 million (or 60%). In Europe, meanwhile, only 45% of the total population has a FB account, implying long-term potential MAU growth of 409.5 million (or more than 120%). Even if Europe only gets to US and Canada's 63% of total population rate, that implies another 134.8 million users or growth of 40%.
Clearly, a lot of FB's growth story is non-US based. We do not think, however, a Brexit will affect user growth in any way. Regardless of a good economy or bad economy, individuals are more-or-less equally likely to use a free social media platform. We think user growth is unaffected in both the long-term and short-term.
Our concerns center around ARPU, or how much revenue the company can generate per each user new user. When looking at total revenues, FB is heavily driven by the domestic market. More than 50% of revenues come from the US and Canada, with Europe contributing 24% of sales. Interestingly, US and Canada's revenue mix has grown ~400 basis points over the past 2 years, while Europe's revenue mix has shrunk ~400 basis points.
This points to the discrepancy in ARPU magnitude and growth. US and Canada's ARPU stood at $12.43 last quarter, more than 3x Europe's $3.98 ARPU. Moreover, US ARPU grew almost 50% while Europe ARPU grew 33%. The current rich valuation implies success in FB growing that Europe ARPU close to a number where domestic ARPU stands currently. The strong dollar and economic uncertainty in Europe delay and cloud these expectations.
Even if ad spend remains strong throughout Europe, APAC, and the rest of the world, the strong dollar will inevitably weigh on results. Indeed, currency headwinds have already weighed on results. In 3Q15, revenue was negatively affected by $340 million from unfavorable exchange headwinds. In Q4, the exchange headwinds affected the topline by $320 million. In Q1, the ad revenue growth rate was negatively affected by 600 basis points due to exchange headwinds.
In the Q3 and Q4 CC, management mentioned that currency headwinds would weigh on topline growth when discussing the revenue outlook. No such mention to currency headwinds were made in the Q1 CC, and this concerns us that FB and analysts alike modeled for exchange rates to continue to improve for FB.
This certainly isn't the case, and we think the consensus analyst estimates are now too high. Q2 results won't be that affected by the Brexit, but Q3 results should reflect substantially increased FX headwinds. From that standpoint, we think the Q2 consensus analyst revenue estimate of $6B (+48.4% Y/Y) looks light, while the Q3 consensus analyst revenue estimate of $6.56B (+45.7%) looks aggressive. In Q3, we think US and Canada will continue to have growth that is above trend, while all other geographies will post below-trend, FX-affected ARPU growth. This makes the Q3 revenue estimate look slightly aggressive at 45.6% revenue growth lapping 49% growth one year ago.
We believe the long-term growth story propelled by app consolidation, Instagram ramp, and conversational commerce remains in-tact. We are concerned near-term by FX-weighed results in Q3, and are unsure how long these currency headwinds will persist and weigh on FB's international operating results. We remain long the stock, but would not be surprised to see continued weakness. We will wait for Q2 results and Q3 outlook to add to our position.
Disclosure: I am/we are long FB.
I wrote this article myself, and it expresses my own opinions. I am not receiving compensation for it (other than from Seeking Alpha). I have no business relationship with any company whose stock is mentioned in this article.