The Business
Brookfield Renewable Partners (NYSE:BEP) operates hydroelectric and wind facilities in North America, Latin America and Europe with more than 10,400 megawatts of installed capacity. Brookfield Renewable's portfolio comprises $25 billion in renewable power assets and generates enough renewable energy to power four million homes. Brookfield Renewable is listed on the New York and Toronto (BEP.UN) exchanges.
BEP believes its portfolio of high-quality assets, strong growth opportunities and a significant pipeline of development projects positions the business to produce attractive long-term total returns with growing cash flows and distributions to shareholders.
Eighty-seven percent of BEP's power generation is from hydro, a high quality renewable asset class with compelling operating attributes and total return profile. BEP believes it has strong organic and acquisition opportunities supported by a conservative capital structure and liquidity to fund growth.
The partnership offers an experienced management team with a proven track record of 16% compounded annualized return since inception in 1999.
BEP is a subsidiary of Brookfield Asset Management (NYSE:BAM), which owns 62% of the partnership. BEP access to this leading asset management platform provides opportunities for growth through Brookfield's network and participation in Brookfield "sponsored consortiums."
BEP's power generation provides largely contracted cash flows (16 year weighted avg.) with market-based upside.
Strategy
Management believes these long-life renewable power assets will provide stable, long-term cash flows, and are well positioned to appreciate in value over time. Their strategy is to combine their operating, development, power marketing and investing capabilities with their ability to commit capital for opportunities with attractive returns for their shareholders and institutional partners.
Brookfield Renewable aims to deliver an average annual total return of 12%-15% to shareholders. The partnership's strategy is to:
Operate a globally-diversified portfolio of renewable power generation assets across continental platforms and to the highest standards
Combine stable, predominantly contracted cash flows with the ability to capture rising prices on uncontracted power in our core markets
Maintain a predominantly hydroelectric focus
Leverage our operating expertise, transaction origination capabilities and funding platforms to acquire assets for value
Advance and replenish our proprietary development pipeline at premium returns
Secure growth opportunities in new technologies.
A June, 2016 overview of BEP is provided at the BEP website.
A Different Type of Partnership
Seasoned investors know that corporations offer shares to shareholders and partnerships offer units to unitholders. So, you might be confused when BEP management speaks of shareholders. The financial reports, however, disclose each unit's share of the profits and losses.
The partnership's website states that the corporate office is located at Brookfield Place, Suite 300, 181 Bay Street, Toronto, ON M5J2T3 (888-327-2722).
The partnership's 2015 annual report states that the corporate office is located at 73 Front Street, Fifth Floor, Hamilton, HM12 Bermuda (441-294-3304).
To avoid bitter cold, I recommend using the Bermuda office from November through April and to avoid high humidity, the Toronto office from May through October.
Most investors think of BEP as a Canadian partnership that is domiciled in Bermuda, with units listed on the New York Exchange in US dollars and on the Toronto Exchange in Canadian dollars.
The partnership reports its financials in US dollars, which are used throughout this article.
BEP has structured itself to be user-friendly for both Canadian and US investors. Their website has a helpful Tax Information page. As for the bothersome unrelated business income tax in the US, which prevents many investors from including a master limited partnership in an IRA, here's what Tom Konrad said in the comment thread following his most recent article:
BEP is a Limited Partnership, but not a Master Limited Partnership. You do get a K-1 from them if you buy them as part of a motif or any broker, but the K-1 does not include any UBTI, which is the part of MLP income which causes problems for some investors.
BEP is an easy way for US investors to gain some Canadian exposure, but BEP's footprint is quickly becoming more global. The partnership has operations in seven countries: United States, Canada, Brazil, Columbia, United Kingdom, Ireland, and Portugal.
Management
Richard Legault is Executive Group Chairman of Renewable Power for Brookfield Asset Management. He served as BEP's CEO from inception through August, 2015. He was CFO of BAM from 2000 to 2001, and in his 26 years with Brookfield has held senior positions in operations, finance, and corporate development.
Sachin Shah has been Chief Executive Officer since August, 2015. Previously, he served as President and Chief Operating Officer. He joined Brookfield Asset Management in 2002 and held a variety of senior roles prior to joining Brookfield Renewable. He graduated from the University of Toronto in 1999 with a degree in Commerce.
Nicholas (NASDAQ:NICK) Goodman is Chief Financial Officer of the Service Provider and is appointed under the Master Services Agreement as Chief Financial Officer of BREP. Mr. Goodman received a degree in Accounting and Finance from the University of Strathclyde in Glasgow, Scotland in 2003.
Assets
BEP owns and operates approximately 250 renewable assets, diversified across 81 river systems and 15 power markets in North America (65%), Latin America (30%) and Europe (5%). Their portfolio is 87% hydroelectric and 12% wind.
The partnership's website provides information about the following assets: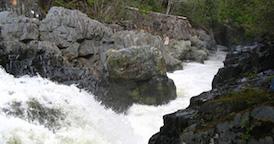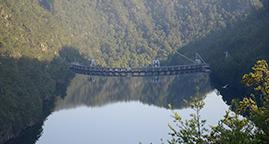 Deep Creek Hydro (above left) is a two unit, 20 MW hydroelectric generation station located in Garrett Country, Maryland. It was built in 1925. The reservoir was created by capturing the water in the existing creek, creating Deep Creek Lake. Aside from generating electricity, Deep Creek Hydro also allows for lake level management, fisheries support and white water recreation.
Brookfield Smoky Mountain Hydropower (above right) features four facilities of 378 MW of installed capacity and 86 miles of transmission located in the western portion of the Little Tennessee watershed on the Little Tennessee and Cheoah Rivers in North Carolina and Tennessee. These facilities are in the Southern Appalachian Region adjacent to the Great Smoky Mountains National Park and the Cherokee and Nantahala National Forests. The four reservoirs created by these dams--Santeetlah, Cheoah, Calderwood and Chilhowee--offer diverse recreation opportunities and important habitat for plants, fish and wildlife.
The Cheoah Dam and powerhouse were constructed from 1916 to 1919; the Santeetlah facility from 1925 through 1928; the Calderwood facility from 1928 to 1930; and the Chilhowee facility from 1955 through 1957.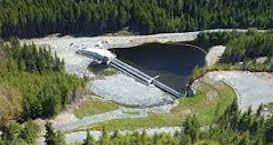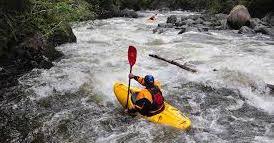 The Kokish River Hydroelectric facility (above left) is located on northeastern Vancouver Island, about 15 kilometers east of Port McNeill, British Columbia, and is owned and operated by Kwagis Power, a limited partnership between Brookfield Renewable and the 'Namgis First Nation.


The 'Namgis First Nation includes more than 1,700 members, living primarily in Alert Bay on Cormorant Island, BC. The 'Namgis First Nation core territory is located on northern Vancouver Island and the adjacent islands, centered in the Nimpkish Valley and associated watersheds.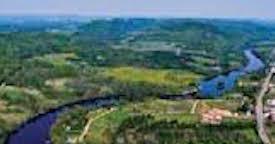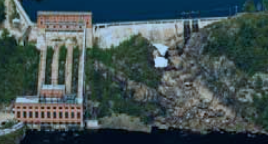 The Brookfield Renewable La Lièvre Operations are located on the Lièvre River in Quebec (above left), and are comprised of Masson, Dufferin, High Falls (above right) and Rapides-des-Cèdres hydroelectric stations, with a total installed capacity of 263 megawatts (MW). Brookfield Renewable seeks to be a responsible business partner and active contributor to the community, operating with a priority on health and safety as well as protecting the environment.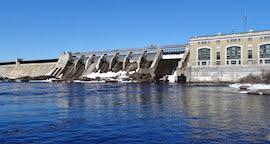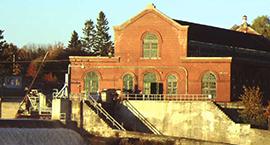 The Black Bear Hydro assets in Maine were purchased by Brookfield Renewable in November 2013. These assets produce enough energy to power an average of 35,000 homes annually in the New England region, where the electricity is primarily sold. The Gulf Island plant (above left) is in Lewiston, Maine.
In December, 2012, BEP agreed to purchase 19 hydroelectric dams in Maine, including the two largest in the state, from NextEra Energy Resources LLC for approximately $760 million.
The 19 dams are primarily on the Kennebec, Androscoggin and Saco rivers and have a total capacity of 351 megawatts and annual generation capacity of 1.6 million megawatt-hours.
Prior to this acquisition, BEP already operated 10 dams in Maine on the same river systems. CEO Richard Legault said,
"These proven generation assets are an ideal investment for us as they complement our existing hydro fleet in Maine where we have a long operating history. This transaction also provides a unique opportunity to leverage our operating platform while positioning us to participate in rising electricity prices over time."
BEP often partners with institutional investors to jointly own hydropower generation facilities through a private fund sponsored by Brookfield Asset Management. (Bangor Daily News, December 27, 2012)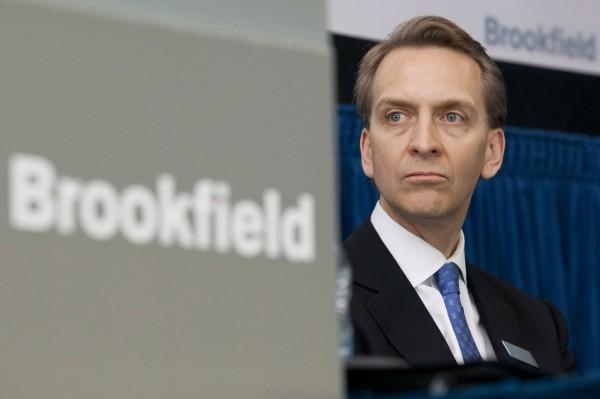 Bruce Flatt, CEO of parent company Brookfield Asset Management, listens to other speakers during a shareholder meeting in Toronto.
In November, 2013, BEP announced it was acquiring nine more hydroelectric dams on the Penobscot, Androscottin and Union rivers in Maine with an operating capacity of 70 megawatts, bringing the total number of dams operated in the state to 38. This increased BEP's Maine capacity to 340 megawatts, slightly more than half the state's hydroelectric capacity. BEP acquired the nine dams from Black Bear Hydro Partners, a subsidiary of Boston-based ArcLight Capital Partners.
At the time of purchase, sixty percent of the nine new dams' output was sold into the New England wholesale power market, with the rest sold under long-term contracts to local utilities.
Brookfield Renewable's (then) CEO Richard Legault said,
"These hydroelectric facilities are highly complementary to our existing portfolio in North America. We continue to add high quality assets in this low-price environment, which provide an attractive combination of stable, contracted revenues and strong prospects for long-term cash flow growth. Moreover, we are pleased to continue to invest in Maine and California, both important markets for us. Our knowledge of hydro and our operating expertise in these markets give us confidence in the long-term value creation potential of this portfolio." (Bangor Daily News, November 4, 2013)
Safe Harbor Holtwood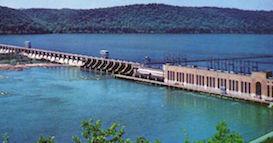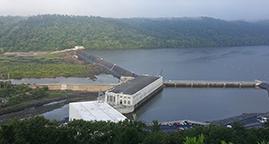 The Safe Harbor Dam is located on the lower Susquehanna River in Pennsylvania. It was completed in 1931, creating Lake Clarke. It was built during an era of railroad electrification, and became a power source for the Pennsylvania Railroad.
The Holtwood Dam is even older. It has been generating electricity since 1910, using the power of the water held back by a 55-foot-high dam across the Susquehanna River between Lancaster and York counties. In 2013, a new 125-megawatt powerhouse more than doubled Holtwood's generating capacity.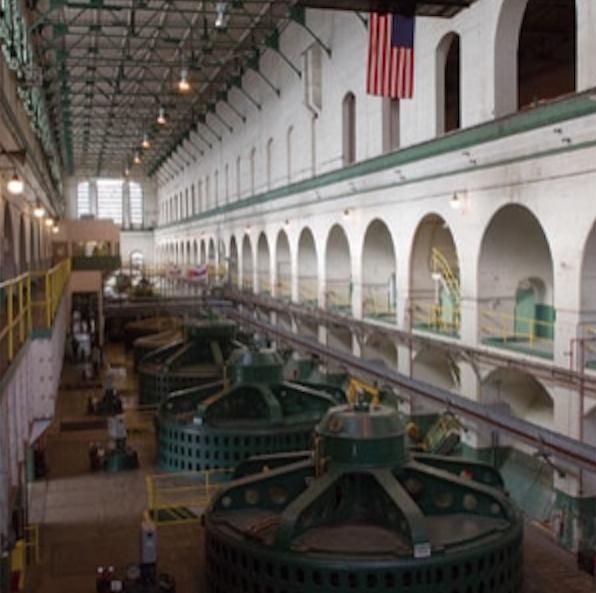 Unit 5 in the 108-MW Holtwood powerhouse (above) contains a sliding film thrust bearing that was designated as the 21st International Historic Engineering Landmark by the American Society of Mechanical Engineers. The bearing has an estimated life of more than 1,000 years based on wear rates. - From a 2010 HydroWorld article, Hydro Hall of Fame: Taking Holtwood Next into the Century, when Holtwood was owned by PPL Inc (NYSE:PPL).
The company worked closely with the U.S. Fish and Wildlife Service and the Pennsylvania Game Commission to develop a bald eagle management and monitoring plan to minimize any impact to nesting eagles. For its efforts, Holtwood received the National Hydropower Association's Outstanding Stewards of America's Water award.
Brookfield Renewable and other utilities, in a joint public-private partnership, are helping the American shad make a comeback. Like salmon, the fish spend most of their lives in saltwater but spawn in fresh water. With the completion of fish lifts at Holtwood and Safe Harbor dams, more than 200 miles of the Susquehanna River are open to American shad. The Holtwood facility acts like an elevator, safely carrying the silvery fish over the dam and channeling them into the river, where they continue their upstream migration to spawning areas in the Susquehanna River watershed.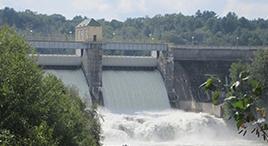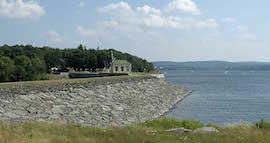 The Wallenpaupack Dam was built in 1926 by the Pennsylvania Power & Light Company (later PPL), for power generation and flood control. The 1,280-foot-long and 70-foot-high dam created the popular 5,700-acre Lake Wallenpaupack, a major recreational destination in the Pocono Mountains.
Water from the bottom of the lake flows into a 14-foot-wide flow line pipe. The water travels 3.5 miles through the flow line to the power plant where it spins two turbines as it rushes past them. Generators create 44 megawatts of electricity, which is enough power for about 35,000 typical homes. As the water exits the power plant, it flows into the nearby Lackawaxen River.
The ability of generation plants like Wallenpaupack to quickly respond to increases in electrical demand or fill in for large plants helps reduce stress on the electricity grid.
In 2015, Brookfield Renewable Partners acquired the 252-MW Holtwood and 40-MW Wallenpaupack hydro stations from Talen Energy for $860 million. Combined, Holtwood on the Susquehanna River and Wallenpaupack in the Pocono Mountains have an expected average annual generation of about 1.1 million MWh.
At the time of the purchase, BEP said, "The acquisition provides a strong fit with Brookfield Renewable's 417-MW Safe Harbor facility located 8 miles upstream from Holtwood."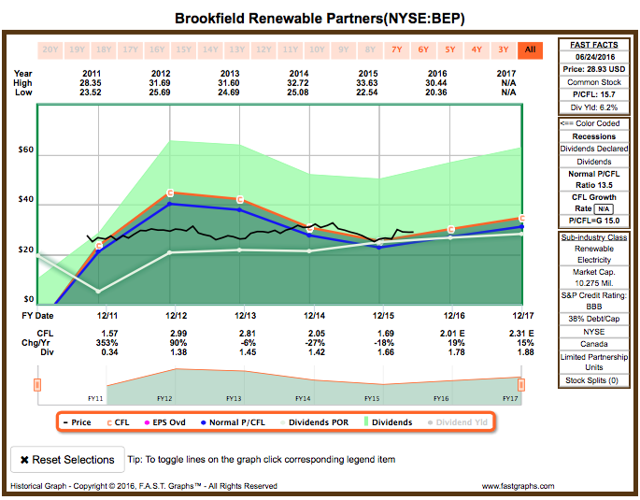 F.A.S.T. Graphs shows the S&P credit rating of BBB. The S&P credit rating for parent company Brookfield Asset Management is A-.
Since BEP is a partnership, I used F.A.S.T. Graph's cash flow option rather than earnings per share. The Price/Cash Flow ratio is 15.7. The percentage of debt to capitalization is 38%.
Five Year History and 2015 Results
The BEP 2015 Annual Report provides this five year history: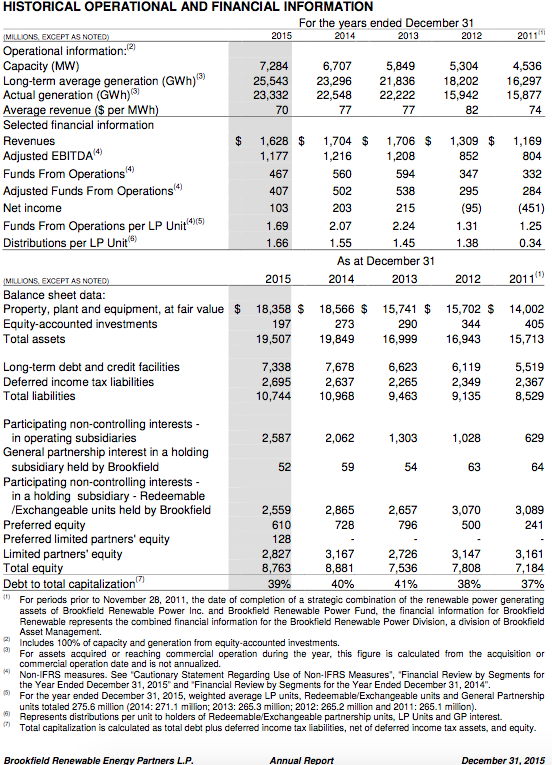 One question presented by the above table is the 2015 decline in Funds from Operations (FFO) and Adjusted Funds from Operations (AFFO). The 2015 distribution was covered by FFO, but just barely.
In his February 26, 2016 letter to shareholders, CEO Sachin Shah wrote,
Despite below-average water levels in both the United States and Brazil and near-term currency headwinds, we produced Adjusted EBITDA of $1.2 billion and Funds From Operations (FFO) of $467 million. We also funded all of our capex and maintenance programs, as well as our 140 MW of development currently under construction in Europe and Brazil. We invested a further $650 million in new assets to accretively grow cash flows and we both funded and grew our distributions by 7%.
Shah maintains a very positive outlook for the future:
Our successful track record of execution has also allowed us to steadily grow quarterly distributions. In light of our 2015 achievements and organic growth prospects, we are announcing an increase in our annualized distribution to $1.78 per share. This represents a 7% increase over 2015 and is consistent with our distribution growth target of 5-9% per year. We are confident in our continued ability to increase distributions given our stable operating profile, financial flexibility, organic growth prospects and the proven operating history of our power generating assets.
First Quarter 2016
BEP's financial results for Q1 2016 were strong. Revenues were $674 million, compared with $441 million in Q1 2015. AFFO was $171 million, compared with $138 million. Per unit FFO was $.68, compared with $.56. Assets grew to $27.5 billion from $19.5 billion, and debt grew to $15.3 billion from $10.7 billion.
CEO Shah reported that BEP has identified three areas that they believe will continue to ensure that the business has stable cash flows as well as significant upside optionality, both leveraging BEP's operating and development expertise:
We are acquiring hydro at the bottom of the cycle. We have acquired 1,500 megawatts of high quality hydro in the northeastern United States, investing over $3 billion recently.
We have maintained discipline in a highly competitive wind and solar market. We grew our global wind business to 1,500 megawatts across 6 countries and added over 1,600 megawatts of wind development sites to our portfolio.
We continue to use our operating expertise to expand into new markets where capital is scarce. We entered Europe during the credit crisis and now have 600 megawatts of operating wind facilities with 200 megawatts under development. We expanded in Brazil, acquiring 600 megawatts of hydro, wind and biomass assets in this recent recessionary downturn, and have another 120 megawatts of hydro and biomass currently under construction. Finally, with partners we acquired 3,000 megawatts of very high quality, utility-scale hydro in Colombia, a growth market where power is in undersupply and low global oil prices have provided an attractive entry point from a currency perspective.
Elsewhere on Seeking Alpha
Canadian contributor John Lawlor has written two very positive articles about BEP, on March 1 and on May 12. His second article described the partnership's decision to drop "Energy" from their previous name, Brookfield Renewable Energy Partners. Canadian Dividend Growth Investor's March 2 article describes why he is long BEP: 6.5% yield, 5-9% distribution growth, and long-term total return goal of 12-15%. Finding Value's May 6, 2016 article describes the value found in BEP's various global operations. Bob Ciura's June 23 article sees BEP as a good alternative to most utilities' lower yields due to recent popularity of the sector. As mentioned earlier, Tom Konrad has written about BEP, most recently on June 22.
I always try to take advantage of Seeking Alpha's transcript service, and when possible to listen to quarterly earnings conference calls. BEP's management presentations are crisp, clear and transparent. I agree with John Lawlor that the parent company has very strong management, and this quality of management is extended to BEP.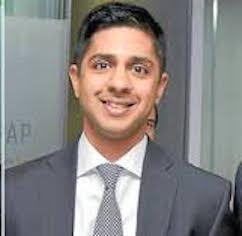 In the 2016 Q1 conference call, in response to a question about the growth potential for Isagen, BEP's new acquisition in Columbia, CEO Sachin Shah (above) said, "(Columbia) has 50 million people and 15,000 megawatts of installed capacity whereas Canada with 30 million people has 100,000 megawatts of installed capacity."
BEP Added to Retirement Portfolio
Thanks to Tom Konrad's work, I've been aware of Brookfield Renewable Partners for more than a year. This was reinforced by John Lawlor's first article. I enjoy studying the history of various enterprises, and BEP's purchase of some iconic hydroelectric dams provided fascinating reading. I think it also revealed a sound business strategy and an opportunity to invest in an alternative energy area that I have not yet pursued--hydro. BEP provides diversification by utility segment and by geography. I made an initial purchase of BEP units on June 16, 2016 at $28.69, for a yield on cost of 6.2%. BEP now comprises 1.0% of the portfolio.
Portfolio Update
There are now 48 positions in the portfolio. In recent days I've gained clarity about next steps. I intend to maintain 30 equity positions devoted to Dividend Champions and other solid dividend growth companies. Now there are 28. I'm looking at BCE Inc (NYSE:BCE), Brookfield Infrastructure Partners (NYSE:BIP), Wells Fargo (NYSE:WFC), and Vodafone (NASDAQ:VOD).
I plan to hold five alternative energy/utility positions. With BEP, now there are four. I'm looking at Green Plains Partners (NASDAQ:GPP).
I plan to hold five option-selling, non-leveraged closed-end funds. Now there are four. I'm looking at the Eaton Vance Tax-Managed Diversified Equity Income Fund (NYSE:ETY).
I plan to have a maximum of ten preferred stocks. Now there are eight. I will be looking at newly issued preferreds in the coming months.
Eventually, I plan to have ten ETFs (which could be the basis for someone who follows me at the helm to shift to an ETF portfolio). Now there are four in the portfolio. I'm looking at iShares Core High Dividend ETF (NYSEARCA:HDV), PowerShares S&P 500 High Dividend Portfolio ETF (NYSEARCA:SPHD), Schwab U.S. Dividend Equity ETF (NYSEARCA:SCHD), Vanguard High Dividend Yield ETF (NYSEARCA:VYM), iShares Residential Real Estate Capped ETF (NYSEARCA:REZ), and Vanguard Utilities ETF (NYSEARCA:VPU).
My retirement portfolio hit an all-time high on June 8. When I updated my spreadsheet that evening, I typed these words next to the date: "Is this the top?"
Indeed, the market pulled back in the days that followed, but in the days leading up to the UK vote, the market seemed to resume its march upward. On June 23, the eve of the UK referendum, I again updated the spreadsheet, noticing that the value surpassed the previous "top" on June 8. Next to the date I typed "New High--Eve of UK Vote." On June 23, the portfolio had gained 16.7% year to date, and 25.5% since the portfolio low on January 20, 2016. Most of my holdings are at "core" levels and not candidates for further trimming, so I didn't try to sell anything during the June 23 rally.
I went to bed with an awareness that the market is due for a correction. I thought it might come after a "blow off" top in the days after the referendum, should the UK vote to remain in the EU. My wife and I discussed reports that the "leave" supporters appeared to gaining ground. So, we both placed some late night "low ball" limit orders in case the market spiked down. I didn't change an existing limit order for some shares of BCE. I added a limit order for some units of BIP at $38.46, which was roughly the mid-point of the 52-week price range. BIP closed on June 23 at $44.59.
I awoke at 4 am and checked the news, learning that the "exit" vote had prevailed and the Prime Minister announced he would resign. I updated my "buy" prices and waited for the US market to open, noting that the S&P 500 futures and DJIA futures were both down sharply. But, when the market opened, nothing on my watch list approached a target "buy" price. The lone exception was Vodafone, which reached a low of $29.75. My target for VOD was a 5.7% yield, or $29.65. I didn't have enough conviction to place a limit order, and by the time I checked VOD on Friday, the price was back above $30.
After the dust settled on June 24, the portfolio was down 2.37% from the day before, but still up 13.9% year to date, and up 22.5% from the portfolio low on January 20, 2016. Except for the addition of Brookfield Renewable Partners, the portfolio is unchanged from my June 9, 2016 article. The portfolio now yields 4.2%.
My takeaways from the "Brexit" vote:
The shock to the US market didn't live up to the media hype.
The immediate market pullback was relatively minor, and not as severe as the correction I have been expecting. With each recent advance, it has seemed more and more like a market ready to pull back, perhaps sharply. In the early morning of June 24, I thought the UK vote might trigger a major downturn. But it didn't happen on Friday. This may mean that the underlying market is strong and will continue to march upward. Or, it may mean that June 24 was just the first installment of a multi-day correction that could continue in the week ahead.
The socio-cultural aspects of the vote may prove to be more significant than the economic ramifications. Businesses and governments will adjust to the new official structures. The economic changes would be more sweeping if the UK had converted to the Euro instead of maintaining their own currency. It appears that older voters favoring secession prevailed over younger voters who think of themselves as European, not just British. We seem to be in a "circle the wagons" moment, with many voters determined to "take back" their country from newer immigrants.
Scotland is the region I'll be watching. They were supportive of remaining, but apparently the turnout in Scotland was low. Will this rekindle their desire to separate from the UK?
In a very divided electorate, GOTV is crucial. As we move closer to the US election in November, which party will muster the most Get-Out-The-Vote energy? That may prove to be the difference in the US as it seems to have been in the UK.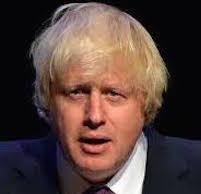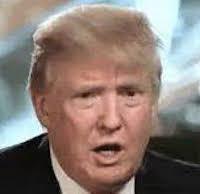 Boris Johnson, former Mayor of London, a leader of the "Leave" movement.
Donald Trump, presumptive Republican nominee for US President.
Conclusion
I welcome your questions and suggestions. I hope you will participate in the comment thread. I always learn from these conversations.
I'm not advocating the purchase or sale of any security. I offer this update as the journal of my effort to design and build a retirement portfolio that puts a priority on relative safety, a history of dividend growth and solid future prospects. Your goals and risk tolerance may differ, so please do your own due diligence.
Disclosure: I am/we are long BEP, JNJ, CSCO, GE, MRK, CMI, MSFT, PFE, QCOM, PEP, SO, MMM, PG, GPC, UNP, DUK, CM, CNP, IBM, WMT, DOV, WPC, WEC, TXN, EPD, EMR, ADM, T, HCP, HASI, PEGI, EVA, BGY, BUI, RFI, THW, VWO, DEM, VNQ, VCLT, SCHW.D, CHSCM, ENO, AGM.C, KKR.A, PSA.B, STT.G, WFC.Q.
I wrote this article myself, and it expresses my own opinions. I am not receiving compensation for it (other than from Seeking Alpha). I have no business relationship with any company whose stock is mentioned in this article.