Amgen Inc. (NASDAQ:AMGN) represents one of the world's leading biotechnology companies. It was founded in 1980, and since then it has made tremendous progress to become the largest independent biotechnology firm, with millions of patients around the world and a continuously broadening range of medicines with breakaway potential. For several years it has managed to maintain the market leading position in the sector, which illustrates the company's resilience and consistency in delivering industry-leading results.
Amgen is focused on unlocking the potential of biology through the discovery and the development of cutting-edge human therapeutics. The systematic exploration of advanced human genetics has allowed Amgen to unravel many of the complexities surrounding disease and the fundamentals of human biology. This, in turn, has allowed the company to address areas of acute unmet medical need, especially by leveraging its unparalleled expertise. As a result, Amgen has managed to dramatically expand, which has translated into surging revenues and an impressive global reach, with a strong presence in more than 100 countries. Apart from scientific innovation, the firm's primary strategic objectives are centered on ensuring the robust quality control and reliable supply of medicines, on the basis of which it has built the reputation of a worldwide leader in biologics manufacturing.

Investment Performance
Amgen has achieved remarkable success in implementing its strategy toward materializing its long-term goals. Markets have recognized that, which has been reflected in its stellar price performance over the years. In the last five year period, Amgen has delivered spectacular investment returns, outperforming the major indexes, while simultaneously increasing its dividend yield, and promising solid growth in the years to come. From an investment perspective, the company remains attractively valued, and the plethora of innovative projects and groundbreaking launches scheduled for the next twelve months inspires hope and confidence that Amgen's shares will eventually resume their rally.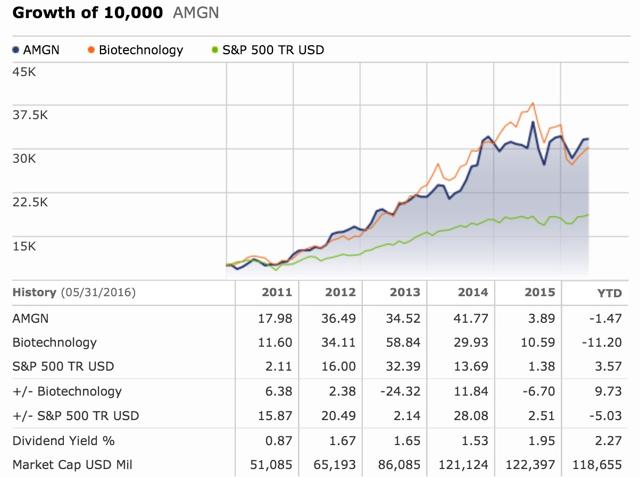 Fundamental View
The scope of Amgen's progress is reflected in the consistently increasing revenue, which has exhibited a surprising rate of growth in the last few years.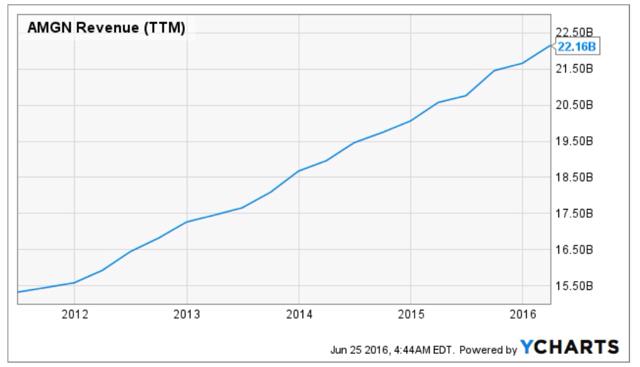 In the first quarter of 2016, the company reported a total revenue of $5,527 million, which represented a 10 percent year-over-year increase. During the same period, product sales grew by 7 percent, primarily driven by Aranesp® (darbepoetin alfa), Enbrel® (etanercept), Kyprolis® (carfilzomib), Neulasta® (pegfilgrastim), Prolia® (denosumab), and XGEVA® (denosumab). In 2015, Amgen had six launches in the United States, which are expected to significantly contribute in sustaining long-term growth. These products, and especially Kyprolis and REPATHA, are expected to contribute drastically in supporting this remarkable trend of multi-year growth in sales and revenue. Amgen has hinted that 2016 will be a year of major launches. The new products are expected to be available in many new areas around the world, such as Japan and Brazil, which represent huge markets. In fact, the management team is expecting approximately 80 new launches across new countries and products. This will likely translate into substantially higher total revenues and increased profitability.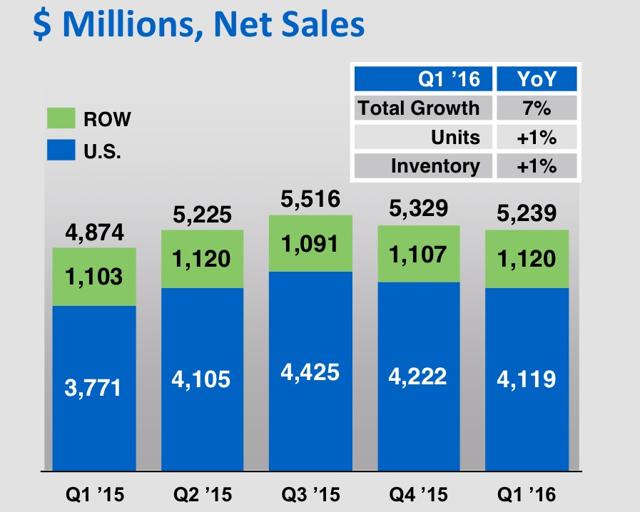 Similarly, net income has been on a multi-year rising trend. In the first quarter of 2016, earnings per share grew by 17% compared to the same period a year ago, underscoring the increasing effectiveness of the management team in generating profit.
The steadily improving profitability adds to other signals that are consistent with the view that the firm has been effective in pursuing its primary objectives. When we examine the long-term trend, it becomes clear that net income and subsequently earnings per share have been improving at an accelerated pace.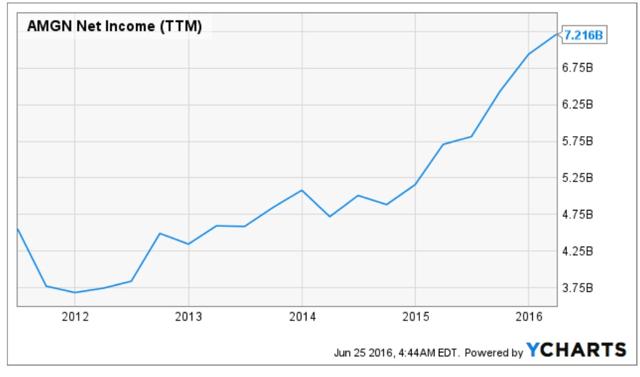 Amgen's business performance has been characterized by a consistent effort to maximize efficiency. The improving return on equity and operating margins have been a critical ingredient of the company's success and are in line with its commitment to constantly aim for the highest possible efficiency on the basis of a sound and coherent strategy. The impressive improvement in profit generation has been the result of well-targeted cost savings, successful transformation efforts, and the redesigned capital allocation strategy, which promotes vigorous investment for long-term growth.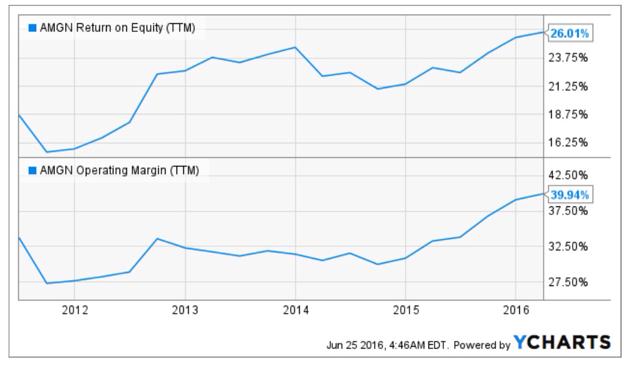 Importantly, Amgen's cash position has strengthened markedly in recent quarters. Free cash flow, a crucial indicator of financial health, has been surging, fueling the firm's resolve to boost investments and expand its already ambitious growth plan. Amgen has systematically been using excess cash to pursue internal and external opportunities that can offer high risk adjusted return on investment capital, without, however, deviating from its principles of focus and capital discipline. While the company remains focused on investing to grow, its revamped business plan is aimed at achieving an internal transformation toward a more agile and efficient operating model. This is one of the key reasons that Amgen notably increased its 2016 guidance, and partly explains the improving performance we have already observed in the firms main financial metrics.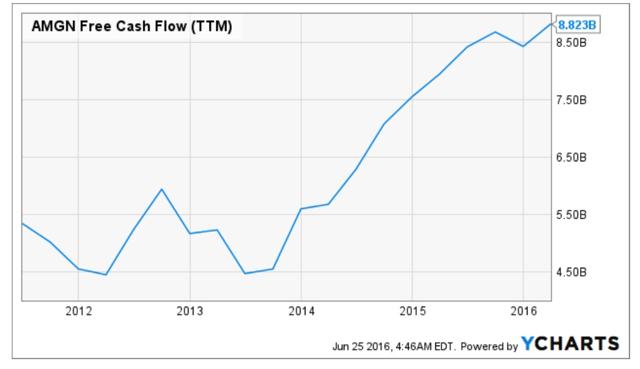 Another notable development which confirms the confidence and financial strength of Amgen is the continuous dividend increase, which is a testament to the firm's commitment to enhance shareholder value. It also indicates that the company is currently on a sound footing and remains determined and able to reward shareholders, not only through capital appreciation, but also through a steadily growing dividend yield.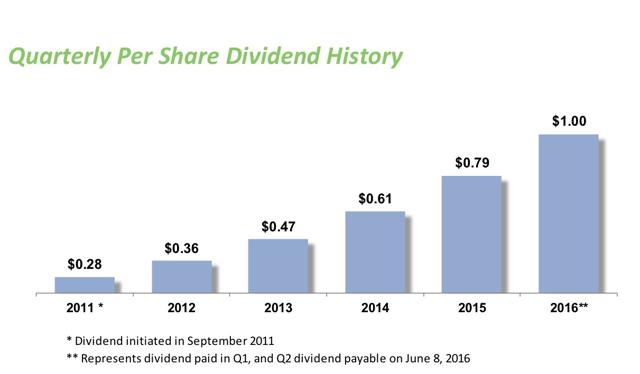 Technical View
While the company's business performance continues to excel, the market's response has been rather perplexing as of late. A notable divergence has been building between the key fundamental ratios, which have demonstrated considerable improvement, and the price behavior of Amgen's shares, with the upward trend appearing to be stalling, albeit on a short-term basis. This is also confirmed by the price to earnings ratio which has been on a prolonged downtrend, suggesting that the value that can be found here is increasing. In fact, most of the available data converge to the conclusion that the value investors can currently find in this company is unquestionably tempting.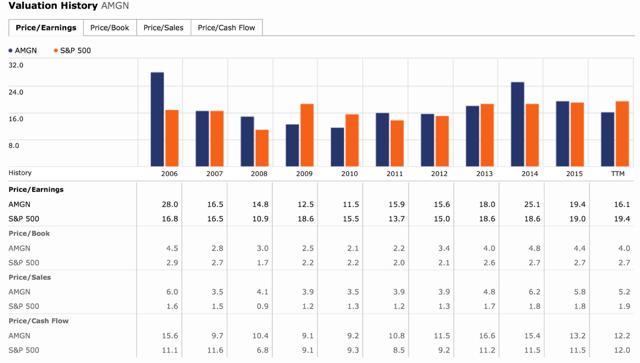 From a long-term technical perspective, the direction is still upward, but the recent price action shows a lack of conviction among investors. It is possible that further consolidation is required before we see a decisive price movement that will offer more clarity regarding the sustainability of the price gains we have witnessed in recent years.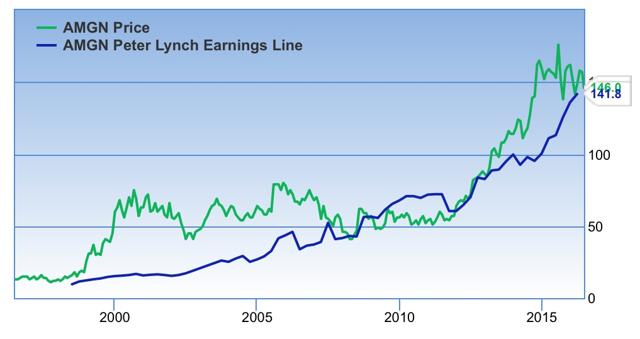 The relative strength index (RSI) signals that we are approaching oversold levels, and hence, there is plenty of room for further gains, without giving rise to technical concerns. Conversely, the popular MACD indicator shows that the downward momentum remains significant on a short-term basis, which means that caution is necessary here.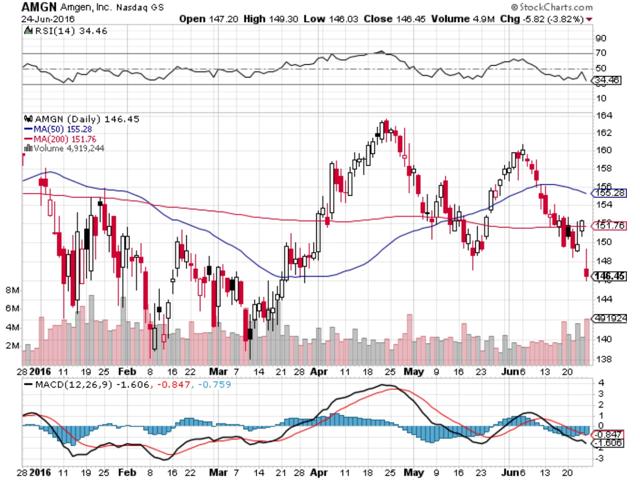 Conclusion
We are entering a period of heightened uncertainty. Financial markets are in shock after the unexpected outcome of the British referendum, which has led to massive losses in equities and a frantic demand for safe haven assets. The market turbulence is likely to persist in the weeks and, possibly, months to come, which is why investors who decide to buy stocks at this time, should strive to focus on sound businesses, with a proven track record, consistency in their performance, and in sectors where demand is unlikely to a suffer major declines in the event of protracted macroeconomic disruptions.
The cautious approach market participants have recently adopted for Amgen likely presents us with a rare investment opportunity. However, patience is required to determine the optimal timing for entry, especially if we take into account the high probability that the violent market gyrations which started on Friday are nowhere near over. Still, Amgen could be considered a relatively safe investment, offering the combination of accelerating business expansion, improving profitability, and the reliability of an indisputable market leader. At these price levels the value in Amgen's shares is arguably too compelling to ignore.
Disclosure: I/we have no positions in any stocks mentioned, and no plans to initiate any positions within the next 72 hours.
I wrote this article myself, and it expresses my own opinions. I am not receiving compensation for it (other than from Seeking Alpha). I have no business relationship with any company whose stock is mentioned in this article.