Last month, I published an article here on Seeking Alpha about the Eagle Ford and the future (looking out through the rest of this year alone) of oil output in the region. In it, I concluded that oil output should fall meaningfully this year but it's important to keep in mind the fact that some data can change over time. It is with this in mind that I've decided to dig back into the data, provided in the government's monthly Drilling Productivity Report and figure out what it means for companies like Memorial Production Partners (NASDAQ:MEMP), Approach Resources (NASDAQ:AREX), and Legacy Reserves (NASDAQ:LGCY), as well as for those in the United States Oil ETF (NYSEARCA:USO) and other oil-related ETFs.
Looking back at my prior forecast
In my last piece on the topic, I had to rely on three core assumptions so as to try and predict what the future will look like in the Eagle Ford in terms of production through the rest of this year. The first indicator I analyzed was the change in rig count over time. In my last assessment on the issue, I had concluded that we should see the rig count fall by about 9 units per month for the remainder of the year. During the past month, the rig count fell by 10 from 42 to 32 but with higher oil prices hitting us, I've decided to keep my original assumption unchanged for now.
On top of having a firm estimate on the rig count in the Eagle Ford, I had to figure out what made sense from a month-to-month change in the rig productivity improvement rate. In my last article covering the region, I figured that the area should see a monthly improvement rate of about 2.5% but, as you can see in the graph below, that number appears to be a bit higher now. It is because of this revision by the EIA (Energy Information Administration) that I've decided to increase my forecast modestly to 2.75%. Keeping all else the same, this is a bearish move but it is, in my opinion, warranted thanks to the data provided.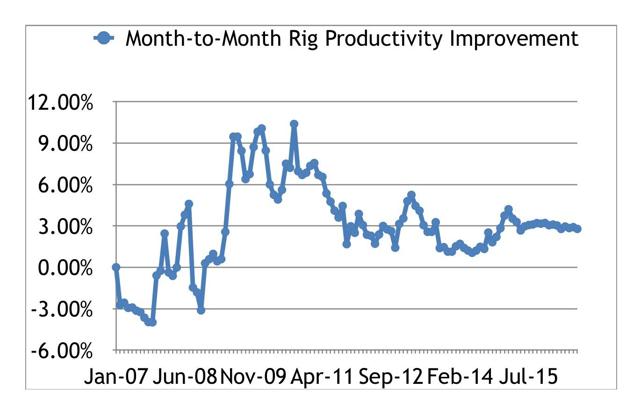 *Source: Created by author with data from the EIA's Drilling Productivity Report
Finally, I had to look at the picture from a decline-rate perspective. In my article on the Eagle Ford last month, I determined that we would use a three-tiered system. The first would be a conservative scenario, whereby the decline rate would average 7.5% per month. Meanwhile, there would be a moderate scenario where the rate would average 8.25% per month and there would also be a liberal one where the rate would average 9% each month. As you can see in the graph below, this picture has changed and the current decline rate appears to be around 8.5%. For this reason, I am keeping my conservative scenario unchanged but increasing the moderate scenario to 8.5% while raising the liberal one to 9.5%. These changes are, by nature, bullish.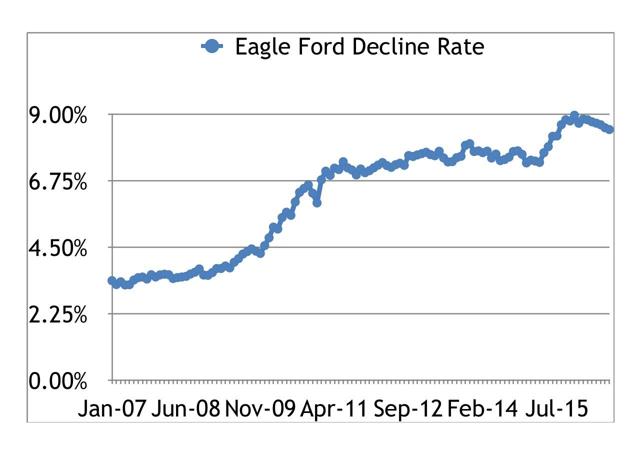 *Source: Created by author with data from the EIA's Drilling Productivity Report
Using my prior data on the region, I was able to create the table below. In it, you can see that the amount of production generated in the Eagle Ford this year should fall by a great deal year-over-year. By December of 2016, investors could have expected output to average 818,776 barrels per day under the conservative scenario, a mighty fall from the now-revised December 2015 number of 1,519,372 barrels per day. Under the moderate (and most likely) scenario, output would decline to 780,683 barrels per day, while the liberal (and least likely) scenario would see output drop to 744,089 barrels per day by the end of this year.

*Source: Created by author with data from the EIA's Drilling Productivity Report
The picture has gotten a bit better
Unlike in the case of the Permian, which resulted in a large upward revision in production, the Eagle Ford should see the picture improve compared to what I anticipated just one month ago. Based on my findings, which can be seen in the table below, production under the conservative scenario by the end of this year should average 816,702 barrels per day. Under the moderate scenario, investors can expect this number to fall to 774,123 barrels per day, and the liberal scenario would result in output of 733,346 barrels per day by December of 2016.

*Source: Created by author with data from the EIA's Drilling Productivity Report
To best illustrate how my numbers have changed, I created the following table below. In it, you can see that, should the conservative scenario come to fruition, output this December will be 2,074 barrels lower than I thought it would be just a month ago. Under the moderate scenario, that number increases to an additional drop of 6,560 barrels per day and under the liberal scenario, which I'm not personally counting on, we are looking at an added drop of 10,744 barrels per day.

*Source: Created by author with data from the EIA's Drilling Productivity Report
Takeaway
As of the time of this writing, the picture in the Eagle Ford for oil bulls is certainly upbeat. Unfortunately, it does not offset the ugliness of what can be expected in the Permian if the rig count doesn't fall again, but any drop in output anywhere is a net positive for investors in the oil space. Moving forward, I will continue to monitor all of the seven major oil regions but I do feel confident, still, in my overall bullish thesis on crude and I believe that, down the road, prices warrant an increase over where they are today.
Disclosure: I am/we are long AREX, MEMP, LGCY.
I wrote this article myself, and it expresses my own opinions. I am not receiving compensation for it (other than from Seeking Alpha). I have no business relationship with any company whose stock is mentioned in this article.
Additional disclosure: My LGCY position is in the form of preferred units, not common ones.
Editor's Note: This article covers one or more stocks trading at less than $1 per share and/or with less than a $100 million market cap. Please be aware of the risks associated with these stocks.