MACROECONOMIC NEWS
ARGENTINA: Agreed with BRAZIL to extend a bilateral deal on automobile exports for another 4 years. The government announced the deal on Saturday after a round of trade talks in Brasilia. It will allow Brazil to export $150 in vehicle value for every $100 it imports from Argentina.
CHILE: Finance Minister Rodrigo Valdes said that the country is "well prepared" to confront any market volatility following Brexit. He stressed that the two nations had relatively little economic exposure to one another. Chilean shipments to Britain represent only slightly more than 1% of total exports.
MEXICO: Following Brexit news, the Ministry of Finance, the central bank (Banxico), and the Ministry of Economy released a joint statement in an effort to address uncertainty. Another spending cut was announced for P$31.7 billion to the 2016 budget. All cuts will come exclusively from the federal government. Of those, 91.7% correspond to current spending. The Ministry of Finance reiterated the goal to achieve a primary surplus in 2017 and highlighted that 100% of the Federal Government's funding needs for this year has already been met. The central bank left the monetary rate unchanged at 3.75% and stated that it will only consider direct FX interventions if the exchange rate shows a disorderly or uneven performance inherent to the Mexican peso. During Friday's bloody session, two Mexican ADRs were badly hit: Cemex (NYSE:CX) -13.53% and Ica (NYSE:ICA) -11.27%.
MEXICO: Despite falling 1.4% MoM, retail sales maintained a strong pace at the beginning of 2Q16, growing at a seasonally adjusted rate of 7.2% YoY in April. In the Jan-April period, retail sales rose 6.8% YoY (vs. 5.0% YoY in 2015). Home appliances (+14.6% YOY), textiles (+13.5% YOY), stationary (+11.7% YOY), apparel (+14.4% YOY), and food and beverages (+8.6% YoY) were the categories that increased the most on an annual basis.
PERU: Outgoing Finance Minister Alonso Segura declared that he was monitoring local markets following the UK's vote to leave the European Union. He said that economic impacts would likely be indirect and felt in the medium-term. The PEN depreciated 0.9% during Friday's bloody session.
Latin American ETFs (June 24): Latin America (NYSEARCA:ILF) -5.6%, Argentina (NYSEARCA:ARGT) -4.7%, Brazil (NYSEARCA:EWZ) -4.3%, Chile (BATS:ECH) -5.1%, Colombia (NYSEARCA:GXG) -3.9%, Mexico (NYSEARCA:EWW) -6.7%, Peru (NYSEARCA:EPU) -2.8%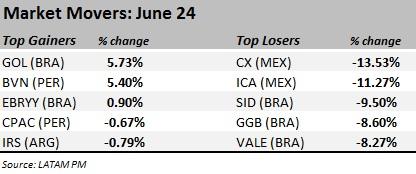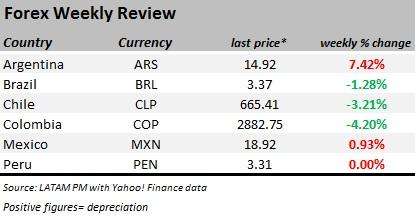 CORPORATE HIGHLIGHTS
BRAZIL: SANTANDER (NYSE:BSBR) significantly underperformed the iBovespa (equity index) following Brexit news and Friday's bloody trading session, driven by concerns related to its parent company. Since the tender offer taken place in 2014, the Spanish controller holds roughly 90% of the Brazilian subsidiary.
BRAZIL: Despite the slight BRL depreciation, exporter sectors underperformed the index on Friday on the back of perspectives of lower global demand and the impacts of FX on companies' USD-denominated debt. On Friday, the index fell 2.86% while the BRL depreciated 1.2%. The country ETF fell 4.3% on Friday.
CHILE: The IPSA (equity index) was down roughly 1.42%. The COP fell 1.36% following the UK's referendum. According to the WTO, Europe represents 1.2% of the Andean country's commercial trade. The country ETF fell 5.1% on Friday.
MEXICO: ALSEA is in the run to purchase the Chilean group G&N. G&N currently holds a 3.6% market share in Chile's food service industry. It has annual sales of around $200 million. ALSEA operates 118 restaurants in Chile, and recently signed an exclusive agreement to operate the Chili's brand in Chile. The move goes in line with the company's efforts to increase its scale and achieve some operating leverage.
MEXICO: Following Brexit, GBM Research-country's largest broker by trading volume- published a list of equities with exposure to Europe:
Stocks MOST exposed to Europe:
SIGMA - 36% of sales in Europe
MEXCHEM - 35% of sales in Europe; UK is 8%
NEMAK - 30% of sales in Europe
ALSEA - 21% of sales in Europe, and 25% of EBITDA comes from Spain alone
GISSA - 18% of sales in Europe
CEMEX - 12.7% of EBITDA comes from Europe (half directly from UK)
KUO - 14% of sales in Europe
GMEXICO - 10% of sales in Europe
AMX (NYSE:AMX) - 9% of EBITDA comes from Europe
Stocks LESS (but still somewhat) exposed to Europe:
BIMBO - less than 5% of EBITDA
GRUMA - less than 5% of EBITDA
VITRO - 5% of sales in Europe
ASUR (NYSE:ASR) - 6.5% of passenger traffic comes from Europe
ALPEK - 3% of sales are exports
AEROMEX - 3% of sales from Europe
Disclosure: I/we have no positions in any stocks mentioned, and no plans to initiate any positions within the next 72 hours.
I wrote this article myself, and it expresses my own opinions. I am not receiving compensation for it (other than from Seeking Alpha). I have no business relationship with any company whose stock is mentioned in this article.
Editor's Note: This article covers one or more stocks trading at less than $1 per share and/or with less than a $100 million market cap. Please be aware of the risks associated with these stocks.