Intel (NASDAQ:INTC) has recently launched its latest Broadwell-EX Xeon processor range for running mission critical computing workloads, such as analytics and in-memory database. The range consists of Xeon E7-4800 v4 and E7-8800 v4 processor families. The E7-4800 family is ideally suitable for multi-core servers and the E7-8800 family is for world domination, according to an AnandTech article.
Intel's server dominance is well-known. Despite that Intel is claiming the latest Xeon is more efficient than IBM's (NYSE:IBM) Power8 family of high-end processors. Does that mean Intel is trying to protect its server market share? Since IBM has made significant progress in analytics with Watson, is Intel anticipating an unexpected IBM attack in its server market share?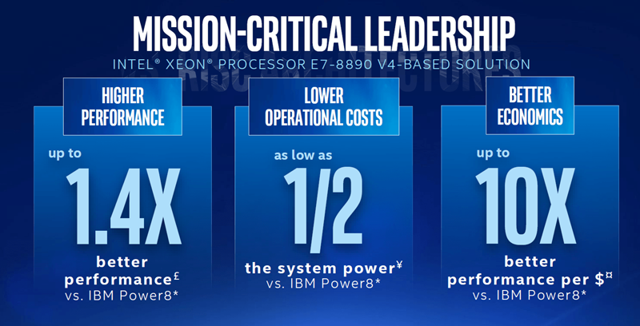 Intel Trying To Protect Market Share?
In October 2015, IBM launched its OpenPower-based Linux servers and claimed that the servers are capable of offering 2.3x better performance per dollar compared to Intel's E5-2699 v3 processor-based servers for running workloads such as analytics and cloud. I published an article following IBM's launch of the Linux servers to assess if it was a threat to Intel and concluded that Intel shouldn't worry about IBM's strategy. Instead, Intel should continue to release new Xeon processors.
It's now Intel's turn to show off how cost-competitive its latest Xeon E7 v4 CPU range is compared to IBM's products for running similar workloads. Intel claims that the latest Xeon is capable of offering up to 1.4x better performance, half the system power and 10x better performance per dollar compared to Power8-based servers.
The Xeon E7 v4 features more cores and larger cache over the previous version with 24 cores (18 cores in v3) and 60MB of last-level cache (45MB in v3). Intel wanted to make sure that customers stay with it while upgrading their servers instead of joining the IBM camp. The moot question is can Intel keep its server market share intact with the latest Xeon or IBM's Power8 will grab a significant part of its market share?
IBM Has Certain Competitive Advantages
As I pointed out in a previous article, IBM's aim is to challenge Intel's server dominance by making its Power servers more compatible with predictive analytics and cognitive Watson solutions. In addition, IBM is offering SAP's (NYSE:SAP) HANA, the in-memory database platform, on Power because for large datasets and processing requirements of HANA, the Power server line is more suitable than Intel's commodity processors.
Can Intel go beyond the limits of offering commodity processors with the latest Xeon processor range? Sure it can. Given that the performance of a processor meaningfully depends on how the corresponding software is architected, Intel's recent effort to offer innovative tools to software developers via Intel MKL (math kernel library) and Intel DAAL (data analytics acceleration library) can help Chipzilla offer specialized processors.
However, it will take time to empower the developer community to build software that can take the advantages of the latest Xeon's highly powerful cores and larger cache. Meanwhile, IBM will also upgrade its developer libraries and allow its users to capitalize on the advantages of Linux, OpenStack and KVM, which are its strongholds.
Intel's Clever Marketing Strategy Makes It Well-Positioned
As I mentioned in the beginning, Intel said that the new Xeon E7 is targeted for real-time analytics and other mission critical computing workloads, including in-memory database and big data. As far as analytics is concerned, enterprises don't need to upgrade existing servers because analytics workloads are steadily shifting to the cloud.
In addition, for running analytics workload per se CIOs don't need to upgrade servers. Isn't it obvious that if a CPU is made stronger in every respect, it will deliver performance boost for every workload in general including analytics? Intel knows that it's true. Despite that it is saying the new Xeon is capable of delivering double analytics performance than the previous version. This is an example of Intel's clever and aggressive marketing strategy, an area where IBM is weaker than Intel. Since analytics is latest buzzword in IT, Intel has chosen to use the term in order to popularize its new highest-end Xeon.
However, comparing the new Xeon with IBM's Power8 is aimed at achieving a different goal. IBM has made significant progress in the analytics market with Watson. IBM is now trying to expand its server market share leveraging its competitive advantage in analytics. Intel's objective is preventing IBM from gaining market share.
Conclusion
Analytics is everywhere, and it's closely tied with big data. For the highest-end Xeon E7, there is always steady demand. This is because whenever Intel brings a new version of Xeon E7 to the market, it increases core count, last-level cache and RAS (reliability, availability and serviceability) features. The latest Xeon won't alter the existing competitive landscape in Intel's favor because of performance boost. However, it will certainly help Intel keep the existing market share intact.
Disclosure: I am/we are long INTC, IBM.
I wrote this article myself, and it expresses my own opinions. I am not receiving compensation for it (other than from Seeking Alpha). I have no business relationship with any company whose stock is mentioned in this article.