The athleisure trend has changed the landscape of the athletic apparel industry. Although Nike is still the time tested giant in a class of their own, up-an-coming companies have carved out their own niches in this fashion trend and built themselves what looks like long lasting businesses. With so many investment options on the table, which opportunities present the most upside to investors?
Nike (NYSE:NKE)
The king of its class, Nike is the dominating brand in its industry. With a market capitalization of $87.9 billion, they are the largest of the bunch with the most stable and time tested business plan. However, has the athleisure trend proved to be a growth prospect for Nike, or an opportunity for their competitors to eat into their market?
Trading at a PE of 24.37, Nike is a distance from a deep value investment, however there is still some value in their stock. The company has claimed an ambitious sales goal of $50 billion in revenue by 2020. Although enticing, they haven't quite showed that they can grow their revenue to reach that goal as they have posted some less than stellar topline numbers the last couple of quarters. If Nike was to succeed in their revenue target, I believe their fair equity value would be in the range of $150-160 billion based on future free cash flow. However, as each day passes I question whether they will even come within striking distance of their projection.
So how do we play Nike? Well, their $50 billion promise implies a compounded growth rate of 10%, which would make them a growth play. However, I can't rely on that promise alone to justify an investment into the footwear giant. The real key here is that Nike is the safest stock of the bunch as it includes low volatility, stable dividend, consistent growth, and a strong balance sheet. Their last balance sheet shows their cash exceeding their long-term debt by about a billion dollars. But what is also important to understand about Nike is their brand and business plan. While many companies are trying to capitalize on the athleisure trend, Nike has always focused on creating quality athletic for sports enhancement. This has worked well for Nike over the years and is a big reason why they won't crash and burn when the athleisure trend eventually fizzles out. The chart below shows that Nike has been paying out small but consistently increasing dividends with a currently declining payout ratio - a good sign for investors.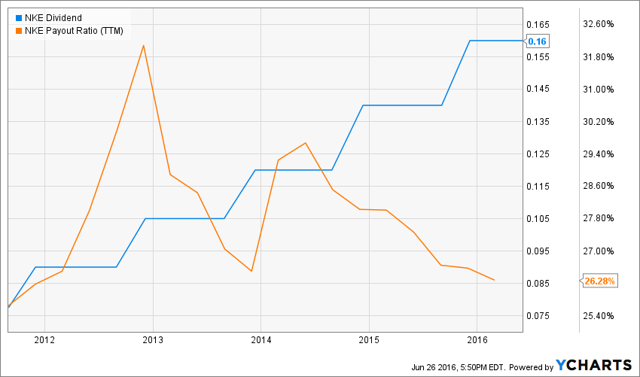 Source: YCharts
Verdict: Nike is the top dog for true athletic sports apparel, and I don't see that changing any time soon. The athleisure trend is just a nice boost to the company's revenue; however, when it fizzles out, Nike will be one of the few still standing strong. BUY.
Lululemon Athletica (NASDAQ:LULU)
Like Nike, Lululemon has set the bar pretty high for themselves with their CFO claiming sales to double by 2020 and net profit to more than double. Such targets can either motivate investors or make them skeptical. Currently, I am a bit skeptical. The company barely doubled their revenue from 2012-2016, which is surprising because this is when Lululemon should have being running with the athleisure trend. They positioned themselves specifically in targeting the female market and designing clothing to be worn to fit the athleisure trend setters by implementing luxury pricing and fashionable designing to fit the female form in a flattering way.
Lululemon believes they may get a bigger spike in sales than in the past by capturing the male market. However, if this is the catalyst that they think will double sales, then they are far more naïve than Under Armour was when they set out to capture the female market. Lululemon has definitely made their name in females' fashionable athletic clothing, but that is as far as it goes. It is unlikely they will be able to capture a large part of the male market this late into the athleisure trend who are already brand loyal to the likes of Nike and Under Armour. What is even more, it is unlikely that Lululemon will keep revenue stable over the long-term when the athleisure trend begins to fizzle and the larger brands like Nike continue to grow through newer markets and product innovation for the more specific athletic apparel shoppers.
Verdict: Some people have been harsh on Lululemon, expecting them to grow at a higher rate out of the athleisure trend, however I am fairly impressed with what they have done. I think they have posted impressive growth and built strong brand loyalty among the female market - both female athletes and female athleisure fashionistas. And they have an operating margin of 16.8%, which is more than double the apparel stores industry average, all while keeping a clean balance sheet. The problem is that I just don't see them coming close to their growth projections in this competitive market. Lululemon will be around for a long time, but their $9 billion market cap just doesn't give me enough room to get excited about this one. SKIP IT.
Under Armour (NYSE:UA)
At a PE ratio of 70 you might mistake Under Armour for a software startup. The athletic apparel manufacturer has been riding high valuation multiples for quite some time, but that is only because they back it up quarter after quarter. It's hard to not have a lot of respect for this company. Under Armour saw the athleisure trend and just ran with it. It's clear to me that they want to compete at the top with Nike, lacking in no product or market, hence their movement into footwear, female marketing campaigns, and innovative technology.
I think Under Armour has done the most with the athleisure trend by pushing themselves into a position where they can become a serious competitor in sports apparel long after the athleisure trend fizzles, by building brand loyalty and creating innovative products along several different lines of apparel. They have earned a lot of respect from Wall Street investors for good reason. The chart below shows their annual YoY revenue growth compared to Nike and Lululemon.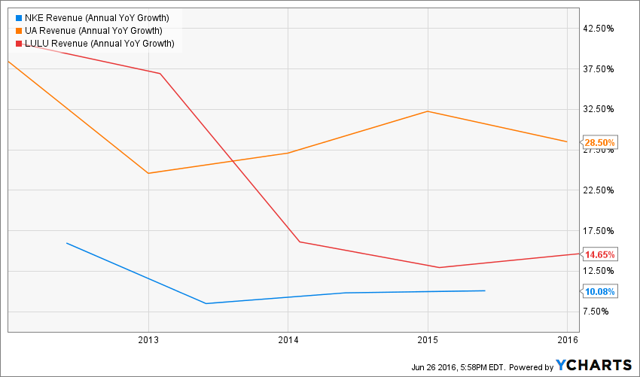 Source: YCharts
Verdict: There is only one play on Under Armour and that is a growth play. The company doesn't post stellar margins as they have been pumping much cash into their business, which also makes their balance sheet weaker than some of their rivals, but still not too bad. Under Armour looks like they are floating at a high market cap of $16.3 billion, but with a 3-year growth rate of 29.3%, this company might be on their way to a $30 billion valuation. Right now their revenue for the trailing twelve months is $4.2 billion. Using their current growth rate, Under Armour could exceed $8 billion in sales by fiscal 2018. Even if they achieve $7.5 billion, the company will likely trade at a 3 times sales conservatively totaling $22.5 billion. I like the growth prospects here. BUY.
Skechers (NYSE:SKX)
Unlike the other growth stocks that have come out of the athleisure trend, Skechers is a different kind of play - value. Perhaps its investors seeking growth in this arena which has led to this company being a value play. But don't let Skechers PE ratio of 15.9 fool you - they aren't just a value play. Skechers has a 3-year revenue growth rate of 26.3%, which isn't far off from Under Armour. The company also carries a beautiful balance sheet with minimal debt and strong liquidity.
Skechers made a smart play on the athleisure trend by signing celebrities like Meghan Trainor, Demi Lovato, and Ringo Starr, rather than competing for single 8 figure endorsement contracts in the NBA. Skechers has been a strong force that seems to have gone under the radar. The chart below shows Skechers revenue growth in comparison to their stock price over the last 5 years.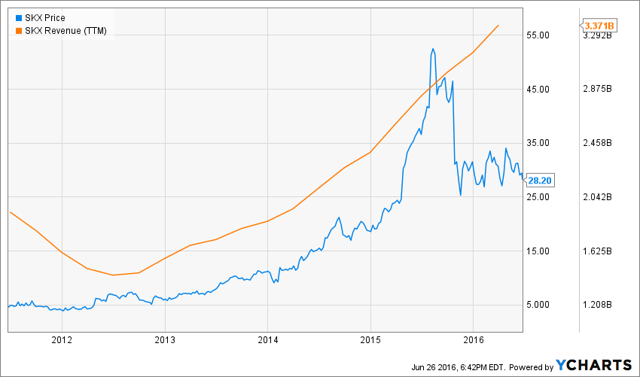 Source: YCharts
Verdict: Skechers is a definite value play opportunity. Trading below the footwear industry averages in all valuation multiples, Skechers is being overlooked for more growth stocks. Nevertheless, Skechers is posting incredible growth across their top and bottom lines, but their stock just isn't moving. This stock can only stay under the radar for so long before investors pick it up. BUY.
Conclusion
The athleisure trend is still strong and companies are capitalizing on it, but it won't last forever. Eventually, the athleisure trend will fizzle out like any other fashion trend. Nevertheless, I believe the four companies I laid out above will last past the death of the athleisure trend, however some will be standing stronger than others. Nike will remain the safest and strongest stock for investors looking to cash in on the athleisure trend with limited volatility. I believe Under Armour will be the next big player in athletic apparel, albeit still a distant second from Nike. And for the short-term, I believe Skechers is the tiny gem that investors have overlooked.
Disclosure: I/we have no positions in any stocks mentioned, and no plans to initiate any positions within the next 72 hours.
I wrote this article myself, and it expresses my own opinions. I am not receiving compensation for it (other than from Seeking Alpha). I have no business relationship with any company whose stock is mentioned in this article.