While everyone was reacting to the Britain decision to exit the European Union on Thursday night, I took the opportunity to take advantage of the recent pullback in the stock market. Two index fund I had my eyes on was the iShares Core S&P Total U.S. Stock Market ETF (NYSEARCA:ITOT) and the iShares Core S&P 500 ETF (NYSEARCA:IVV).
Why was these two index funds a Buy over the rest of the other great index funds out there?
Here was my three main reasons:
Low fees
Diversification
Brexit effects
Low Fees:
The main reason why I considered ITOT and IVV was because of the low fees each one of these index fund offered. The iShares Core total U.S Stock Market had a fee of 0.03% while the Core S&P 500 had 0.07% as stated in its prospectus. That means for every $1000 dollars invested, you would pay 30 cents per year to own ITOT and 70 cents per year to own IVV. That was really cheap when you think about it in term of money. Now, what do you get in returns? You get to own a share percentage of each companies within the index fund. No more worrying about following the stock or what they are doing to stay competitive. ITOT had a dividend yield of 1.95% and IVV had a dividend yield of 2.25% respectively. To look at this in a simpler perspective, if the stock price did not change for the whole year, you would gain about 2 percent a year while paying only 0.03% or 0.07% to own it. Lastly, I considered these two index funds is due to the fact that I had a fidelity brokerage account which cost me nothing in terms of trading commission to acquire these stocks. As Jack Bogle said:
The case for indexing isn't based on the efficient market hypothesis. It's based on the simple arithmetic of the cost matters hypothesis. In many areas of the market, there will be a loser for every winner so, on average, investors will get the return of that market less fees.
Diversification:
The second reason why I bought ITOT and IVV was due to diversification. Per ITOT prospectus sheet, the index fund had a total of 3798 holdings and the breakdown of the index fund portfolio is shown below: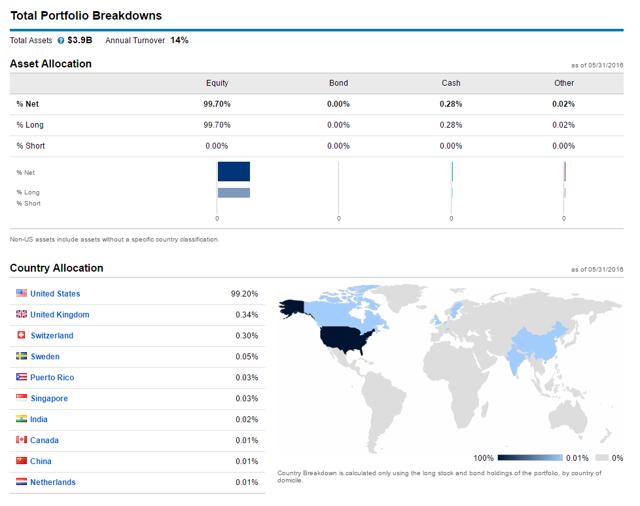 Source: Charles Schwab
The figure above showed that it has holdings and assets that are worldwide from United Kingdom to China. This is great for investor looking to not only investing here domestically but also looking for exposure to international markets and emerging markets. As Burton Malkiel stated recently in his article on ThinkAdvisor
It pays to remember that, within a global stock portfolio, the diversification benefits of adding emerging markets could actually reduce overall risk. More importantly, I'd argue that it will improve returns in the years ahead: Valuations are considerably lower than they are in developed markets and, combined with higher economic growth rates, emerging markets are very likely to outperform over the next decade.

According to the World Bank, by 2050 both China and India will have GDPs exceeding that of the United States. The World Bank reduced its growth forecasts for the global economy in its January report summarized in the table below. But it noted increasingly divergent trends.
This made sense due to the fact that U.S. GDP growth has been slowed down recently while country such as China and India had a greater GDP growth rate. In fact, U.S. GDP last quarter was 0.8 while China was 6.7% and India was 7.9% respectively.
Now, looking at IVV's prospectus, again, it provided diversification for investor looking to invest in a larger companies particularly those within the S&P500. The reason why I bought IVV was due to the fact that the S&P500 will be able to weather any major impact from the Brexit event as well as other type of recession. Granted, the S&P500 lost nearly 50% of its value during the Great Recession, nevertheless, so did majorities of U.S. companies. In fact, the S&P500 average return historically has been 10%. IVV current holding allocation allowed investor to invest domestically as well as globally as most large companies are looking to expand globally in emerging and international markets. IVV's current yield is 2.25% and its fees was 0.07%. Again the fees compared to the current yield are very large which made the index fund attractive.
Brexit Effects:
The third final reason why I bought the ITOT and IVV was due to market reaction to the Brexit also known as the Britain decision to leave the European Union. While there was plenty of articles out there explaining the effects of the Brexit on global economy, one thing for sure, markets do not like uncertainty. In time of uncertainty, investors can seek out bargain and real value in their investment. I looked at both the ITOT and IVV as a bet on the U.S. economy and that U.S. companies should be able to weather through the storm. If U.S. companies can pull through during the Great Depression and Great Recession, I am no doubt that they will be able to pull through this Brexit. People will continue to drink Coca Cola, wash clothes, and go to work. I will be a continuing buyer of the U.S. stock market as it goes down due to these global news.
In Conclusion:
In any market uncertainty period, there lies great opportunity to buy great stocks or index fund. In this case, as market was reacting to the Brexit outcome, I took advantage of the opportunity to buy two of the great U.S. market index funds, ITOT and IVV. These two index fund will provide great diversification, low cost, and dividend income to my portfolio long term. I challenge the reader to look at opportunities out there including these two index funds and see if it is a fit within your own portfolio during this market correction.
For more stock insights, dividend income and passive investing, follow me on my site.
Disclosure: I am/we are long IVV, ITOT.
I wrote this article myself, and it expresses my own opinions. I am not receiving compensation for it (other than from Seeking Alpha). I have no business relationship with any company whose stock is mentioned in this article.