When I'm looking to invest more capital, one of the first stocks I check is Philip Morris (NYSE:PM). If you're willing to look past the cancer and death caused by their products, the dividend growth story is excellent. Their limited history as a company is simply the result of being spun off from Altria Group (NYSE:MO). If investors are using traditional screening metrics like the years of dividend increases, PM might not show up on their radar since MO may take all the credit.
Are We Tired of Brexit Yet?
The news still loves this story, but I just want to focus on separating the fluff from the real impacts. In my opinion, there is far more of the former than the latter unless investors are focused on the implications for central banks. The chance for an increase in rates just decreased dramatically and that means more investors clamoring for income. That demand for income may send Philip Morris stock higher even after it took a hit for about 4% the day after the Brexit vote.
Should Brexit Matter to Philip Morris?
This is actually a fairly tough question to answer because Philip Morris hasn't identified Britain or the United Kingdom as a "key market" for breaking out statistics. I pulled the latest 10-Q and the 10-K that was filed before that. The goal was simply to look at how much product was being shipped into Britain so I could prepare some estimates on the worst case scenario that would only exist if Britain somehow failed to negotiate new trade terms for the shipment of smokes.
It turns out that Philip Morris mentions the United Kingdom occasionally, but doesn't view the market as being worthy of a special table. When Philip Morris breaks out the shipment volume for an individual country, it looks like this:

Note that the example table has the data for France. This example is provided to demonstrate how Philip Morris provides the data.
I pull the data for total shipments to the EU and then I pull the data for each individual country listed within the EU and compare the data. The result is this chart: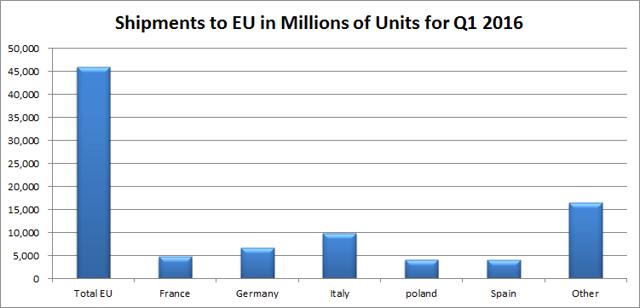 In total for the first quarter around 46 billion units were sent to the EU. Five markets were highlighted and after totaling up their positions there were about 16.4 billion units that were not accounted for. Those are simply lumped under the "other" category.
Since Britain is Not Highlighted
With no special breakout for Britain, I would have to assume that their shipment volume on average is probably less than that for France, Poland, or Spain. Therefore, I'm predicting that something less than 4 billion units per quarter would be shipped into Britain. Or in other words, about 9% of the total volume would be my estimate for worst case scenario. During Q1 of 2016 Philip Morris had $2,473 million in operating income. This is after deductions for items like general overhead that are not applied to a single geographic area. $906 million was contributed from operations within the EU. A 9% decline in income from the EU would cost roughly $81 million per quarter. That leads to an estimate of about 3.275% of total operating income if Britain was moving as many units as Poland and Spain and if 100% of those sales disappeared.
That would be a large enough hit to be material, but the premise that 100% of sales would disappear is going heavily overboard. If anything, I think the economic stress on the people of Britain could drive consumption slightly higher. Further, I doubt Philip Morris will have a terribly hard time navigating this situation. Yes, it is a new and unique situation. However, Philip Morris has proven that their employees are more than competent at building distribution networks across the globe.
The more likely scenario, in my opinion, is that consumption remains relatively stable with increases or decreases in units sold moving in only the single digits. However, the British Pound weakened against the U.S. Dollar. Bloomberg has a great tool for charting the value of currencies relative to each other: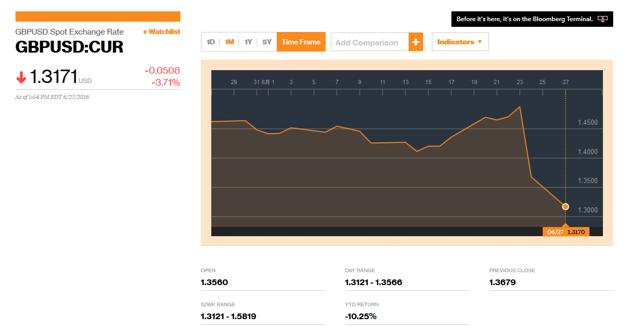 Over the last 2 days we've seen the pound weaken by about 10% against the USD (United States Dollar). If consumption remains the same but there is a 10% currency headwind on sales (without an offsetting decline in cost of production), the decline to income should be slightly more than 10%. Most companies would see a 10% decline in revenue while shipping the same number of units as a huge decline in earnings, but the largest cost for Philip Morris by far is the tax on sales. That tax should also be paid in British Pounds. The physical goods sold by Philip Morris are a fairly small portion of the sales price.
Net Impact
My best estimate is that the weakening of the British Pound would hamper the contribution to operating income by about 12% of what would have otherwise been earned there. By my estimate, that should have been something less than 3.275% of operating income. The net projected result is that this harms operating income by at most 0.39%.
Strength of Dollar
The bigger issue facing Philip Morris is the general strength of the dollar against other currencies. Stress in the markets creates a flight to quality which causes more foreign currencies to be exchanged for dollars. The dollar becomes stronger against several currencies which leads to headwinds from sales in other areas.
The "Dollar Index", which measures the dollar against a basket of foreign currencies increased from about 94 to about 96.5 so far. Over the last year it has ranged from about 92.6, a low achieved in early May, to a high that was just over 100 at the end of November 2015.
A cheaper dollar is better for Philip Morris because it means more earnings and cash flows coming back from sales in foreign currencies. Therefore, the strength in the dollar is a problem but it isn't a huge problem because it is still around the middle of the range it occupied over the last year.
A Sale Would Be Nice
I'm already long Philip Morris, but I was watching it for a potential sale opportunity after the weakness in prices on Friday. It looks like a sale won't materialize. If prices drop back closer to $90, I'll look to take another bite of Philip Morris. If prices are dipping, the biggest concern for me would be seeing the dollar index breaking over 100 to reach new highs. Philip Morris needs to be able to continue their string of dividend increases and the biggest threat I see to their business is simply too much strength in the dollar.
The latest price, around $96, is still a fair price for this dividend champion. By $90, it would be a steal.
Disclosure: I am/we are long PM, MO.
I wrote this article myself, and it expresses my own opinions. I am not receiving compensation for it (other than from Seeking Alpha). I have no business relationship with any company whose stock is mentioned in this article.
Additional disclosure: Information in this article represents the opinion of the analyst. All statements are represented as opinions, rather than facts, and should not be construed as advice to buy or sell a security. This article is prepared solely for publication on Seeking Alpha and any reproduction of it on other sites is unauthorized. Ratings of "outperform" and "underperform" reflect the analyst's estimation of a divergence between the market value for a security and the price that would be appropriate given the potential for risks and returns relative to other securities. The analyst does not know your particular objectives for returns or constraints upon investing. All investors are encouraged to do their own research before making any investment decision. Information is regularly obtained from Yahoo Finance, Google Finance, and SEC Database. If Yahoo, Google, or the SEC database contained faulty or old information it could be incorporated into my analysis.