Facebook (NASDAQ:FB) has experienced strong downward trending in its stock price after reaching a 52-week high of $121/share. Today, two days after the Brexit and after weeks of pressure, Facebook is trading at approximately $108/share. Is it time to pull the trigger? As I will discuss below, I am waiting for a better price before considering beginning a position in Facebook.
Momentum Analysis
I like to begin with momentum, and how the stock and surrounding sentiment has been performing over the short term. When a stock's 50 day moving average crosses BELOW it's 200 day, I consider this a negative indicator and a sign that the stock has further to drop. If, instead, there is a bullish crossover and the 50 day crosses above the 200 day, this can be indicative of positive momentum and higher prices in the future. Where does FB stand?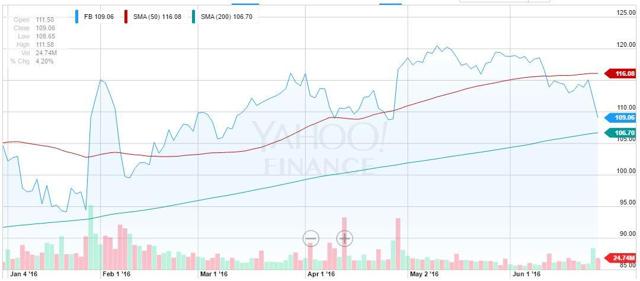 Taking a look at Facebook's moving averages gives us a somewhat inconclusive result. The 50 day has been above the 200 day for the entire calendar 2016. This seemed interesting, so I expanded the time frame to cover the last 2 years, back to July 2014. What this revealed was even more stunning: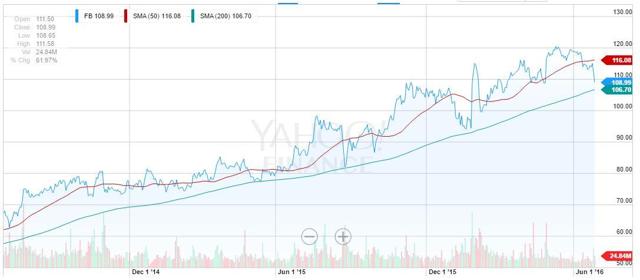 Facebook's 50 day moving average has NEVER crossed below its 200 day for the last 24 months. It simply has not had a long, sustained sell-off period, and bulls have come in to buy up shares whenever the stock languishes. On this factor, I believe bulls will do the same before FB languishes for much longer, and I rate this a plus for the stock.
International Exposure & Currency Headwinds
I encourage readers to take a look at the analysis of Facebook's most recent quarter and the impact of a strong dollar. Although the quarter saw the dollar weakening from its high, the recent Brexit has the dollar strengthening once more. As a result, I know expect currency to have a worse impact than it did the previous quarter, and as a result numbers are going to be lighter than expected.
Unlike this recent post on FB's users, I don't see how a Brexit or even a resulting Eurozone recession will affect people from using and shopping on Facebook. The fact remains that people are more likely to purchase something due to a recommendation from a friend, and that is the premise that Facebook's advertising model is built upon. People still go to Facebook and Instagram to see what their friends are doing, what their idols are doing, and for ideas on what to buy. Furthermore, digital advertising is expecting to continue growing - advertisers may spend less during a recession, but online/mobile ads continue to be the preferred option given their low cost compared to ads like billboards, TV commercials and radio spots.
Facebook's Share of the Advertising Pie + New Ad Products
Facebook has several positive initiatives to continue attracting advertising dollars. Just this past week, in fact, Facebook's presence at the Cannes Lions advertising event in France where companies like Google, Twitter and Facebook have become increasingly part of the show. Facebook debuted its Creative Hub, a new tool (an online interface "where agencies can play with different ad formats for online and mobile") that will help ad creators on mobile. And followers of Facebook are familiar with the fact that mobile advertising accounts for over 80% of Facebook's ad revenue. It makes sense the company continues to innovate in ways to attract even more ad dollars. What I find most appealing about the Creative Hub is the ability for advertisers to create for Instagram - if Facebook can continue to open up Instagram and attract ad dollars, it will stay competitive in this space. Google and Facebook claimed 64% of the nearly $60bn online advertising revenue pie in 2015. I expect Facebook to continue to grow share with tools for Instagram, as well as for the total online ad spend to continue to experience double digit growth (last year was a 20% increase). Growing share in a growing market is a signal for a growing stock price.
Instagram
Last week Instagram announced it reached 500mn Monthly Active Users (MAUs) with growing international adoption. I will point readers to this excellent post in Instagram's trajectory - suffice it to say that Facebook is in the early innings of monetizing Instagram. Coupled with the experience it has in avoiding any kind of alienation of users with increasing ad load, I think Facebook will be smart with Instagram so that it does not turn users away.
Conclusion
Facebook has several good things going for it. I hope its international exposure leads to further short term weakness in the stock because it is still too expensive, trading at a 66 P/E. Only 10% below its highs, I want the stock to get back down into the 90s before I can spring for some.
Disclosure: I/we have no positions in any stocks mentioned, and no plans to initiate any positions within the next 72 hours.
I wrote this article myself, and it expresses my own opinions. I am not receiving compensation for it (other than from Seeking Alpha). I have no business relationship with any company whose stock is mentioned in this article.