In search of the next great investment, I found myself looking at Nike (NYSE:NKE) as possible investment. I haven't considered Nike as a realistic investment earlier in my investing career due to a lack of capital. However, now that I have a little capital, it time to take a closer look at Nike and why it is a great company to Buy. My investment thesis on why Nike is a buy goes back to when I was in the 2nd grade and I owned my first Michael Jordan's Jersey. At the time, I did not know much about Nike or what the company did. All I knew was basketball and Michael Jordan was a great player. As I grew up, I owned various shoes from Adidas to Vans. The first time I thought Nike was a great company was when I was camping out at Finishline in 2006 for a new pair of Jordan's with my friend. To see the great heights people went through for Jordan was astonishing. It showed that Jordan Brand was strong that hundred of people were willing to wait in a long line to buy a pair. Flash forward to today and again, I looked at Nike as a company that does not plan to slow down or give market shares to any competitors. Why was it considered it a great company? Here was my perspectives as a consumer.
Brand Power:
In the latest 2016 ranking by brand consultancy Millward Brown, Nike was ranked 24th on the list. The report can be found here. Nike was ranked higher than Home Depot (NYSE:HD), Walmart (NYSE:WMT), and American Express (NYSE:AXP). That meant to me that the company was very appealing to consumer globally. Also, if you just look around in your daily life, you will not find it hard to spot a Nike product. When I go to work, I see coworkers wearing Nike. When I go on Snapchat or Instagram, I see my friends and/or celebrities promoting Nike. Nike has a tremendous amount of free marketing by its fan base and consumers. A lot of professional athletics out there are very loyal to the brand even though they are not sponsored by them. For an example, recently James Harden of the Houston Rockets signed a 200 million dollars shoe contract with Adidas but was found wearing Nike at social events as reported by TMZ. This was obviously an embarrassment to Adidas and it showed how much Brand loyalty paid a huge role in market dominance.
Market Share: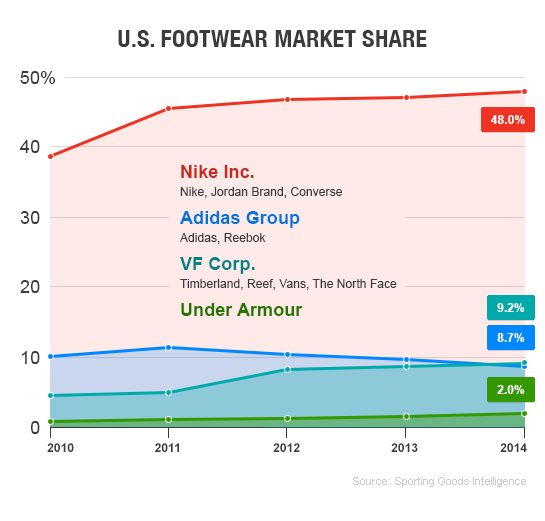 Figure 1 - Nike Market Share from 2010-2014
Source: Sporting Goods Intelligence
Nike's market share have been growing and it is shown in the Figure 1. As illustrated, it was clear to see that Nike dominated the market recently and it was by a large margin. Although Figure 1 showed data from only 2010 to 2014, the latest research showed that in 2015, Nike's market as now increased to 60% according to Forbes. What has led to Nike's dominate run toward capturing the market shares? They have been capitalizing on latest industries trend such as "athleisure" which tailored toward providing athletics clothing that can be worn in multiple settings such as casual or social events. Last year, NYD group found that athleisure total sales accounted for 35 billion which was 17% of the entire U.S clothing market.
Business Growth Opportunity: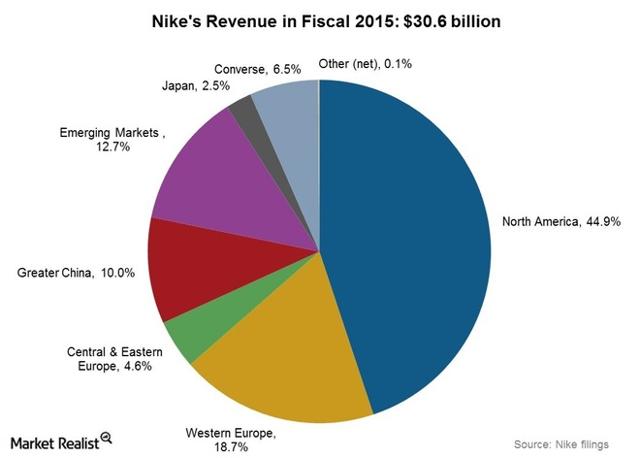 Figure 2 - Nike's Revenue in Fiscal 2015
Source: Nike Filings
Nike continues to have plenty of growth opportunity globally. In a breakdown of their revenue for 2015 shown in Figure 2, their growth potential in global market was great. Forbes stated in a recent article that "Nike brand revenues in Western Europe grew by 17% and Central and Eastern Europe grew by 20%". What was not shown in these growth opportunity charts were the growth opportunity domestically particularly in newer market such as skateboarding, runners, women clothing, youth athletes and fitness wearable. Combining business growth, market dominance and brand power, Nike will continue to be a great company now and going forward.
Now let's take a look at the numbers to see whether or not Nike was a buy. Using Ben Graham's basic formula as shown below, I performed the basic calculation to determine Nike's fair value.
Ben Graham's Intrinsic Value Formula as found on Wikipedia:

V: Intrinsic Value
EPS: the company's last 12-month earnings per share
8.5: the constant represents the appropriate P-E ratio for a no-growth company as proposed by Graham
g: the company's long-term (five years) earnings growth estimate
4.4: the average yield of high-grade corporate bonds in 1962, when this model was introduced
Y: the current yield on 20 year AAA corporate bonds.
Here are the calculation results:
| | | | | | | |
| --- | --- | --- | --- | --- | --- | --- |
| Symbol | EPS(2015) | 5 year growth (my estimate) | 5 year growth (market estimate) | Y | Ben Graham's Price | Fair Price (25% discount) |
| NKE | 1.85 | 7.19 | 14.38 | 3.56 | $85.20 | $52.32 |
My fair price calculation was taken from the growth rate which was estimated at 14.38 percent and cut that in half for a conservative estimate. This helped me to compute a fair price of $52.32.
Now why is Nike a Buy forever? Based on my views of the company and the long term prosperity of the company, I don't think this company will be going away anytime soon. The brand power is great and the company has weather through all the tough time whether that was bad publicity from their labor practice or recessions. For those who are more number detail, take a look at Nike annual report and the numbers. Judge for yourself if the company is performing well or not. But of course, let's say I'm wrong and Nike tanked. Since my investment window is more than 5 years, I can sit back and collect the dividend as a bonus. Nike current dividend yield is 1.20%. The yield is below S&P500 market averages. Now that will not going to make me rich, but it should supplement loses if they do occurred.
To conclude, Nike is a great easy company to understand. Based on my opinion, Nike is a Buy and will be continue to be a Buy for a long time. I challenge readers to take a look at Nike from their own perspective and see if it is a Buy or not.
For more stock insights, dividend income ideas, and passive investing, follow me on my site.
Disclosure: I am/we are long NKE.
I wrote this article myself, and it expresses my own opinions. I am not receiving compensation for it (other than from Seeking Alpha). I have no business relationship with any company whose stock is mentioned in this article.