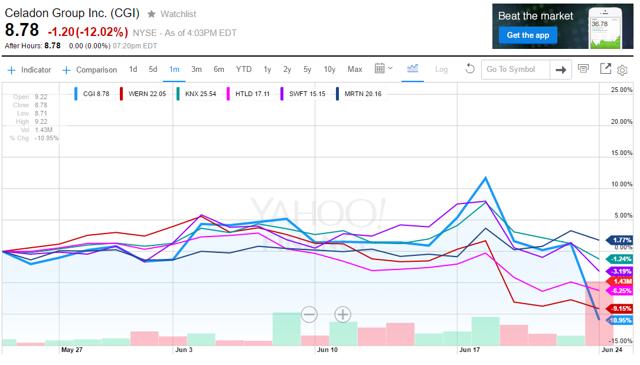 Yahoo! Finance
The chart above is a great illustration as to the sensitivity of Celadon Group's (NYSE:CGI) stock price to major events as compared against peers. Last week, a double-whammy hit the trucking industry as Werner Enterprises (NASDAQ:WERN) announced on June 20th that the company would witness much lower diluted earnings per share, EPS, and on Friday, Brexit happened. Covenant Transportation (NASDAQ:CVTI) followed suite after Werner's announcement with a similar press release.
The key takeaway for investors is that for both of these events, Celadon witnessed more extreme stock price performance to the downside than the company's peers. For the trucking industry, overcapacity has been an issue in North America, which has impacted pricing. This has also affected volumes, loaded and empty miles and revenue and profits.
Companies coming out revising guidance before second quarter earnings has also been a clear indication that this trend has not abated. Not all companies responded similarly to this information, but Werner for example, did witness a consistent more aggressive drop in stock price as Celadon. Some less-than-truckload, LTL companies also witnessed strong declines.
The list of companies included in the chart above share one major thing in common, they all operate predominantly in the U.S., but some also provide connecting services with Canada and Mexico. This fact is important as the Brexit results were mostly impactful for companies with exposure to Europe.
After the Brexit results, most trucking companies with substantial exposure to North America did not witness as steep declines, whereas Celadon was the worst performing stock within the trucking industry. Other companies including Ryder System (NYSE:R) and YRC Worldwide (NASDAQ:YRCW) witnessed strong declines as well for different reasons as Ryder has exposure to the United Kingdom, U.K., and YRC Worldwide is connected more to international manufacturing and retail, which seemed to be associated with growth and/or trade related fears post-Brexit.
Recently, Celadon has been through an aggressive acquisition strategy where the company invested over $230 million from 2012 through 2015. Growth stalled between 2008 and 2011, so growth-by-acquisition was incorporated as the company's acquisitions were much more sporadic and minimal between 2000 and 2011 totaling $108 million.
As of the first quarter, 2016, management's guidance was that the company was focused on reducing capex spend and paying down debt. But with major macroeconomic concerns growing, the company's ability to grow organically from this point is unproven. Other companies in the trucking industry have witnessed difficult growth post-acquisitions including Heartland Express (NASDAQ:HTLD). After 2016, analyst estimates call for revenue growth below 4 percent and diluted earnings per share, EPS below 5 percent, this is after an estimated decline of nearly 30 percent during 2016.
The other perceived impact to Celadon is Werner's mention regarding a declining sales environment for equipment. With overcapacity prevalent, demand for used tractors has abated and prices have fallen. Ever since 2006, Celadon has not been able to solely rely upon operating cash flows to cover the company's capex budget. Over the trailing twelve-month, TTM period, Celadon generated nearly $140 million from the sale of property and equipment. As of the first quarter, $135 million is on the books for leased revenue and revenue equipment held for sale.
For leverage, Celadon has total financial obligations of nearly $535 million as of the first quarter, translating to a debt-to-capital ratio of roughly 60 percent, and debt to EBITDA of nearly 360 percent. Over 70 percent of these obligations are related to current and long-term capital lease obligations. Nearly 70 percent or over $260 million of the company's capital lease obligations will be due through 2018. Management has stated that they intend on reducing the debt to EBITDA down to 250 percent over the next six to 12 months. This level would still be substantially higher than most peers.
Management stated that there is no anticipated significant net cash expenditure needs for the next 12 months. The filed 10-Q did state that the company has planned commitments to add $41 million of tractor operating leases over the next twelve months, but this amount is much lower than the over $115 million in capex for 2015.
2015 was a tough year for shareholders as Celadon diluted shareholders to the tune of $85 million as the company needed to cover $230 million for acquired businesses and principal payments on capital lease obligations. Operating cash flow and proceeds from the sale of property and equipment were not able to cover these amounts as capex was also at nearly $120 million.
If the current economic cycle gets more stagnant or a recession occurs, Celadon will possibly once again need to rely upon further acquisitions to grow. A decline in demand from today's levels would also further reduce pricing. Other peers substantially outgrew Celadon after the last recession, as pricing improved. Based on average analyst growth estimates, Celadon is once again in a similar situation as the company was prior to the last recession, albeit at a larger scale.
If Celadon sticks to management's recent statements regarding a pause with acquisitions, the company will be up against a tough year-over-year, YOY comparable from 2016. An important factor that may be in the company's favor will be the electronic logging device, ELD rule to come into effect next year. Current litigation has challenged this new rule, so there may be an opposing outcome, but most believe that whether delayed or not, this will reduce the driver pool and lead to tightened capacity in the near-term. A tightening capacity situation would result in improving the gloomier current environment for the trucking industry.
So in summary, we have concerns related to Celadon's ability to grow organically, high leverage and shareholder dilution, possible further acquisition needs, overcapacity in the trucking industry, declining used revenue equipment sales and slower growth fears stemming from the Brexit result. To be fair, many of these risks are also being faced by Celadon's peers, but organic growth and leverage are important issues in my opinion; and should be scrutinized most.
Since the company is dependent upon the sale of used revenue equipment, paying attention to the company's cash flows should be a measure which will provide further insight. Any future acquisition deal should be closely considered as to the purchase price versus cash flows. Investors should consider these challenges to Celadon's business against their risk tolerances and investment objectives.
Disclosure: I am/we are long YRCW.
I wrote this article myself, and it expresses my own opinions. I am not receiving compensation for it (other than from Seeking Alpha). I have no business relationship with any company whose stock is mentioned in this article.