By Tony Termini
Last Thursday's Brexit vote was as much a shock to global financial markets as it was to political elites in London and Brussels. And, quite frankly, I am not sure whether it will end up being a blip on the radar or the catalyst for renewed global economic slowing and the next bear market.
In my opinion, owning some energy midstream MLPs right now could give you a little hedge against a prolonged flat or declining market. And, the Alerian MLP ETF (NYSEARCA:AMLP) is a great vehicle to use to get broadly diversified exposure to the sector. Before I go into detail about the fund, let's look at midstream energy MLPs in general.
Before you fill the tank with gas or turn the knob of your stove, the refined petroleum and natural gas you'll use makes a long trip to get to you. That trip has three legs.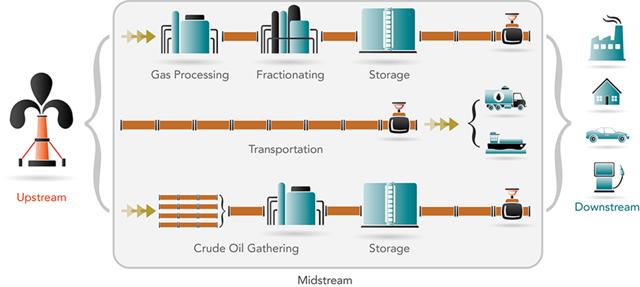 (Source: AMLP website)
The" Upstream" leg of the journey is where the stuff is pulled out of the ground (or from under the sea). This is the exploration and production (E&P) phase of the process. The second leg is "Midstream". This is where product moves from one place to the next and is stored until it goes to the final part of the trip. Midstream is also where product is marketed and sold at the wholesale level. The last segment of the journey is referred to as "Downstream" and is where product is refined, processed, and purified - and then marketed and distributed - as the stuff that powers your car and heats your oven. In my opinion, midstream is the least risky place to be on the continuum depicted in the graphic above and why I like AMLP. There are three reasons for this.
The first reason is that midstream companies are generally not sensitive to changes in commodity prices as other energy companies. Whether the price of oil is up or down, it still needs to get to market. And, that almost always includes going through a pipeline. It is also a fact that people just don't stop heating their homes (or buying gasoline) when the prices go up. This price inelasticity adds to my comfort with midstream MLPs.
The second factor contributing to my comfort with midstream MLPs is that their revenue is generally fee-based, not unit-price-based. You can think of pipelines as toll roads. As long as suppliers keep moving product to users, the partnerships inside AMLP are going to collect a toll. And, again that toll is based on volume; not the price of the commodity.
And, finally, I like the fact that individual pipeline companies have a de facto monopoly in the markets in which they operate. Building a pipeline takes a long time and a lot of money and the process is greatly controlled by the Federal Energy Regulatory Commission. All of this creates huge barriers to entry and limits competition for existing suppliers.
What's more important than my belief that midstream MLPs are the least risky type of energy companies to own right now, is that I think there is lots of room for growth. This is illustrated in the chart below. It clearly shows that future demand for energy is expected to continue to grow for decades. According to the Energy Information Administration, energy consumption worldwide will expand by 48% over the next few decades. From a macro point-of-view, that sets a pretty solid foundation, in my opinion.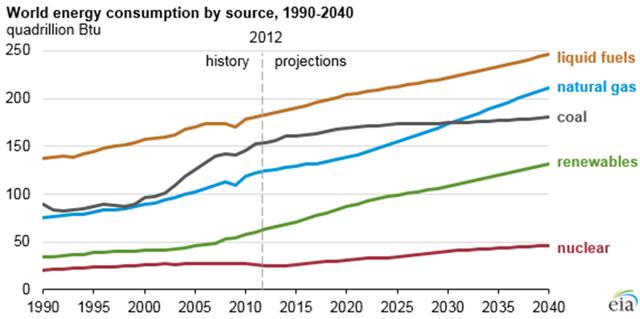 (Source: U.S. Energy Information Administration)
I mentioned this in a previous piece I wrote, and I'll say it again here. I think the demand dynamics for natural gas look great. That demand is going to come from the traditional sources like heating homes and businesses. But, future growth is going to come, in large part, from the transportation sector.
Fleets of commercial vehicles, government vehicles, and public transportation vehicles are already on the road today and their numbers are expected to continue growing. Railroads also represent a huge demand opportunity and companies like BNSF (NYSE:BRK.A) (NYSE:BRK.B) and CSX (NYSE:CSX) already have clean-burning natural gas locomotives on rails today. And, automakers Ford (NYSE:F) and General Motors (NYSE:GM) will be launching more and more new models powered by natural gas. It even powers container ships. And, of course, there are electric utilities. I expect there to be growth in that segment too.
According to the Institute for Energy Research more than 72 gigawatts of generating capacity are about to convert to natural gas. To put that into perspective, Lawrence Berkeley National Laboratory says that's the amount of energy required to power 54 million homes.
All of these represent significant growth opportunities because all of that gas needs to flow through a pipeline to get to market. That's enormous capacity and represents a long-term income steam for the companies held in AMLP. These are also some of the reasons why America's Natural Gas Alliance expects production to double (over 2010 levels) in the next twenty years.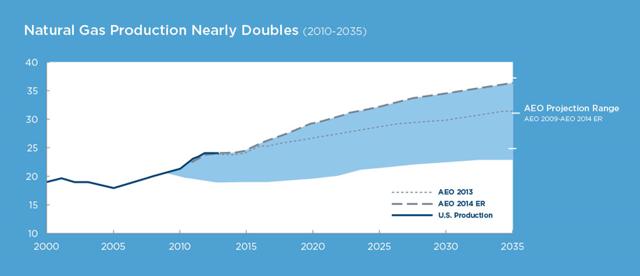 (Source: America's Natural Gas Alliance)
And, as the table below illustrates, AMLP gives you exposure to a broad range of companies in the sector.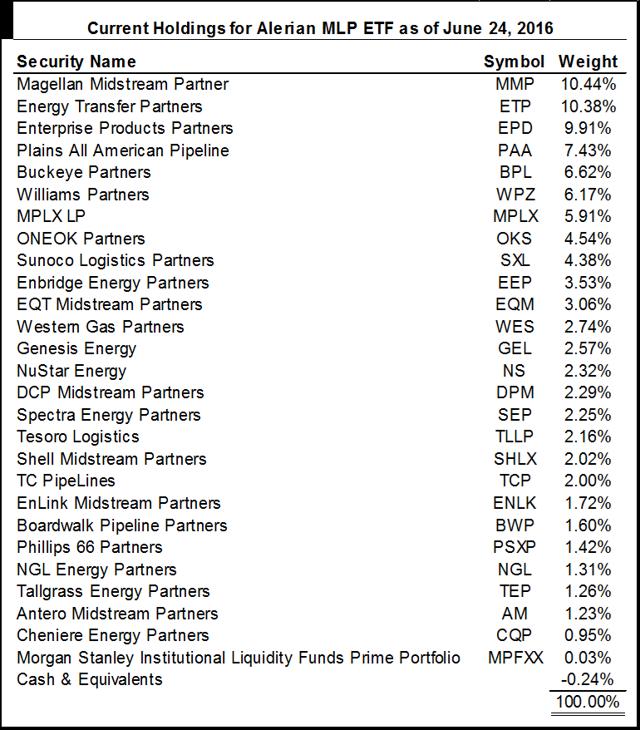 (Source: Fund website)
The diversification flows across three sectors within the industry, including transportation, collecting, and processing.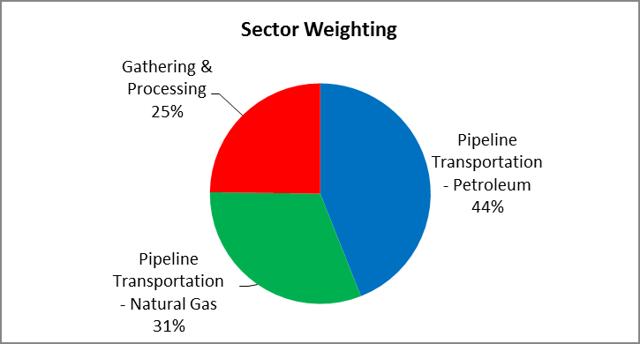 (Source: Fund Fact Sheet)
The companies that make up AMLP include both large and small companies. The biggest of which has a market cap of more than $49 billion. That smallest is just about $3.1 billion.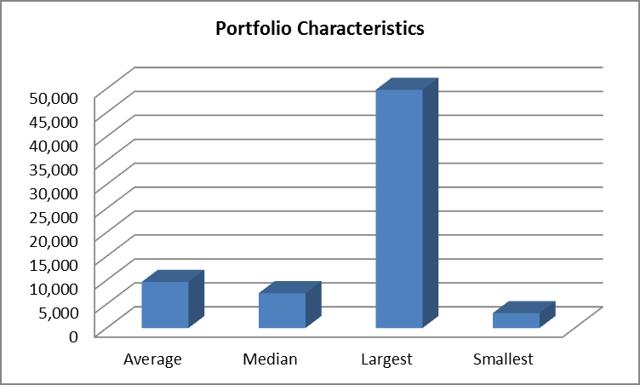 (Source: Fund Fact Sheet)
So, owning AMLP gives you exposure to both likely acquirers and potential acquisition targets, which in my opinion would be difficult for you to achieve without owning the ETF. To me, this provides potential for capital appreciation because you effectively own most of the players in a consolidating industry.
The final reason I like AMLP is the dividend, which it has paid since the fund's 2010 inception. Not only is the current yield more than 9.25%, it is actually a dividend. According to the fund's prospectus, distributions are treated as a taxable dividend, not a return of capital as is typically the case when you own units of an MLP outright. In my opinion, this means that AMLP is a simple way of owning these high-yielding cash flow generating machines in a qualified account (e.g., an IRA or 401(k)) without the complication of Unrelated Business Income, which can subject a tax-deferred account to a tax liability. It also means no waiting for a K-1 at tax time and no delays getting your return filed by the 15th.
Conclusion
With the cloud of uncertainty that Brexit has cast over the global economy and financial markets, I like the combination of potential capital appreciation and predictable income offered by AMLP. The ETF owns a lot of interesting companies that I believe offer great potential for future growth. Industry fundamentals look solid because of growing demand. I like AMLP's better than 9.0% dividend and that the ETF can be owned in an IRA since there's no tax complication associated with it the way there is with an MLP's cash distribution. So, for me, AMLP is a buy.
Disclosure: I/we have no positions in any stocks mentioned, and no plans to initiate any positions within the next 72 hours.
I wrote this article myself, and it expresses my own opinions. I am not receiving compensation for it (other than from Seeking Alpha). I have no business relationship with any company whose stock is mentioned in this article.