The Brexit vote has cast a pall of gloom on global stock markets, leading to a broad market sell-off that has erased $2 trillion worth of market capitalization in just one day. However, in my opinion, this massive sell-off has brought a window of opportunity for investors to accumulate certain stocks that have impressive potential in the long run.
In my opinion, European oil and gas giant Royal Dutch Shell (NYSE:RDS.A) (NYSE:RDS.B) is one such player, which lost over 6% of its value last Friday on the back of the sell-off that followed Britain's referendum. Shell's aggressive focus on cash flow on the back of assets with lower costs and higher returns will eventually drive the company's performance in the long run, which is why we will be taking a closer look at its prospects.
Higher oil prices will be a tailwind going forward
As 2016 has progressed, both oil prices and refining margins have picked up impressive momentum. This will prove to be a tailwind for Shell's upstream and downstream businesses. For instance, Brent crude now trades at $48 per barrel after rising close to 33% in 2016. This is good news for Shell investors as the company has seen its earnings from both conventional oil and gas plays, along with the offshore segment, almost diminish due to low oil pricing.
However, the rise in Brent prices will lead to an increase in Shell's realizations and help its upstream business make a comeback. More importantly, it is quite likely that the rise in oil prices will continue in the long run as the market is rebalancing itself on the back of higher demand and lower supply. For instance, oil demand is set to increase by 1.43 million bpd in 2016, with 2017 demand anticipated to come in at 1.54 million bpd.
Concurrently, non-OPEC supply in 2016 is set to decline by 800,000 bpd, with another decline of 400,000 bpd anticipated next year. The decline will be a result of a 25% drop in oil capital expenses in 2016 to $136 billion, which will eventually create a better demand-supply balance in the market. In fact, OPEC is now of the opinion that oil demand growth for 2016 will be strong enough to exceed supply. The following chart indicates a timeline as to when the market will attain balance: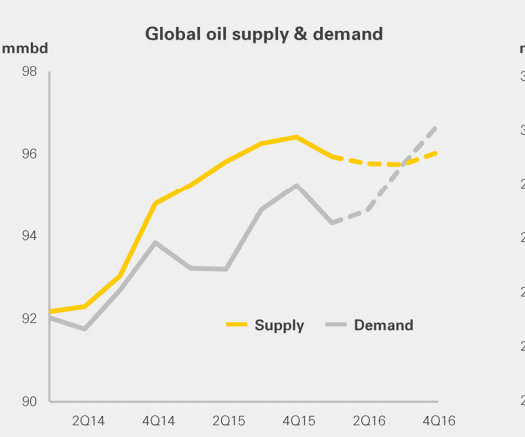 Source: BP
Why Shell?
When oil prices had started falling, Shell started to focus on assets where its payout will be higher in a low-pricing scenario. As such, it started developing those assets where the margin per barrel will be higher and capex requirements will be low so that cash flow remains in good shape. As a result, the company announced that it will sell$30 billion worth of assets during the period of 2016-18 so that it can refocus its portfolio toward high-grade assets.
Shell has already achieved $6 billion-$8 billion of asset sales this year, but at the same time, it has been focusing on increasing its production from those assets where cash operating costs will be below $15 per barrel of oil equivalent. The company is carrying out this opportunity by focusing on certain key areas such as improving the downstream infrastructure and investing in those upstream projects where capex requirements are low.
The following chart clearly shows that Shell will be ramping up its production from these assets remarkably in the next couple of years: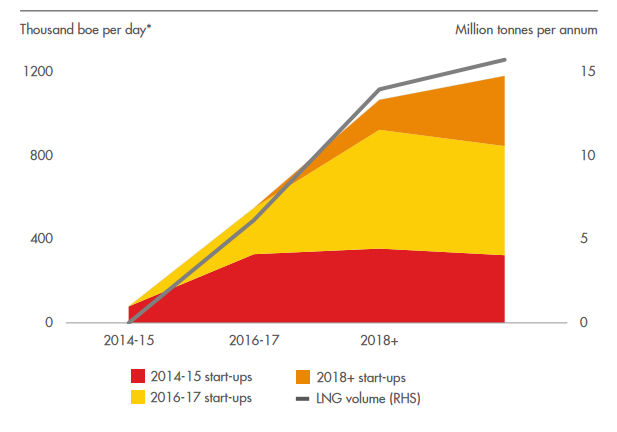 Source: Shell
But, at the same time, Shell will be spending less on capital expenditure to achieve this increase in production. For instance, this year, Shell's capex is slated to come in at $29 billion, which is a 20% drop as compared to last year. Moreover, over the next three years until the end of the decade, Shell forecasts on spending an average of $27.5 billion a year as capital expenditure. Thus, as Shell's outlay drops and production increases, its cost per barrel will continue to drop and this will lead to an increase in cash flow.
In fact, as shown in the infographic given below, Shell's annual free cash flow and return on average capital employed will both increase by the end of the decade as the company trains its investments toward more efficient assets: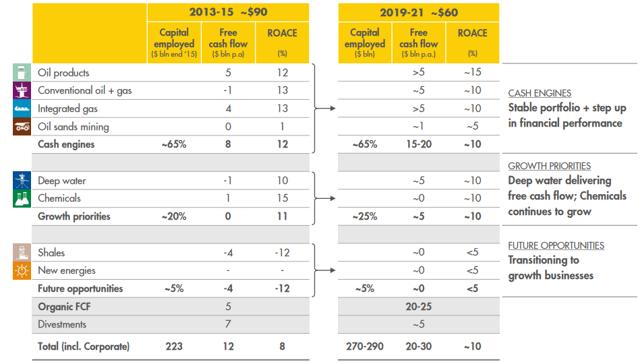 Source: Shell
Conclusion
Thus, driven by a combination of an improvement in the oil market and a low-cost asset base, Royal Dutch Shell is set to gain more momentum going forward. Therefore, it will be a good idea to buy shares of Royal Dutch Shell on the drop since the company is set to deliver more upside in the long run.
Disclosure: I/we have no positions in any stocks mentioned, and no plans to initiate any positions within the next 72 hours.
I wrote this article myself, and it expresses my own opinions. I am not receiving compensation for it (other than from Seeking Alpha). I have no business relationship with any company whose stock is mentioned in this article.