By S. Hasan Abid
In our previous article, we highlighted Nike's (NYSE:NKE) strengths, discussing various catalysts that could drive the company's value in coming years. Based on the arguments outlined last time, we feel Nike represents a compelling investment opportunity. Nevertheless, many investors find it difficult to be moved by a long case that makes little reference to valuation. Therefore, to make sure that my bullish thesis on Nike doesn't lose its punch, I want to take a look at the company from a valuation perspective.
To determine the intrinsic worth of Nike's shares, I use a 5-year DCF model modeling for a 3% FCF terminal growth rate. WACC, calculated using the CAPM, has been used as the discount rate. Before delving into the math, I'd like to first discuss a couple of qualitative factors that govern my valuation assumptions with regard to Nike's future revenue growth and EBITDA margin. I also discuss why I like the way Nike is striving to achieve sustainable growth.
Analysts have debated multiple times whether Nike's revenue can grow to $50 billion by 2020 or not. The management is certainly expecting the company to hit the $50 billion mark in 4 years' time. I feel that Nike is on track to accomplish this target, but honestly, I am not too obsessed with these revenue projections. I am more interested in the direction Nike is taking under Mark Parker and where it will be after a decade or two. Hence, understanding 'how' Nike is attempting to draw closer to its ambitious top line target is at least as important as debating whether or not Nike will actually get to $50 billion in annual revenue by 2020.
At present, Nike derives nearly 73% of its brand revenues from wholesale channels. While selling products through wholesale partners including retailers like Foot Locker (NYSE:FL) and Macy's (NYSE:M) is an integral part of Nike's business, it is absolutely essential for the company to keep developing its Direct-to-Consumer ("DTC") business. Why? The DTC channel includes sales made through NIKE-owned in-line and factory stores and on Nike.com and is therefore by nature a high-margin business.
Selling products through its own website and retail stores gives Nike greater control over pricing decisions and allows it to showcase its most innovative, premium assortment. At the end of the day, exciting products in Nike's pipeline like the KD9, which are sold using the DTC channel, are the ones that are less commoditized and play the most decisive role in driving Nike's brand value.
As it turns out, Nike's DTC revenues are growing rapidly and are accounting for more and more of total brand revenues, as depicted by the chart below. This is one of the reasons why I like 'how' Nike is growing. In four years, I expect roughly one-third of Nike's revenues to be coming from the DTC channel. This implies, assuming Nike's consolidated revenues do balloon to $50 billion, DTC sales will amount to $16 billion, or equal to half of Nike's annual revenues for fiscal 2015, by 2020. This will be a remarkable achievement. Going forward, the development of Nike's DTC channel will be conducive to higher gross margins and EBITDA.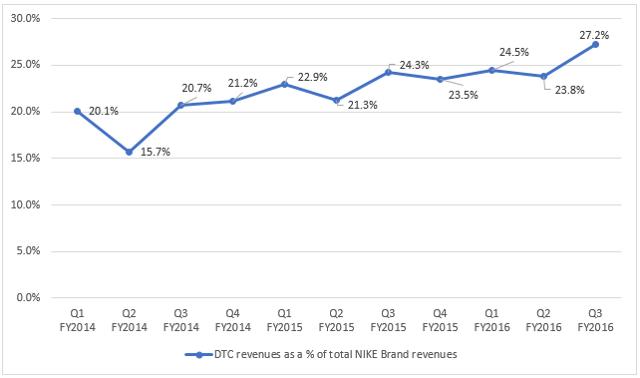 (Source: Company's 10-Q filings, author's calculations)
So where is the growth in DTC revenues coming from? If you take a look at the charts below, you can see that the increase in DTC revenues has largely been the result of the expansion in online sales. This is another highly encouraging trend. The strength of Nike's e-commerce platform means it has more opportunities to develop its brand and is in a better position than some of its competitors like Skechers (NYSE:SKX) to thrive in a future that looks set to be dominated by online retailing.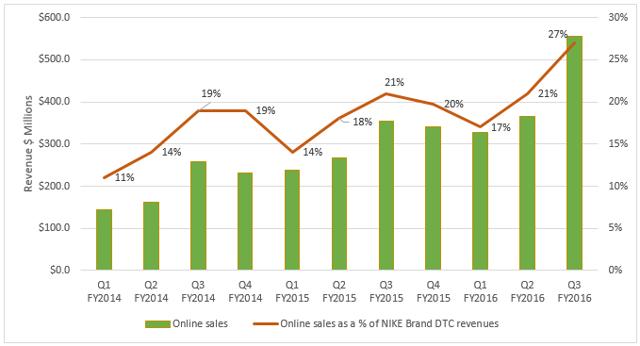 (Source: Company's 10-Q filings, author's calculations)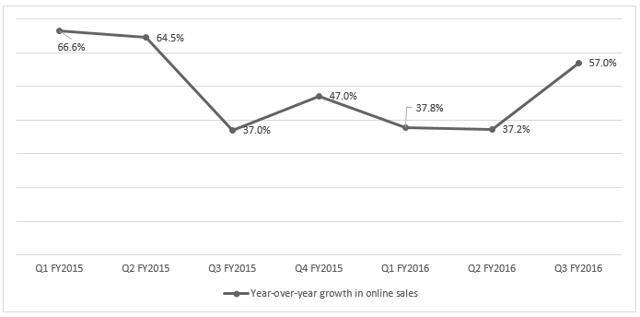 (Source: Company's 10-Q filings, author's calculations)
Now without further ado, I want to start with my DCF analysis. I have made projections for the next five years in my model that can be seen in the table below. Owing to the higher anticipated contribution of DTC revenues and the discussion last time regarding Nike's growth prospects in China, I project Nike's total revenues growing to $50 billion by 2020. To further bolster this assumption, it is also worth mentioning that the global footwear market is growing briskly and consequently Nike is expected to benefit greatly.
China's footwear market is estimated to continue expanding at an average rate of 7% in coming years while according to Transparency Market Research, the global footwear market should grow at a CAGR of 2.5% from 2015-23. If these reports are anything to go by, the global footwear market will be worth a staggering $258 billion at the end of 2023. More importantly, the global 'sports' footwear market will be worth $90 billion by 2020. This implies, assuming Nike maintains its current share of ~18% in the global sports footwear market, that Nike's sports footwear revenues alone will clock in at ~$16 billion.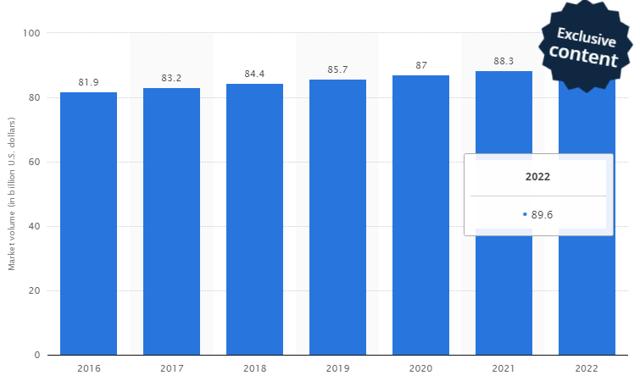 (Source: Statista)
For the period 2016-20, I project Nike's EBITDA margin running above the historical range of 14-16%. As explained earlier, this is because in the future, I anticipate that a significant portion of Nike's overall revenues will be coming from its high-margin DTC business.
Three Cases

Terminal FCF Growth Rate

WACC

Fair Value

Low

2.5%

6.0%

$88.98

Mid

2.5%

7.5%

$61.86

High

2.5%

8.9%

$48.07

Projections

Fiscal Years Ending

May-15

May-16

May-17

May-18

May-19

May-20

($ in Millions)

Revenue

30,601

32,437

35,681

39,249

44,351

50,117

% Growth

10.1%

6.0%

10.0%

10.0%

13.0%

13.0%

EBITDA

4,824

5,263

6,111

7,001

7,892

9,091

% of Revenue

15.8%

16.2%

17.1%

17.8%

17.8%

18.1%

Calculation of FCF

Projected Unlevered Cash Flow

May-16

May-17

May-18

May-19

May-20

Terminal

EBITDA

5,263

6,111

7,001

7,892

9,091

9,091

D&A

(649)

(892)

(981)

(1,109)

(1,253)

(1,428)

EBIT

4,615

5,219

6,020

6,783

7,838

7,663

Pro forma Taxes

(1,108)

(1,253)

(1,445)

(1,628)

(1,881)

(1,839)

NOPAT

3,507

3,967

4,575

5,155

5,957

5,824

Capital Expenditures

(1,187)

(1,321)

(1,433)

(1,744)

(1,952)

(1,504)

NWC Investment

(234)

(413)

(455)

(650)

(735)

20

(+) D&A

649

892

981

1,109

1,253

1,428

Free Cash Flow

2,735

3,124

3,668

3,870

4,524

5,769

% Growth

14%

17%

5%

17%

Calculation of Equity Value

Model

Low

Mid

High

Market

Enterprise Value

146,863

101,161

77,931

87,435

(+) Cash & Equivalents

3,044

3,044

3,044

3,044

(+) Investments & Other

2,062

2,062

2,062

2,062

(-) Debt

(2,055)

(2,055)

(2,055)

(2,055)

(-) Minority Interest & Other

0

0

0

0

(-) Preferred Stock

0

0

0

0

(-) Other

0

0

0

0

Value of Common Equity

149,914

104,212

80,982

90,486

Diluted Shares Outstanding

1,685

1,685

1,685

1,685

Implied Stock Price

88.98

61.86

48.07

53.71

Upside / (Downside)

65.7%

15.2%

-10.5%
According to the calculations shown above, we get Nike's market value of equity equal to ~$104 billion in the "mid" case by subtracting the market value of debt and adding back cash and investments to enterprise value. Dividing this figure by the diluted shares outstanding, we get a fair value of $61.86 for Nike shares, representing an upside of 15.2% from the closing price on 17 June 2016. One could also take the average of the intrinsic values calculated in the three cases, which according to some might be a more accurate estimate of the fair value. Doing that yields a fair value of ~$66.30, representing an even bigger upside from current levels.
Conclusion
All in all, this is as good a time as any to initiate a position in Nike. The downside risk looks minimal. Further, the company's maximization is yet to be consummated considering the expected growth in its DTC business and its bright prospects in China and emerging markets. I cannot see Nike losing its share in the footwear market, which looks nicely poised to continue evolving to the benefit of not only Nike the company but also its shareholders.
Disclosure: I am/we are long NKE.
I wrote this article myself, and it expresses my own opinions. I am not receiving compensation for it (other than from Seeking Alpha). I have no business relationship with any company whose stock is mentioned in this article.