100 years. That's how long Occidental Petroleum(NYSE:OXY) has been in business. Like any company who has survived that long Occidental has had to weather a storm or two. In times of extreme uncertainty - such as the current economic environment -seasoned investors are looking for businesses that have proven they can withstand the test of time. Occidental may not be a sexy name, but it's one of the few, stable choices for investors looking for exposure to the oil and gas sector. Couple that with a possible increase in their dividend and Occidental offers one of the top risk/reward prospects in the oil space.
Occidental's business is made up of two segments - an oil and gas segment, which explores and produces crude oil and natural gas, and a chemical segment, which manufactures basic chemicals. In the current oil environment, times have been tough for E&P companies and Occidental has not been immune. At $29 oil the company struggled to turn a profit. Yet, as oil has begun to rebound - currently trading just under $50 a barrel - Occidental should see a substantial boost in cash flow. Add that to an already impressive balance sheet, and Occidental offers a great deal to investors.
Solid Balance Sheet
Compared with its E&P competitors, Occidental's solid balance sheet sets it apart. Beginning with its liquidity, the company has $3.2 billion sitting in cash along with marginal debt at a ratio of 0.25 debt-to-capitalization. The company was able to pay down its debt by $700 million last quarter and has cut expenditures by 30% since 2014. With this strong balance sheet comes an "A" credit rating and a certain level of security. What's most impressive is that Occidental has been able to maintain this strong balance sheet and take on little debt despite the oil crisis. Looking to the past, we see that in the last year before oil began to decline(2013), Occidental generated $5.9 billion in profit. Now extrapolating into the future and imagining oil prices moving only partially back to those levels, the cut in expenditures will create immense profitability for the company and increase free cash flow by a substantial margin.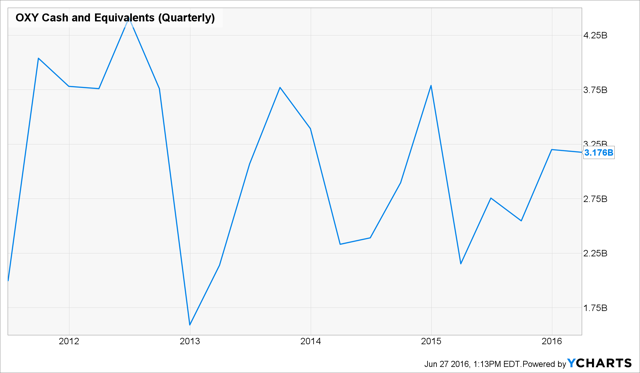 Strategic Advantage
Having what Buffet refers to as an economic moat or strategic advantage allows a business to succeed when the inevitable tough times hit -- like with the recent plunge in oil. Inherent in Occidental's business is a moat known as the Permian Basin. Occidental owns great assets in the region as the largest oil producer in the Basin. Last year Occidental produced 255,000 barrels a day from their operations in this region alone. More than just vast in the number of assets, the Permian Basin is unique in the quality of the infrastructure as well as having stacked pay zones. These two features allowed Occidental to ramp up production in the Permian even while low crude prices forced other basins to cut back production. The great number of low-cost areas in the Permian allowed Occidental to increase shale production by 40% last year while almost all of its major competitors were scrambling to cut back. The company is on pace to grow their production even further this year. However, shale only makes up a marginal amount of the companies core production, meaning that total production is expected to grow a steady 5-10% a year in the near future. If oil prices happen to fall again in the future the Permian Basin provides Occidental with a margin of safety which will allow it to outperform the competition.
Increased Dividend?
Currently Occidental is paying a solid 4% dividend. However, as higher oil prices are realized a strong balance sheet coupled with increased cash flow from the rise will put them in a great position to increase their already generous dividend. At the end of last quarter, Occidental had over 3 billion sitting in cash. This cash was not being used to fund their CapEx as they produce enough operational cash flow to cover expenses. Occidental was able to generate $820 million in operating cash flow while only spending $700 million on CapEx. Although impressive, these numbers should only be the tip of the iceberg for Occidental as last quarter they realized a meager $29 dollars a barrel. With the second quarter rally in oil and currently sitting just under $50 a barrel, the company's cash flow is bound to get a substantial bump. If oil continues to rally the company will no doubt begin generating considerable excess cash flow. There is a good chance a portion of the excess cash would be used to reward investors in the form of a higher dividend.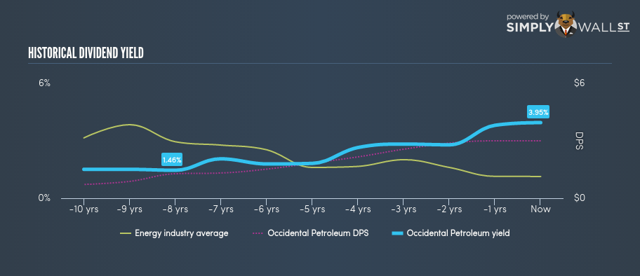 The Bottom Line
Ultimately much of Occidental's success will be determined by the price of crude. If prices rally to $60 a barrel the company will be free cash flow-positive and not be forced to take on additional debt. Over $60 and Occidental will be able to further ramp up production and potentially increase their dividend. If oil drops back down to $30 a barrel Occidental still holds a relative advantage over the competition as their strategic advantages in the Permian Basin, strong balance sheet and increased efficiency will allow them to sustain production and maintain their dividend for multiple years. A recent pull back the last few days could offer investors a prime opportunity to take a position in Occidental Petroleum.
Disclosure: I/we have no positions in any stocks mentioned, and no plans to initiate any positions within the next 72 hours.
I wrote this article myself, and it expresses my own opinions. I am not receiving compensation for it (other than from Seeking Alpha). I have no business relationship with any company whose stock is mentioned in this article.