General Overview
Harman International Industries, Inc. (NYSE:HAR) designs, manufactures, and markets audio and electronics through two segments: Automotive and Consumer. Harman HQ make its home in Stamford, Connecticut.
Sidney Harman and Bernard Kardon originally founded HAR's predecessor, Harman Kardon, in the 1950s. Collaborations amongst the two pioneers bred an entirely new technology: high-fidelity audio. From then, Harman expanded into the audio powerhouse of today.
The Automotive segment designs, manufactures and markets audio, electronic, and infotainment systems for vehicle applications. The Consumer segment designs, manufactures and markets audio and electronic systems for home, mobile, and multimedia applications.
Through both segments, the company designs and brings to market a variety of products, including, but not limited to:
Audio (OEM)
Electronic (OEM)
Infotainment (OEM)
Home and computer systems
Aha Radio (in-car entertainment based off cloud)
Professional grade loudspeakers & electronics
OEM="original equipment manufacturer"
Harman's brand portfolio includes, but is not limited to:
As of June 23, 2016, the company carries a market capitalization of ~$5,400M. Harman employs 24,197 individuals as of June 30, 2015.
Dinesh C. Paliwal currently sits in the Chairman, President and CEO positions. As of 11/02/2015, Mr. Paliwal owned 135,464 shares valued at ~$10.2M. In 2015, Harman paid Mr. Paliwal $4.8M in cash and $5.1M in non-cash, yielding a non-cash to cash compensation ratio of 1.0625. Mr. Paliwal joined HAR in 2007.
Mr. Paliwal earned his B.A. from St. John's College in 1976, his M.S. in Engineering from the Indian Institute of Technology in 1979, and his MBA from University of Miami in 1985, after earning another M.S. in Miami in 1983. He developed quite the business repertoire and brings along technical expertise crucial for the position he holds.
Investment Angle: Smart Money Likes Harman
I took a close look at the 23 largest holders of HAR options as of Q1 2016 per SEC 13F filings. After some data compilation, I produced the observations shown in the below exhibit.
Exhibit 01 | Smart Money Options Signal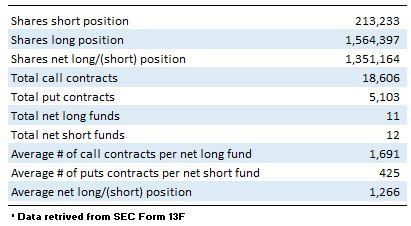 Out of the 23 funds, 11 carry net long exposures (C-P>0) while 12 carry net short exposures (C-P<0). While the data initially points towards a bear case, I realized how total call contracts outnumbers total put contracts by a factor of ~3.7.
I then calculated the average number of call or put contracts per net long or short fund, respectively. Net long funds on average carried 1,691 call option contracts while net short funds on average carried 425 put option contracts. On average, the 23 funds held a net long position of 1,266 option contracts, or 1,266,000 shares. Currently, HAR's shares outstanding stand at 70,600,000 shares.
The 23 funds, on average, hold an interest in approximately 1.8% of the current float (assuming no other shares issued in between now and average expiration).
UBS held the largest net long position among the 23 funds. While I make no explicit claim here, I do point out the interesting nature of the option positions. This section thus provides a starting point for the rest of the piece.
The exhibit below represents the most recent analyst estimates sourced from Bloomberg.
Exhibit 02 | Street Consensus

I once again point out a couple of interesting things. Average analyst price stands at $96.08. Per 6/24/2016 stock price ($76.83), that signifies a raw non-annualized 25% return. I assign minimal weight here as a result of the many conflict of interests pervading Wall Street throughout the years, but once again use this in conjunction with the previous exhibit as a starting point. With this in mind, let's delve towards some fundamentals.
Industry Lead: Deep Value and Healthy Credit Profile
As always, I take a keen interest on how a corporation manages its debt. I found the trajectory of the credit profile over the past couple of years paint a very attractive picture.
Between 2006 and 2015, Harman's available credit grew by an annual average rate of ~16.7%. You will see how as of the most recent fiscal year, Harman's debt position provides investors a certain peace of mind. While I won't rule anything out per the lessons of past black swan events, I will say that potential investors may sleep safely at night knowing their holdings face little solvency risk.
Before delving further into the minutiae, I illustrate industry profitability and margins as per the most recent fiscal year. I must mention that Harman next announces FYE 2016 figures on August 2nd, 2016.
Exhibit 03 | Peer Profitability Ratios and Margins (FYE '15)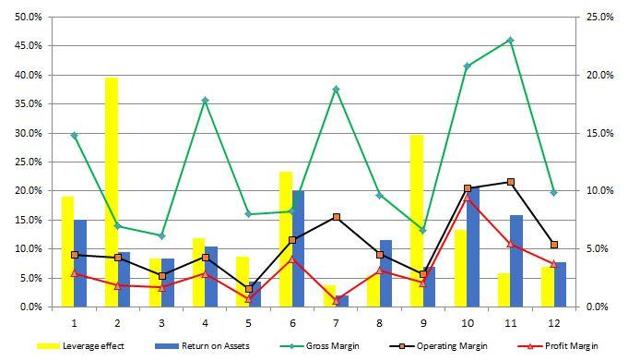 ¹Margins represented on the left axis; IS figures as of most recent fiscal year
I listed a set of industry peers, including Harman, and sorted them and assigned a number for each one. Thus, the chart you see above contains the numbers that correspond with each company below. Below, you will find the turnover for each company. While the industry set certainly contains larger and smaller peers, I made an educated guess and carefully selected this list of companies.
Harman International | Turnover: $6,155M
Dana Holding Corp. (NYSE:DAN) | Turnover: $6,060M
NHK Spring Co. Ltd. (OTC:NHKGF) | Turnover: $5,340M
Yokohama Rubber Co. Ltd. (OTCPK:YORUF) | Turnover: $5,205M
Leoni AG (OTC:LNNNF) | Turnover: $4,998M
Linamar Corp. (OTCPK:LIMAF) | Turnover: $4,042M
Toyo Tire & Rubber Co. Ltd. (OTC:TOTRD) | Turnover: $3,370M
Stanley Electric Co. Ltd. (OTCPK:STAEF) | Turnover: $3,369M
Visteon Corp. (NYSE:VC) | Turnover: $3,245M
Fuyao Glass Industry Group | Turnover: $2,160M
Nokian Renkaat OYJ | Turnover: $1,510M
Halla Holdings Corp. | Turnover: $789M
Average | Turnover: $3,854M
For each category depicted in the exhibit above, I decided on a further step of analysis. I weighted each company's contribution by their sales as a percentage of total sales for the peer group. I took those weights, multiplied by each respective metric, and came up with a turnover weighted average for each category.
Gross margin: +6.4% | 23.3% w. avg.
Operating margin: (0.3%) | 9.3% w. avg.
Profit margin: +0.5% | 5.4% w. avg.
Leverage effect: +1.2% | 8.3% w. avg.
Return on assets: +2.2% | 5.3% w. avg.
Return on equity: +3.4% | 13.7% w. avg.
Before I interpret, a caveat: I only illustrate one year in the exhibit above. I recommend investors basing investment decisions on something like the above must further research the topic on a historical basis. Higher number of instances provides greater basis for any set of observations.
Per the most recent fiscal year data, Harman outperformed my select peer group. You may calculate Harman's metric by summing the w. avg. and the corresponding out/underperformance. What I like most comes from the massive auto backlog. That backlog will really buoy the company's performance in the coming years.
I must mention this before moving forward: industry forces will more likely than not shift and completely eradicate the AM/FM traditional console from the automobile. Each year, auto makers move towards greater media integration within their offerings. Nothing will buck this trend. As an apparent industry leader, Harman gains significant advantage from this shift.
I talk only about auto here, but I urge curious readers and potential investors alike the need for research when it comes to the various other offerings within the company's house of brands. They provide real top of the line professional audio offerings which also lead in many of their own respective industries.
With that in mind, we move forward and look at leverage.
Exhibit 04 | Leverage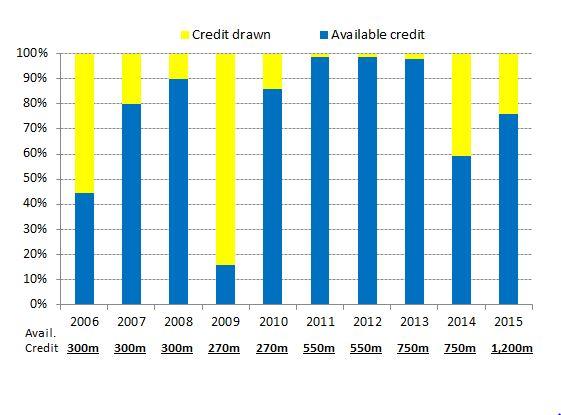 I need not say much in this section, as the illustration covers all bases. In between 2012 and 2015, Harman secured an additional $650M in loan commitments. As of 2015, Harman only drew approximately 30% of its loan commitments, translating to approximately $360M in outstanding debt. Currently, Harman draws $483M and finds additional available funding of $713M. Moreover, it printed $789M in bonds. Consequently, out of all of its available debt, Harman currently utilizes ~65% of it. If we only look at revolvers, then it utilizes only ~40% of it.
Before I move on, I list the following:
2020: revolver commitment expires
2022: $389M in bonds comes due
2025: $400M in bonds comes due
While only four years stands in between now and the expiration of the loan commitments, Harman may always renegotiate the terms and extend. However, it may be at higher rates if done closer towards expiration. Same goes for the bonds. However, I lose no sleep at night because of solvency, as mentioned previously.
I now explore certain metrics with respect to the number of employees Harman employs.
Efficient Employees and Shareholder Value Generation
Exhibit 05 | Select Per Employee Metrics
Before I continue, I will point out a certain caveat. Recent acquisitions (mainly between 2014 and 2015) significantly increased the number of employees. Readers and potential investors must conduct further diligence in normalizing per employee metrics. Why? Because the chart lacks in pointing out an important aspect, namely the natural latency resulting from M&A activity.
FYE 2016 earnings will shed more light on the issue.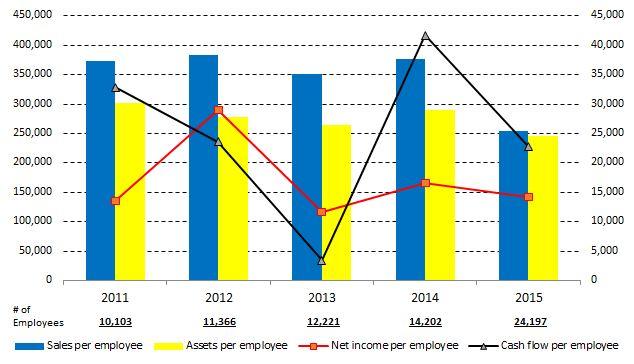 Sales per employee over the 2011-2015 period dropped by an annual rate of ~9.6%, Simultaneously, assets per employee fell by an annual rate of ~4.9%.
Interestingly, net income per employee grew by an annual rate of ~2.7%, while cash flow per employee fell. Providing a CF per employee growth rate bears no weight in this case. However, I will point out how CF per employee grew between 2013-2015. Moreover, latency of M&A accretion also influences things here.
Finally, I took a look at asset turnover per employee.
2011: ~1.25
2012: ~1.35
2013: ~1.32
2014: ~1.35
2015: ~1.04
Once again, the rise in employee numbers plays a significant role here. Consistent asset turnovers surpassing 1.00 paint a compelling picture from an efficiency standpoint.
I now delve towards the composition of Harman's supply chain as of the most recent fiscal quarter (Q3 2016).
Sources of Revenue and Assets
Close to 30% of Harman's most recent quarter turnover came from German automobile houses. The other approximate thirty percent comes from a combination of other geographies.
Exhibit 06 | Supply Chain Exposure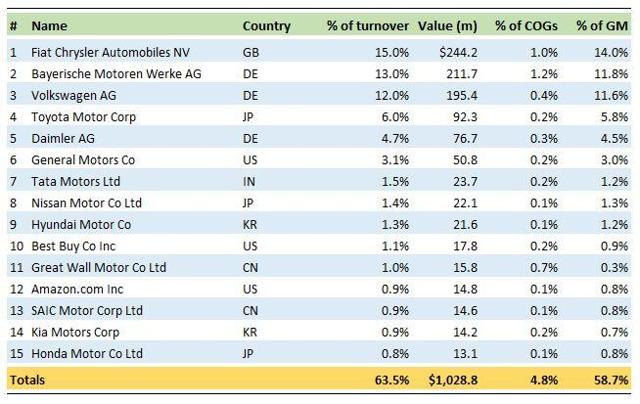 The exhibit also illustrates the % of GM each company contributed for the most recent quarter. Readers should pay particular note how no one customer commands significant % of COGS figures. I will also note the particularly negative effect BRIC headwinds precipitated towards Harman's way, as Great Wall Motor came dangerously close to only breaking even.
I recommend investors pay particular attention towards Euro currency movements, in particular during this chaotic time overshadowed by Brexit fears. While EUR/USD remained relatively flat, much uncertainty pervades markets as investors worry about contagion. Another EU member exit may seriously put a damper of the bloc currency.
Only time will tell. With that in mind, I break down Harman's historical revenue and asset positioning based on geographical segmenting.
Exhibit 07 |Geographical Revenue Breakdown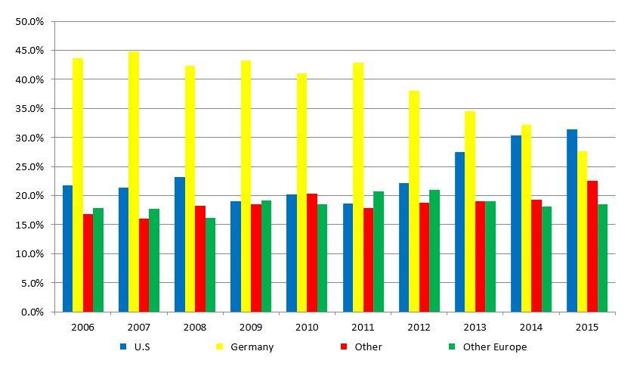 While I discussed geographical exposure, I only referenced it on a single occurrence basis. In other words, a lack of observations fails in telling the whole story. I went ahead and compiled historical turnover and asset data in between the 2006-2015 time period.
The exhibit above illustrates historical turnover data. Readers may notice the decreased exposure to Germany and the increased exposure to the U.S. While exposure to Other Europe also grew, net European exposure fell. Overall, Harman's revenue stream underwent diversification. Before, the company lopsidedly faced close to 50% exposure to Germany. Now, every category represents more than 20%, with the exception of other Europe, which is approximately 2% shy of 20%.
Harman deserves cognition for its prudent rebalancing. Moves like these provide some sort of hedge against geography/company-specific events.
What about assets?
Exhibit 08 | Geographical Asset Breakdown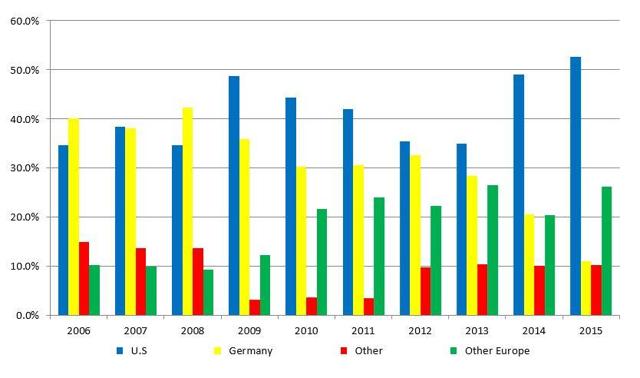 Interestingly enough, Harman reduced its German-based assets by approximately 20% over the observed time period. Simultaneously, United States-based assets grew by approximately 20% over the same period. Assets in Other Europe also grew, while rest of the world assets really made no interesting moves.
Germany and the United States, along with Other Europe, tell the most interesting story out of all categories above. Harman really rode the wave of European automobile innovation and simultaneously successfully avoided the complete quagmire U.S. based automakers faced in 2008. Now that U.S. makers find themselves making a comeback, Harman masterfully rebalanced its portfolio and once again will potentially reap great profits.
One of the most convincing pieces of evidence behind this mindset comes from the ever budding partnership between Harman and GM. I highly suggest readers and potential investors alike at least peruse the inner workings of this partnership. It will shed greater light behind Harman's strategic mindset.
On the surface, all fundamentals check out and raise no concern. Conveniently, the Brexit debacle provides a FANTASTIC opportunity for investors. Harman provides significant upside and continues in demonstrating excellence via its industry leadership and understanding of the business.
Below, I illustrate historical multiples for Harman International.
Right Time to Buy?
Exhibit 09 | Price Multiples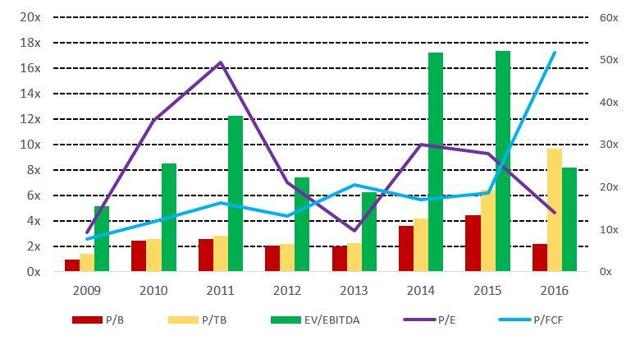 ¹P/E and P/FCF on right axis; 2016 data as of June 2016
Harman currently presents a bargain from a P/E perspective. It hovers around historically low levels previously not seen since 2009.
While investors may find themselves alarmed by the sudden upshot in P/FCF, I will mention once again Harman's M&A activity. If we normalize for all of the investments in the future, Harman once again comes in cheap, from this perspective. The price of the stock didn't rise, so that didn't cause the upshot in the ratio. It was a drop in FCF per share.
While P/B shows a compelling story, I must point out the rise in P/TB, especially during the 2014-2016 period. Once again, acquisitions share the blame for this occurrence.
Finally, EV/EBITDA levels fall below 2010, 2011, 2014 and 2015 levels.
From a pricing standpoint, Harman looks attractive. Based on everything presented in this piece, I, at a minimum, strongly suggest readers and potential investors take a further seriously look at this company. Harman really presents a significant upside for individuals looking for a business with a strong moat and efficient employees, not to mention a deal at current levels.
Now, I conclude with a set of points one must remember when following HAR.
Keep an Eye out On...
BRIC exposure: In particular, Brazil and Russia. Both BRIC countries negatively effected 3Q 2016 Professional Solutions operating performance. EBITDA margins YoY sank from 12.45% to 6.5%.
Record backlog: Auto portfolio carries a $23B backlog. Positive driver which in some ways mitigates worry about BRIC exposure.
Recent M&A activity: Significant increase of employees from recent acquisitions distorted the big picture. Keep an eye out on earnings coming out August 2nd. This will provide a new data point which will illuminate employee efficiency.
Rewarding investors: Harman is slated to repurchase approximately $200M worth of shares for the next two years.
Disclosure: I am/we are long HAR.
I wrote this article myself, and it expresses my own opinions. I am not receiving compensation for it (other than from Seeking Alpha). I have no business relationship with any company whose stock is mentioned in this article.
Editor's Note: This article discusses one or more securities that do not trade on a major U.S. exchange. Please be aware of the risks associated with these stocks.