Gazprom (OTCPK:OGZPY) is the major Russian state gas company. It is still a key supplier of gas to the European nations. During the past 3-5 years a lot has changed and Gazprom has been negotiating with countries like China fur the purpose of customer diversification.
The LNG niche
Gazprom has shown increased commitment in supplying other nations with LNG. Many of its pipelines simply do not reach potential customers who are overseas and unreachable with pipelines. The new LNG tankers enable to sell and deliver gas to distant locations such as India, Southern China, Bolivia and other regions. From a geopolitical point of view that is only strengthening Gazprom's position on a global market. Together with other state firms, such as Rosatom, the country can, similarly to China, offer technology for nuclear reactors and military equipment apart from natural resources. That is a clear advantage over its LNG competitors from Qatar, Saudi Arabia and Malaysia. China does not really sell gas and oil to other nations, but still offers a lot of deals when investing in other nations. (Russia plans to sell LNG to India, 17.6.2016)
Austria's gas imports on the rise
Amid EU sanctions against Russia Austria has been able to increase its gas imports from Russia by 20% year on year. The EU agenda has been to reduce gas imports from Russia in order to be less dependent on Russian supply. OMV (OTC:OMVJF), the national Austrian oil company, has close ties to Gazprom (OTCPK:OGZPY). Both are involved in the North Stream 2 project which will bring more gas in a second pipeline from Russia to Germany. Both firms are actively pushing the project forward. The project has faced criticism because it is being discussed in a time when the EU and Russia struggle to find unity in questions like the Ukrainian conflict, Syria and other issues. The pipeline is a high priority development, especially because it is bypassing Poland and Ukraine, two nations that in the past have constantly threatened Russia to cut gas supplies to Western European nations like Germany, Italy, France and Austria.
(Austria imports more gas, 10.6.2016)
Strategic risks in Poland and other nations with access to the sea and LNG terminals
Gazprom (OTCPK:OGZPY) has also been a key supplier to Poland, a country that lies on the route of important pipelines for Western Europe. Have a look at the pipeline status quo in Europe: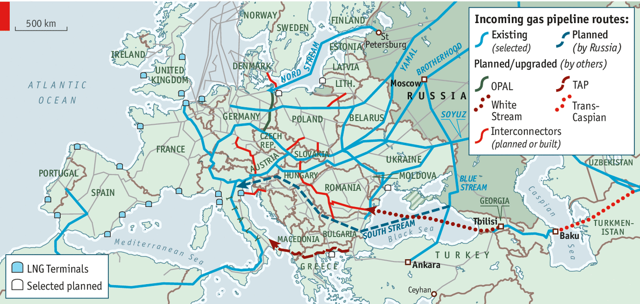 Poland and Ukraine are both still extraordinarily important for Russian gas supplies reaching the west of Europe. The Yamal pipeline is one of the most important one. Poland has announced to reduce the gas imports from Russia. In the long term in plans to be less dependent on Russia by replacing pipeline gas by LNG. Currently Poland makes up only 2% of Gazprom's sale volume and it will still take years to fully replace Russian gas. There exists already a LNG terminal in Poland, which construction was completed in 2015, but experts suggest that the LNG gas will be more expensive by 2.5 times than the Russian gas. (No more gas for Poland, 1.6.2016)
The Asian Infrastructure Investment Bank
Similarly to China, Russia can use the Bank as one of its biggest contributor aside from China and India. By investing in infrastructure projects, Gazprom (OTCPK:OGZPY) could play a strategic role as a supplier of natural resources. Apart from that Russia will also be able to offer nuclear technology, military equipment and other strategic resources such as Nickel etc. Most member nations will welcome more Chinese and Russian investments and favor deals.
The collapse in commodity prices seems to be over
In the long term I do not see oil reaching more than $60 per barrel.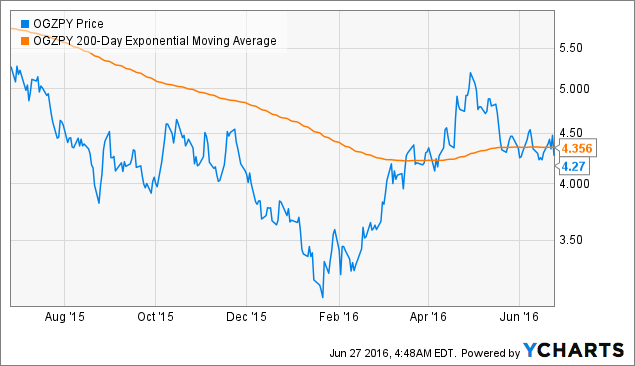 I would see Gazprom trading above $5,50-6 in the next 6 months. It seems to be unlikely that we will see oil in the 20's again. From my point of view the oil price has stabilized at around $45-50, so have gas prices. The P/E ratio of Gazprom is as historically low as it has been before, currently at around 4. This stock remains a high risk asset, however I recommend buying it, because the future looks much better now than 12 months ago.
Disclosure: I/we have no positions in any stocks mentioned, and no plans to initiate any positions within the next 72 hours.
I wrote this article myself, and it expresses my own opinions. I am not receiving compensation for it (other than from Seeking Alpha). I have no business relationship with any company whose stock is mentioned in this article.
Editor's Note: This article discusses one or more securities that do not trade on a major U.S. exchange. Please be aware of the risks associated with these stocks.