By Our Contributing Analyst Team
Business Summary
Hain Celestial Group HAIN operates in the specialty food products industry, which has been trending lower in recent quarters. Its business is mainly done in the organic and natural foods segment of the industry. This segment is heavily driven by consumer trends.
Investment Thesis & Highlights
Since HAIN operates in the specialty foods industry it is exposed to all of the popular health trends and fads in the world today. Whether it is the vegan trend, or the gluten free fad HAIN is able to capitalize on these markets and add value to its stock. We strongly like that HAIN is a food provider, and it is not directly dealing with the every day consumer. Companies that deal directly with the consumer are the ones who need to start the trends, while companies like HAIN and other food providers just need to hop on board with these rapidly expanding trends. At the end of the day, the trend is your friend and the specialty foods trend is holding strong.
Organic Food Market
The organic food market is a key factor in our analysis on HAIN. The U.S organic-food market has been growing at 11% annually. It's projected to be valued at around $59 billion by 2020. To put this in perspective U.S. organic food sales generated around $31.32 billion in 2012. HAIN is currently valued at about $4.4B. The overall market believes that HAIN is fairly valued at its current levels given its fundamental metrics such as P/E, however we believe that it still has room to grow. A number of analysts do not see HAIN to be a growth opportunity, which is understandable, however we believe that its growth trend is just beginning. Investors and the overall market have not recognized this valuable growth opportunity due to the recent decline in the industry as a whole. There are also a few strategic moves HAIN could implement in order to bring it to its full growth potential, which we will discuss later. HAIN's capitalization on the rapidly expanding organic foods market will be a key driver for future growth.
Fundamental Valuation Metrics
Although the over all market may value HAIN closely to its peers, we believe that it still has room to grow. The market also views HAIN as more of a value play than a growth play, but given our take on the organic foods market HAIN could see dramatic growth in the near future. HAIN is currently trading at a P/E of 22.89x, which is one reason why we believe the overall market sees HAIN as fairly valued. We believe that its valuation ratios are conservative based on its growth potential. We do believe that if its P/E or P/S were to increase a substantial amount from where it currently trades that the price may appear to be overbought. Therefore we are looking for a small pullback in price per share before entering a long position on HAIN. Its P/S is about 1.5x, which is below the industry average. We see its low P/S as beneficial towards its growth potential for a number of reasons. The most crucial reason being HAIN has proven to have very strong and sustainable sales in recent quarters when compared to the industry. Its P/B tells a similar story. Its P/B is 2.3x, which although is below the industry average it shows that its book value per share is relatively strong when compared to the industry and its peers. Its P/S and P/B ratios also reflect the recent downtrend in the industry and decline in price per share. Its PEG ratio is 1.64x, which is well above the industry average. We used this ratio to confirm our long term growth thesis as this strong ratio demonstrates HAIN's ability to show its investors explosive growth during an upturn in the industry. A number of traders have also seen unusual volume in the options market on HAIN. Over time its strong sales numbers will promote short term growth, which will continue to add value to HAIN when compared to its peers.
Profitability Margins & Growth Rate
HAIN may have seemingly weak margins, however its growth rates are noticeably stronger than its peers. On top of that margins throughout the specialty foods industry have shown weakness in recent quarters. HAIN has a gross profit margin of 23.50%, which is below the industry average. However the industry as a whole has been beaten up as of late and HAIN's profitability ratios did appear to be more stable than that of its peers. Its operating profit margin is 9.71%, which similar to its gross profit margin is below the industry average. Strong leadership has allowed operating margins to increase to 10% up from 7.7% a year ago. This did not change our long term thesis on HAIN due to its strong growth potential as portrayed by its valuation ratios. Its net profit margin is 6.55%, which is actually in line with its peer and industry averages. As these margins begin to increase throughout the industry we are expecting HAIN's cash flows to increase along with its valuation ratios. In recent quarters HAIN has shown its investors an EPS growth rate of over 30% as well as strong revenue growth.
Management Effectiveness
Its management team does an excellent job at managing its resources as portrayed by its ROE, ROA, and ROI. An increase in its turnover ratio would further increase these ratios, however a recent decline in turnover has been noticed throughout the industry and across other sectors as well. We expect HAIN to benefit noticeably more from an upturn in the industry when compared to its peers. On top of this management recognizes that the everyday consumer closely follows trending diets and meal plans, such as gluten free, vegan, etc. This being said, the organic and natural foods industry has proven itself to be more sustainable the overall food supplier industry allowing HAIN to capitalize on this consumer trend. There is risk that the everyday consumer begins to sway away from the next big health trend such as the gluten free diet, however we do not see this risk to be detrimental to its investors and we strongly believe that the risk to reward is skewed in the investor's favor.
Financial Leverage & Debt Analysis
Financial leverage and debt is generally a key factor in our analysis. With HAIN we believe these factors strongly support our growth thesis in the long run. Its debt to capital is 33.28%, which is below the industry average. However this supports our long term growth thesis in that it allows HAIN to increase its debt while still being able to pay it off comfortable. Its quick ratio is currently about 1.5x, which is sustainable where it's at. Its current ratio is higher than we would like it to be at 2.57x. This is due to its low inventory turnover ratio. Over time as this turnover increases, we do expect the gap between its quick and current ratios to collapse. This in turn will demonstrate its growth to its investors. Its interest coverage ratio is 5.15x, which allows them to more than comfortably pay off their current debt. We even are expecting HAIN to issue more debt to use on growing itself and for management to further monetize its resources.
Competitive Analysis
HAIN stands out against its peers for a number of reasons. Its quarterly revenue growth is larger than even some of the leaders within the industry. Its EV/EBITDA is strong vs the industry average, which is a crucial metric to give investors confidence in HAIN. Finally, as previously stated its PEG ratio is what stands out to us the most. It is proven to be stable in the long and will allow this play to pay off for its investors.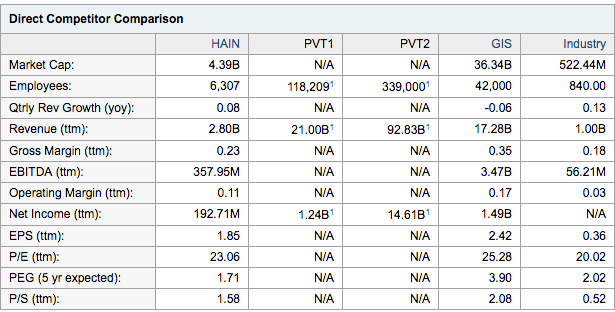 In the end, we remain bullish on HAIN as a strong growth candidate, and we believe that the market is wrong about HAIN for a number of reasons. Its valuation ratios, specifically its PEG, demonstrates that it has a lot of potential for growth assuming it does not see a massive decline in sales in the near future. Its ability to issue more debt is also a huge plus. This allows its management to have substantially more flexibility throughout the expansion process. At the end of the day, HAIN has the capacity to give back to its investors by showing them growth and significant cash flows.
Although HAIN's growth has slowed from around 20% to 8-10%, it is a much larger company. It's expansion has decreased margins which has in return slowed growth. With this being said, expect for consistent returns due to this company's sustainable ROE/ROA/ROI. Approximately 96% of HAIN's total debt is long term, allowing for even more room to maneuver through any adjustments to the organic food industry.
Strong Dollar's Effect on Growth
The U.S's strong dollar in the past 12 months also hurt HAIN's growth. They do around 40% of their sales overseas. In the future with the declining dollar in comparison. HAIN does business throughout Europe, but the majority of its European sales come through Great Britain.
(click to enlarge)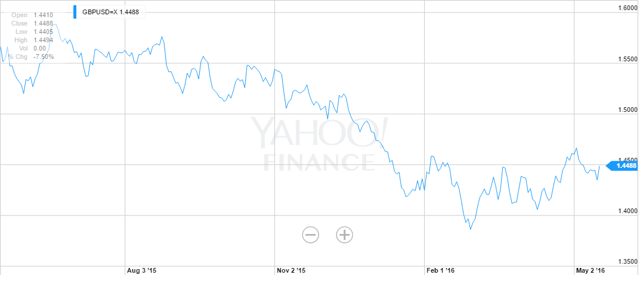 Graph of GBP/USD as of 6/15/16
In the past year, the 40% of their international business was affected by the high USD. In the future, look for international business to improve as a lower dollar will accelerate international companies businesses.
Risks
Possibility of primary competitor GIS being bought out by Heinz-Kraft. It's been rumored that Heinz-Kraft is buying out GIS for $86 per share. GIS is currently trading at around 63$ per share. It is difficult to predict how this acquisition would affect HAIN's future, but it would certainly increase competition between these two rivals.
With all of this being said, long term investors need to be weary of the next health trend. It appears as if small-cap regional farms have been experiencing serious growth in the organic food industry. Several local food marketing channels have experienced growth since 2006-2007. As of 2014, there were 8,268 farmers' markets in the United States, having grown by 180 percent since 2006. This information was reported by the USDA in January 2015. Regional food hubs aggregate locally sourced food to meet wholesale, retail, institutional and even individual demand. Since 2006-07, the number of food hubs has increased by 288 percent.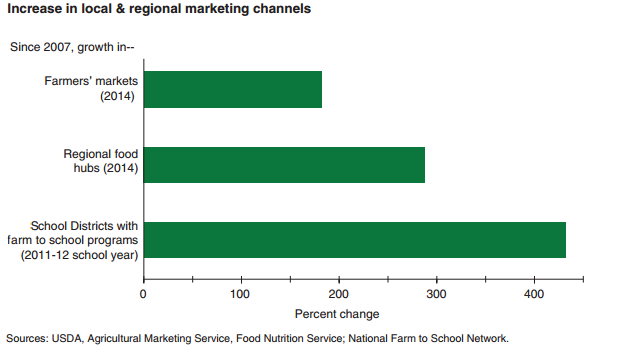 Because of the vast amount of small-cap farms, it is difficult to create a valuation on specific companies in this growing sector. However, with regard to consumer psychology we do know one thing: A consumer who's able to overspend on higher quality food will be willing to drive to a farm, or farmer's market to ensure freshness and quality while supporting their local economy.
Disclosure: I/we have no positions in any stocks mentioned, but may initiate a long position in HAIN, GIS over the next 72 hours. I wrote this article myself, and it expresses my own opinions. I am not receiving compensation for it (other than from Seeking Alpha). I have no business relationship with any company whose stock is mentioned in this article.