Rapid7 (RPD), like many other cyber security names, is past the peak of investor excitement seen during 2014-15. Even though the name continues to be a beneficiary of secular growth trends favoring the online security vendors in general, the sentiment towards the name, with the stock having corrected close to 50% over the past year, seems to have turned around completely, thus worthy of another look. Like many others, I have been negative (link) on the space, but the risk/reward ratio around the current level hardly looks favorable to carry Short positions.
The top issue, not a small one by any means, seems to be the lack of profitability for much of the online security space and even for Rapid7, it is difficult to expect breakeven anytime before 2-3 quarters, but even in light of these challenges, changing market conditions and decent execution seems to suggest that there is a strong floor available to the stock around these levels, provided the growth trajectory is maintained.
Fluff is out, a good time to consolidate
Changing demand dynamics have taken the wind out of the sails of most cyber security names, be it the web application scanning peers of Rapid7 like McAfee by Intel (NASDAQ:INTC) and Qualys (NASDAQ:QLYS) or the players like Palo Alto Network (NYSE:PANW), FireEye (NASDAQ:FEYE) and Barracuda (NYSE:CUDA) that are very active in the advanced firewall space. Most of the players have corrected anywhere between 35-65%, as the growth rate slowed after two years of strong demand, even though the businesses continue to grow between 25-45%.
Besides the high growth rate, the cyber-security space is known for fragmented market shares and strong balance sheets, conditions that usually help drive consolidation in any space, as the blowout growth decelerates.
New products may improve the attractiveness of the business
Relatively, the company has edged players like Palo Alto Networks and FireEye in the user behavioral analytics market and benefited from McAfee's EOL (end of life) for its Vulnerability Manager, a web application scanner. Even though the demand may have moved away from the 2014-15 type of market when a series of high-profile hacker attacks led to significant increase in IT security orders, but the technological edge and ramp of new products should allow the business to hold up well, with help from market share gains, enterprise growth and potential takeout premium.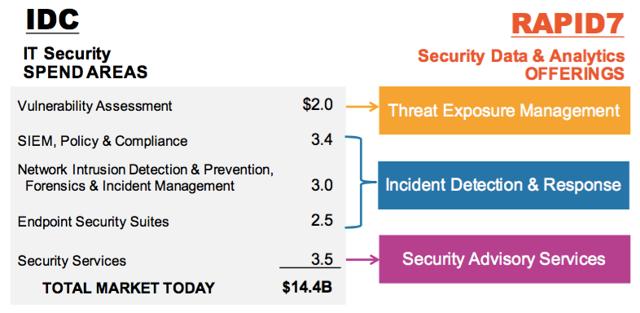 Total available market opportunity. Source: Rapid7
With a decent product portfolio in the security data & analytics and threat exposure management space, the topline should benefit from the launch of the new InsightIDR platform with better behavioral analytics and search capabilities, which can help monetize the demand for SIEM (security information and event management) offerings that are undergoing an upgrade cycle.
Strong financial performance and forward indicators for the business provide confidence in these positive product trends. Not just the topline numbers, with revenues growing around 35% CAGR over the past few years, but the quality of numbers overall has been impressive, with all three revenue segments - products, maintenance & support and professional services growing at near identical growth rates, more than 60% of revenue coming from subscription-based recurring sources, deferred revenues growing at almost 50% in the most recent quarter and renewal rates of more than 120%.
Still expensive, but the floor getting strong for the stock
Breakeven calculation

Research & Dev.

$10,849

Selling & Marketing.

$19,867

Gen. Admin.

$5,605

Total

$36,321

Gross Margin

77%

Revenue BE (Approx.)

$47,170

Latest Qtr. Revenue

$34,796

Difference

$12,374

In % Terms

36%

* Author's calculation. Only for academic purpose, actuals may vary significantly.

* Please use own assumptions in the calculation for better understanding

* Based on non-GAAP numbers
The company is making losses, but a quick back of the envelope calculation suggests breakeven is possible over the next year or two if the current growth momentum and operating expense structure is maintained, faster than current Street expectations.
As one of the smaller names with decent positioning in niche areas, the business should be high on the potential acquisition target list of larger names in the space, providing further downside support.
Disclosure: I/we have no positions in any stocks mentioned, and no plans to initiate any positions within the next 72 hours.
I wrote this article myself, and it expresses my own opinions. I am not receiving compensation for it (other than from Seeking Alpha). I have no business relationship with any company whose stock is mentioned in this article.