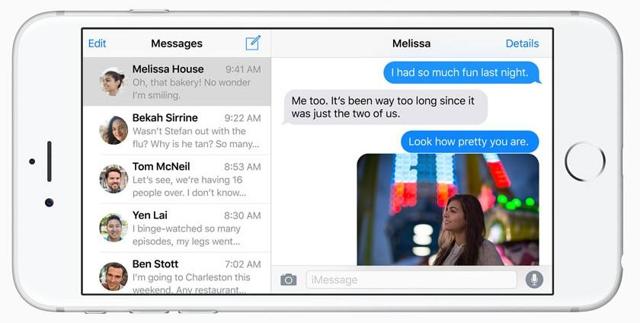 Apple's (NASDAQ:AAPL) underperformance to the market over the last two years has left many investors questioning the company's ability to continue generating solid future total returns. There are three reasons why I strongly disagree.
In fact, over the coming years I expect Apple to not just outperform the S&P 500 but also its historic CAGR of 9.1%. In other words Apple can still make long-term investors happy.
Apple's crazy cheap valuation
| | | | | | | |
| --- | --- | --- | --- | --- | --- | --- |
| Company | PE Ratio | P/FCF Ratio | 10 Year Projected Earnings Growth | DCF Fair Value | Margin of Safety | Reverse DCF Implied EPS Growth Rate |
| Apple | 10.9 | 7.3 | 9.9% | $248.56 | 62% | -6% |
| S&P 500 | 23.4 | 12.5 | 11.8% | NA | NA | NA |
Apple's best growth days are indeed behind it, but that doesn't mean it can't make a great long-term investment at the right price. Whether on an absolute basis, or compared to the S&P 500, Apple is trading dirt cheap.
In fact, on a reverse discounted cash flow basis investors are pricing in negative earnings growth going forward. As this article will show, that view is likely overly pessimistic.
Thus from a value investor perspective Apple represents one of the less risky long-term investments you can make today. That's especially true given the overheated nature of the general market, even after the recent Brexit induced pullback.
Now I'll admit that discounted cash flow analysis is far from a perfect valuation method due to its dependence on long-term assumptions and debatable discount rates. Nonetheless, I think it's likely that Apple's highly attractive margin of safety will protect long-term investors from excessive downside risk.
Of course that's assuming current bearish views regarding future earnings and free cash flow growth is proven false. However, there are a few reasons to believe that's likely to be the case.
iPhone growth fears are driving the undervaluation...
In its last quarter Apple reported its first ever year-over-year decline in iPhone sales. According to Tim Cook this was because "the upgrade rate for the iPhone 6s cycle has been slightly higher than what we experienced in the iPhone 5s cycle two years ago. But it is lower than the accelerated upgrade rate that we saw with iPhone 6, which as you know was a big contributor to our phenomenal revenue growth a year ago."
With the iPhone 6 and 6 Plus offering the larger screen sizes that consumers had long been asking for, it was only natural that such a historic upgrade would make the next year's growth rate appear weaker.
On the other hand, according to the latest survey from Consumer Intelligence Research Partners, or CIRP, the iPhone refresh cycle is lengthening. For example, in mid 2013, just 33% of iPhones were more than two-years-old, but today that figure has risen to 49%. There are two main factors that explain this lengthening refresh cycle.
The first is the end of subsidized phone plans by US wireless providers, which provided a natural incentive for consumers to upgrade every two years. According to CIRP: "Today, phone financing plans effectively reward customers who have paid for their phone in full...which appears to outweigh the impact of any early upgrade options that carriers offer with the new financing plans."
Further raising the specter of slower iPhone sales is news from Japan's Nikkei newspaper. Apparently Apple could be moving toward a three-year upgrade cycle instead of its historical two-year model. This would mean the upcoming iPhone 7 would once again offer minimal, iterative upgrades. Which could mean another negative growth year for Apple's most important, high-margin product.
....BUT are probably overblown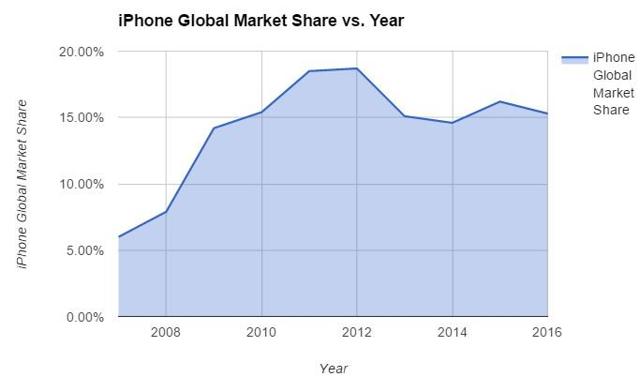 Source: author's chart, data from Statista.com
Since 2013, when Android phones really came into their own, iPhone has maintained a pretty steady global market share of the smartphone market. This has allowed Apple to sustain the best margins in the industry.
Meanwhile, though the global economy may have slowed a bit, the fact is that the growing middle and upper classes of emerging economies can still drive strong iPhone growth. Combine that with mature markets where the company's market share is both extremely high and resilient, and Apple has a very powerful free cash flow printing machine. In fact, Apple's FCF margin of 24.3% is the company's best means of enriching long-term investors.
Dividend growth will be the secret sauce powering Apple's market beating returns going forward
| | | | | |
| --- | --- | --- | --- | --- |
| Company | Yield | TTM FCF Payout Ratio | 10 Year Projected Dividend Growth Rate | 10 Year Projected Total Return |
| Apple | 2.44% | 21.5% | 8.9% | 11.3% |
| S&P | 2.15% | 37.9% | 5.8% | 9.1% |
A good rule of thumb for estimating long-term total returns of dividend stocks is yield plus dividend growth rate. Based on analyst dividend growth forecasts Apple should be able to beat the S&P's historic total return. Granted long-term forecasts can easily prove wrong. However, there are three reasons why I think Apple will not only meet that 8.9% long-term dividend growth forecast, but actually beat it.
Apple's glorious, growing dividend
First, Apple's very low free cash flow or FCF payout ratio has plenty of room to expand. Most dividend investors focus on the EPS payout ratio (25.7%) to judge dividend security and growth potential. However, the FCF payout ratio is actually a better metric to use because earnings often include non-cash adjustments that have nothing to do with a company's ability to pay investors.
Second, Apple's latest dividend increase was 10%, higher than its long-term projection. Given Apple's low FCF payout ratio, it's very easy to imagine that management might choose annual dividend growth at this attractive double-digit rate as long as the company can easily sustain it. Which brings me to the third and biggest reason to be bullish about Apple's dividend growth. The company has an easy and guaranteed way of generating long-term total growth in FCF per share.
How Apple can prove Wall Street wrong
With over 1 billion users, the iOS ecosystem, with all its apps, music, movies and TV shows available to download, is incredibly sticky. This creates a durable moat that's likely to protect the iPhones market share, and thus its premium pricing power and strong phone margins. After all, consumers who have spent years using Apple's ecosystem and buying hundreds if not thousands of dollars worth of content are not likely to switch to Android and have to start rebuilding their content libraries from scratch.
This explains the incredible loyalty consumers have shown the iPhone in developed markets such as the US. The fact is that Android flagships from the likes of Samsung (OTC:SSNLF) long ago achieved pure hardware superiority. However, as long as the iPhone offers consumers a good overall user experience, the switching costs make it too inconvenient and expensive to leave Apple's ecosystem.
Meanwhile, in developing markets, Apple remains a strong and aspirational brand. This should help maintain steady iPhone market share in developing markets, where both future population and economic growth will be the strongest. This is what is likely to create the ongoing catalyst for strong FCF growth and fund Apple's dividend in the coming years and decades.
Yes the growth rate of FCF will likely be slower than in the past. But thanks to the company's record setting cash return program, that isn't likely to matter.
Massive buybacks create indefinite dividend growth potential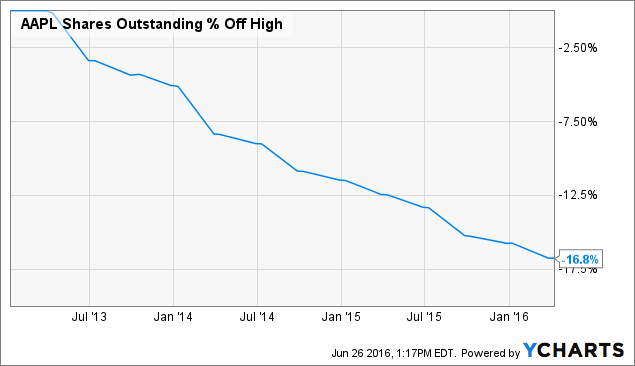 AAPL Shares Outstanding data by YCharts
Since 2013 Apple's buyback program has reduced share count by 6% per year. Through March 2018 it plans to repurchase an additional $53 billion of its highly undervalued shares.
As long as the company continues buying back shares Apple's FCF/share is likely to continue growing at a rate that makes 10% dividend growth easily sustainable. In fact, as long as its FCF margin remains stable Apple doesn't even require sales growth in order to indefinitely maintain a strong and consistent dividend growth rate.
This is why I believe that Wall Street fundamentally misunderstands Apple's strongest long-term investment opportunity and its cash return program. Apple's buyback program hasn't been a failure over the past two years just because the share price isn't higher. The goal of the share repurchases wasn't to directly drive the share price higher. It was to potentially allow the company to start down a road that could lead Apple to one day becoming a dividend aristocrat.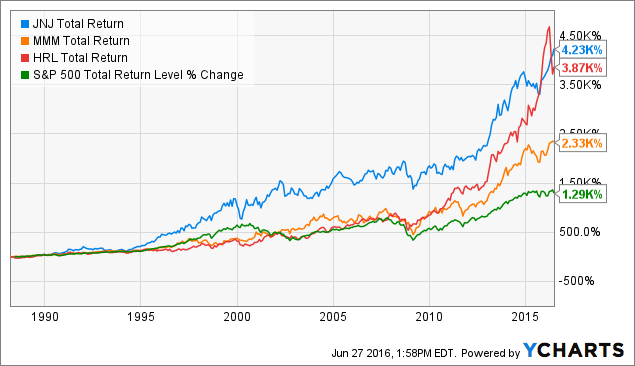 JNJ Total Return Price data by YCharts
As you can see, dividend aristocrats such as Johnson & Johnson (NYSE:JNJ), 3M (NYSE:MMM) and Hormel Foods (NYSE:HRL) have spent decades generating market crushing total returns. These are hardly hyper growth stocks. Yet all have proven that consistent dividend growth can make long-term investors rich.
Risks to consider
The dividend growth thesis for Apple could be potentially derailed by two main risks. First, Apple needs to maintain its strong brand and pricing power. That means keeping the iOS ecosystem competitive with Android.
Over time iOS and Android have been gradually offering similar features. Thus Apple needs to keep differentiating its ecosystem so that it can continue earning the loyalty of future generations. After all, should the youth of tomorrow end up in the Android camp, then Apple's ecosystem moat will evaporate, taking its pricing power and margins with it.
Another big risk is that Apple's famously massive cash hoard, or its lack of access to it. Currently 89.7% of Apple's $233 billion in cash and cash equivalents is held overseas. This means it's unavailable to fund buybacks or dividends without incurring a 39.1% tax bill of $81.7 billion.
While Apple has been borrowing heavily at historically cheap rates to get around that issue, that can't go on forever. That's because Apple's cost of borrowing has been just 1.3% only because lenders know the company can instantly pay it back using its mountain of cash.
If Congress fails to pass a repatriation holiday then Apple could be forced to accept that enormous tax hit in order to continue its cash return program. If it refuses to repatriate then at some point the company's AA+ credit rating will likely face a downgrade due to excessive debt levels, which in turn could increase its interest costs to the point where returning tens of billions of dollars to shareholders could become unsustainable in the long term.
Bottom line: As a dividend growth stock Apple can still make you rich IF you're willing to be patient
Apple's mega-growth days are likely behind it for good. But the combination of steady long-term growth of high margin iPhones should allow it to remain a free cash flow minting machine.
That in turn is likely to allow for sufficient buybacks to boost FCF/share and make long-term dividend growth investors very happy indeed.
Disclosure: I/we have no positions in any stocks mentioned, and no plans to initiate any positions within the next 72 hours.
I wrote this article myself, and it expresses my own opinions. I am not receiving compensation for it (other than from Seeking Alpha). I have no business relationship with any company whose stock is mentioned in this article.