The Brexit selloff sent shares of Starbucks (NASDAQ:SBUX) to the downside last week. Shares had traded above $56 on Thursday, but finished down 2.58% on Friday to $54.68. Since the start of the year, shares of Starbucks are down by a little over 9%. If you are addicted to Starbucks coffee, and stock, you may have seen my recent articles about the company. This month I've written three articles which outline my long thesis. In part one, I praised Starbucks for its technology investment and Tea. And, I argued for Starbucks valuation in comparison to its peers. In part two, I highlighted the company's acquisition skills. In part three, I stressed the importance of Starbucks Chinese growth and market.
This is the fourth and final article in my series. In this article, I would like to highlight the success that the company is having with its ready-to-drink and consumer packaged goods businesses. In the second quarter, the company's consumer packaged goods and foodservice business was up 7% year-over-year. And, in the first half of the year, the company's consumer packaged goods and foodservice business was up 10.50% year-over-year. The channel development business is growing and is the company's second-most profitable business segment.
As I've mentioned in my previous articles, my Starbucks investment thesis is long term. Short term market volatility is just a distraction, and may offer a buying opportunity.
Nespresso & K-Cup
As reported on the company's most recent conference call, Starbucks will sell approximately 1.5 billion K-Cups this year, up almost 20% over last year. In March, the company extended its relationship with Keurig Green Mountain (NASDAQ:GMCR) to continue to be the supplier of Starbucks K-cup pods.
According to a company press release:
The companies updated their agreement to provide greater flexibility in driving product innovation and more control over quick and deep expansion of our products into channels beyond grocery.
Specifically, Starbucks can now sell directly into office and corporate distribution channels. For reference, the premium single cup coffee category is worth about $8 billion annually. As of today, Starbucks is now leading U.S. market share and is the leading brand on the K-Cup platform.
However, up until recently, Starbucks hasn't had a way into the global premium single serve market. In March, Starbucks announced a partnership with Nestlé's Nespresso. As a Nespresso Lattissima Pro owner myself, I love the partnership. Haven't heard of Nespresso?
Next time you walk past your local Williams Sonoma (NYSE:WSM) walk inside for a free double espresso from one of their Nespresso machines. Globally, Nespresso has built a premium single-serve user base of 25 million. Specifically, Nespresso has very strong market share in Europe. According to Howard Schultz, Chairman & Chief Executive Officer:
We're starting with Europe, Nespresso's largest market, and where in some countries single-serve represents over 40% of all coffee consumed, and 50% of our best Starbucks customers own a Nespresso machine at home. And in the future, we will begin selling Starbucks branded Nespresso compatible pods in additional Starbucks retail markets around the world.
This is great news. The Nespresso partnership will give Starbucks access to the European premium self-serve market. Together, the Nespresso and Keurig deals enable the company to grow and diversify revenue. And, bolster the bottom line with high margin revenue growth.
Ready-to-Drink Cold Brew Partnership
Cold brew is the latest trend in the coffee industry. Cold brew is not to be confused with iced coffee. No, no. Wikipedia offers this great description:
Cold brew coffee is not to be confused with iced coffee, which generally refers to coffee that is brewed hot and then chilled by pouring over or adding ice, though iced coffee can refer to cold brew coffee served on ice.
Starbucks has joined craft coffee roasters and has heavily marketed cold brew beverages in its stores ahead of the warm summer months.
According to Mintel, retail sales of cold brew reflect its expanding role in the coffee category with estimated 115% growth from the year prior, reaching $7.9 million in sales. Growth has been steady since 2010, increasing 339% through estimated 2015.
In June, Starbucks announced that it is launching new bottled Starbucks Cold Brew with PepsiCo (NYSE:PEP):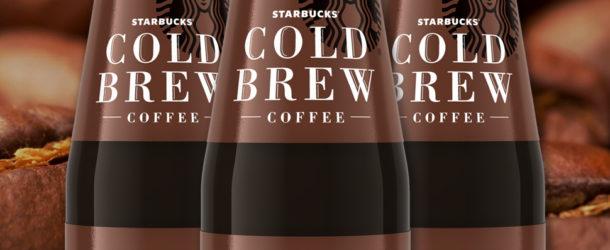 On June 15th, these ready-to-drink and ready-for-summer beverages hit retail stores and grocery stores in Seattle and Portland. In a press release, Starbucks described the beverages by saying:
Bottled Starbucks® Cold Brew Coffee is an unsweetened coffee with a smooth taste and subtle chocolate notes. It's made from the same Starbucks® Cold Brew Blend slow-steeped in Starbucks stores.
Starbucks has grown its ready-to-drink category into a billion dollar business. It is too soon to tell if ready-to-drink cold brew will move the needle. That said, this is perfect example of management's ability to create revenue growth and profit through ready-to-drink.
Anheuser-Busch Partnership
Teavana is arguably the best acquisition in the quick service restaurant industry over the last decade. As mentioned in part one, Starbucks' U.S. locations have sold more than $1 billion of Teavana drinks over the last year, an 11% percent increase from a year earlier. Since my first article, I've consumed three venti Peach Green Tea Lemonades and one Mango Black Tea Lemonade.
Earlier this month, Anheuser-Busch (NYSE:BUD) announced that it will bottle and distribute its ready-to-drink Teavana teas in the U.S. in the first half of 2017. This deal is beneficial for both companies. For Starbucks, the deal will create growth in ready-to-drink with distribution at over 300,000 convenience stores and supermarkets.
Again, another example of management executing on a successful acquisition and growing revenue outside of the company's retail stores.
Tingyi Partnership
In part three, I highlighted the company's success in China. Management has big plans for the retail store and consumer packaged goods businesses. In March, Starbucks inked a deal with Chinese leading food and beverage producer Tingyi. Together, Starbucks and Tingyi entered into an agreement to manufacture and expand the distribution of Starbucks ready-to-drink products throughout mainland China.
Read more about the opportunity and deal here.
The K-Cup, Nespresso, Cold Brew, Anheuser-Busch, and Tingyi deals highlight Starbucks focus on growing its consumer packaged goods business.
Consumer packaged goods, including ready-to-drink, gives to company unparalleled revenue diversity versus the coffee industry. And, it just so happens that the consumer packaged goods business is the second highest margin business for the company. Over the long term, this focus and these deals will protect and reward shareholders.
Disclosure: I am/we are long SBUX.
I wrote this article myself, and it expresses my own opinions. I am not receiving compensation for it (other than from Seeking Alpha). I have no business relationship with any company whose stock is mentioned in this article.