After topping out at $14.05 a share last week, Micron has given back a lot of the gains it has made since mid May and I foresee more losses in the pipeline. Why? Well as I write, the S&P 500 (NYSEARCA:SPY) is down 22 handles in pre-market (finished the day at 2,000) which means more losses are going to be compounded on top of the 75 handles the market lost last Friday as a result of the surprise Brexit vote. This illustrates to me that lower prices are ahead of us (for the next two to three weeks at least) in equity markets and consequently semiconductor markets where Micron operates (see chart).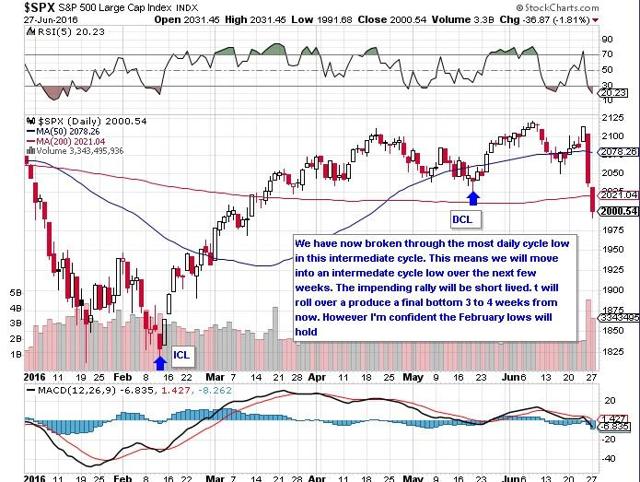 I was expecting to get another daily cycle within this intermediate cycle but it's not going to come to pass I believe. Intermediate cycles usually last around anything from 22 to 35 weeks (depending on quantitative easing) and we are only on week 20 which makes me believe now is the time to make our way down into an intermediate cycle low.
This will undoubtedly have ramifications for Micron (NASDAQ:MU). The company announces its fiscal third quarter earnings in a few days time and expectations don't look all that rosy. The average estimate is an EPS of -$0.09 but I wouldn't be surprised if the number came in lower. Therefore Micron with its impending earnings and an intermediate decline underway in the stock market has the potential to see its stock obliterated in the next two to three weeks at least. However if the stock breached $10 a share once more, it would be another strong buying opportunity in my opinion where the potential reward would meaningfully outweigh the risk for a number of reasons.
We sold Micron in our elevation portfolio at around these levels a few weeks ago but still are holding Western Digital (NASDAQ:WDC) which has recorded an even stronger rally than Micron since printing its lows also in May. If this sell-off takes place as predicted in Micron over the next three or so weeks, as long as something with the company doesn't change fundamentally, we will look to reload and here is why..
Micron's competitors have been diverting more capex funds to the NAND space (and less to DRAM) as the sector transitions to 3D NAND. Micron however has kept its pedal to the floor with regard to its DRAM initiatives and shareholders are looking for Micron to gain some market share here. The area I'm watching here is mobile DRAM as I believe demand for smartphones will continue to grow over time and you can bet that these very smartphones will be equipped with better and more powerful memory solutions than that of old. In fact, even lower quality smartphones will soon be fitted with up to 8GB of memory and this is where Micron's new 20nm node can make inroads.
So given that the likes of Samsung (OTC:SSNLF) and SK Hynix are reducing DRAM production to focus on NAND, it is expected that DRAM demand will rise not just from the mobile market but also from server chip-sets which is bullish for Micron. Why? Well the last few years has been hit by oversupply in this sector which drastically affected profitability among the big players in DRAM. Now we see the cycle turning 180 degrees as oversupply has turned to strong demand and Micron seems the best suited to profit. DRAM prices already have headed north aggressively since May and when you combine the demand story which will increase DRAM prices with a falling Micron share price, things become very interesting all of a sudden.
Micron's 3D NAND and 3D Xpoint initiatives have the potential to meaningfully move the stock once the market takes notice. 3D Xpoint in particular with its non volatile storage class memory could revolutionize the industry because the sheer speed of the technology is many multiples faster than NAND. Micron (and Intel (NASDAQ:INTC)) need to get this product to market first to take advantage of "first mover advantage" and premium pricing. The whole ecosystem (which will enable customers use the technology) has to be rolled out first before it is used on the mass market. However we know that the market is forward looking so even if 3DXpoint technology doesn't come available until 2017, the market will make up its own mind beforehand which is why investors should have positions locked in.
I'm going to be adding a few good dividend and growth stocks to the Elevation Portfolio over the next several weeks when I see value. In order to ensure that income is brought in every month, it's imperative that they are not correlated and all don't have similar valuations. You can follow along by pressing the "Follow" button above.
Disclosure: I/we have no positions in any stocks mentioned, and no plans to initiate any positions within the next 72 hours.
I wrote this article myself, and it expresses my own opinions. I am not receiving compensation for it (other than from Seeking Alpha). I have no business relationship with any company whose stock is mentioned in this article.