By The Valuentum Team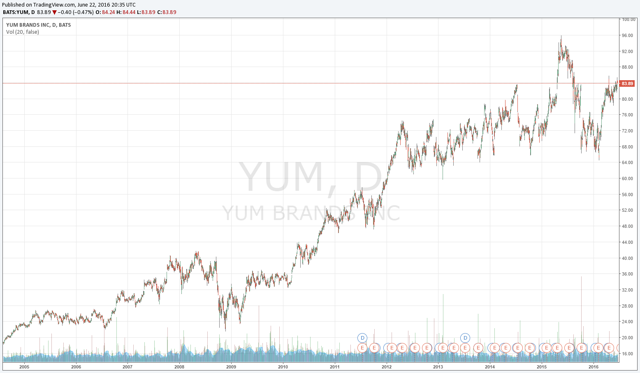 By Valuentum Analysis
Yum! Brands (NYSE:YUM) has a fantastic portfolio of restaurants including KFC, Taco Bell, and Pizza Hut. It operates in more than 140 countries with nearly 43,000 restaurants, and despite the maturity of its three core concepts in the US, Yum! Brands continues to expand its store base at an incredible rate, particularly in Asia. In 2015 alone, it opened almost 2,400 new restaurants companywide, averaging ~6 new restaurants daily.
Yum! Brands will be pursuing major changes in the near term, however, and is set to split into two publicly-traded, independent companies by the end of 2016: 'Yum! China' and 'Yum! Brands.' Though management says the split is "a classic example of 'one plus one equaling more than two' as it will enable each company to realize its full potential and achieve greater value on a standalone basis," we have to ask if this is true. Wouldn't two strong structures working together cause better results than each of them working independently? Will the benefits truly outweigh the incremental challenges that will undoubtedly come from needing two of everything - two back offices, two executive teams and the like?
First, let's address the brand new Yum! China. The company's 'China Division' continues to face ongoing challenges (distractions) from bird flu scares to poultry scandals, with system sales and same-store sales advancing only modestly and declining 4%, respectively, during fiscal 2015. We would expect the spin-off of Yum! Brands' China operations into 'Yum! China' to allow for a distinct, new management team to take the reins and refocus on driving sourcing and supply-chain improvement without having the burden of catering to a broader geographical presence. The spin-off of the China business will also give Yum! China improved national appeal in the country, in our opinion, perhaps helping to better tie it to the daily eating habits of Chinese consumers. This could translate into further unit growth potential in the country's rising consumer economy, maybe even beyond existing robust expectations. But just how big can Yum! China become?
The executive team at Yum! China believes that its restaurant saturation point in China is an incredible 20,000 restaurants, nearly triple its current exposure of 6,900, which by itself makes it the largest quick-service player in the country. (KFC continues to be a big favorite among Chinese consumers.) We continue to be enamored by Yum! China's tremendous opportunity in China, and we believe its business model speaks of sustained growth given its long historical track record of successful unit expansion. Spun-off without the financial burden of any substantial debt, the soon-to-be publicly-traded Yum! China will be able to fund all of its capital needs (unit growth) from robust free cash flow generation. We're anxiously awaiting separate audited information, but we absolutely love this particular aspect of its business. Frankly, it's very hard not to like a balance-sheet cash-rich and free-cash-flow generating powerhouse, with incredible future growth prospects.
An investment in the soon-to-be spun off Yum! China, however, is not a complete no-brainer. For one, the company will retain all of the operating risk of running the restaurants, and unfortunately, the more recent past has shown that operating troubles in China can have profound implications on same-store sales performance, even as we say that its brand has bounced back from every pitfall thus far. The company will pad Yum! Brands' pockets with a nice franchise fee, and we can't say that the ever-changing Chinese regulatory environment will play to the company's favor. As the new executive team seeks to triple the number of restaurants in China in coming years, we'll be monitoring the tremendous execution risk associated with such a bold endeavor. Should same-store sales performance disappoint, or if economic malaise takes hold in the country, the growth runway could shorten, at least in the near term.
Now about Yum! Brands, its legacy business. For starters, "Yum! Brands' - also referred to as 'New Yum!' - will remain a strong global company, but its financial risk will be significantly heightened as a result of the executive team's capital deployment ambitions. As with Yum! China, we believe a laser-focused executive team, now free of the time and effort that comes with making strategic decisions in China, will be able to shift its attention to other ways of improving its already strong restaurant concepts. It is quite the savvy move, and to establish Yum! Brands as an eventual "pure play" franchisor, it will be the beneficiary of a fixed franchise fee of 3% of system sales for KFC and Pizza Hut (and Taco Bell) from Yum! China. The stable but growing nature of the relationship between Yum! Brands and Yum! China will serve to provide a nice growing free cash flow stream to the former without it taking on any of the operational risks of running those units in China.
But not all is a slam-dunk at legacy Yum! Brands either. The company, stripped of its presence in China, will now act as a leveraged, franchisor with a focus primarily on returning capital to shareholders. This sounds great, particularly for income investors, but is the executive team stretching too far to please? Moody's has proposed to assign Yum! Brands' credit to junk status (Ba1) in light of its leverage, something that we're surprised Yum! Brands is willing to accept, given its rather prudent nature of the past: the company has a corporate family rating of Ba3. With the combined, pre-spin-off entity holding a net debt position of $3+ billion at the end of 2015, the financial health of Yum! Brands will only become more leveraged in time. In fact, management is targeting a post-spin off leverage mark of ~5 times, which we feel is way too high, even for a tried-and-true franchisor. Management doesn't seem worried and plans to return ~$6.2 billion of capital to shareholders, mostly through buybacks, preceding the separation.
Though we believe the unit growth prospects of a debt-free Yum! China are truly fantastic, the competitive environment in the US may prove to be more difficult for legacy Yum! Brands to navigate to drive organic expansion. Competition from other restaurant concepts in the US will continue to pressure domestic growth at Yum! Brands, particularly from companies such as privately-held Chick-fil-A and the much-maligned Chipotle (NYSE:CMG). The latter, despite its recent norovirus troubles, is still a powerhouse within the Mexican food restaurant vertical. Innovations at Yum! Brands have helped combat some of the steps by its rivals, and we point to Taco Bell offering a wider breakfast selection, KFC offering its '$5 fill up,' and new chicken sandwich restaurant concept, Super Chix, which is similar in menu options as Chick-fil-A, as reasons to remain optimistic about Yum! Brands competitive profile in the US. We believe same-store sales performance at Yum! Brands will be critical for investors to watch post-transaction.
Let's dig into some of the expectations for fiscal 2017 for each soon-to-be separated company. Yum! China believes that it has the "capacity to support substantial same-store sales growth," and its strategy to retain its premier status in China remains unchanged. Investors should expect 15% growth in earnings per share per annum, but there are a lot of moving parts, operationally, that could cause rather large deviations from that target. We saw this on display during the past few years with bird flu scares and poultry scandals, which sent same-store sales in China tumbling significantly for months before recovering. Earnings were not spared the pain either, and we don't think an investment in Yum! China is for those with weak stomachs. Operating performance at Yum! China will have its ups and downs, more so than most.
Yum! Brands' is targeting a combination of ~15% of earnings per share growth plus its dividend yield, and we note that it will likely fit the profile of a steadily-growing income payer. Though too early to say, Yum! Brands may fetch a dividend yield in the ballpark of ~5%, much like that of overleveraged, franchisor peer, DineEquity (NYSE:DIN), which runs a 99% franchised model of two powerhouse brands, Applebee's and IHOP. It, too, is significantly leveraged. Yum! Brands' free-cash-rich business model, which it expects to be 96% franchised by the end of 2017, should be able to cover its future dividend payments, though we'll have to get a better feel for its deleveraging targets to say for certain whether competing priorities for free cash won't drown it out over time. At the moment, management is targeting a sustained leverage ratio of 5x for Yum! Brands, which implies to us it will be holding that outsized level for some time, even into recessionary conditions.
Investors will soon have a couple choices with respect to Yum!: the debt-free, free-cash flow rich growth story of Yum! China, or the shareholder-friendly, overleveraged, capital-light, "pure-play" franchisor in Yum! Brands. Both investment ideas have strengths and weaknesses, and depending on the investor's goals and risk tolerances, either one could make sense, at the right price of course. We may not agree with management that one plus one will equal more than two, but we understand the pressures the board had in providing more options to all types of investors: growth, income and beyond. We understand the motivation behind the break up, and Yum! China and Yum! Brands will be fantastic entities in their own right. To each their own, as they say. The separation is expected to be completed by the end of 2016.
Yum! Brands' Investment Considerations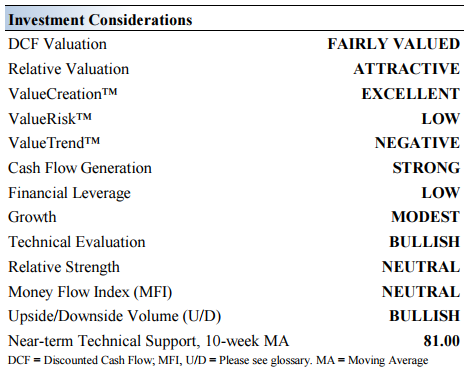 Yum! Brands' Business Quality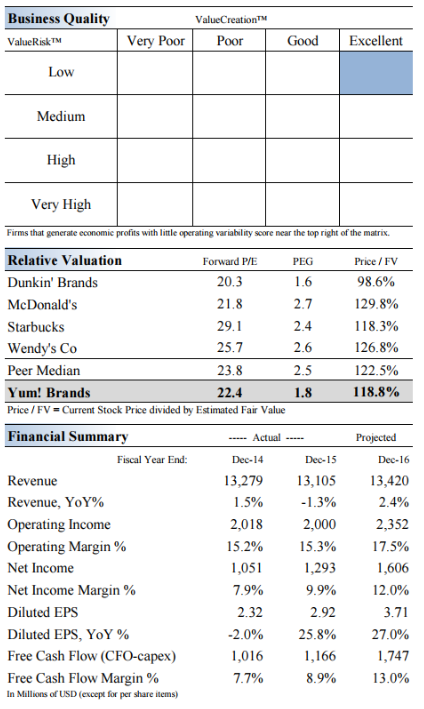 Summary Financial Information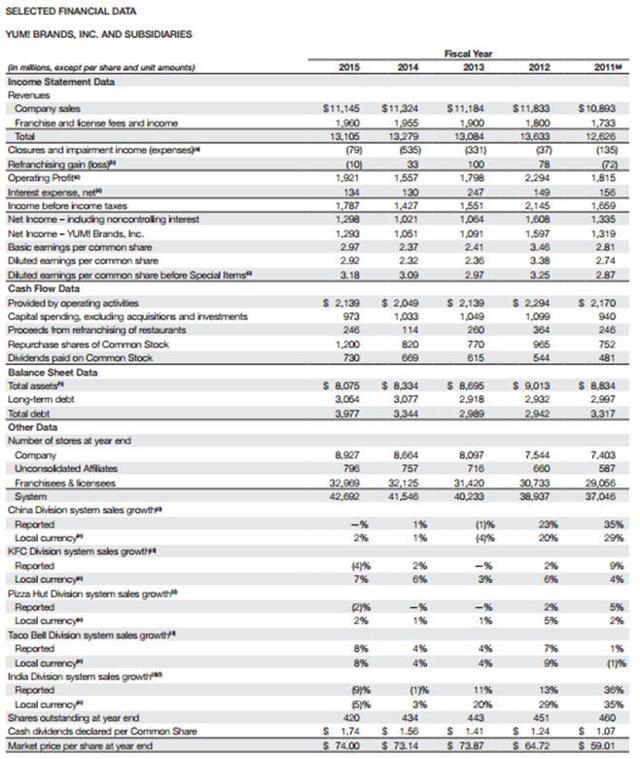 Image Source: Yum! Brands 10-K, 2015
Yum! Brands' Economic Profit Analysis
In our opinion, the best measure of a firm's ability to create value for shareholders is expressed by comparing its return on invested capital with its weighted average cost of capital.
The gap or difference between ROIC and WACC is called the firm's economic profit spread. Yum! Brands' 3-year historical return on invested capital, without goodwill, is 43.1%. That is above the estimate of its cost of capital of 10.2%. As a result, we assign the firm a ValueCreation™ rating of EXCELLENT.
In the chart below, we show the probable path of ROIC in the years ahead based on the estimated volatility of key drivers behind the measure. The solid grey line reflects the most likely outcome, in our opinion, and represents the scenario that results in our fair value estimate.
Companies that have strong economic profit spreads are often also solid free cash flow generators, which also lends itself to dividend strength. Yum! Brands' Dividend Cushion ratio, a forward-looking measure that takes into account our projections for future free cash flows along with net cash on the balance sheet and dividends expected to be paid, is 2.0. (Anything above 1 is considered strong.)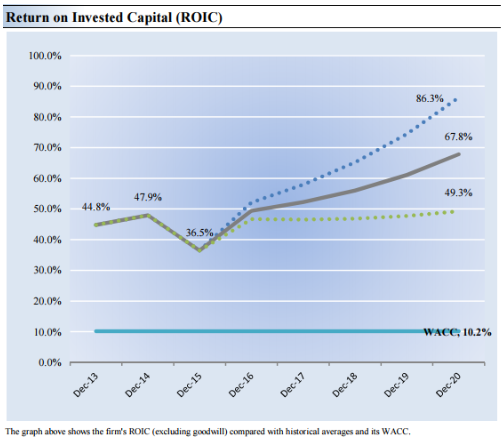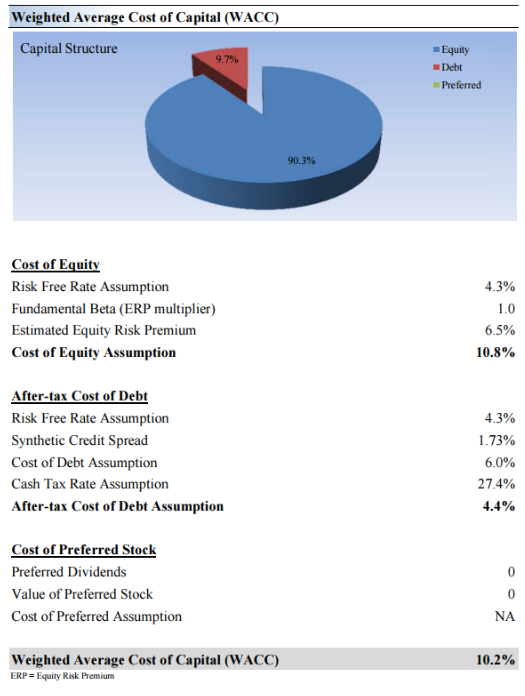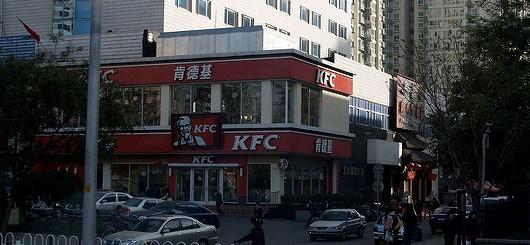 Image Source: Dave Proffer
Yum! Brands' Cash Flow Analysis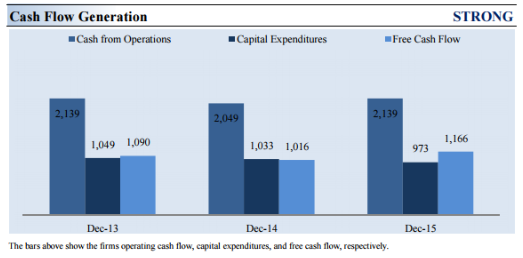 Firms that generate a free cash flow margin (free cash flow divided by total revenue) above 5% are usually considered cash cows. Yum! Brands' free cash flow margin has averaged about 8.3% during the past 3 years. As such, we think the firm's cash flow generation is relatively STRONG.
The free cash flow measure shown above is derived by taking cash flow from operations less capital expenditures and differs from enterprise free cash flow (FCFF), which we use in deriving our fair value estimate for the company. At Yum! Brands, cash flow from operations decreased about 0% from levels registered two years ago, while capital expenditures fell about 7% over the same time period.
In the first quarter of 2016, Yum! Brands reported cash from operations of just under $660 million and capital expenditures of $160 million, resulting in free cash flow generation of ~$500 million, a nearly 73% increase from the first quarter of 2015.
Valuation Analysis of the Present Combined Yum! Brands
This is the most important portion of our analysis. Below we outline our valuation assumptions and derive a fair value estimate for shares.
We think Yum! Brands is worth $70 per share with a fair value range of $56-$84. Shares are currently trading at ~$86, above the upper bound of our fair value range. This indicates that we feel there is significantly more downside risk than upside potential associated with shares at the moment.
The margin of safety around our fair value estimate is derived from an evaluation of the historical volatility of key valuation drivers and a future assessment of them. Our near-term operating forecasts, including revenue and earnings, do not differ much from consensus estimates or management guidance.
We're projecting top-line growth in the low-single digits in coming years for Yum! Brands. Our forecasts include bottom-line expansion outpacing revenue advances as the firm works to grow its margins, which should be boosted by the royalty fees it will receive following its separation of the China division. We're also expecting the spin off of the China division to help lower capital expenditures in coming years.
Our model reflects a compound annual revenue growth rate of 3.3% during the next five years, a pace that is higher than the firm's 3- year historical compound annual growth rate of -1.3%. Our model reflects a 5-year projected average operating margin of 20%, which is above Yum! Brands' trailing 3- year average.
Beyond year 5, we assume free cash flow will grow at an annual rate of 3% for the next 15 years and 3% in perpetuity. For Yum! Brands, we use a 10.2% weighted average cost of capital to discount future free cash flows.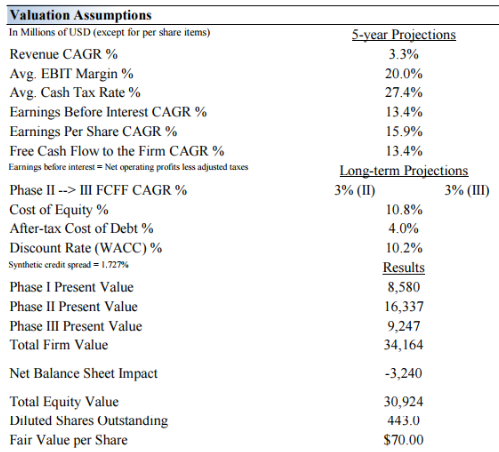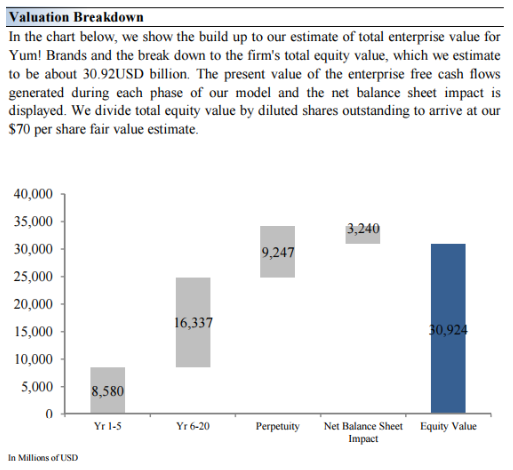 Margin of Safety Analysis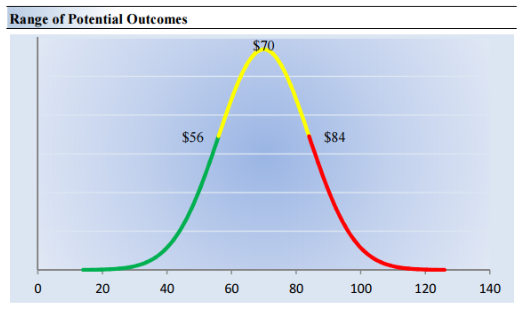 Our discounted cash flow process values each firm on the basis of the present value of all future free cash flows. Although we estimate the firm's fair value at about $70 per share, every company has a range of probable fair values that's created by the uncertainty of key valuation drivers - like future revenue or earnings, for example. After all, if the future were known with certainty, we wouldn't see much volatility in the markets as stocks would trade precisely at their known fair values.
Our ValueRisk™ rating sets the margin of safety or the fair value range we assign to each stock. In the graph above, we show this probable range of fair values for Yum! Brands. We think the firm is attractive below $56 per share (the green line), but quite expensive above $84 per share (the red line). The prices that fall along the yellow line, which includes our fair value estimate, represent a reasonable valuation for the firm, in our opinion.
Future Path of Fair Value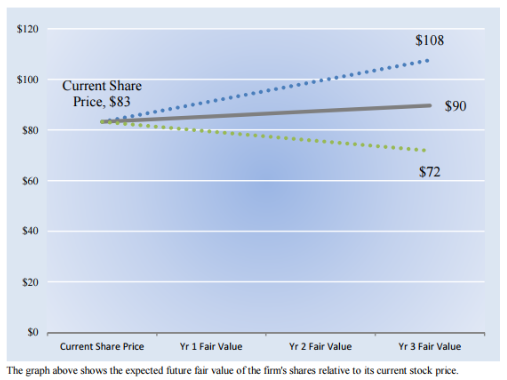 We estimate Yum! Brands' fair value at this point in time to be about $70 per share. As time passes, however, companies generate cash flow and pay out cash to shareholders in the form of dividends. The chart above compares the firm's current share price with the path of Yum! Brands' expected equity value per share over the next three years, assuming our long-term projections prove accurate.
The range between the resulting downside fair value and upside fair value in Year 3 represents our best estimate of the value of the firm's shares three years hence. This range of potential outcomes is also subject to change over time, should our views on the firm's future cash flow potential change.
The expected fair value of $90 per share in Year 3 represents our existing fair value per share of $70 increased at an annual rate of the firm's cost of equity less its dividend yield. The upside and downside ranges are derived in the same way, but from the upper and lower bounds of our fair value estimate range.
This article or report and any links within are for information purposes only and should not be considered a solicitation to buy or sell any security. Valuentum is not responsible for any errors or omissions or for results obtained from the use of this article and accepts no liability for how readers may choose to utilize the content. Assumptions, opinions, and estimates are based on our judgment as of the date of the article and are subject to change without notice.
Disclosure: I/we have no positions in any stocks mentioned, and no plans to initiate any positions within the next 72 hours.
I wrote this article myself, and it expresses my own opinions. I am not receiving compensation for it (other than from Seeking Alpha). I have no business relationship with any company whose stock is mentioned in this article.